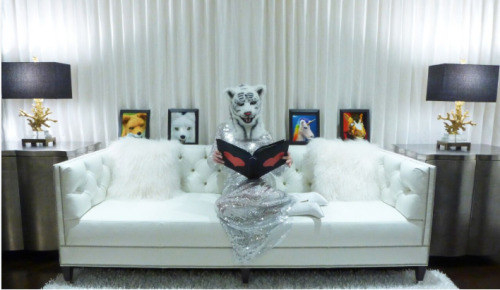 Jaguar Grace is an artist you need to put on your radar NOW. The Pop-infused-Songstress has been making quite a scene with her latest relase "To All the Boys I've Loved Before," taken from her release "Boyography Pt. 1." Showing no sign of slowing down, the artist entices us into her world that has listeners smiling from ear to ear. Recently we caught up with Jaguar Grace to talk about her music; past, present and future.
1.) You say you live in two different worlds, Classical and Pop- what are the differences?
Classical music is like boot camp for me. It's a lot of hours practicing, it's precise, going thru passages until there are no more mistakes. I feel my brain working. It's frustrating putting in so many hours of practice and the mistakes still appear. I'm not a great player because I won't put in 6 hours a day to practice. 2 hours/day is the max I'm willing give.
Pop on the other hand is playful and fun for me. 6 hours feels like 2. I have a wonderful toolbox of sounds and can create anything I want. I can turn on the mic, sing what I'm feeling and it's cathartic. Even if I don't do anything with the track it's something I've created and it feels good to let it out. Sound is healing for me. My music tends to be very heavy and dense. I love fat bass synth sounds. I think it comes from playing the pipe organ where I'm used to a wall of sound and frequencies enveloping me.
2.) What instruments do you play and what was the hardest one to learn?
Virtual Synths are my default and favorite because the sounds are infinite. I can be inspired to write a song just from a sound. It opens up a portal and a story will come through. I'm learning to score for TV & Film and the virtual orchestras are amazing.
Piano is my next go to. No turning on the synths and making sure the computer is seeing them. It's nice to just sit down and noodle on the keys. I never know what's going to manifest. Sometimes I'm on the right channel at the right time. The Muses want their stories told, so whoever is sitting at their desk ready to 'receive the song' gets the story! Elizabeth Gilbert talks about this in her book "Big Magic".
Pipe Organ: I play the organ because I was born into a house that had an Allen Theatre Organ with 4 Leslie speakers. I don't think I would have chosen this on my own. My Mom played and my Dad loved Theatre Organs from when he would go to the Paramount Theatre in Times Square when he was a boy in the 1930s. Here's a link to what it looked like: http://www.louisgrell.com/artworks/times-square-paramount. It was like a European Palace. I find it heartbreaking that It was demolished in the 1960's. The Hard Rock Cafe is there now.
I only studied classical organ, not Theatre Organ. It was too hokey for me. My teacher came recommended from the person they bought the organ from. I was with him for 10 years. He was a great mentor.
In High School I played Oboe, which I'd like to play again, but there's not enough time in the day. I'm currently enrolled in Julliard Evening Division studying Composition and Music Theory.
Is there an instrument you wish you could play?
Guitar. I've tried and it's just not happening. My fingers can't go horizontally + vertically at the same time.
3.) Tell us everything we need to know about your EP, Boyography Pt.1
The opening track "To All The Boys I've Love Before" is a thank you letter to my past loves. Each relationship taught me what does and does not work for me. Character, respect, humor, talent, passion, brains and self-discipline. Each romance shared a different aspect of these qualities. The journey entails finding the right partner with the best combination that's simpatico.
This EP are songs about my journey. "She Fell" -I was in the 'flock' of an up and coming rock star. We were introduced thru friends who were also NYC musicians I met while managing a restaurant on the Upper West West in the mid 1980s. They were in the process of recording a song he was singing, which I got to hear the demo. He was very charming and I was seduced. This song is about my whirlwind initiation of flying with a 'predator bird' that I was not ready for. Looking back it's a great memory. Mr Charming ended up getting me an interview for my next job which was another great NYC experience. It all worked out, and I got a song I love out it.
"Artificial Heart" - The lyrics were given to me as a gift by the now deceased Marty Goldstein. Creator of the photographers and artists Black Book. We lived in the same building and became fast friends. I wrote the melody, chords and arrangement within an hour.
"After All" - a co write with Cleo winner Arlene Jaffe. We had attended a song writing course @ The New School back in the 90s. We hit it off immediately over an annoying student who kept talking out in class whom I had no patience for. I contacted Arlene last summer to get her to sign off on the songwriting split. She forgot she had written the lyrics!
"Slipaway" is a total biographical song. I had a friend whom I knew since 4th grade and always had a mad crush on him. He looked like a young Robert Redford. We were good friends in High School but never dated ( we dated each other's friends) and stayed in touch until we were 29. He asked me to go to Bermuda with him, but things did not go as I imagined, as he asked his secretary to join us as well. Yup 3 people in a room with 2 king beds. After that trip it was the last time I saw him.
4.) What kind of emotions do you hope your listeners feel from your music?
I hope my songs are relatable and people can say "I went through that too".
We all share the same story of 'falling in love' and the emotional rollercoaster we go on. First we're high on lust, then we're wondering if the other feels the same, then when the oxytocin wears off our buttons start getting pressed. Do we choose our partner because it's familiar based on how our parents treated us? Or is it the polar opposite?
I'd say my songs are not happy, empowering songs. They're more introspective. Definitely biographical. I write about what I know and who I am.
5.) What is your spirit animal and why?
It started when I was 10 I heard Pink Floyd's "Welcome to the Machine" and was mesmerized by the huge sound. The next to last line is "He loved to drive in his Jaguar". Besides being a gorgeous car, the animal name really resonated with me even at that young age. My initials are JAG, I'm Leo, born in the year of the Tiger, and I have more Leo in my astrological chart. So lots of cat going on.
In 1986 I read "Jaguar Woman" which takes place in the Mayan jungle. It was after reading that book that I wanted to use Jaguar in my name. I was working at the Hard Rock Cafe on 57th Street at the time. We had uniforms with our names embroidered on them. Mine had Jaguar. At the time my manager was getting married in Puerto Vallarta, Mexico which I attended. I met my future husband at the wedding.
Being that I'm in my next chapter of my life I feel the name change is appropriate and fitting. I came across this in the Urban Dictionary which truly made me LOL, as I had no idea about the term!
jaguar
'In the lexicon of older women seeking younger men, a jaguar is 50 and over, where the cougar is in their 40s, and the puma under 40. Jaguars tend to be financially stable and are only looking for sex from their 20 something prey.'
Me: Veal vs. steak! Steak please.
The mystical mythological allegory of the Jaguar is my guide: "The jaguar spirit animal is the gatekeeper to all that is unknown. A mystical totem, the jaguar offers lessons about reclaiming your inner power by awakening your inner core energy (sometimes referred to as Kundalini). When the secretive, graceful jaguar enters your life it is time to resolve old issues and to make way for a spiritual rebirth. Understanding the darker side of life is what offers this powerful animal totem its mystery. With understanding comes the ability to embrace change and life's multitude of cycles."Those who have the jaguar as their power animal are passionate, confident (I'm still working on that one) , and possess a deeper understanding of life. Often able to embrace change with grace and dignity, those with this feline spirit animal as their guide tend to be creative, see the bigger picture more easily, and allow their intuition to guide them without hesitation."
http://www.spiritanimal.info/jaguar-spirit-animal/
6.) How much fun was it recording To All The Boys I've Loved Before? Tell us about that process.
That was a great session. I wanted to record a cover song and really liked the words to "To All the Girls I've Loved Before". A woman had never covered it, so that made it more appealing. I did all the synths parts at my studio and then took it to Paul Antonell who owns "Clubhouse" studio in Rhinebeck. He originally produced the track for me with Earl Slick (David Bowie) on Guitar and Gary Burke (Shania Twain) on drums. That session was the 1st time I met Slick. He's got a very strong seasoned 'Rocker' presence and I was feeling very intimidated, but he's kind, brilliant and great to work with. I'm friends with Trumpeter Mac Gollehon and asked him to the session to add his infamous riffs. Mac has played on Bowie's "Let's Dance," and worked with pop luminaries such as Duran Duran ("Notorious"), Mick Jagger and Chaka Khan among others. Mac comes up with incredible riffs on the spot. I actually recorded the track a few years ago. When I saw there was a "To All The Boys I've Loved Before" movie coming out, I knew it was time to do something with the track. I contacted the music supervisor about using my track, but was told the movie had already wrapped. I played the song for a friend who said "Why don't you put a rap in the middle?!" My current producer Max Surla, got me Sergio Cabral for the rap section. I'm very happy wth it..
Making the video was a blast. My hair colorist Jewels DiPietro who's the lead singer in her band "Babe Patrol" hooked me up with Jon Baker, incredible lead singer of "Relic Hearts" to shoot the video. We did the initial footage in NYC, but when it was finished I wanted more scenes. So we came upstate and shot more footage at Clubhouse where I recorded the track. So it really came full circle.
7.) You're a NY artist, but where else in the world would you like to live?
England. Every time I visit I never want to come home. I can trace my paternal lineage to my great grandfather Grace who came to NY from Liverpool in the mid 1800's. I haven't been to Liverpool yet, I'd like see where great grandfather lived.
I love France as well. The 2nd time I went over with my husband I got to take the Concorde round trip. That was amazing! 3 hours and poof you're there. The plane flew in the stratosphere! I hope they build them again, as flying is not my favorite mode of transportation since 911.
Hawaii. I've been to Honolulu and Maui. As soon as I got out of the plane, I noticed a total different frequency over there. Magical. I don't know if I could live there full time, but definitely would like to escape the New York winters there!
8.) If you weren't in music, what else would you like to do with your life?
Clothing design. My mother taught me to sew when I was 6 and I in my teens I always bought patterns and made my clothes. Vogue patterns were the best and always had major designer's patterns; i.e. Donna Karan, Christian Dior, Claude Montana, Calvin Klein, Yves Saint Laurent!
I walked away from music in the mid 1990s and wanted to learn something new so I attended Fashion Institute of Technology for 2 years studying Pattern making, and took a course @ Parsons for tailoring. I make a lot of my clothes. I made the silver gown on my website's homepage, and just made a white sequin gown (which was a total bitch to make) for my next video for "After All". I made my wedding dress too.
I also enjoy interior design, ala Mary McDonald and Jamie Drake.
9.) Favorite live performer to watch?
Madonna. She has incredible dancers.
10.) Do you have any pre- show rituals? What are they?
No rituals. I practice as much as I can, get the best musicians who will play with me, practice more, get their feedback, and then trust and let it go.
11.) Do you listen to your own music when you're walking, hitting the gym, or doing other activities?
Yes, when I'm driving I listen to my mixes and take notes on a voice recorder; when I get to a red light : )
My husband plays my dance music when we have parties which still makes me feel very self conscious.
12.) One artist you feel inspired by?
Madonna. She did not accept "NO". She's a great songwriter and fearless. She has pushed the boundaries for woman artists. I wonder if she had had a mother would she be this famous? Even @ 60 her message is that woman are still sexual and relevant. My parents were always telling me to be quiet, don't make noise, don't make problems, and compromise. I was slipped across the face for speaking my mind. What I love about her is she apologetically speaks her mind.
13.) Best and worst part about living in NY?
Worst: Traffic when the UN is in session! During the week of UN sessions, I was driving east across Central Park on a Sunday night. I made a a right onto 5th Ave and I got randomly pulled over by the police for a spot check on 5th Ave. There was a police officer with a bomb sniffing dog and that circled my car. I thought I was going to have a heart attack! I kept thinking do I look like a terrorist?! Maybe my cell phone is tapped.....
Getting stuck in bumper to bumper traffic on the FDR between 63rd and 96th where there are no exits! I call that In Pergatorium.
Getting stuck on the subway train in between stations. Panic attack inducing!
Best: For me the best thing is all the great restaurants. I love Clock Tower, (which is on what used to be the president's floor when it was Met Life Insurance. All of the original moldings, parquet floors, and fireplace mantels are still intact from 1900.) Jean George's Public Kitchen & Nougatine, Union Square Cafe (best Tuna Burgers), Novita (better than ANYTHING I had in Tuscany), our Museums, Bergdorf's and Barney's Windows for Fashion Inspiration, Great Architecture (for me mostly Gilded Age NYC), all the different neighborhoods and diverse Universities. From Montauk thru the Hamptons, to taking a wonderfully scenic drive on 25A all the way back into NYC.
Find Jaguar Grace via:
Facebook:
https://www.facebook.com/JaguarGraceMusic/
Spotify:
https://open.spotify.com/album/7pvtjE1zSbcipBMjeDeHm7?si=HswtlmXCQlqndahBFJ-XzA
This post was created by a member of BuzzFeed Community, where anyone can post awesome lists and creations.
Learn more
or
post your buzz!
Looks like there are no comments yet.
Be the first to comment!