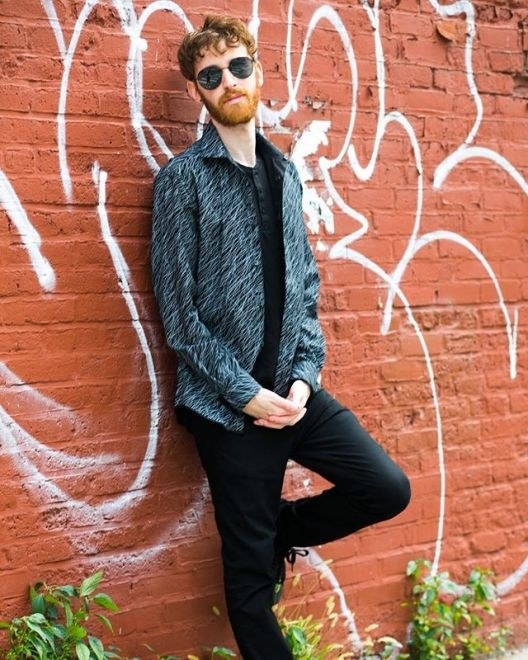 FEYER is off the ground running with his new single "Stuck in a Video Game." The Electro-laced-Rock-infused Indie artist is creating music on his own terms and we like it...well LOVE rather. FEYER is the stage name of artist Andrew Feyer who discovered his love for music at an early age.
FEYER states of the song:
"Stuck in a Video Game" is the first new single I'm releasing since the release of my 2017 debut album "Signals Internalized." Since releasing that album, listeners have formed a common consensus that my music tends to sound like it belongs in a video game, and I can see what they mean, given the retro-futuristic elements and the hybrid of electronic and rock genres. Personally, I greatly enjoy video game soundtracks. I was never much of a gamer growing up; my parents wouldn't let me have a console, as they thought I wasted too much time watching TV anyway. So, most of the exposure I had to video games were from playing them at my friends' houses. However, what caught my attention most with these games were their highly creative and elaborate soundtracks. As for the actual playing of games, frankly, I stuck! I would always come in dead last in Mario Kart, and be the first one out in Super Smash Bros. Playing these games, especially with other people, got me thinking that about how they foster competition, and how the end goal is always the same: to come out on top and be the most successful. In short, to win. To me, that seems like a strong reflection of real life. All of us are trying to be successful in one way or another, and, just like in a video game, it seems like there are all these skills we need to have, steps we need to take, enemies we need to fight, and hurdles we need to overcome in order to achieve our goals. With "Stuck in a Video Game," I hope that the listener can determine for themselves if it is a literal interpretation of being trapped in a game, or if it's really a metaphor for going through life, because my intention is to have it go either way."
FEYER is a unique listening experience as he blends a personal and theatrical dose of lyricism. Combined with a classically influenced melodic and instrumental style, he adds a charming and vibrant element of Electro-Rock into the mix. Currently based in New York City, FEYER is already becoming a staple in the live scene playing the likes of the Mercury Lounge, Knitting Factory, Bowery Electric, Sunnyvale and more. The beat doesn't stop there.... when not working on and playing his own music, FEYER finds himself dipping his toes in musical projects across the world from recording, producing, and remixing other artists, songwriting collaborations, and composing and sound designing for films, shows, video games, commercials and audiobooks....phew!
Kick into the weekend with FEYER's "Stuck in a Video Game,"....this track is FIRE!
Connect with FEYER via:
Facebook: http://www.facebook.com/FeyerMusic/
Twitter: http://www.twitter.com/FeyerMusic/
Instagram: http://www.instagram.com/FeyerMusic/
Website: http://feyermusic.com
Listen to FEYER's "Stuck in a Video Game" below:
Spotify: http://open.spotify.com/album/1XXuNLW8pDchedQzIG1g1V?si=d_1oxNLwRMyTqRJZpdwfkA
iTunes/Apple Music: http://itunes.apple.com/us/album/stuck-in-a-video-game-single/1441033707
SoundCloud: http://soundcloud.com/feyer/stuck-in-a-video-game
BandCamp: http://feyer.bandcamp.com/track/stuck-in-a-video-game
This post was created by a member of BuzzFeed Community, where anyone can post awesome lists and creations.
Learn more
or
post your buzz!
Looks like there are no comments yet.
Be the first to comment!