Frantic Romantic are a California based band that is about to blow your mind. With Alternative-laced Electro they bring to the world an earful of adventure.Their latest single and video for "Among the Stars" combines bold and beautiful sounds that will be in your head for days. Taking a hold of our eyes and ears, the video instantly makes the group a favorite in our books.Though their sound may remind you slightly of the early-ought bands we all know and love, the intriguing and pure sound that Frantic Romantic creates is epic from start to finish. Sitting down with us this Fall, we dig a little deeper into the Frantic Romantic story, as they hold their place in Rock n' Roll's present and future. We caught up with Frantic Romantic's Mr. Kerosene and Rube Walker after the jump.
When you decide it's time to make a new single and record, is that more exciting or stressful?
MK: It has always been a combination of stress and excitement. For me personally, I've had this idea in my head that I'll be facing the same kinds of emotions as things unfold. The real spark is in the initial inspiration. The group of friends coming together and saying "Hey! We have something to say. Let's craft these songs and say it to as many people as we can."
RW: Exciting, I usually demo the songs at home months before we hit the studio, so I love seeing the vision come together.
You write all of your own music; where do you draw inspiration from when you write songs and what's your favorite part about the process?
RW: I'm a big fan of good novels, and well written movies, I try to tell a good story with the lyrics and music I write. Each record I've put out carries a lot of what was going on in my life at the time. On this record "Celestina," I had been dealing with the loss of our drummer, and of a few close friends. I was in a dark place, so the music helped. I tend to write the best stuff at 3 am, that's probably my favorite part of the process, I get to be isolated with the songs, while the world sleeps.
MK: This is the first band I've been in where I haven't been the only lyricist. I thought it would've been a struggle for me singing other peoples' lyrics and melodies, but it's been a really cool process of taking Ruben and Joseph's ideas and putting them through my own personal filter, in addition to writing my own lyrics for some of the songs as well.
Regarding my own lyrics, I've really always tried to "go for the throat" as much as possible. If music is worth turning into a song, I'll know almost immediately what I'd like to write about. For me, it's about taking a couple of weeks, finding those moments in life where I'm alone in a quiet place, and slaving over every single word. More than anything, the language has to be colorful.
Recently you changed your name, what was the reasoning for the shift?
MK: We were picked to attend and perform at a three day long seminar hosted by EA Games. A team of professionals sat with us and asked us the hard questions, basically. It was super helpful, and at the time very needed.
One issue that came up on the second day was the meaning of our band name "Skyway View." No one in the band had a good answer for why we went by the name. It had been created a good decade before by an ex-bassist. We soon got on the topic of what made our band our band, and the quick answer that Ruben and I had in our back pocket for a while was "Ruben tends to write romanticized lyrics, while I tend to write more neurotic lyrics."
The band took a couple months forming a list of about 200 band names. The name we kept coming back to was "Frantic Romantic," and suddenly our sound, our story and our message all came into focus.
What are your fondest musical memories? In your house? In your neighborhood or town?
MK: The first memory that comes to mind is being 18 years old, playing the last show with my band at the time, Calibur. We were playing this venue in Danville. The stage was giant, with great lighting and sound. Tons of locals went there for shows at the time. It had been the biggest crowd I'd played in front of up to that point. The band played our best. It was a feeling of being fully formed after a couple years of hard work, and then the rest of the night was pure celebration. I remember lounging in a giant fuzzy chair with a group of strangers and chatting for a while.
RW: I remember having a lot of fun touring with other bands, and playing pranks on them, and laughing about it over dinner with them later.
MK: There are some times in bands where things just really click, and you're up there on stage in front of a loving crowd, and that energy feeds back into the performance. Those rare times are really special.
How do you balance your music with other obligations in life? How does it get effected if so?
RW: I'm a new father, and I love having my daughter at rehearsals, recording sessions, and even our music video shoots. I can already see she loves music, and rocks out as much as I do to it. I try to be the best at each thing, day jobs, being a dad, and being a guitarist. I compartmentalize my time the best I can.
MK: We live in an interesting time where playing out and playing often isn't necessarily the big deal maker anymore. What's great about Frantic Romantic is we have restraints that have forced us into making more ambitious decisions. For one, I live in Los Angeles while the rest of the band lives in San Jose, so whenever booking a show, we basically say "Go big or go home."
We've recently hatched a plan of being much more online based. Artists like Ninja Sex Party and Turquoise Jeep that exist on Youtube, rolling out content on a set schedule, that seems like a really progressive idea. We currently plan on releasing a music video every month, which we're really looking forward to.
What is your favorite song to sing live?
MK: There's a song that Skyway View wrote before I joined called "So Goodnight." It's our ballad, but it has an intense energy behind it. It means a lot to the band, having been our late drummer's (Dave Gary) favorite song of ours. Whenever we play that, we're probably all thinking the same thing... thinking of Dave Gary, or thinking of the friends we've lost over the years.
Do you have any events coming up or recording going on right now aside from your latest record and singles in tow?
MK: Right now we are mainly focusing on building our channel, and booking shows up and down California. We have our first show back in November in Lodi, then more shows to follow both the SF Bay Area and Los Angeles. We're also looking into Central California, and Tijuana, Mexico.
RW: We just wrapped up our new record "Celestina." We're looking to release that mid next year. We are also busy filming music videos for all the songs, we've been cranking them out, and plan on putting them out each month through the release of "Celestina."
MK: However, I will say... we have a super secret cover we're really jazzed to show people soon.
At what age did you start singing and what inspired you?
MK: The first CD I ever bought was regrettably the Mission Impossible:II soundtrack. It doesn't hold up, but my older brother overheard me listening to a track called "Mission 2000" by Chris Cornell, and sent me in the direction of Soundgarden immediately. That's where the real rabbit hole began for me.
Chris Cornell's voice changed my life. Such honesty, tragedy and raw talent. It was like nothing I had ever heard before. I didn't know music could do that! It led me to a lot of these late 80s/early 90s bands of the same ilk. Dark, proletariat characters making songs that were honest and completely unapologetic. Alice In Chains, Jane's Addiction, Stone Temple Pilots. Those bands empowered me when I was a lonely, overweight, awkward shy, 8th grade kid. They weren't trying to be cool, they were just authentically strange and interesting.
My best friend Gavin started taking guitar lessons some time in 8th grade, and I told him we should start a band, and I would be the singer.
RW: I started playing guitar at 10 years old. I saw the music video for "Heart Shaped Box," hanging out with my brother in law (my sister's boyfriend at the time) and I knew I wanted to be a musician.
How easily do songs tend to come to you?
MK: My process has always been music first, then vocal melody, then lyrics. Vocal melodies have always come relatively easy. Lyrics, I expect to swallow the rat for a few rounds before finally getting it right. There is the rare occasion, though, that lyrics for a song just flow out of me. The song "Among the Stars" (off our new album) is like that. I was in a bad place when I wrote those lyrics, and they just poured out of me.
RW: I go through phases where I get inspired, and they just pour out of me, those periods hold me up for a good year or so, I then spend time developing the songs with the band.
If you had a soundtrack to your life what song/songs would have to be on it?
RW: "Everlong" by Foo Fighters. "Heart-Shaped Box" by Nirvana. "Change (In the House of Flies)" by Deftones, "Tren al Sur" by Los Prisioneros. "It's No Good" by Depeche Mode. "Love Song" by The Cure.
MK: Tough question! I think I'd only have to pick one song though. It's a song I can loop for hours and hours, driving alone in my car, late at night. It's a song called "Let Go" by the band Little Dragon. The song has a weird way of telling me the world is okay when I'm feeling stressed out.
For our readers who have never heard your music, explain your sound in 5 words?
MK: Theatrical. Nocturnal. Desperate. Naive. Saturated.
RW: Frantic. Romantic. Pulse. Dream pop.
Connect with Frantic Romantic on their Social Networks:
Discover "Among the Stars" on Spotify:
https://open.spotify.com/album/47lBs2UGL9nUczxGtrPNIX
https://franticromanticmusic.com/
Soundcloud: https://soundcloud.com/franticromanticmusic/
https://twitter.com/FRMusic408%20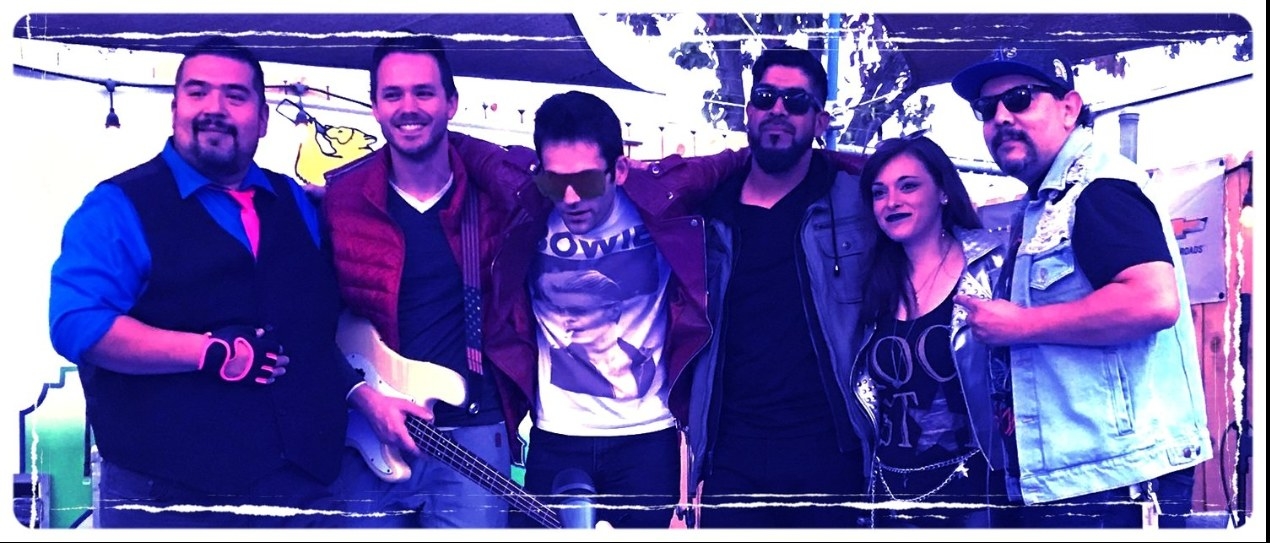 This post was created by a member of BuzzFeed Community, where anyone can post awesome lists and creations.
Learn more
or
post your buzz!
Looks like there are no comments yet.
Be the first to comment!