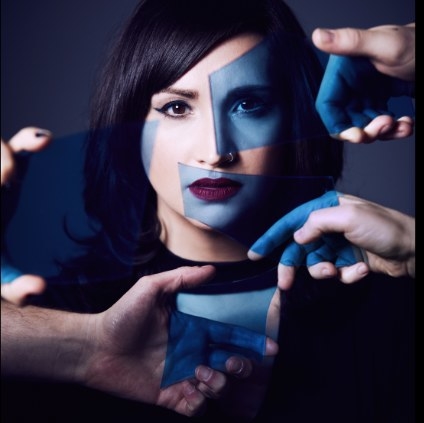 Abby Ahmad has quickly become one of our favorite artists of 2018, and she shows no sign of slowing down. Recently sharing her new single "Because," her voice glides throughout the track with witty and heartfelt lyricism. With a few tricks up her sleeve before we close out the year, the artist will also be revealing a new video in the coming weeks, and a new album shortly after. The third release for the artist in which she also collaborates with musician and husband Mark Marshall, the two prove to be an unstoppable pair. We had the opportunity to catch up with Abby Ahmad as she dives deep into her musical past, present and future.
When you decide it's time to make a new single, is that more exciting or stressful?
This particular time in my recording life cycle has been the most simultaneously thrilling and maddening yet. Myself and my husband/musical partner Mark Marshall tackled the entire production, performing, engineering, and releasing process independently. This has proved a great lesson in patience and true collaboration. I'm old school when it comes to listening to music and a bit nostalgic for the days when the album reigned and one listened as a fully cohesive piece. However, this new batch of songs were written and recorded over a longer span of time, so they've developed very disparate personalities. Some polarizing. This makes releasing them as singles extremely exciting. Each is its own entity with specific purpose and sonic landscape.
You write all of your own music; where do you draw inspiration from when you write songs and what's your favorite part about the process?
For my solo project, inspiration has always been autobiographically leaning. But these newer songs are more about the collective human experience of how our emotionality gets processed and manifested. My songs are expressions of how we inhabit the vast spectrum of our feelings, and how they shape our identity, security, and relationships to others.
My songwriting process tends to be more clinical at the beginning and visceral as it nears the end. I revel in the sensation of a song when it crowns. When you are bearing down with all your agony and anticipation and there's a final push to completion. Then, the glory of that first cradle in your arms before it gets shared with anyone. There is different joy that comes with the universality of the share. But when a new song is fresh from the womb, there is pride of a special kind.
What are your fondest musical memories? In your house? In your neighborhood or town?
Musical memories in my childhood home in Pennsylvania certainly have had lasting impact. Writing poetry, learning guitar, making music with family and friends, exploring different genres, and studying my voice within those walls was such a vital and significant portion of my creative development. So, it was true catharsis when we returned to this space to do much of the recording for the upcoming album. My parents asked us to dog/housesit for them while they went away on vacation so we converted my old childhood bedroom into a recording studio. A large bulk of the record was made there. The remainder was done in our apartment in Brooklyn which houses its own magic and memories.
I am also grateful to have been a part of the New York City music scene for the past 13 years. Being an observer and participant in this community has shaped and evolved me in myriad ways. The talent, diversity, drive, and devotion of the musicians in this city is incredibly influential. So many of my favorite musical memories were made and continue to be made here.
How do you balance your music with other obligations in life? How does it get effected if so?
I'm a creative dabbler, so there are always many artistic pots I am stirring concurrently. I recently returned to the theatre after a 10 year hiatus which has been so gratifying. I actually find it helpful to be contributing to different creative endeavors at once, as they tend to support and enrich each other. Things become less stagnant and the lessons transfer.
Juggling work and home life can be more complicated. Particularly, being in a professional and personal partnership with another full-time freelance artist. The tightrope walk of making enough money to make ends meet and support the art is a balance we are still seeking to stabilize. Luckily, it never seems to deter the creative process, as we are always making new things. But it certainly does effect the rate in which we share those new things on a broader scale.
What is your favorite song to sing live?
The answer is ever-changing, but right now it's "Same Old Blues" by Freddy King
Do you have any events coming up or recording going on right now aside from your latest record and single in tow?
Additionally, Mark and I have been finalizing recordings for the sophomore album from our blues band, Fife & Drom. (fifeanddrom.com) as well as doing some touring for both projects. We're looking forward to playing at Levon Helm Studios on Nov. 17th.
At what age did you start singing and what inspired you?
I started singing nearly as early as I could speak. Despite the fact that I was severely asthmatic as a child, my "big mouth" developed early on. Though I was a natural at creating and performing, finding my authentic singing voice took investigation and determination. I always had the will, but not always the skill. This is a principal I now instill within my own vocal students: If you are capable of tapping into your truth and have the bravery to express that truth, you are capable of being an effective singer. While technique is essential to avoid injury and build range, stamina, etc., if you don't accompany methodology with mindfulness, the meaning gets minimized.
Inspiration was everywhere as a child, but I can't deny the influence that the world of Jim Henson via The Muppets and Sesame Street had on me. The music, theatricality, and focus on emotions and expression laid a firm foundation for my future as a singer and performer.
How easily do songs tend to come to you?
It ebbs and flows. Sometimes a downpour, sometimes a drought. I've found the key is to contribute in small doses even when uninspired. Journaling, noodling, improvising. Keeps the creative juices squeezable even when they're not drinkable.
I also save all my scraps. I keep a discard pile of lines, metaphors, and riffs that don't make the cut for finished songs. Every so often, I'll peruse the archives and find a little seed that blossoms into a new song. I love leaving these little gifts for future me.
If you had a soundtrack to your life what song/songs would have to be on it?
I couldn't narrow it down, so I went ahead and made you a playlist:
https://open.spotify.com/user/litepipe/playlist/5vM0v19lPE6fBbfDg26eD1?si=FUo0cMfWSzGWQX9RNwuX1Q
"Father and Son" - Cat Stevens
"Time After Time" - Cyndi Lauper
"Upside Down" - Tori Amos
"Guitar and Video Games" - Sunny Day Real Estate
"Helpless" - Neil Young
"Time Will Do the Talking" - Patty Griffin
"Tell Me More and More and Then Some - Nina Simone
"Friends" - Led Zeppelin
"You Said Something" - PJ Harvey
"Shelter From The Storm" - Bob Dylan
"People's Parties" - Joni Mitchell
"Grinnin' in Your Face" - Son House
"Born To" - Jesca Hoop
For our readers who have never heard your music, explain your sound in 5 words?
Rock + Folk + AltPop
Shake. Serve.
Find Abby Ahmad Online:
http://www.facebook.com/abbyahmadmusic
http://instagram.com/abbyahmadmusic
Get the single online:
iTunes: http://itunes.apple.com/album/id1436615982?ls=1&app=itunes

Apple Music: href="http://itunes.apple.com/album/id/1436615982">http://itunes.apple.com/album/id/1436615982
This post was created by a member of BuzzFeed Community, where anyone can post awesome lists and creations.
Learn more
or
post your buzz!
Looks like there are no comments yet.
Be the first to comment!