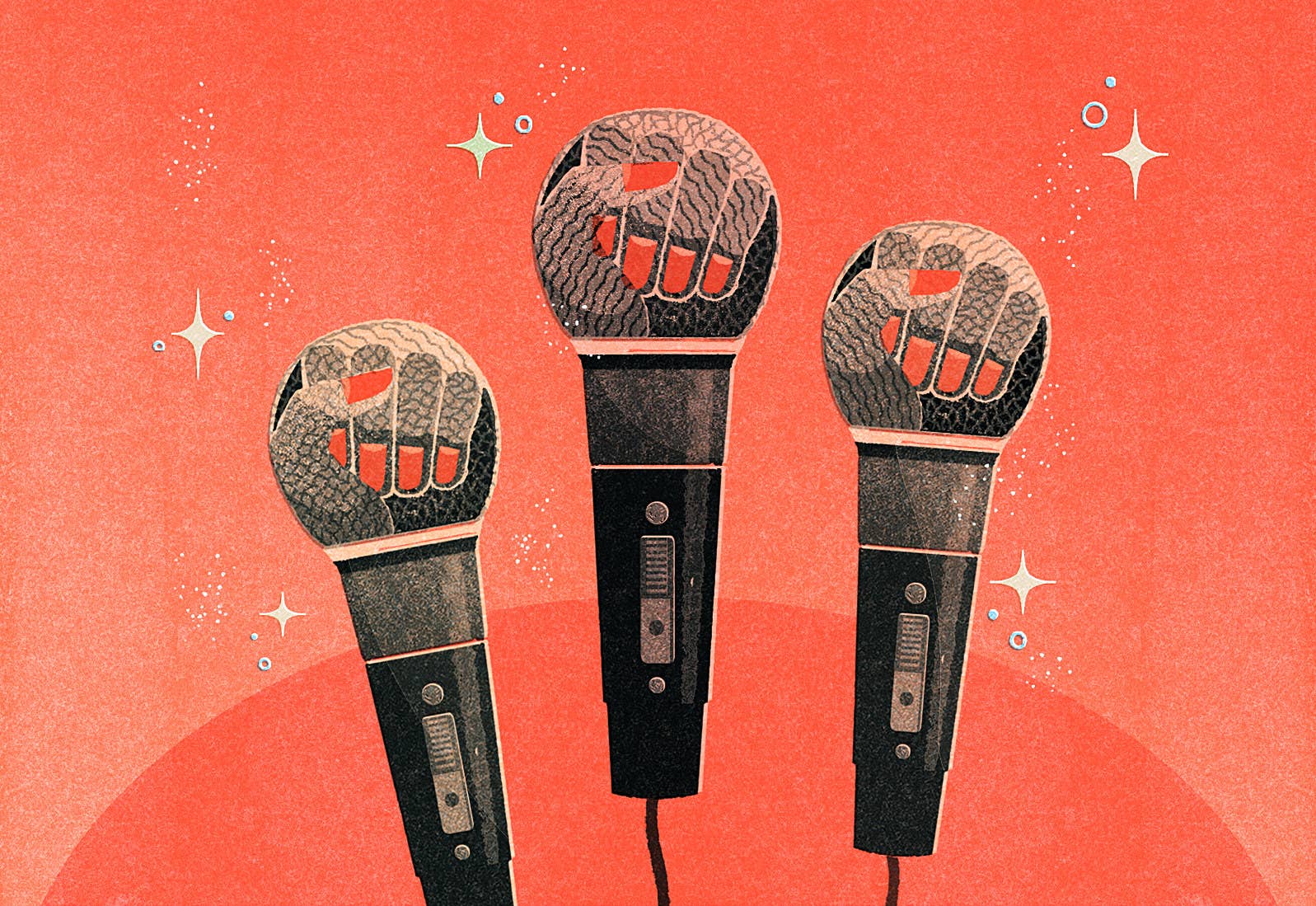 In her early years in stand-up, Michelle Shaughnessy was doing a gig out of town and sharing a condo with a fellow comic who monopolized the common spaces by watching porn and refusing to put his pants on. And yet, through some perverse twist of logic, it was Shaughnessy who was ultimately seen as the problem.
"I wrote this long complaint letter to the booker suggesting that maybe his behaviour was inappropriate," she says. That letter was promptly forwarded on to the comic, who responded with his own lengthy email informing Shaughnessy that she didn't know either him or the comedy business. "I got in trouble for complaining, they pushed back, and I figured I should just keep my mouth shut," she says. "After that, people told me that they heard that I was a real diva about accommodations on the road. I thought I had really screwed things up, but I kept working for that agent and that company because there was this attitude that if you can't hack these kinds of things, then maybe you don't belong in the business."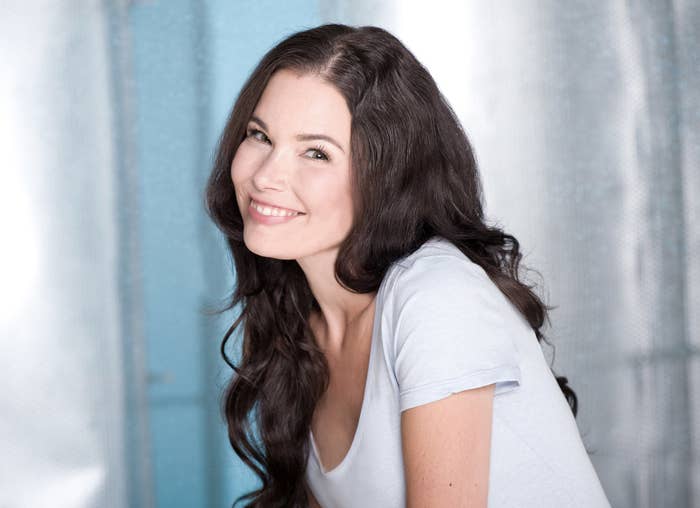 That incident happened over a decade ago, and things are now, supposedly, different. We're presently living in a golden age of comedy for women, with Mindy Kaling, Amy Schumer, Tina Fey, Lena Dunham, Pamela Adlon, and countless other funny women who have run their own shows, if not empires. Woman stand-up comics like Ali Wong and Sarah Silverman abound, and indie hits like Broad City have become critical darlings. In Canada, CBC's immensely popular sketch show, Baroness von Sketch, showcases all women performers and writers who mostly perform and write narratives that focus on themes of contemporary womanhood.
Yet workplace harassment for women in the comedy scene is still tediously ubiquitous, especially for younger and less powerful comics. Even amid what feels like a women-led revolution, progress has been slow going, and women comics still deal with the residue of sleaze and sexism.
In addition to allegations regarding Louis C.K.'s propensity for nonconsensual masturbation, which was a corporeal sign of disrespect for the women in his industry, comedy communities have grappled with charges of unwanted sexual advances, assaults, and offensive remarks throughout both improv and stand-up scenes. In Canada, Just for Laughs founder Gilbert Rozon resigned in October after several women alleged sexual misconduct and assault.
What was once an open secret has become fodder for women comics. Last year, Canadian Samantha Bee used her show, Full Frontal, to speak out against the serial abuse of women in comedy: "You know how people are always like, 'I wonder why there aren't more women comedians. Maybe it's because every time a woman opens her mouth to tell a joke, someone tries to put their dick in it."
And in November, writing in Metro, Canadian comic Rebecca Kohler outlined her fairly typical experience with sexual harassment: male comics commenting on her physical appearance instead of her work and seemingly constantly asking for blow jobs in return for everything from performance notes to a ride home. Every industry is hostile towards women, she notes, "but if sexual harassment were a meal, the comedy club would be an all-you-can-eat buffet."
"I ask them why they don't like women comedians, and they usually say something along the lines of, 'They all talk about their periods.'"
Women comics describe unwanted touching, inappropriate and even threatening remarks, and unsolicited dick pics. In a world of working in bars, carpooling to remote gigs, late-night writing sessions, and too few conventional workplace protections, these women have long been vulnerable to abuse. But women comics are often told to "suck it up" if they're made uncomfortable by behaviour too often excused as "just a joke."
It's a bit reminiscent of the prototypical woman executive having to prove herself by hitting the strip club with her male colleagues and the clients they're so eager to impress. But, for most, comedy isn't a highly lucrative profession; it's a precarious gig economy with workplaces that have few boundaries. There is no human resources department to file a complaint with, and there are too few sympathetic bookers and agents.
And it's just that network of bookers and agents that can be part of the problem. Comic Martha O'Neill, who cofounded the SheDot Festival for women in comedy, says that, while she has seen improvements in the last couple of years, there is still an "unspoken quota system" where it's rare for two women to be booked on the same big comedy club shows. "Part of it is that there are fewer of us, but part of it is perception," she says. "One booker only wants to shove me into women-only shows because I'm a 'girl comic.' It would never enter a comedy club owner's mind that two men were too many."
Christopher Hitchens' body might be long cold, but his legacy lives on in the persistent idea that women aren't well suited to comedy. O'Neill still often walks onto a stage and hears audience members loudly whisper their disappointment that she's a woman. "Almost every single show, I get someone in the audience who comes up to me and says that she usually doesn't like women comedians but she thought I was funny," says O'Neill. "I have to remember they're trying to pay me a compliment. More often than not, I ask them why they don't like women comedians, and they usually say something along the lines of, 'They all talk about their periods.' We have to fight so much harder just to get them onboard. But a young white guy is in their pocket already."
Dismissiveness is just one part of it. Doing stand-up as a woman can be a bit like being on Twitter as a woman — but IRL. "Heckling is based in gender a lot of the time when you're a woman," says comic Jess Beaulieu. "I have been sexually harassed while onstage with men saying really disgusting shit to me, commenting on my body, saying that they would like to have sex with me." After she steps offstage, that dynamic often continues, with hecklers often approaching her. "Maybe they try to hit on me or touch me or maybe they call me a cunt," she says. "It's really a variety of things."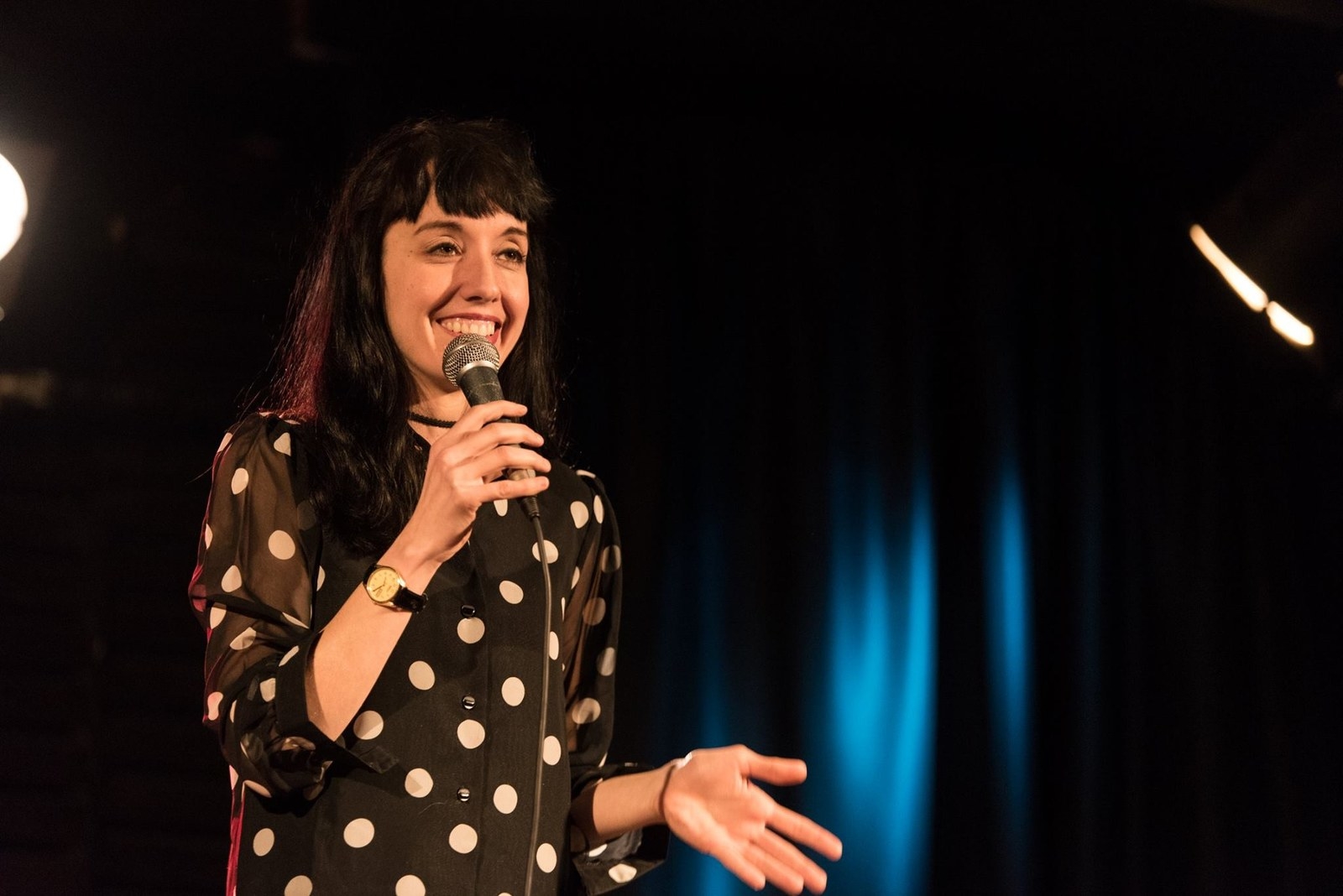 There's also a fairly common inability to draw a distinction between what a woman says in her act and tacit invitations to both fellow comics and men in the crowd — especially when it comes to any sexual references. Behaviour onstage is sort of like the comedy industry version of "but what was she wearing?" "I'm often vulgar when I perform and some men take my openness onstage as a sign," says Katie Preston, a member of Herbeaver, a self-described feminist comedy trio that often performs musical numbers (including a song called "Don't Rape"). "And when I say no to someone trying to make out with me, I'm accused of being unfunny."
And so, sick of a second-class norm, women in Toronto's small, male-dominated scene are now taking the reins and creating their own spaces and content. They're defying the pressure to be "one of the guys," to put up with abuse lest they're accused of not having a sense of humour, and they're speaking out to demand equality and decency from male peers. And even more, they're banding together to carve out feminist, women-only, or explicitly women-friendly spaces and comedy rooms with explicit anti-oppression frameworks.
In addition to weekly events, there's The Girls Show, a monthly improv show presently being staged at Bad Dog Theatre, which describes itself as "women working hard and playing harder." And Drunk Feminist Films, where panelists drink and comment on gender and romance tropes associated with typically campy movies like Twilight or Miss Congeniality, has become a recurring and very popular event. The founders describe DFF as always punching up, aiming "jokes at the oppressor and the system (and sometimes the fashion), not at those experiencing oppression."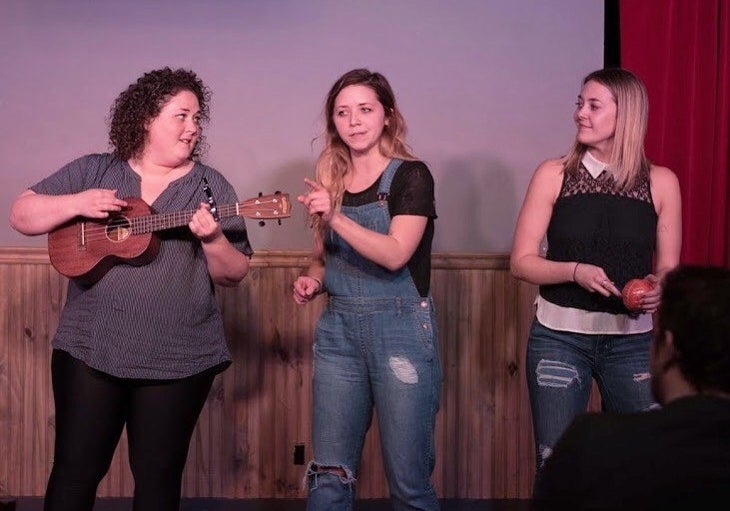 While the idea of "feminist comedy" used to describe proto-revenge movies like 9 to 5 or Thelma and Louise or Shirley Valentine — narratives that were typically pegged to a backlash against a male authority figure — many of these next-wave feminist comedy rooms are elevating women performers, focusing on material that deals with women's realities and declaring that comedy can be both funny and a form of safe space.
Beaulieu and Natalie Norman cohost the Crimson Wave podcast and have each hosted a range of explicitly feminist comedy events with names like Taking Up Space, Hysterical, and The Humourless Feminists Comedy Night! These events typically bring together a roster of comedians willing to adhere to clear rules: The material must be feminist-friendly, LGBT-positive, anti-racist, and devoid of rape jokes.
Beaulieu suggests that having explicit rules about what is and isn't permitted forces comedians to look closely at their material and question whether they're punching up or down. "That's usually a good exercise for a comedian because a lot of people don't reflect on what they're saying," she says. "I actively try to create spaces for women where they can enjoy comedy and not feel triggered, attacked, or ridiculed. I try to give platforms to women who want to do comedy to share their stories. I am trying to prove the idea that feminists can't be funny wrong."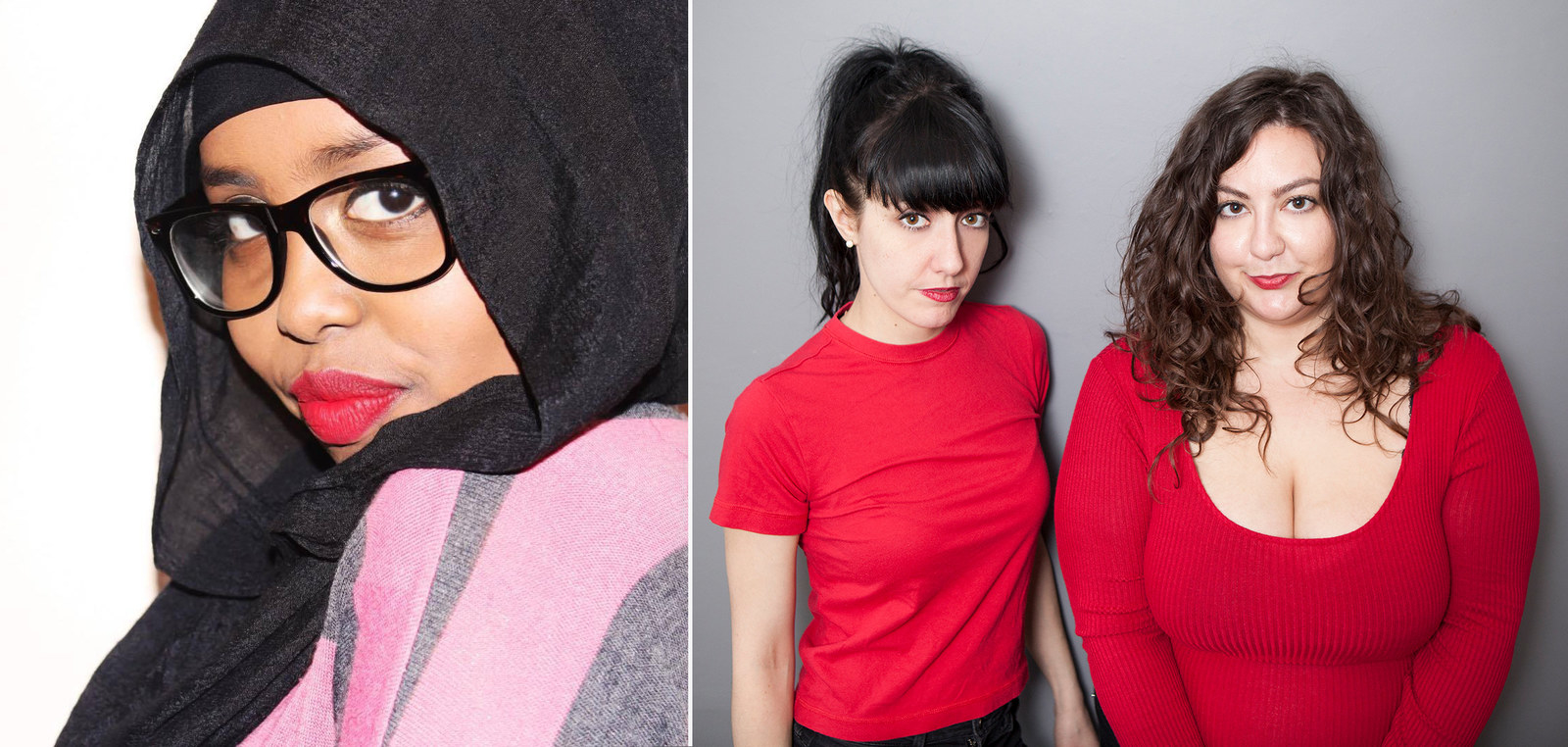 Hoodo Hersi — a black and Muslim woman comic who tongue-in-cheek describes herself as "a triple threat" — says that a key part of these more inclusive comedy spaces is the uniquely conscientious audience. "I know they won't shy away from me talking about racism or feminism because most of them have experienced oppression on some level," she says. She adds that shows like Yas Kween — a regular comedy night for women of colour — and similar shows draw an audience that simply isn't interested in a mainstream comedy show.
It's perhaps no surprise that this rising wave of feminist comedy has been met with resistance. "Some comedians don't like the idea of a safe space, that any comic should be able to perform in any space at any time," says Beaulieu. "I don't think that any space can be 100% safe. But I think it can be made safer — and all that means is less horrible for marginalized people. And a lot of people don't like that, especially if they can't get on the show. A lot of the time it's straight white guys who feel like they're losing power in the industry, and that makes them upset."
"I'm not necessarily one for vigilante justice, but I do think it helps keep behaviour in check when people are afraid of being called out."
While many women comics note a general improvement in the behaviour of both male peers and audience members over the past several years, Shaughnessy says that she's seen an interesting transition. "I think there was more sexism but men were less threatened," she says. "Now I think the hostility is held by fewer men, but more intensely. I hear from men that they believe they're not getting work because they're a straight white man. They think we're taking things from them."
Shaughnessy also believes that the most hostile of these men are developing reputations and are no longer being booked at open mics. "There were comics who would get a few drinks in them and start yelling at women and for so long other guys would make excuses, like, "Oh, but he's funny," she says. "People might tell you to watch yourself around them, but they were still booking gigs and still making the most money. But I think that's really changing. I'm not necessarily one for vigilante justice, but I do think it helps keep behaviour in check when people are afraid of being called out."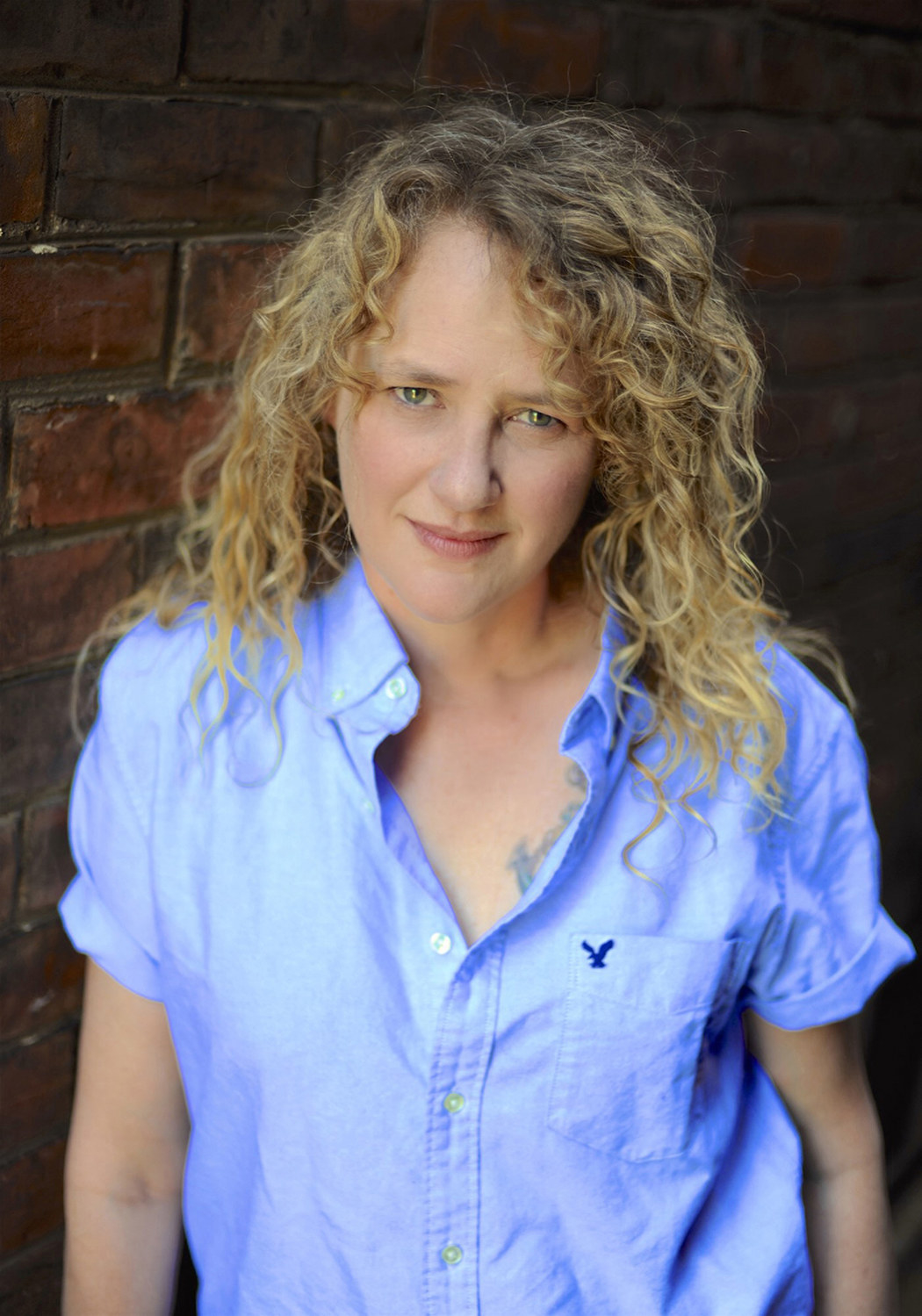 Some Canadian comics have been chipping away at this paradigm for years. When Dawn Whitwell, a performer and writer for Baroness von Sketch who started teaching Comedy Girl, a class for burgeoning women comics, a decade ago, it was with the explicit intent to build a critical mass of women who might, collectively, start to turn the tide of male-centric comedy in Toronto. "I think the Gulf War was on when I started the class, so I kept referring to it as 'more boots on the ground,'" says Whitwell. "Volume alone leads to more women producing things and less starvation economics and hoarding. We need us everywhere."
Still, she's only cautiously optimistic about the recently improved prospects for women comics. When Baroness von Sketch won its first big award, Whitwell was approached by a young woman who wanted to thank her for breaking comedy's glass ceiling. "My first thought was, eh, work's not over yet so let's stay vigilant," she says.
For many, funny is still the bottom line and it can be hard to convince some comics to adopt greater sensitivity in a world where "just joking" can cover almost any sin.
Many women comics are buoyed by the new paths being blazed. "A lot more women are staying in comedy rather than being intimidated out of it and more women are standing up for themselves and creating their own stuff," says O'Neill. Part of that movement is a turn away from both hostile material and environments. "There's a new 'woke-ness' and people are trying harder right now," says Whitwell. "When I see a poster for a centered comedy night that says 'no rape jokes,' my first thought is, who the fuck is telling rape jokes?" ●