We hope you love the products we recommend! Just so you know, BuzzFeed may collect a share of sales from the links on this page.
Hi! Sarah here, reporting on the newest squishy toy.
JUST KIDDING!!! It's even better than a toy because it cleans your face! That's right — let me introduce you to Boscia's latest creation, the Charcoal Jelly Ball Cleanser.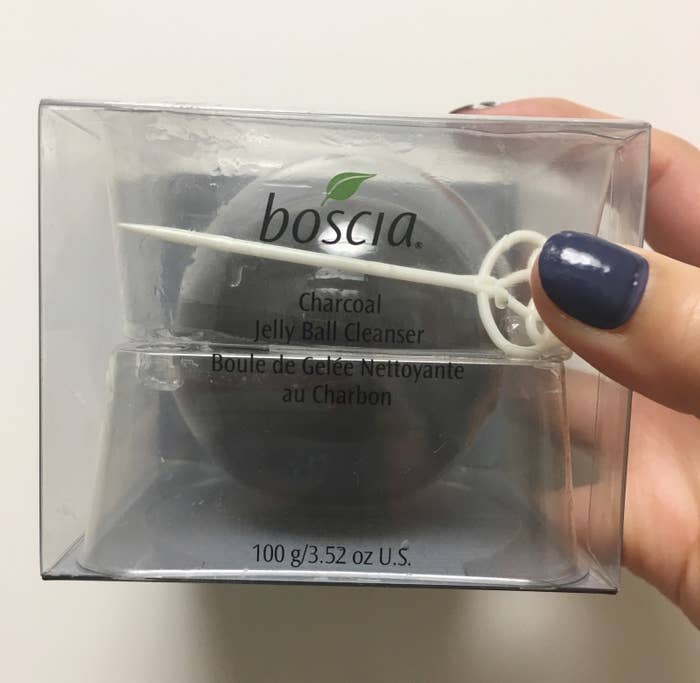 It comes with a plastic pin so you can poke through the thin, balloon-like casing to FREE THE JELLY BALL. Poking it proved to be a little difficult at first.
But it finally happened. 🎉
And it's not gimmicky. Trust me, I had my doubts. It feels really cool and soothing on the skin and incredibly lightweight — you almost don't feel it at all. And there's absolutely no tightness afterwards.
I don't ~hate~ washing my face, but I don't love it either. Since I have to do it every day, if there's any way to make that process more fun, I'm so 😍 here 😍 for 😍 it 😍.
Tbh, going forward, I'll be using it as a second-step cleanser (after I've removed my makeup with an oil-based product), but it does in fact remove makeup really well. Evidence: my gross foundation residue.