It's hard not to be constantly laughing when you're in a room with SF9, a nine-member K-pop group with a dynamic stage presence, experimental sound, and silly sense of humor (I'm looking at you, Dawon).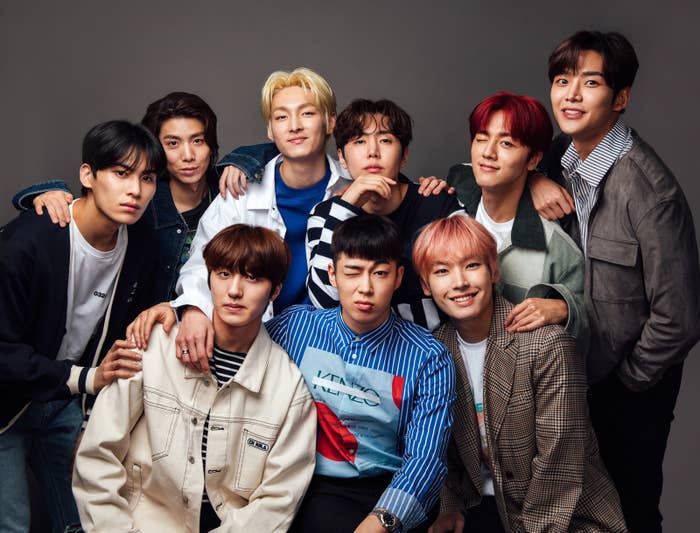 The members are quick to point out who they think fits their current ~sexy~ concept the best, which kicked off with "Now or Never" and more recently with their single, "Enough."
Their powerful and mesmerizing music video for "Enough" stood out to me because it was inspired by Narcissus, a figure in Greek mythology, so I asked them what it was like to film those mirror scenes.
When I asked them which SF9 song or concept represents them the best, they spoke very fondly of "Now or Never," so I hope their other songs don't feel ~jealous~.
Since I wanted to get a peek into their ~creative~ sides, I asked them what their dream music video would look like if they were to direct it, and Inseong's answer gave me flashbacks of a classic K-pop concept: the matching school uniform look.
Rowoon had grander plans, noting he has "thought about this very seriously."
Besides lighting up the stages with their killer performances, the SF9 members also participate in songwriting and composing. I'm always curious about where K-pop stars get their inspiration and Zuho said his lyrics directly correlate to his "current situation" and mood.
Anyone familiar with K-pop knows that it's a tough industry to break into and takes years upon years of training and hard work to even snag a *chance* at debuting. Knowing all that, I had to ask who inspired them to chase the K-pop idol life.
In every K-pop group — while roles can be a bit fluid — there are designated vocalist, rappers, dancers, and even visuals, but sometimes those roles aren't determined until later on — case point: Zuho sang in his audition and became a rapper, while Rowoon rapped in his and ended up as a vocalist.
But now that they've debuted over three years ago, they're definitely rookies no more, so I asked them about pivotal or proud moments in their careers thus far. Leader Youngbin immediately shouted out their fandom, Fantasy.
There's no doubt that SF9 is a rising K-pop group — they literally won the "Rising Star" Award from the 2018 Asia Artist Awards — and they shared their thoughts on why they've gained popularity overseas, especially in Central and South America.
But, true to their hardworking nature, SF9 still has ambitious goals to achieve. Some are easier to measure, like winning #1 on Korean music shows (Rowoon), releasing another album in 2019, and having showstopping performances at end-of-year award shows (Youngbin).
If you're just learning about SF9 (lucky you!), you should definitely check out their entire discography, starting with their hit singles — as per their personal recommendations!
Oh, and as a bonus treat, we had the boys play a quick game of "Who's Who" with us:
Thanks for chatting with us, SF9! We wish you all the success and exciting adventures ahead!