Why? 'Cause she spent a day in Seoul hanging out with K-beauty and K-pop royalty, and documented everything for us to "oooh," "ahh," and drool over!
And look at this freakin' holy-smokes view of Seoul that she and makeup artist Risabae enjoyed while they bonded over beauty things!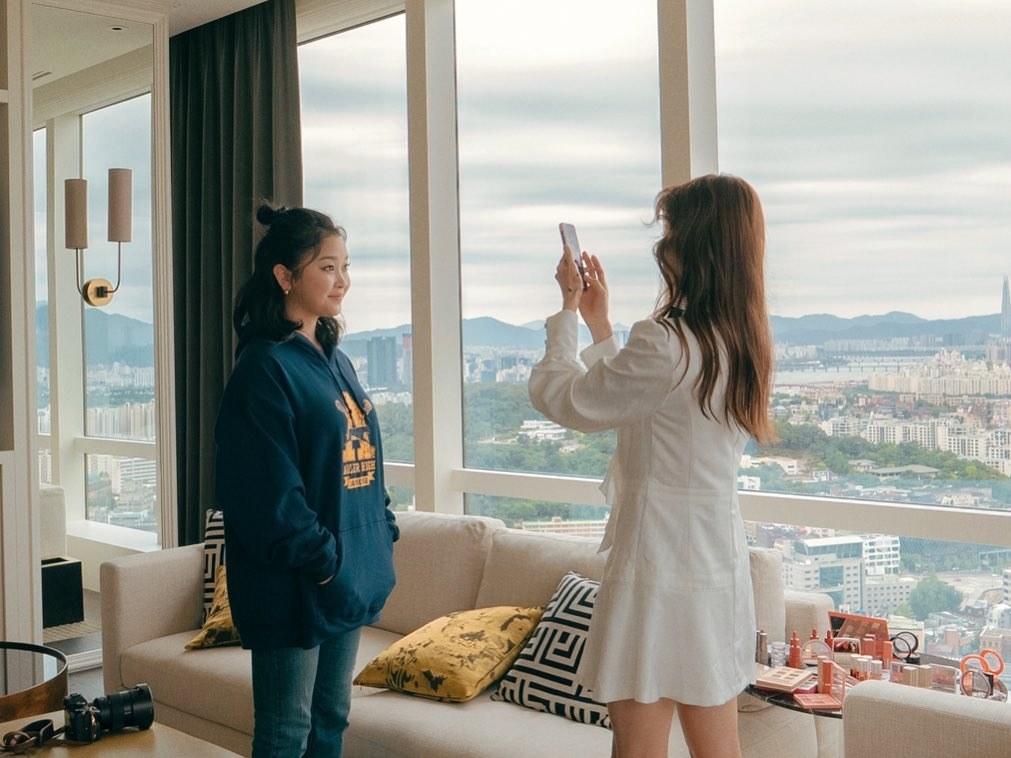 So now that we know who she hung out with, let's get into what they did:
While Risabae did her ~subtle glam~ makeup for the day, Lana asked her about beauty trends in Seoul, and what makes them unique:
And Lana talked about how important skincare is in her own life, and noted "that's a really cool common ground that we have:"
Lana even divulged a little about Lara Jean's beauty evolution in the second and third films:
After she got her makeup done and changed into a very cute dress, she met up with Somi, and the two chatted about discovering their passions super early on:
And when they moved into the dance practice room, Lana quickly realized that K-pop dancing is actually not just cutesy motions, but can be very involved and complex:
But I'd say, despite her prayers to the "swag gods" beforehand, Lana's ballet training (and ~natural rhythm~) from days past came in pretty dang handy:
And last but not least, it wouldn't be a proper day of fun without one of Lana's true loves: food! She met up with Henry Lau at Seoul's Gwangjang Sijang, or Gwangjang Market — which I can personally testify is jam-packed with vendors and carts toppled high with freshly-made Korean food:
They chowed down on kalguksu (Korean knife-cut noodle soup) and mandoo (Korean dumplings), both accompanied with a generous serving of kimchi (duh):
And they ended the satisfying meal with a "cheers" and a promise from Lana to take Henry out to all of the best food spots when he visits California:
Henry also taught Lana how to properly bow and say "goodbye" in Korean, so they could give their time together a ~grand finale~:
So where's her Seoul part two video? I'll be waiting. But for now, you can watch the full IGTV video here:
And obviously, I CANNOT WAIT to watch TATBILB 2 the moment it comes out!