*Important note*: Don't scroll past the blurred images, unless you want the answers spoiled. Which ya don't, obviously.
Even though they just debuted earlier this year, Stray Kids are already burning up every stage they touch, including KCON NY 2018 — they performed "Hellevator," "District 9," "Mirror," and "Yayaya," and totally slayed us with their powerful moves.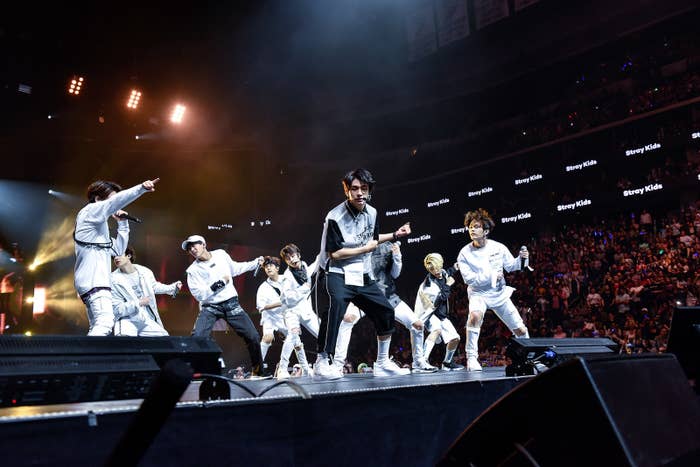 We sat down with them before they brought down the arena, and asked them some ~fun~ questions. Now it's your turn to test your knowledge, so let's get to it!
Their consideration for each other!
Seungmin: "All nine members are super considerate of each other and think of each other."
Bangchan: "Can we wrap things up?"
Felix: Got me in the heart."
His freckles!
Felix: "I heard a fan say, 'I think your freckles are very cute. Always keep them on.' Cause we always have makeup on to look nice, but having a fan say to me, 'Oh, keep your freckles,' it was very heartwarming."
Bangchan: "Well, we tell you every day too!"
Han: [reiterating] "Your freckles are very cute."
Changbin and Han!
Changbin: "When we were trainees, Han and I were eating together, and Han took some of my food but he didn't like it, so I asked Han, "Why did you take my food?" and then Han got mad that I asked him why he took my food, so he left the room."
Bangchan: "[Changbin] was having a bad day."
When they say he's improved so much, which is well-deserved praise.
I.N: "Fans who say they've seen me improve so much, it makes me really happy."
They really want to give a sporty concept a go, since they all already love a wide spectrum of sports.
Han: "Sports concept!"
Woojin: "Basketball." *imitates tossing a ball*
Han: "It might be really fun if we did a sporty concept where one person is in a basketball look, another in a hockey look, baseball look, and it's all very different sports."
An amusement park! Such a cute idea. Please make it happen someday!
Han: *makes enthusiastic hand motions*
Bangchan: We'll all go on the same rides.
Woojin! The ears suit him well.
To end this quiz on a really sweet note, I leave you with this nugget of wisdom from a fan:
Hyunjin: "I heard someone say at a fansign, 'Once in a while, it's ok for it to rain too.' Because it wipes away your feelings and refreshes everything. It was very deep for me to hear, that it's ok for it to rain sometimes." 🌧
How'd you do? Let us know in the comments below!