We hope you love the products we recommend! All of them were independently selected by our editors. Some may have been sent as samples, but all opinions and reviews are our own. Just so you know, BuzzFeed may collect a share of sales or other compensation from the links on this page if you decide to shop from them. Oh, and FYI — prices are accurate and items in stock as of time of publication.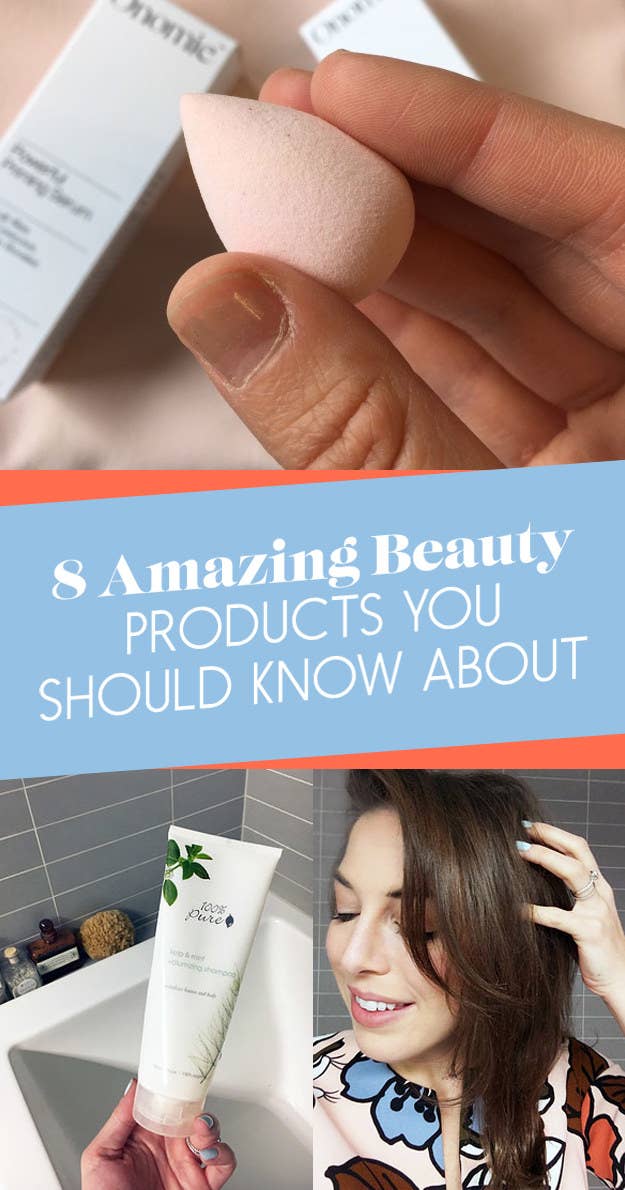 1.
Skyn Iceland The Antidote Cooling Daily Lotion is the next best thing to standing next to a Icelandic waterfall and restores your tired, stressed, and post-wine skin with witchcraft-like ingredients including glacier water, fatty acids, and aloe.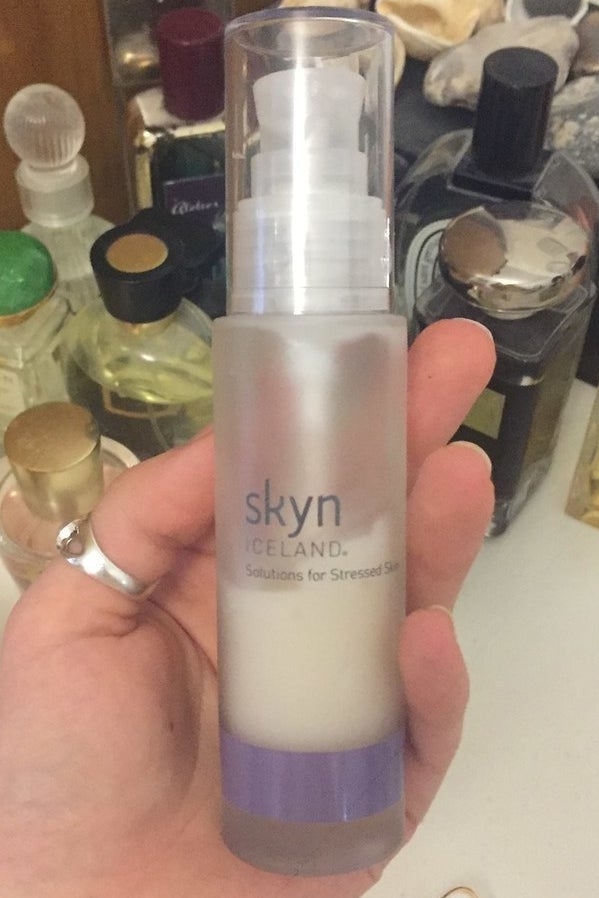 I am telling anyone who will listen that they have to buy the Skyn Iceland Cooling Lotion right now. Especially people who often find themselves "accidentally" drinking a bottle of wine and then "forgetting" to take their makeup off before bed, but still want to look as dewy as a Snapchat filter the next day.
It's a known fact that plants and minerals from Iceland are the result of witchcraft, and the ~glacial water~, fatty-acids, and yeast extract in this light lotion definitely seem to have supernatural powers. It's somewhere between a balm and a serum; I like to put it on before moisturizer for a bit of a skin-detox boost, and because it contains aloe and other cooling ingredients, you feel a blast of freshness like you're standing on the edge of Gullfoss.
It's also really good for oily skin and preventing blemishes, thanks to the inclusion of thyme, so don't be put off by the idea of using an extra product before moisturizer. I've been using this lotion a few months now and I definitely think my tired 30+ skin looks plumper and fresher.
TL;DR: THIS STUFF IS MAGIC. —Laura Silver
Get it from Amazon for $45.
My fine hair is an endless riddle. If I use volumizing shampoo, it turns my hair into a dry, tangled puff ball. But without volumizing products it's limp and deflated — which is worse?
So when a friend with similar hair — who is always proactive about finding solutions for our fragile manes — told me to try this 100% Pure Kelp & Mint Volumizing Shampoo, I did.
Well, not until I looked it up first. And when I did, I saw hundreds of positive, five-star reviews from other women with thin hair, all gushing about this shampoo. It adds volume AND shine, which seemed impossible until that first wash made me a believer.
Ever since high school, I've struggled with very sensitive and allergy-prone skin. I also have contact dermatitis on my eyelids, and if I use the wrong product (which happens to be most products), I will wake up with my eyes swollen shut. So, I used to only put hypoallergenic lotion or coconut oil on my face and no makeup, because almost all tinted moisturizers, foundations, BB creams, and facial sunscreens just made my skin burn and sting. EVERYTHING changed when I tried Kiehl's Correcting & Beautifying BB Cream. I found it after I started using Kiehl's facial sunscreen because it was one of few that didn't bother my face.
The BB cream is amazing and I use it every single morning. The tint (I use medium) blends gorgeously into my skin and evens out the tone, has SPF 50 so it protects my skin from UV rays, and contains vitamin C so it actually keeps my skin clear. It's also very hydrating for my dry skin and leaves it dewy and soft, never oily — but I also mix it with a little Kiehl's Ultra Facial Cream, just to give my skin a boost of moisture. Not to mention, a little bit goes a long way, so the tube lasts me up to six months! I don't think I'll ever switch to another BB cream, I'm so in love — and my skin is in love too! —Caroline Kee
Get it from Kiehl's for $37.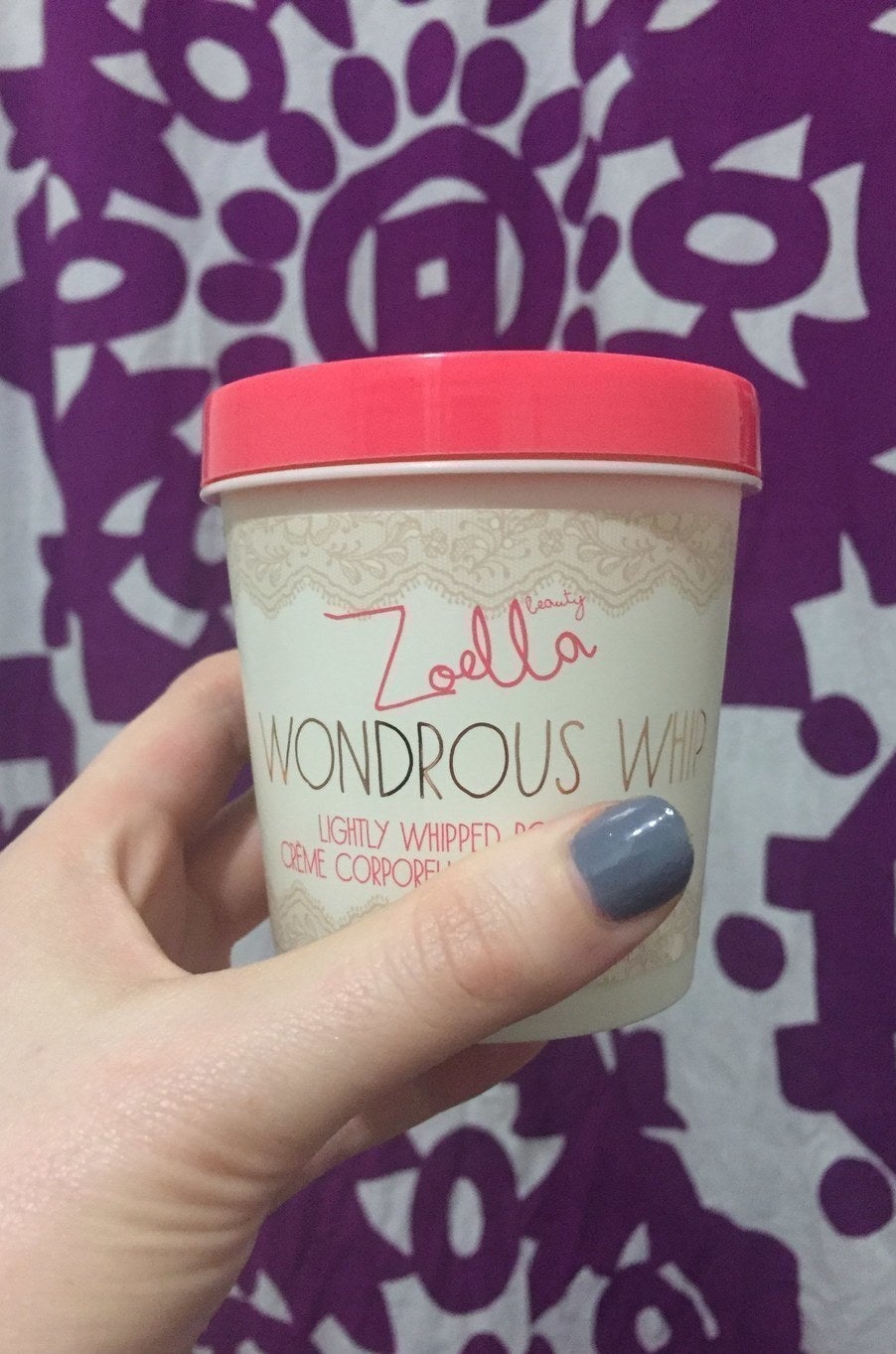 I've always been a sweaty person with oily skin, but as I age, my 28-year-old self is realizing that I need to use body moisturizer. In desperate, especially dry times, I use a pump from a liter of Kiehl's luxurious-feeling Creme de Corps body moisturizer. The stuff is pricey, but I see it as an investment that I use infrequently enough to justify that high price.
During most of the winter in New York City, I keep my bright-white legs masked in tights — unless I convince myself to to go the gym and people there get to see my shins. But when it's in the 50s in late February in NYC, you show some leg, because you'll probably be wearing your coat 'til late May. For such a day, I actually shaved (below the knee) and moisturized afterward with Zoella Wondrous Whip. "Whip" is a perfect name for it because it's light, fluffy, and smells just a teensy bit sweet. The scent is neither overpowering nor something anyone else would likely notice, which is the way I like my lotion.
As you can see, my legs are quite pale and boast a few mystery bruises from sources unknown — yet they feel pretty supple and smooth. When it's sweltering out, lotioning my legs before I go about my day normally makes me even sweatier and more uncomfortable on hot, crowded trains to work. I'm curious to see if this whip will deliver me from unnecessarily sweaty legs come summertime. —Elizabeth Lilly
Get it from Target for $9.29.
5.
EX1 Invisiwear Liquid Foundation is specifically designed for people with yellow undertones and provides the perfect medium coverage that lasts through everything, conceals while still letting your freckles show, and won't oxidize orange.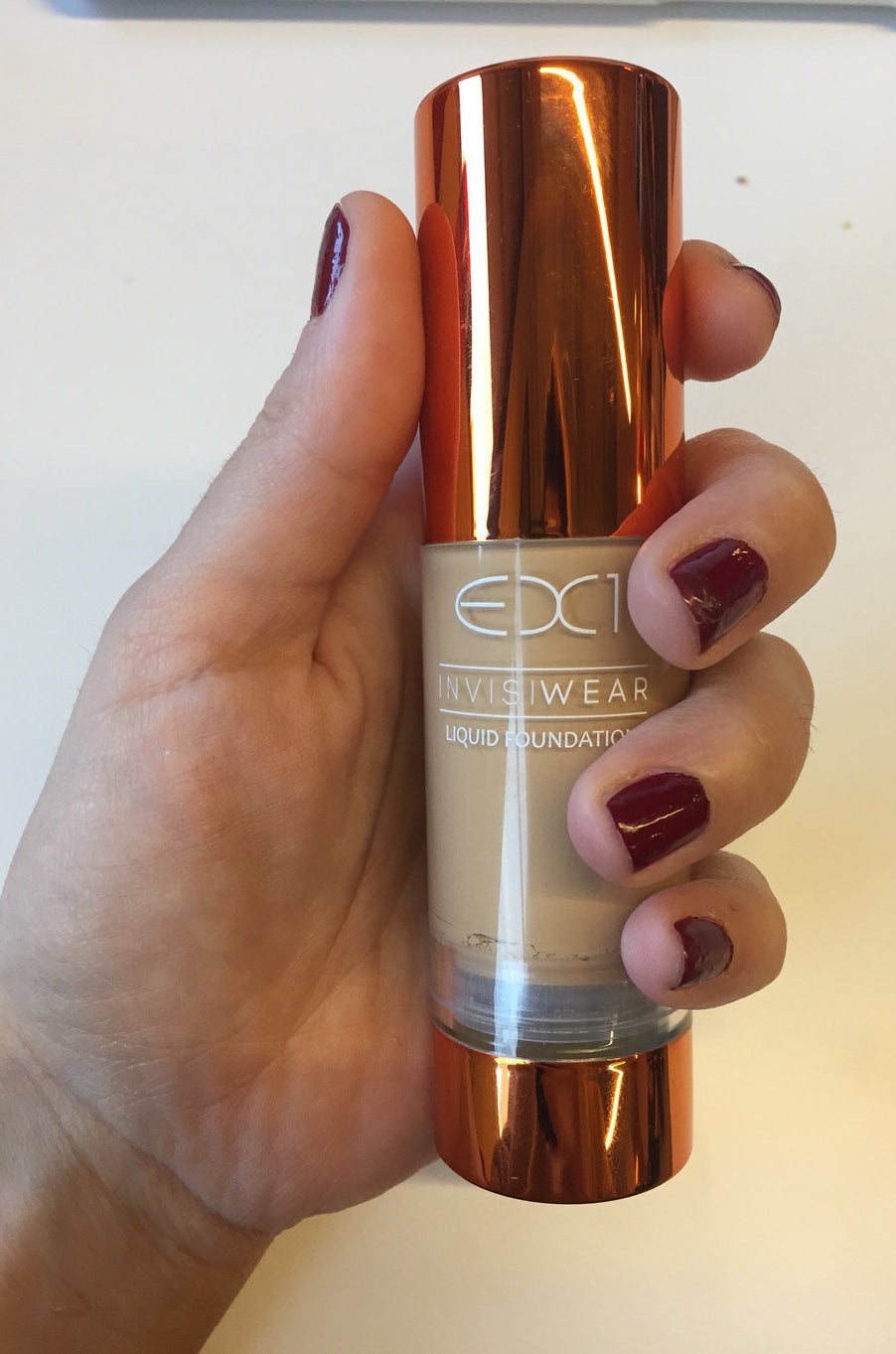 Like all makeup stories, mine begins with the quest to find the right foundation. I've tried, well, a lot of them: MAC Studio Fix, Mineralize, and Pro Longwear; BareMinerals Original Powder with that swirly little buffer brush; Estée Lauder Double Wear; NARS All Day Luminous; Kat Von D Lock-It Tattoo; Maybelline Fit Me! Dewy + Smooth.
There were times I'd carry multiple foundations in my makeup bag and mix them together to get a formula that was more ideal for my skin: not so full-coverage that it made my freckles look gray, but not so light-coverage that it felt useless; not so matte that I looked chalky, but not so dewy that my face felt perma-wet; wouldn't make me break out; wouldn't cling to dry skin, or crease when I'd smile. Also — and this is a big one — I was always on a quest for a warm-toned foundation that would 👏 not 👏 oxidize 👏orange 👏. I was so sick of being elated at finding the right color foundation for my yellowy skin in-store, only to go home and look like the Nashville filter an hour later.
So when I read about EX1's foundation specially created for yellow-toned skin, I had to try it. They sent me a few (they JUST expanded their breadth of shades) and I settled on #5, and...it wasn't love at first sight. Initially I'd applied the foundation on moisturized skin with a brush, and it left some streaking and unevenness. But after experimenting with a blender sponge and primer, I knew I'd found ❤️ the one ❤️. The formula is light and lets my freckles show through, dries matte without feeling chalky, stays put throughout the day (even withstanding workouts!), doesn't make me break out, and NEVER BECOMES ORANGE.
Even better, EX1 makes matching concealers that blend in perfectly with the foundation, and the price of the foundation — although higher than most you'd find at drugstores — is about half of what you'd pay for higher-end or cult-favorite Sephora ones.
So, my yellow-green brothers and sisters: try it. I loved it, and you might too. —Betsy Dickerson

Get it from Look Fantastic for $13.50+ or Asos for $20 (available in 17 shades).
6.
Peter Thomas Roth Acne-Clear Invisible Dots are magical translucent patches that reduce and flatten your pimples overnight so they have zero chance of ruining an important day.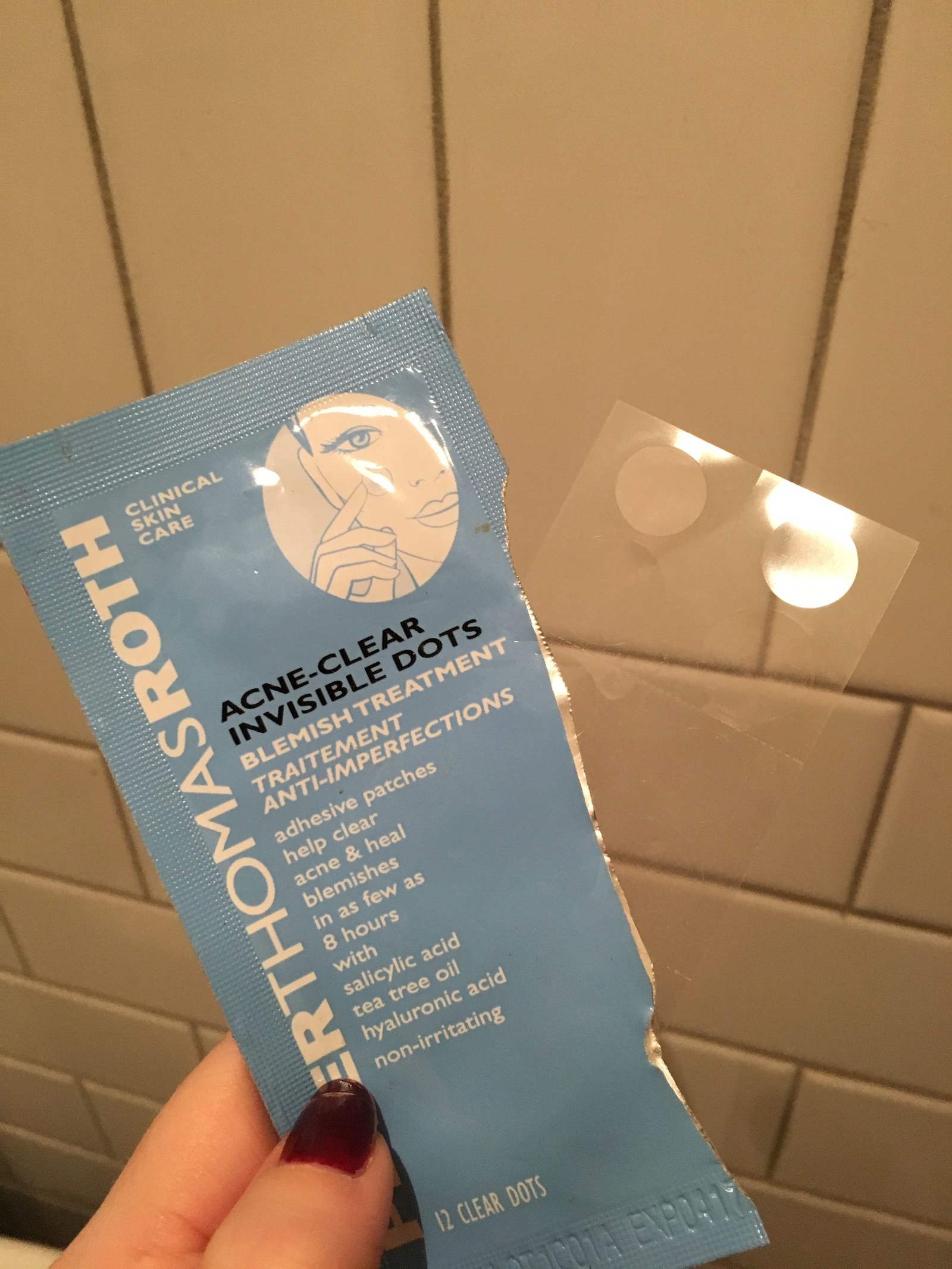 7.
Pür Cosmetics Bare It All Foundation is a liquid foundation that actually lives up to its long-lasting claim, so your skin stays flawless, even, and redness-free all 👏 day 👏 long 👏.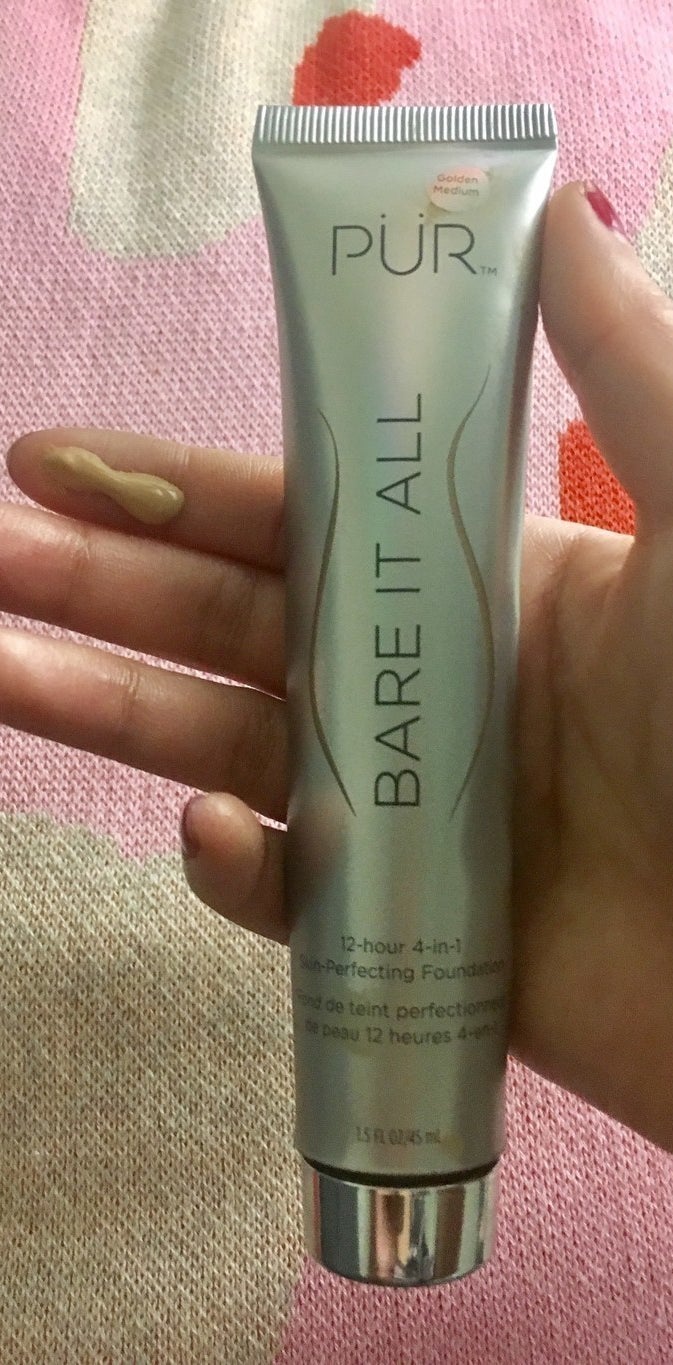 I'm a terrible morning person, like frequently-dashing-out-15-minutes-after-I-wake-up terrible. So as much as I love makeup, I usually only have time to slap on some full-coverage liquid foundation and my HG red lipstick (these pictures = 97% of work days). But I'm not trying to water this minimal routine down — I can't step outside my apartment without liquid foundation on. I mean, I can and I have, but being painfully aware of my bare face the entire day just messes with me a lot.
However, for someone who can't live without liquid foundation, I've never been especially blown away by any. Every one I've tried settles into patchy territory and fades significantly by the end of the day, and all my lovely discoloration and redness starts resurfacing well before then — and this happens even with the help of primer *and* setting spray. My skin's a (dry? sensitive? crappy?) mystery.
So when I got my hands on the Pür Bare It All Foundation (in the shade Golden Medium), I wasn't expecting different results, but lemme tell you, I was wrong. The first day I wore it, I wasn't really paying any special attention to it, but I finally looked at a mirror maybe around 5 p.m. and did a bit of a double take — my foundation stayed totally intact! I actually stared at myself for a few extra seconds, admiring the foundation's handiwork (thankfully, no co-workers were around/weirded out).
Besides its longevity, the foundation also applies wonderfully and super smoothly (I used it in conjunction with Pür No Filter Blurring Photography Primer); it actually conceals my bumps instead of caking them, and all my redness instantly vanishes. My iPhone camera is especially unforgiving, so I can promise you'd be able to see extremely visible spots in any other instance. As I've tried more liquid foundations over the years, I've realized how much the consistency of the actual product matters to me — I rub foundation onto my hand first to warm it up before putting it on my face. Bare It All is not too thick/goopy or too thin/runny, but basically right in between Hourglass Illusion Hyaluronic Skin Tint and NARS Sheer Glow, two other foundations I like decently. I just wish it came in a pump form, because the twist-off cap can be super stubborn. While we're at it, ALL liquid foundations should come in a damn pump bottle — it's more hygienic and less messy. JUST SAYIN'.
P.S. IGNORE MY RED RUDOLPH NOSE. I have a god-awful habit of viciously rubbing my nose all the time, and no foundation on Earth is a formidable opponent for that. —Sarah Han

Get it from Pur Cosmetics or Ulta for $39 (available in nine shades).
8.
Onomie Brilliant Blending Sponge is the ideal size for all the parts of your makeup routine that require ~precision~, and it's cheaper than a Micro.mini Beautyblender. 🙌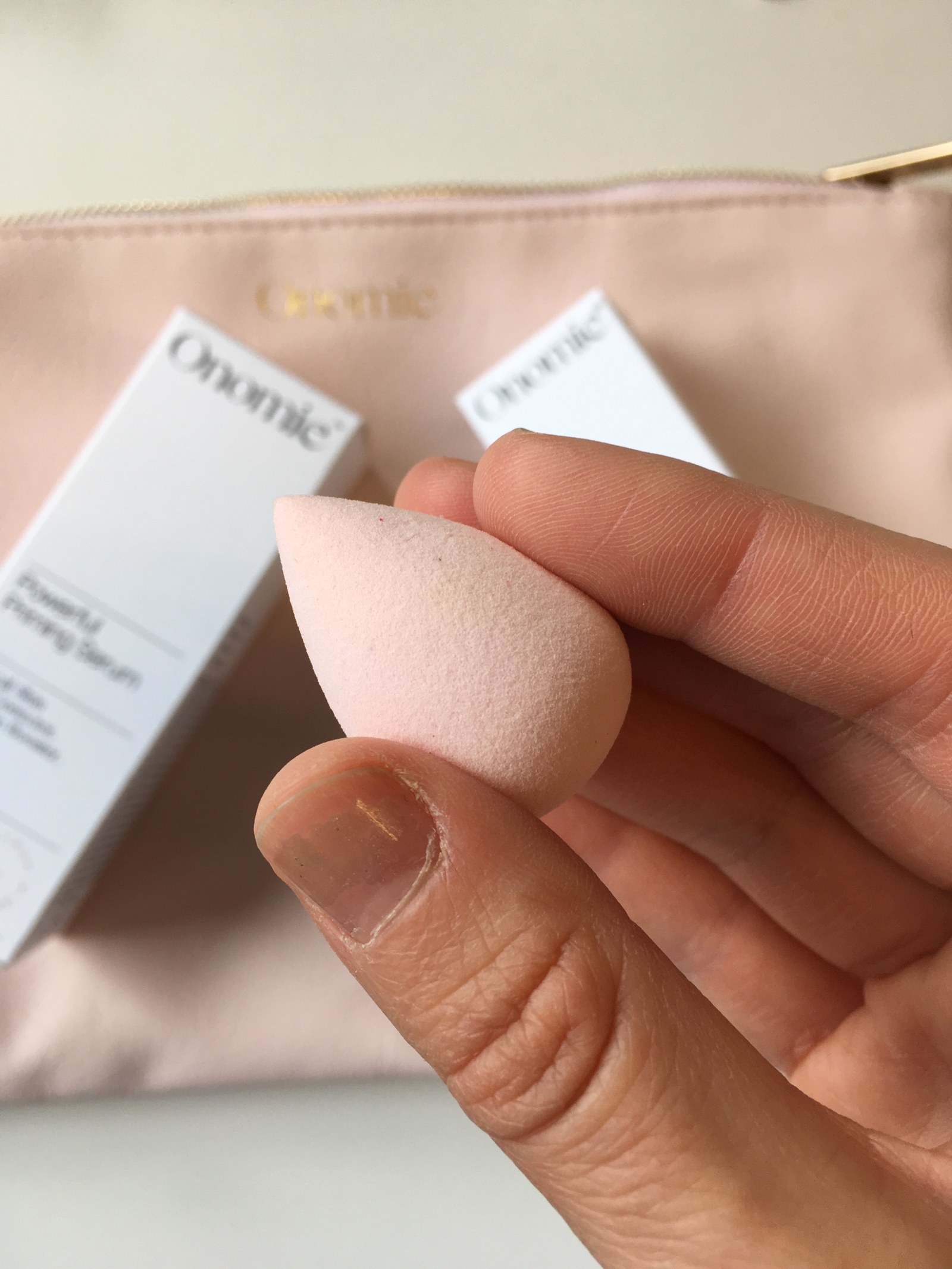 Some products were provided to BuzzFeed free of charge.
Do you have half an hour to help us out?
Want even more great product suggestions? Sign up for BuzzFeed's Gift Guide Newsletter!
If you can't see the signup box above, just go here to sign up for the BuzzFeed Gift Guide newsletter!