We hope you love the products we recommend! Just so you know, BuzzFeed may collect a share of sales or other compensation from the links on this page. Oh, and FYI — prices are accurate and items in stock as of time of publication.
Hi there, I'm Sarah and I can usually be found drowning underneath a mountainous pile of beauty products I'm sent to try out. A lot gets weeded out, but when I do test (over a period of time — especially for skincare products, 'cause those results don't happen overnight) and discover products that I truly love, I want to shout them from the rooftops. So that's precisely what I'm doing:
1.
VDL Lumilayer Primer is my new truth. It makes my foundation look pristine, but if I'm feeling especially good about my skin* or just a little lazy/over it, I rub a glob of this magical, luminescent liquid all over my face, and I basically transform into the ✨ emoji.
2.
And on the days I want to add just a tad of coverage without compromising a natural, slightly dewy finish, I've been reaching for Laura Mercier Tinted Moisturizer, and only that. The formula and packaging is also new and improved (as seen pictured on the right), and I personally feel like the coverage is a little more substantial than the original — plus, and this is a big plus, there's a higher SPF 30 (upped from the original 20)!
3.
Giorgio Armani Lip Maestro Lip Stain in 400 is, in my opinion, the red to beat all reds. My days of ultra matte lipsticks are definitely numbered and I definitely prefer this more moisturizing, velvety number! I have been wearing this nonstop, and will keep wearing this nonstop, and you can quote me on that.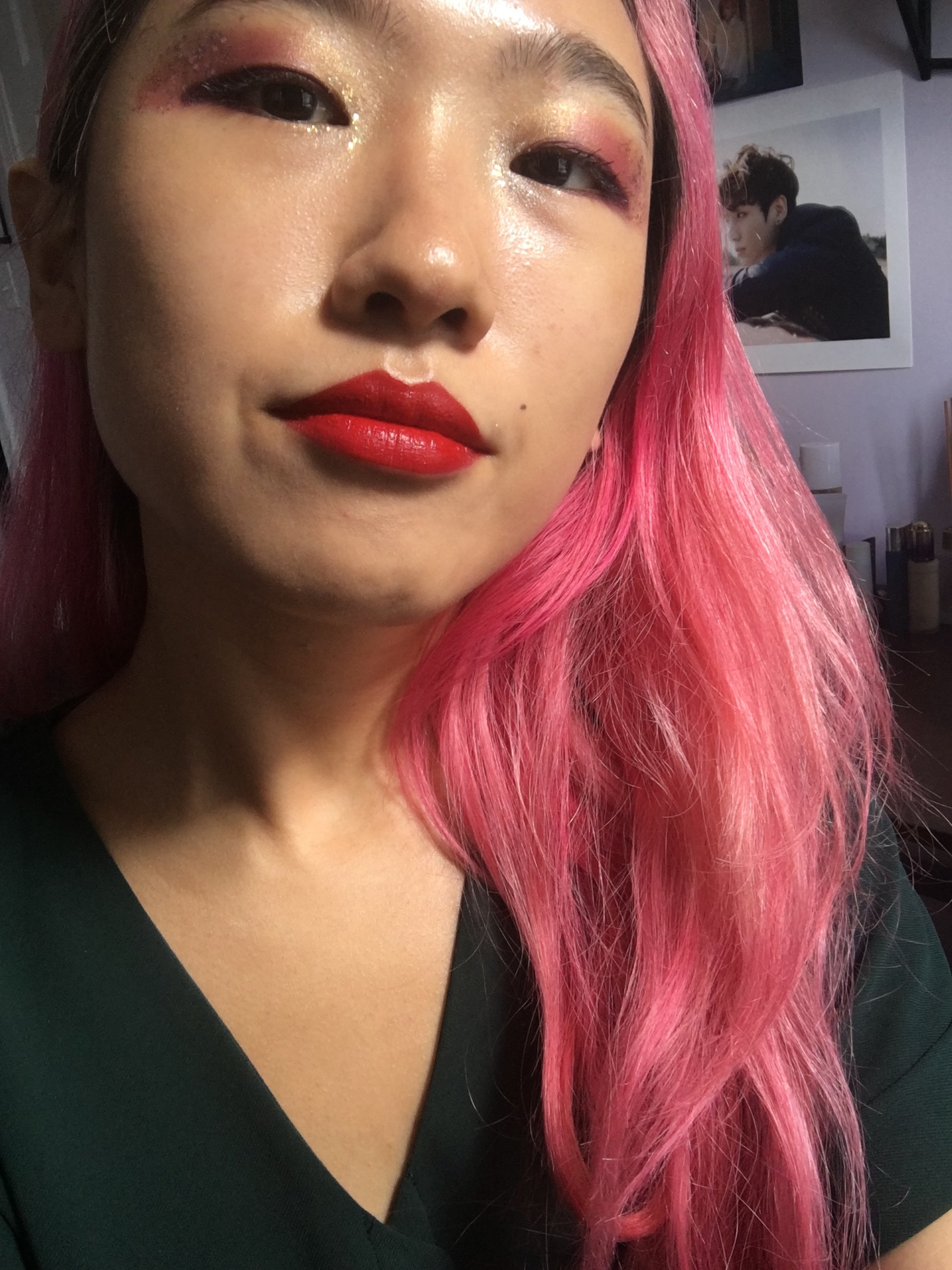 4.
Urban Decay Heavy Metal Face & Body Glitter Gels give my eyes and cheekbones the extra punch they usually crave, because I believe that no amount of glitter is ever too much. And the number of compliments I've gotten from these? So high.
5.
Belif Aqua Bomb Cleanser is one of those rare cleansers that makes me love washing my face. If that's not enough to convince you, it lathers up beautifully and envelops my entire face in a gentle formula that washes away any remaining makeup and dirt post oil cleanse. It's helped clear up my face over the last few months, and it always leaves my skin feeling super soothed and hydrated.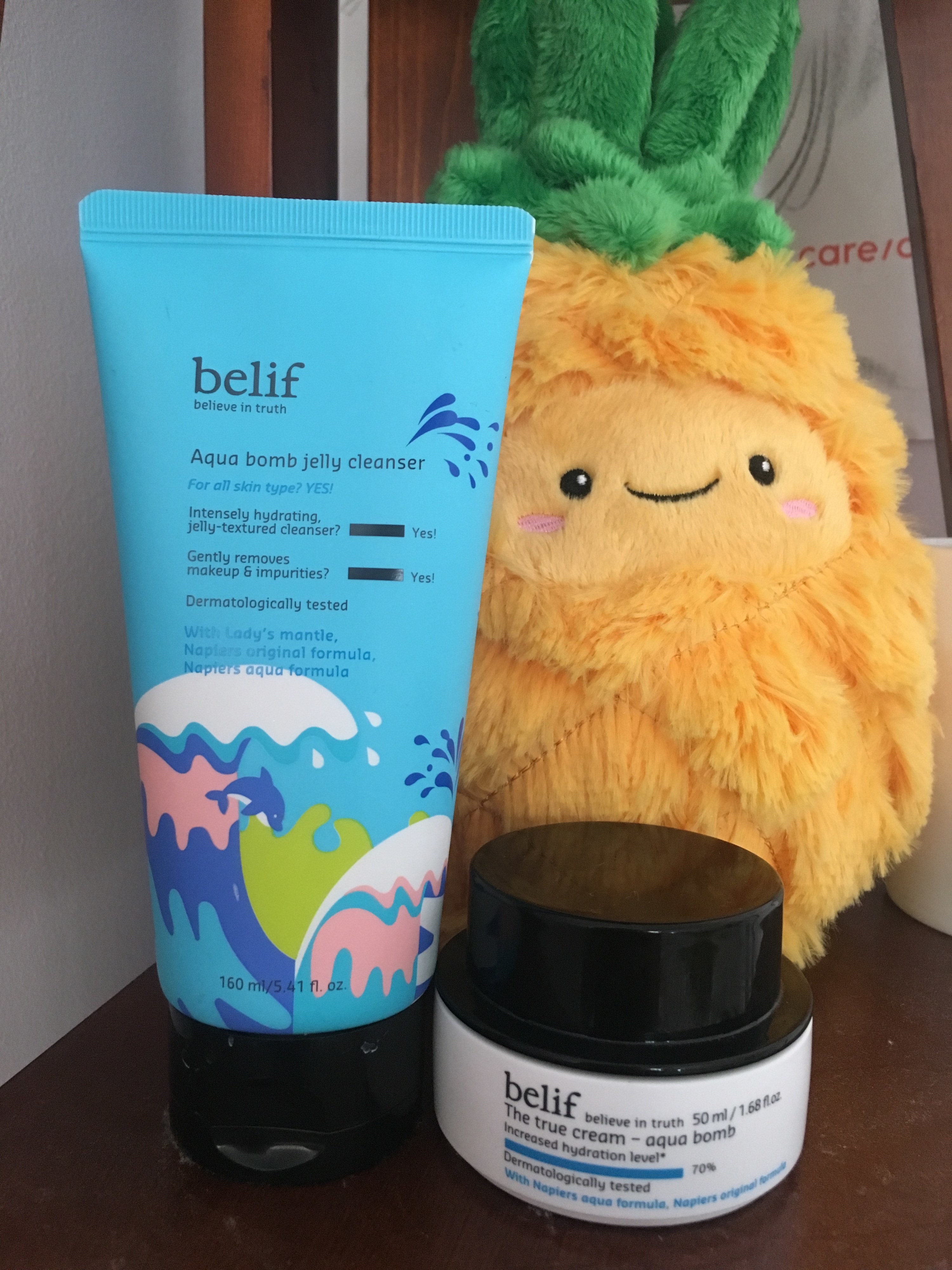 6.
Maybelline Master Chrome Metallic Highlighter in Molten Gold is a bit of an oldie, but nonetheless a goodie! It imparts a stunning golden sheen that plays with light in the most perfect way — so much so that you can not only see it clearly from close up, but far away (as pictured on the right). Talk about impact!
7.
Dr. Jart Cicapair Tiger Grass Gel Cream is unbelievably lightweight and smoothes away any lingering redness I have on my face (due to diet, lack of sleep, stress, etc.), so my face appears visibly soothed, hydrated, and ready for a restoring night of sleep or day of makeup and activities!
8.
Lime Crime Unicorn Hair Color Conditioner easily jazzes up my faded pink hair in just three to five minutes (though that doesn't include application time) while keeping my mane happy — aka, deep conditioning it, boosting shine, and offering heat protection/cutting down on drying time.
9.
Primera Miracle Seed Essence feels downright luxurious as I pat it into my skin, thanks to its slightly thick (but quick-absorbing!) and lotus seed–infused formula that leaves my skin feeling soft and nourished as heck.
And be sure to check out my previous roundups + other beauty review roundups here!
Need more for your skin? Check out Korean skincare products you need to know, cheap skincare products that are even better than luxury brands, products to help deal with adult acne, or check out all of our beauty content for even more great stuff for your hair, skin, and more.
Shopping for something specific? Check out BuzzFeed Reviews to find the best things for every budget!