6:07 p.m.: My friend texts me that he has arrived at my house and that our journey to spend an intimate evening with the one and only neon icon is officially underway. I grab what I can only describe as a Riff Raff starter kit and hastily head out the door. And so it begins.
6:30 p.m.: We eat chicken mcnuggets on the drive up and speculate on the spectacle we are going to see that night.
8:15 p.m.: We arrive at Mercury Ballroom in Louisville, KY and see that the line is only about twenty people deep. We look at each other with expressions that convey our confusion. Someone stationed at the door peers down at us and asks us in a deep voice if we're drinking tonight. We both say no. Our tickets are scanned and we are shuffled inside.
8:20 p.m.: We weave through the crowd, which is much larger than we initially thought. There are girls in Posh Spice-like dresses, guys in '80s-style airbrushed jackets and me in my oversized, hypnotic cat shirt and fanny pack. Pictures of Austin Powers and warnings that the following images may cause epileptic episodes flash across the backdrop of the stage as we wait for the first opening act.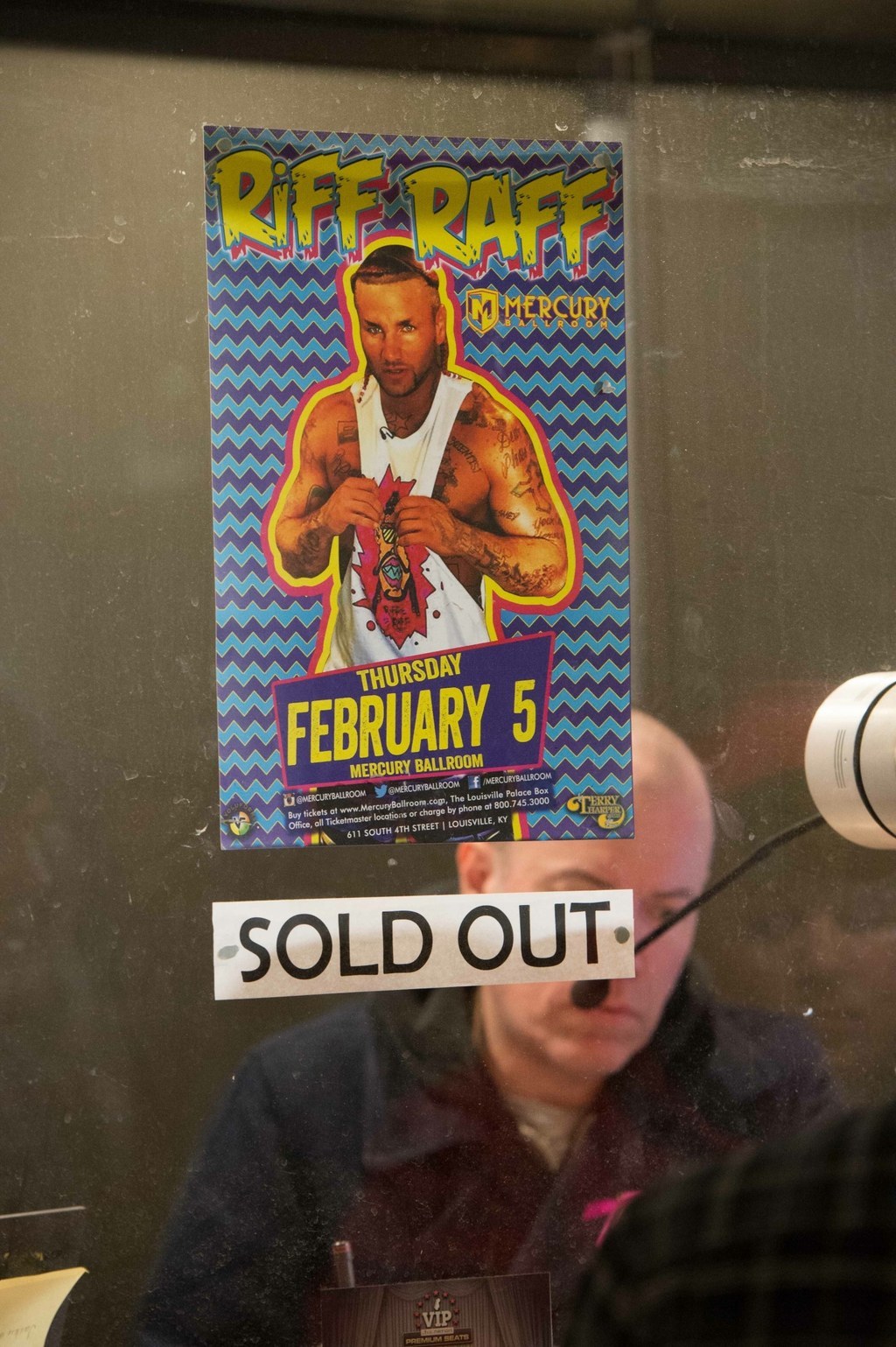 8:30 p.m.: Outkast's "Roses" starts to play, which gets an "Aww yeaaah!" out of everyone in my general vicinity.
8:45 p.m.: A hip hop group called Elephant Room takes the stage. I can't tell a single word they're saying, but hey, I'm here for it. Apparently they're from Louisville. That much I can make out. Their set is a haze of inaudible words and energy.
9:25 p.m.: Elephant Room is gone from the stage and the sounds of "No Flex Zone" and "Only" waft down from the speakers. The crowd and plot thicken. A short girl dressed like a scene kid circa 2006 starts rubbing herself all up and down my friend's back. He goes with it while making constant eye contact with me. Eventually she fades into the darkness never to be seen again.
9:30 p.m.: A DJ appears and acknowledges that, yes, everyone is "turned the FUCK UP!" We are ordered to welcome her girl Chanel West Coast to the stage. Out pops a tiny, blonde lady with perfectly curled hair and the beat to a song called "Karl" starts. The chorus mainly says "KARL LAGERFELD" a bunch of times. So I get it. And I like it.
9:35 p.m.: A guy wearing a huge puffy jacket positions himself right in front of me. As the crowd tightens, his jacket seems to be getting puffier and puffier. It seems to be inflating right into my face. I'm being forced directly into the puff. I can no longer see the stage. This is not what Riff Raff would want for me. I'm scared.
9:40 p.m.: Chanel West Coast instructs us to raise our hands if we make our own money or like money or think about money or something like that and I WOULD raise them except I can't move my arms because of this jacket situation. I raise them as much as I can and look like a t-rex, which elicits a sympathetic look from my friend.
9:55 p.m.: Chanel West Coasts' "Bass in the Trunk" starts and puffy jacket guy wanders off. My survival rate bounces back from a frightening 75% to 100%. Her set ends. She takes an Instagram picture.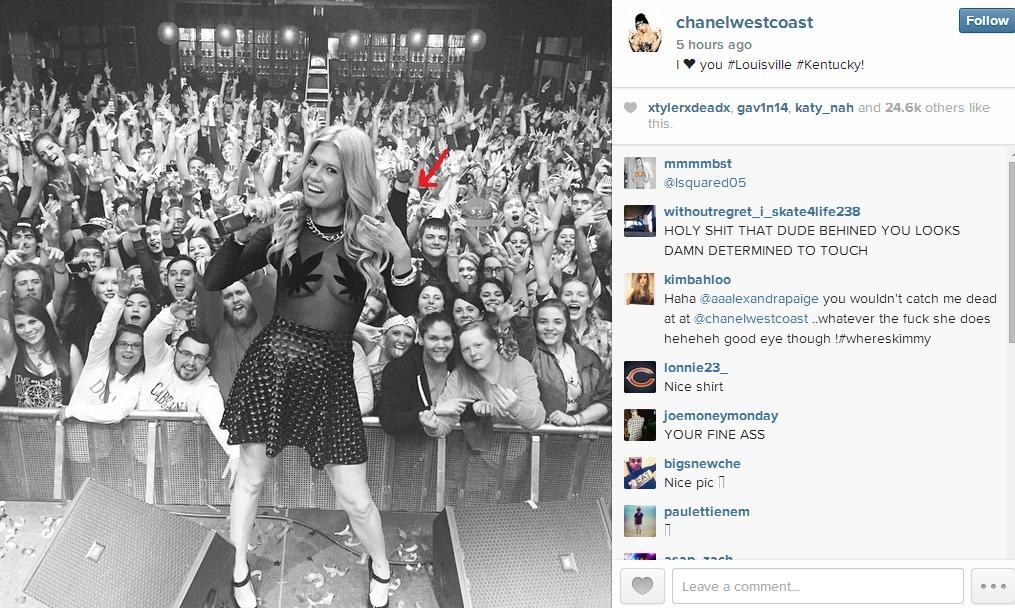 9:56 p.m. A group of seventeen year old Jody Highroller hype boys in front of me start a chant of "JODY! JODY!" The entire place begins to chant.
9:57 p.m.: The crowd begins to understand that he's not going to emerge a minute after his opening act. A somberness settles over the hype boys.
10:15 p.m.: This guy shoves past me. "Sorry, I gotta get to my girlfriend," he slurs directly into my face. He then stops right in front of me. Only problem is the area he stops in is an area full of guys ages 17-25. The girlfriend is definitely imaginary.
10:20 p.m.: A second wave of chanting starts. Half "JODY! JODY!" Half "RIFF RAFF! RIFF RAFF!" This girl who's wearing heels steps on my foot and nearly pierces my boot. She doesn't even look back at me or my foot. She is emotionless.
10:30 p.m.: A different DJ appears and says something about calling a radio station and requesting a song that Riff is featured on called "Choppin' Blades." He then plays it and everyone is like, "????" wondering why he's playing a song he could be out there performing himself. We all Jody Highroller with it. The guy next to me starts smoking a joint.
10:40 p.m.: THE NEON ICON EMERGES. THERE HE IS. In all of his glory. We are officially introduced to the icon himself. He's wearing a faux fur hat and he is carrying a hairbrush. He brushes his luxurious locks on stage after removing the hat and YES this is everything I could have imagined it would be. The hype boys look like they're going to cry. They are at maximum hype.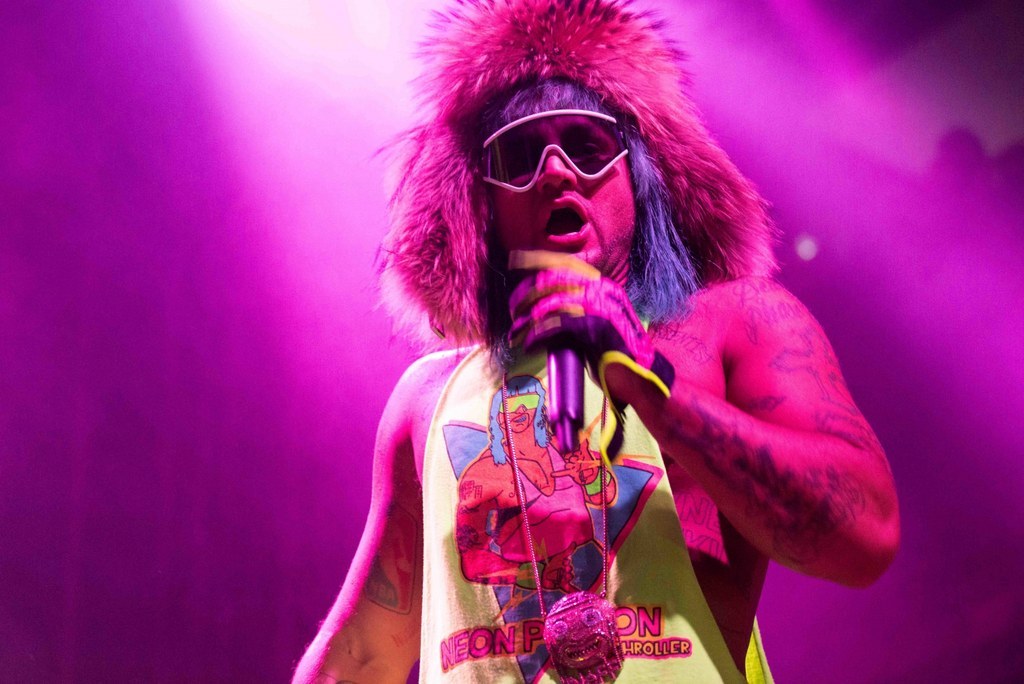 10:45 p.m.: He says he feels like he's going to have a "Versace anxiety attack." My friend and I look at each other and shrug, wondering why he said that. We agree it doesn't necessarily need to make any sense.
10:50 p.m.: I, along with everyone else in my area, feel something wet land on us. It came from the upper level. We all look up. We assume the mystery liquid was some sort of drink that someone threw but I never got any answers. What a dark time in my life. At this point, there is a random guy on stage drinking a Monster and casually looking at his phone. Another guy is carrying a trophy around. What is even happening. ICEBURG SIMPSON.
10:51 p.m.: The distorted beat of "Dolce and Gabbana" starts and everyone vibes in unison. More people light joints and this guy who is crowd surfing goes flying past me. People start shoving into each other and I have to put my hands onto the main hype boy's back to keep him from toppling backwards onto me. I vigorously shimmy back and forth while acting as a human wall for him. He is flailing his arms and he is very sweaty.
11:00 p.m.: Around this time Riff Raff yells to the invisible lighting people and tells them which lights to use. "I wanna be the ultraviolet icon!" His wish is granted. The Louisville mascot also makes an appearance and dances around.
11:05 p.m.: The beat of "How to Be the Man" begins. The crowd has shifted and I am now in a sea of testosterone. Everyone stares in wide-eyed wonder and takes mental notes on how to be THE MAN, how to the THE BOSS. Money is being thrown into the crowd and cascades down onto the lucky front row attendees.
11:15 p.m.: My shoes are beginning to stick to the floor due to whatever was spilled whenever. It's a Riff Raff Versace trap.
11:20 p.m.: TIP TOE WING IN MY JAWWDINZ. The song that inspired ten thousand vines! I'm seeing it live! It's here! It's happening! And we're all living for it. The energy of the crowd inflates tenfold. Everyone jumps up and down and side to side and I feel like a human bumper car.
11:25 p.m.: We decide to leave our positions and go to the back of the crowd to enjoy the end of the show in open space.
11:26 p.m.: I go into the bathroom and see vomit covering a good portion of the floor. "Oh my god. It fucking smells like vomit in here," notes an unknown girl. I go into the cleanest stall and then exit as quickly as possible.
11:29 p.m.: I come out of the bathroom and the room is emptying out, the stage is bare. "IS IT OVER?" I ask my friend in complete shock. He said he went to talk to someone he knew and all of a sudden everyone vanished and everything ended. No goodbye that he heard. No encore.
11:30 p.m.: We wander upstairs to watch people file out. We use hand sanitizer and wonder what we just lived through.
11:40 p.m.: Out the door we go. "If you don't got her number by now, that's life," yells a guy by the door in an attempt to get everyone out quickly. The cold February night is a shock from the hot, sticky atmosphere inside. A guy stumbles towards me. He fixes his belt, makes direct eye contact and says, "I wasn't doing anything, maaaan. I was just fixing my belt." He smiles at me. "I was going to go fuck with those people but now they're SO FAR AWAY." "Yeah, man," says my friend. The stumbler stumbles away.
11:59 p.m.: We see the stumbler getting thrown into a glass window, presumably by the people he was speaking about earlier. We begin our trip back to Lexington, KY while we let our overall confusion, elation and exhaustion fully sink in.