My name is Sarah, and I was a "Grobanite" at 14 years old. In other words, I was a Josh Groban ~super fan~. I was the girl who wasn't allowed to listen to most pop music (sorry, Justin Timberlake and whoever else had a big album in 2005), so Josh Groban's multi-lingual love-themed ballads fit the bill. It's been awhile since I've sat down and listened to Josh, but last week he released a new album, Stages, and I decided to give it a listen and ~document~ the experience. Would his voice make me break into tears like "Starry, Starry Night" did in middle school? Would anything speak to me now like "You're Still You" did when I was a lovesick 14-year-old?
I had to press play to find out.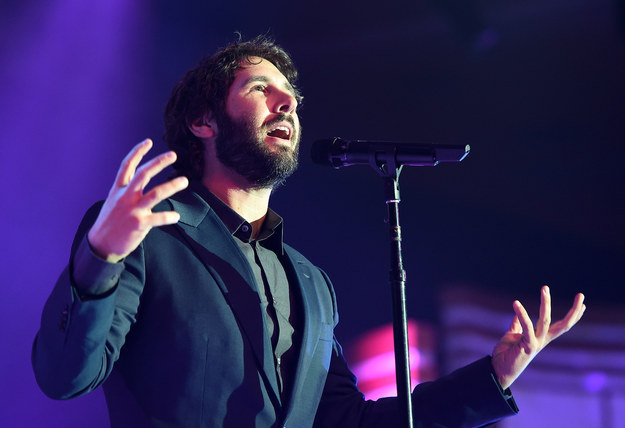 1. Okay. Hitting play. Josh's latest album is Stages. It's show tunes, which means there is a 95% chance I will love this album based on this fact alone.
2. First is "Pure Imagination." He hasn't even started to sing yet, and I already feel a catch in my throat.
3. *regresses to being a 14 year old*
4. OH MY GOD THAT VOICE.
5. I also just love this song, and IN FACT, sang it to myself on my first day at BuzzFeed because I'm a dork.
6. Remember that AT&T commercial from a few years ago with the smiley-paper monsters? I think that's the moment I realized how magical this song is.
7. Because sure, Gene Wilder is swell, but the chocolate room isn't all that great.
8. Josh holds the notes so well. Next time I'll count how many seconds.
9. The 3:00 minute mark when his voice melds and soars with the orchestra. And then he ends with a note he holds for 17 seconds.
10. I'm so glad I didn't wear make up today. Just like when I was 14.
11. But the music, right? No, you're swooning.
12. Kleenex, anyone?
13. It's only the first song, too. And now it's onto the really weepy "What I Did For Love."
14. Did you guys know I once tried to do musical theater in eighth grade, and I had a solo in this song?
15. It's okay, it's better to just listen to Josh.
16. The drums and electric guitars in this arrangement are...interesting.
17. Is this an attempt to punch up the music for twentysomethings?
18. Orchestral arrangements are better for show tunes. But Josh's voice is so sad and sweet in this song, so all is forgiven.
19. That moment when you almost want to have your heartbroken by Josh so he can just sing you this song sans the electric guitars.
20. It can be such a sparse song. The arrangement feels like a pandering to mainstream radio.
21. Sorry, my snob is showing. I don't really listen to the radio much, so what do I know?
22. *looks up Josh Groban's age* Ten years older than me? Hmm.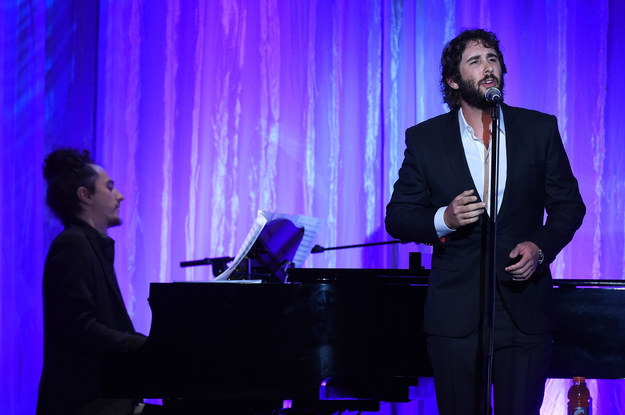 23. OH WAIT HE'S BREAKING OUT THE LES MISERABLES TUNES.
24. "Bring Him Home" is the best song from Les Miserables. Period.
25. Tissues? Anyone? Bueller?
26. But Josh, you're only 34. You're not really old enough to sing this song.
27. But who cares?
28. 2:28 *sobs*
29. His voice is soft enough here that he sounds like he was possibly crying while singing this.
30. Josh understands the impact he has on us all.
31. French, french, french, french.
32. He's singing "Les Temps Des Cathedrales" from Notre-Dame de Paris, which I'm assuming has something to do with The Hunchback of the Notre Dame.
33. Just letting Josh's voice sweep over me.
34. But I was right. He's singing "The Age of the Cathedrals," and it's probably very sad.
35. More electric guitar? Why?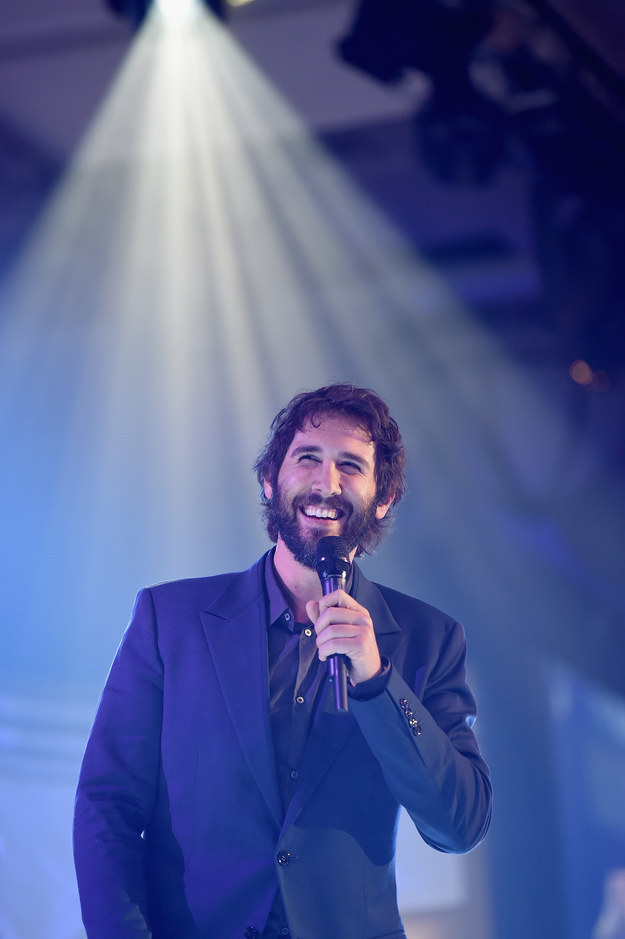 36 HOLD THE PHONE. "ALL I ASK OF YOU" IS UP NEXT. WITH KELLY CLARKSON.
37. It really is the early aughts all over again.
38. Tissues?! Tissues! My kingdom for a box of tissues.
39. Oh wow. Kelly Clarkson can sing. Which of course she can. But DAMN.
40. I can completely forgive all the paternalistic overtones of this song.
41. "All I want is freedom..." No, all I really want is you, Josh.
42. LEAD ME FROM MY SOLITUDE (at the office.)
43. Is it hot in here?
44. Love me, Josh. Pick me. Choose me. Love me.
45. No, YOU'RE crying.
46. I'm going to put this on repeat while I eat lunch.
47. I'm not ready to move on to "Try to Remember."
48. Sure it's a classic, but there is a reason The Phantom of the Opera is *still* on Broadway after so many years. But then again, The Fantasticks played off-Broadway for a long time too.
49. This is perfectly nice song, but which ever song follows "All I Ask of You" is bound to be a slight letdown.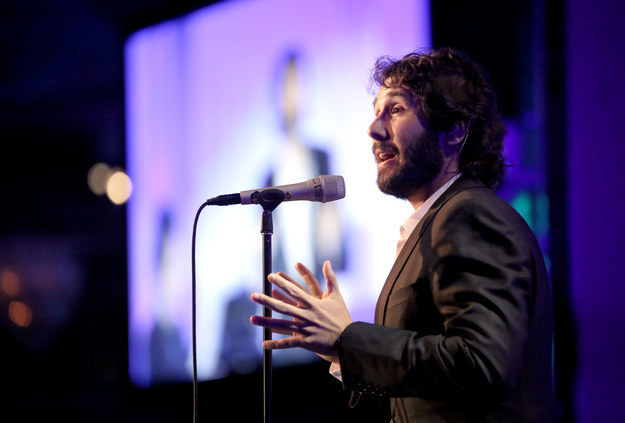 50. "Somewhere Over the Rainbow" is beautiful, but Josh's version is definitely starting out with more of a lullaby feel. Not a bad thing.
51. But those notes. You'll find me over the rainbow, Josh. I'm the one you've been looking for.
52. Oh wait. He's with Kat Dennings...since October 2014? I'm way out of the loop.
53. ...I don't remember this second verse? Not complaining, because he just soared into the chorus.
54. But with drums. I don't need a steady beat right now. Let the string section take care of it.
55. Oh God. "Children Will Listen/Not While I'm Around"- Sondheim medley.
56. "Oh God" as in, having children frightens me and Josh's beautiful-sounding warning isn't helping.
57. Thank God we're switching tempos with Sweeney Todd.
58. "Whistle and I'll be there..."
59. *whistles*
60. "Nothing can harm you while I'm around." Okay, Josh. Holding you to that.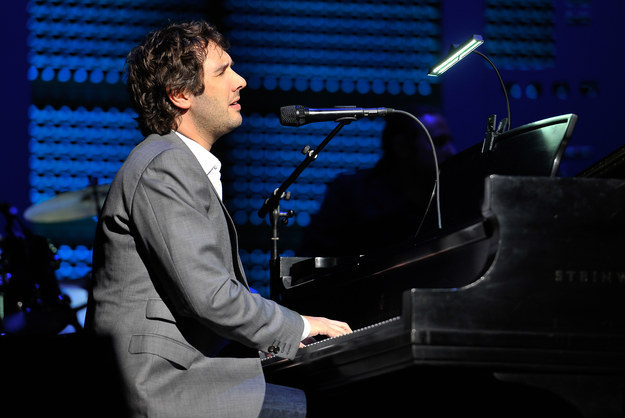 61. "You'll Never Walk Alone" is beautiful but isn't Carousel about domestic violence?
62. All your favorites are problematic. Sorry.
63. But I'm going to make like that Onion article and shut down my feminist instincts and just listen and enjoy.
64. But why all the drums? I think that's my one complaint about this album. Trust Josh's voice. Trust.
65. But the choir can stay. I think they're trying to make this the new "You Raise Me Up," which will forever and ever live in my heart.
66. "Old Devil Moon" is a show tune?
67. The phrase "razzle dazzle" just doesn't suit Josh's voice. This is why I thought it was a jazz song until a minute ago.
68. We were also promised Chris Botti for this song, and there's not much of him.
69. Oh wait. I stand corrected. Botti's trumpet playing elevates all easy listening-type music.
70. Josh, you don't sound like you're going to laugh like a loon.
71. "Finishing The Hat" sounds pretty, BUT a duet with Audra McDonald is coming up. I'll be honest. I'm just waiting for that right now.
72. Do you think Josh was really nervous about singing with SIX TIME Tony winner Audra McDonald?
73. BOW DOWN, everyone. Audra is singing.
74. "If I Loved You," more like "I didn't know I loved you until I started listening to this album."
75. Just basking in the glory of their voices. My mind is empty otherwise.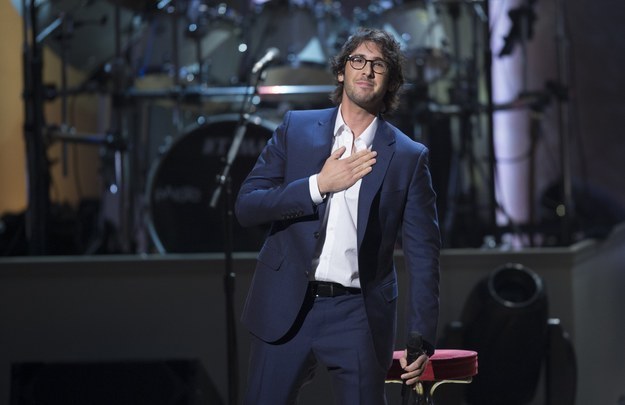 76. "Anthem" is from the musical Chess. I'm pretty sure Josh sang in a concert recording of this awhile back.
77. More electric guitar? I think that's my second complaint for the album. Though the choir works well here.
78. Two more songs, and then I'll get up for a cup of tea.
79. "Gold Can Turn To Sand" seems like it would work for St. Patrick's Day.
80. Oh wait. It's actually written by former ABBA members and is about immigrants to America in the mid-19th century. Oops.
81. This song is depressing. But I guess so was the Oregon Trail, right?
82. But wait! Next is "Empty Chairs At Empty Tables" which is probably worse.
83. Some accordion music to start with. All right.
84. Josh, just record the Les Miserables soundtrack and sing all the parts. JUST DO IT.
85. Last call for tissues before I melt into a puddle.
86. You can actually hear Josh taking in deep breaths before he sings the longer notes because this song is work, sweat, tears, and blood.
87. 2:58. Let's call it a day.
88. No wait, 3:18. Done, done, done.
89. I'm going back to "All I Ask of You" and staying there.
90. IF YOU'RE READING THIS JOSH, I THINK I'VE FOUND THE LIGHT AND I'M A GROBANITE AGAIN. I'm sorry I ever doubted you.