Do you call these "pencil crayons"?

Have you ever tasted one of these?

Have you ever watched "Heritage Moments"?

Historica

Have you ever Rolled Up The Rim?

Flickr

Have you ever seen this on your computer screen?

YouTube

Did you ever have one of these in your house?

Amazon

Have you ever wanted a House Hippo for a pet?

CCA

Do you remember meticulously colouring in Nunavut on a map of Canada?

Imgur / Mimigeignarde

Have you ever munched on a Coffee Crisp?

@justcallmeafoodie

And finally, do you know who this is?

Getty
This "Yes Or No" Quiz Will Determine If You're Actually Canadian
You got:

You're a full-blown Canadian!
You were raised in this icy climate and your thrive in it. And you're a scholar when it comes to everything Canada. From geography, to history, and of course, the food. And you probably know how to ask to go to the bathroom in French, too! Way to go, bud.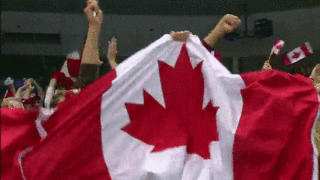 You got:

Sorry, but you're definitely not from Canada!
You might WANT to be Canadian though. And we don't blame you! Feel free to come visit anytime.