Here's What Happened When We Tried Taco Bell Canada's Exclusive Cheetos Crunchwrap Sliders
Sliding into Canada like…
Buckle up, Canada. Taco Bell is releasing tiny, adorable slider versions of the cult favourite Crunchwraps. But this time, they have Jalapeño Cheetos inside of them!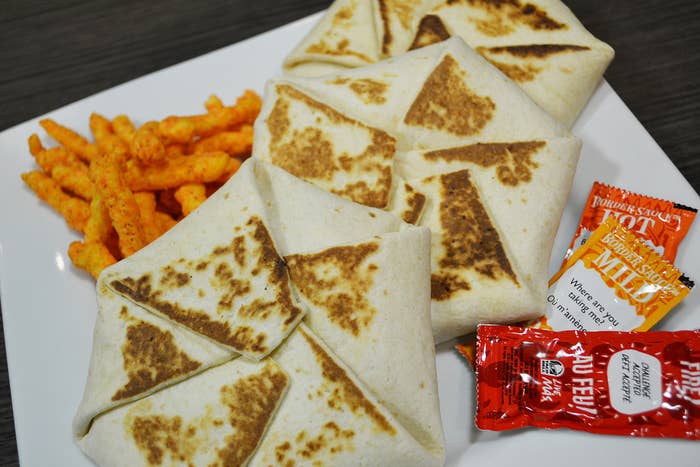 The sliders come in three flavours: Beefy Cheddar, Supreme, and Spicy Chicken. The BuzzFeed Canada staff had a chance to try them first and here's what we thought: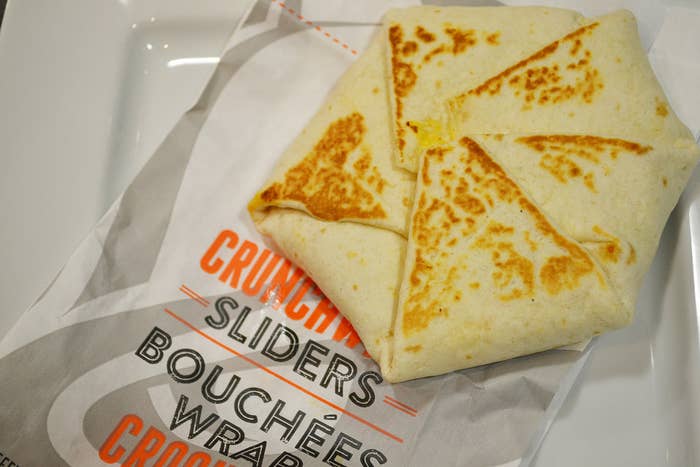 On the Beefy Cheddar: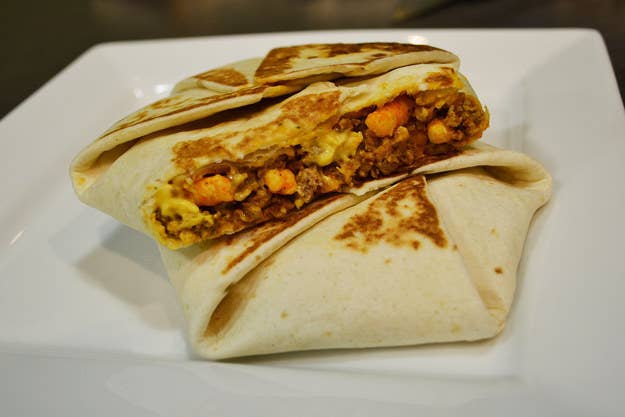 Ishmael: This ended up being my favourite. It was a nice balance between the meat and cheese, with an occasional bit of crunch from the Cheetos that wasn't too overwhelming. Just a nice surprise every couple mouthfuls.
Kat: It's not bad, but it's a little *too* cheesy for my taste. Combined with the beef and the Jalapeño Cheetos, the texture was slightly too thick and required constant sips of my water. More sauce to thin it out might have helped.
Elamin: Not bad! I wasn't expecting that. The Cheetos were surprisingly good in the wrap and you don't expect beef and Cheetos to mix well, but they do! The Cheetos add a crunchy texture that worked well.
On the Supreme: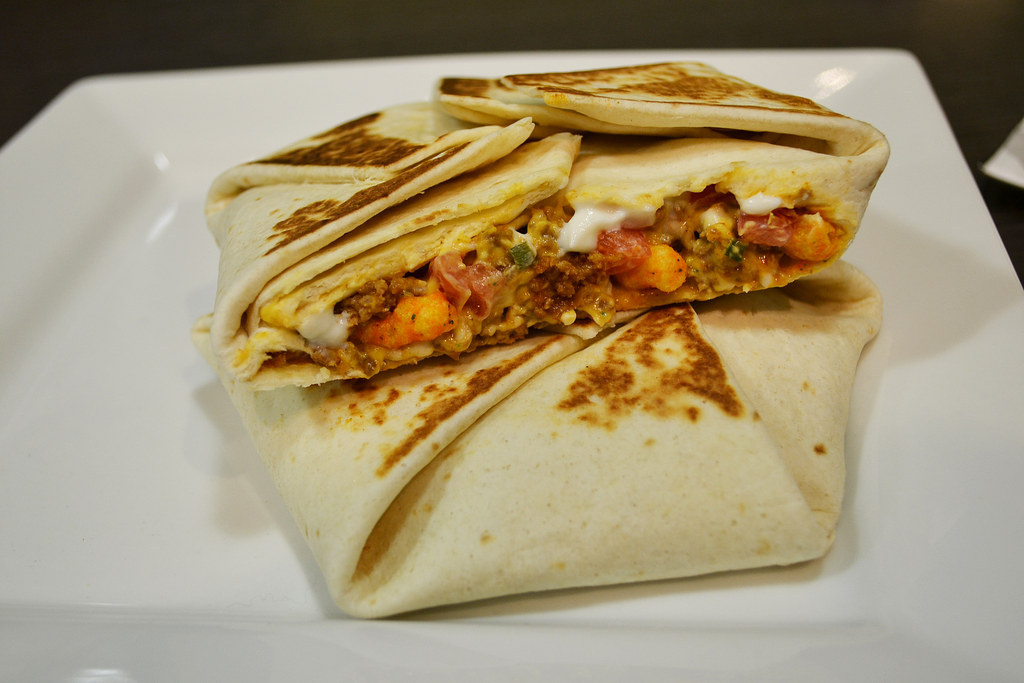 Kat: The Supreme was my jaaaaam. I always get Fries Supreme when I go to Taco Bell (which isn't that often...), and taking all the toppings from it and putting it in a wrap was a genius idea. And the Jalapeño Cheetos don't distract from it at all; they just add a nice subtle zip to the taste. Who knew Cheetos could be used for good and not evil?
Ishmael: This was probably the tastiest of the bunch, but the creamy sauce makes me unlikely to get it too often. The Cheetos were good too, despite Cheetos actually being complete garbage. For some reason it works here.
Sarah: Excuse me? Cheetos are not garbage. Cheetos are glorious. And they're pretty damn good in this.
On the Spicy Chicken: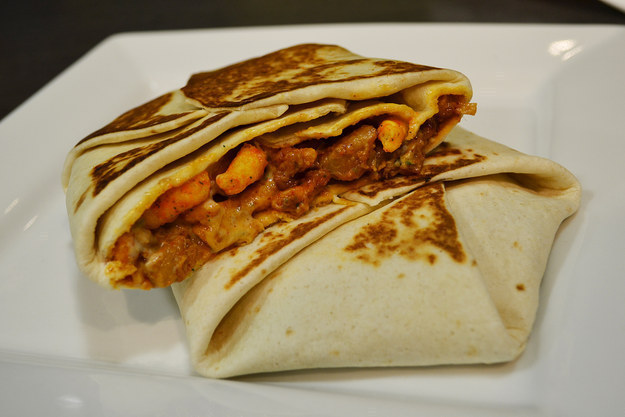 Ishmael: This was good but a bit too spicy for me. A few bites is all I could muster, but if you love spicy foods you'll probably want this one, with maybe some more hot sauce on top. God, you people who like spicy food make me sick.
Kat: Spicy chicken was surprisingly good. I usually can't handle too much spice, but the ranch sauce helped smooth the spice over, and the Cheetos added a satisfying crunch.
Elamin: YOOOO FAM. THIS IS MY JAM. I mean, because I'm skeptical of Taco Bell, I was not expecting to like anything this much. But the texture of the chicken with the Cheetos worked sooo well. It's something I would actually order.
Final thoughts?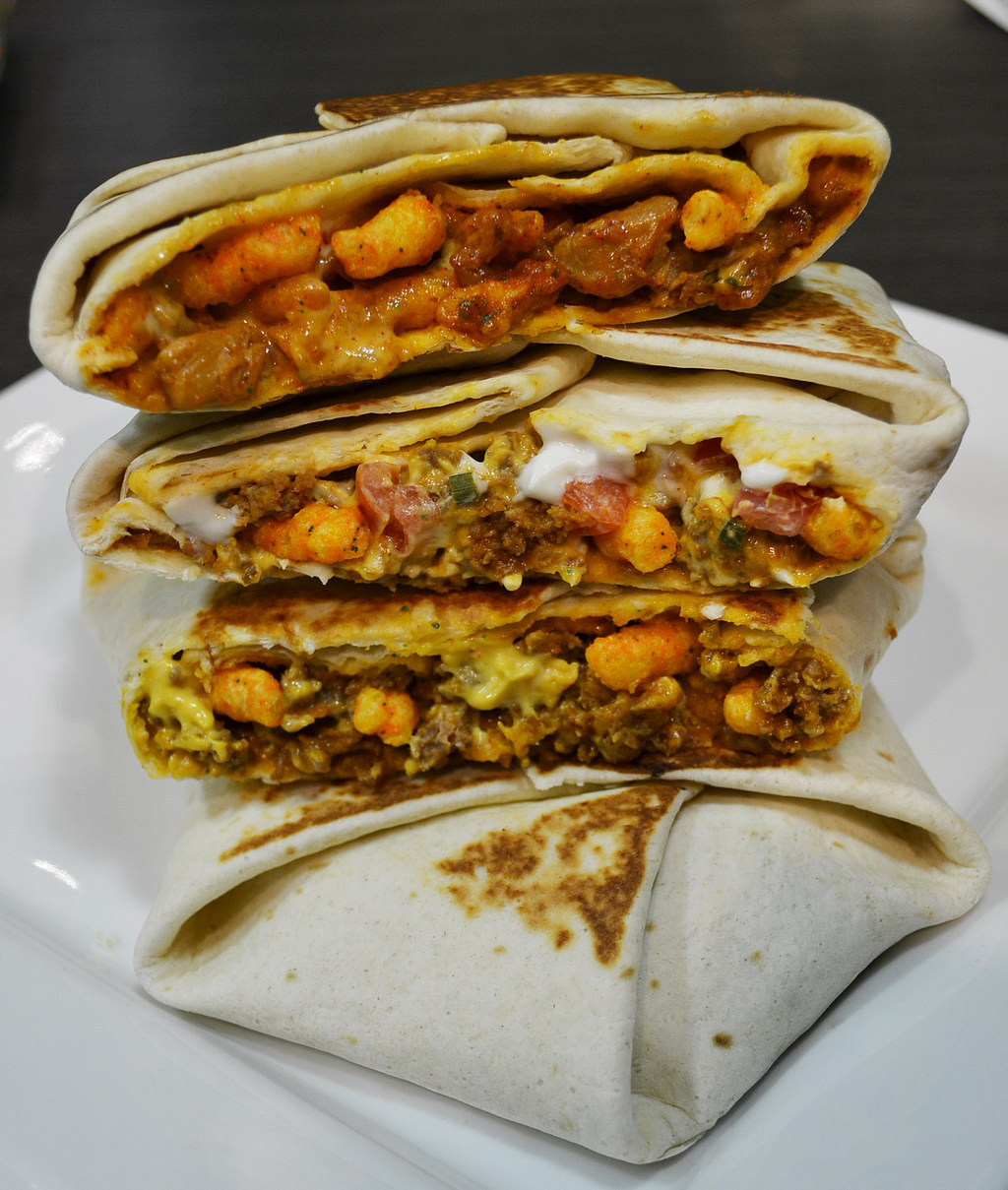 Kat: The sliders are more filling than you might think upon first glance, but they're delicious. And they don't fall apart as easily as the tacos or the Gordita Crunch, so you don't get the fillings falling onto your plate, which is nice. Would I buy this? Probably, considering that Taco Bell is Drunk Kat's restaurant of choice, and she'll definitely appreciate the convenience of these wraps.
Sarah: Well, Sober Sarah really enjoys Cheetos and I think these new little crunchwraps are an excellent excuse to eat even more of them.
Elamin: I don't think I'd buy the Supreme one, and the Beefy Cheddar was fine, but that Spicy Chicken one would totally overcome my prejudice against Taco Bell. It's so good. Mmm, can I have another one please? Also, why don't people cook with Cheetos all the time, it's clearly always a good call.
Oops. Something went wrong. Please try again later
Looks like we are having a problem on the server.
Are you going to try a Cheeto Crunchwrap Slider?
The Cheetos Crunchwrap Sliders will be available at Taco Bell locations nationwide for a limited time starting Feb. 29.
The food items in this post were provided to BuzzFeed Canada for review.