I'm the type of person who giggles at the word "penis" so I decided to go to the Everything To Do With Sex Show in Toronto to test my limits. My work wife, Lauren Strapagiel, joined me.
And I had a lot of thoughts:
1. I wonder if I can get a drive there.
2. Oh great. Now my brother is driving me to a sex show.
3. Will there be porn stars there?
4. Will people be having sex everywhere?
5. Wait, will there be food there?
6. I'm glad Lauren is coming with me.
7. I'm definitely going to see a lot of dicks.
8. We're here. Be mature.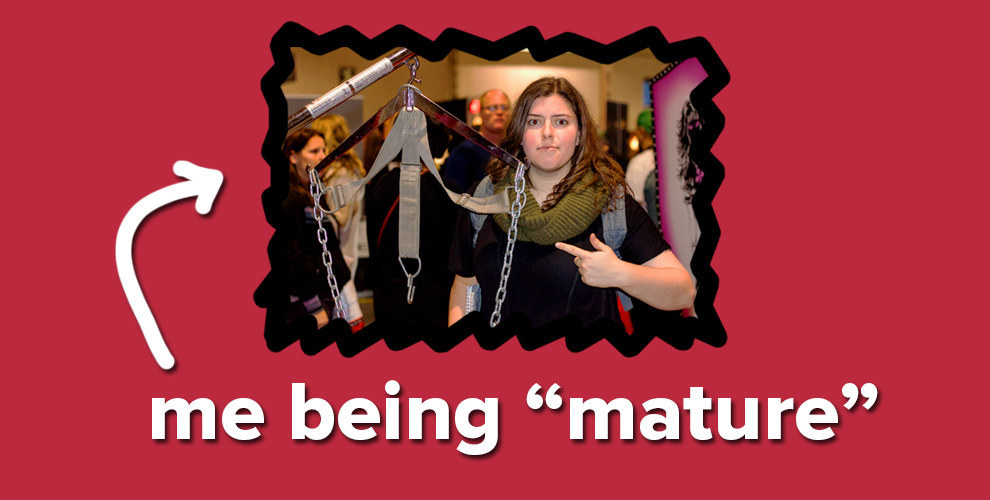 9. Is this the same convention hall that my university fair was at?
10. Oh look! Booths!
11. There are so many cute Halloween costumes.
12. OK, none of these costumes have bottoms.
13. Everyone here is so friendly.
14. Yep, there's a butt.
15. Oh, there's a nice butt.
16. There's a ball pit here!
17. There's a naked woman in the ball pit.
18. This is fun.
19. There are a lot of couples here.
20. Please. Do not let me run into any of my parent's friends.
21. Or my old high school teacher and his wife trying to spice up their sex lives.
22. FOOD TRUCKS!
23. Now, we're talking.
24. Oh, there's a BeaverTails truck and a taco truck.
25. Hehehe
26. I see what you did there.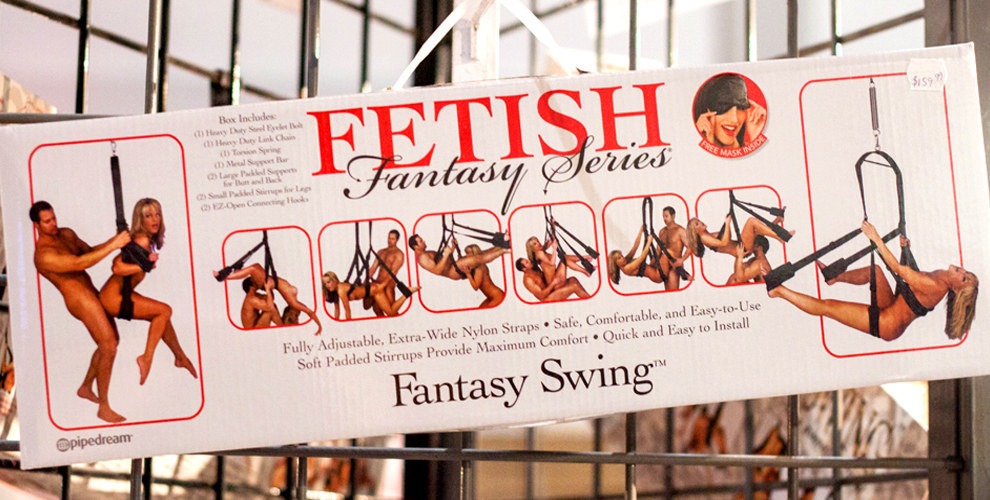 27. Do they have that butt sex toy that you can fuck 12 different ways?
28. This place is like a mall. A mall that only sells dildos.
29. Sex swings look so difficult.
30. The people on this box make it look effortless.
31. You would need so much core strength!
32. That girl probably does pilates.
33. That guy probably does pilates.
34. When was the last time I did pilates?
35. Seriously, everyone here is SO FRIENDLY.
36. Is that woman waving at me?
37. OK, we're going over.
38. She wants me to touch this vibrating thingy.
39. Now, I'm touching it with 5 other people.
40. This is really powerful.
41. I've been here for an hour and haven't seen any penises.
42. Wait, WTF.
43. Am I disappointed that I haven't seen any penises?
44. Oh look, a fuzzy sleep mask.
45. I know this is for sex but I'd defs wear this on a plane.
46. It's soooooo soft.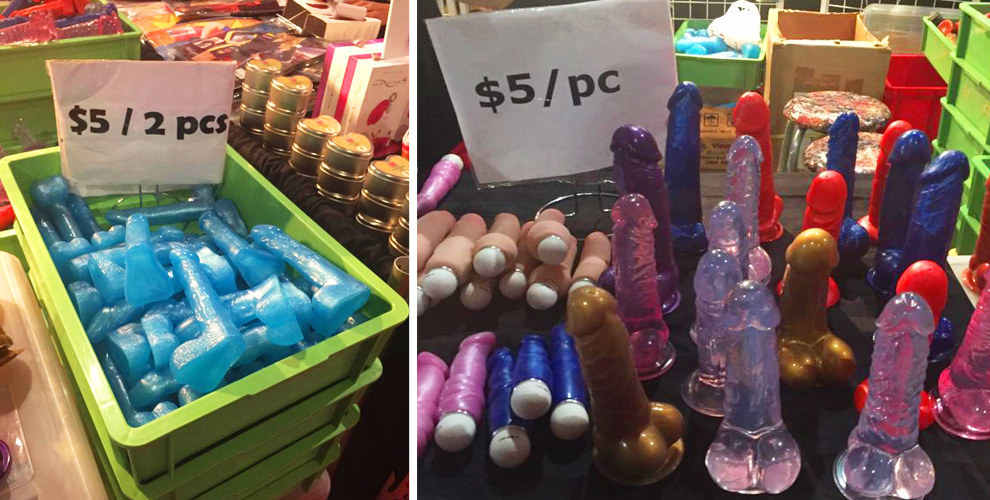 47. *walks over to discount table*
48. Lauren: "Never buy a $5 dick."
49. Why?
50. *Lauren raises an eyebrow*
51. Ohhhhhhhhhhhhhh.
52. It's like granite countertops. You don't want a shitty porous butcher block when you can have granite.
53. Wow. I would find a way to connect lessons that I've learned from House Hunters to dildos.
54. ARE YOU KIDDING ME?
55. Look at that bean bag.
56. OK, again. I know this is for sex but I want one.
57. Leave me here, let me die here.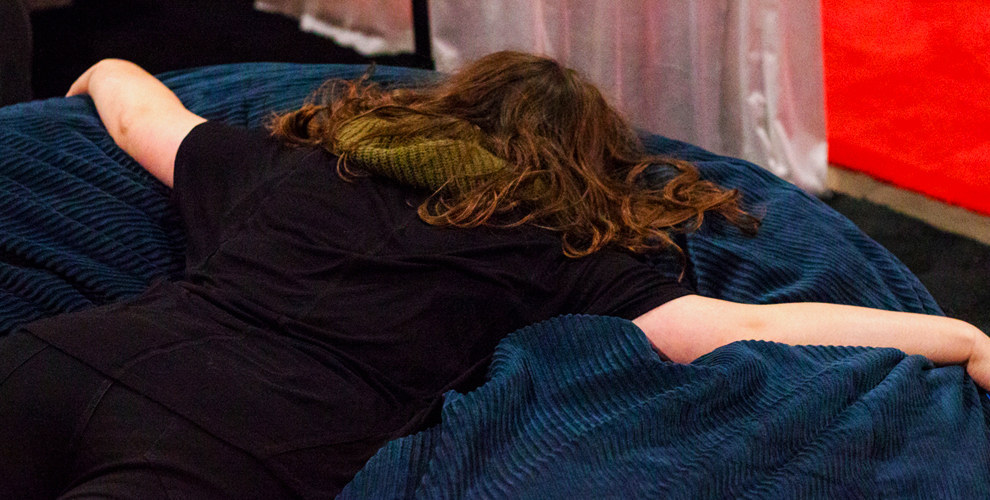 58. Did someone just say free foot massages?
59. That might be worth getting out of the bean bag for.
60. Actually, I'll pass.
61. I'm seriously learning so much.
62. This has been a very educational day so far.
63. More butts!
64. OH MY GOD.
65. I've been standing in the background of live cam girls streaming themselves for the past 20 minutes.
66. Sorry mom.
67. Hold on. What do you doooo with this?
68. This was not in sex ed.
69. They should really update sex ed.
70. I still haven't seen any dicks!
71. But there is a lot of dick shaped foods.
72. Actually, when you think about it, all the best foods are penis shaped.
73. Popsicles.
74. Hot dogs.
75. Bananas.
76. I'm hungry.
77. *Overhears "Come back at 6:30pm for the hand jobs and blow jobs workshop"*
78. Oh my god.
79. They have a surprisingly good playlist here.
80. Who put this together?
81. Corsets look really uncomfortable.
82. There are like 10 women over there wearing them.
83. Kudos, ladies.
84. They sorta look like they're in a porn parody of Downtown Abbey.
85. And they are slayyyying it.
86. The packaging of these sex toys is so elaborate and fancy.
87. I wonder if you could DIY these boxes and reuse them as cute jewelry boxes or something.
88. There's probably an entire section on Pinterest about this.
89. Here we are at the leather whip section.
90. "Pssst! Hey Lauren, watch this."
91. *attempts to do the "whip" dance move*
92. "Lauren, don't judge me. I saw an opportunity and I went for it, OK?!"
93. God, now Lauren hates me.
94. Everyone here is so pretty and so friendly.
95. Probably 'cause they're doin' it, on the reg.
96. That woman has the most beautiful hand-painted tiger on her boobs.
97. I wonder how long that took to do.
98. I can't even paint a heart on my face for Pride.
99. I should take an art class.
100. It's never too late to learn new skills.
101. I'm hungry and tired.
102. I'm glad I came.
103. It was seriously way less intimidating that I thought!
104. And I learned so much and didn't even see a single penis!
105. Success.