I Got Drunk At Starbucks, Ate Truffle Mac 'N' Cheese, And Made Friends
A love story.
Hey! I'm Sarah, I wear giant scarves, and drink Starbucks. I'm also Jewish so their cups don't offend me.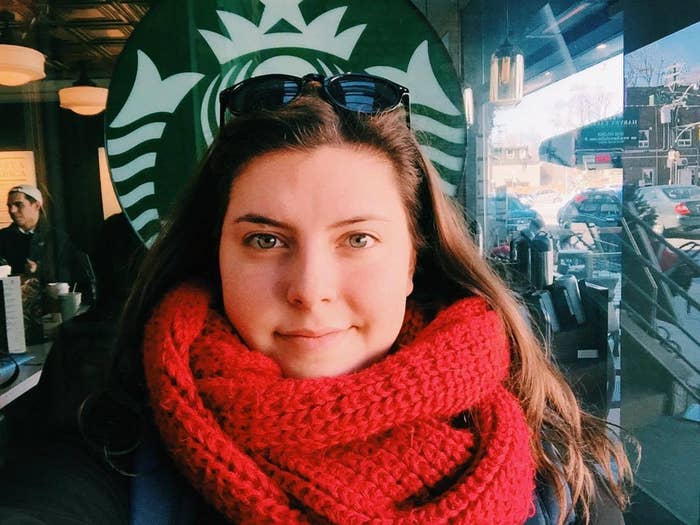 Here's a photo of me being sober and adorable.
Anyway, this week three Starbucks locations around Toronto launched ~Starbucks Evenings~. It's basically a special menu of wine, beer, and fancy "small plates" like flatbreads, parmesan chicken skewers, and bacon-wrapped dates. Oh, and it's only available in the afternoon.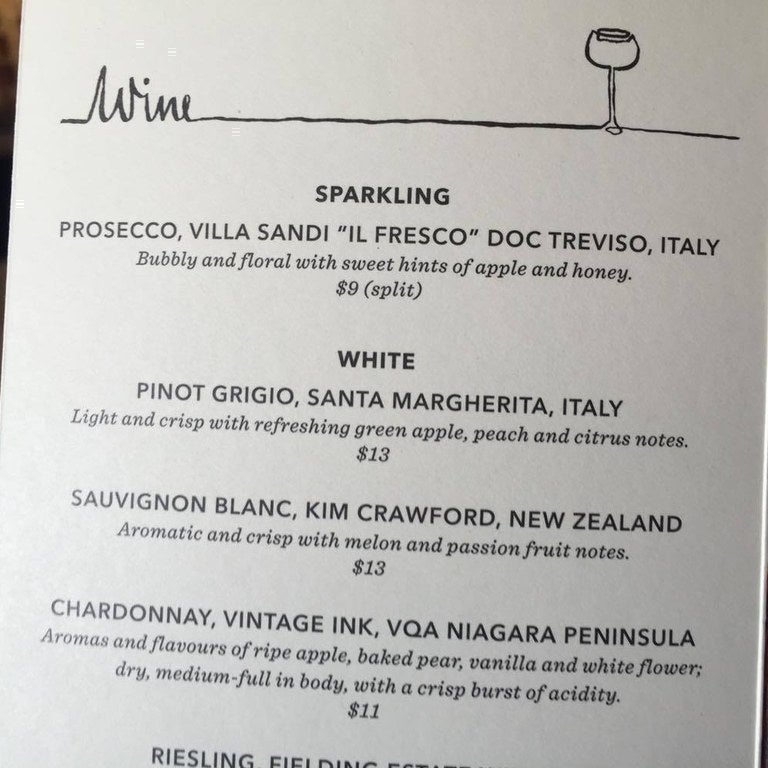 The menu has already been tested in the U.S. and it was only a matter of time for Canadians to get a shot at it.
So I decided to follow my heart (and stomach) and get my drank on. I also realized that I had been unknowingly preparing for this moment since last year.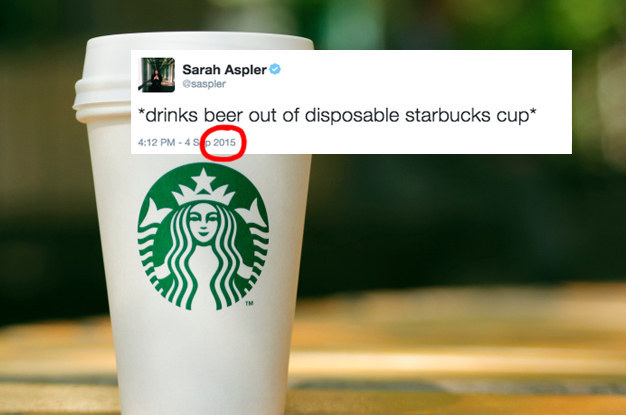 The Forest Hill Starbucks started poppin' bottles at 2p.m. so I grabbed my ID (because I look like I'm 13 years old) and made my way there. The plan was the treat this Starbucks just like a regular bar.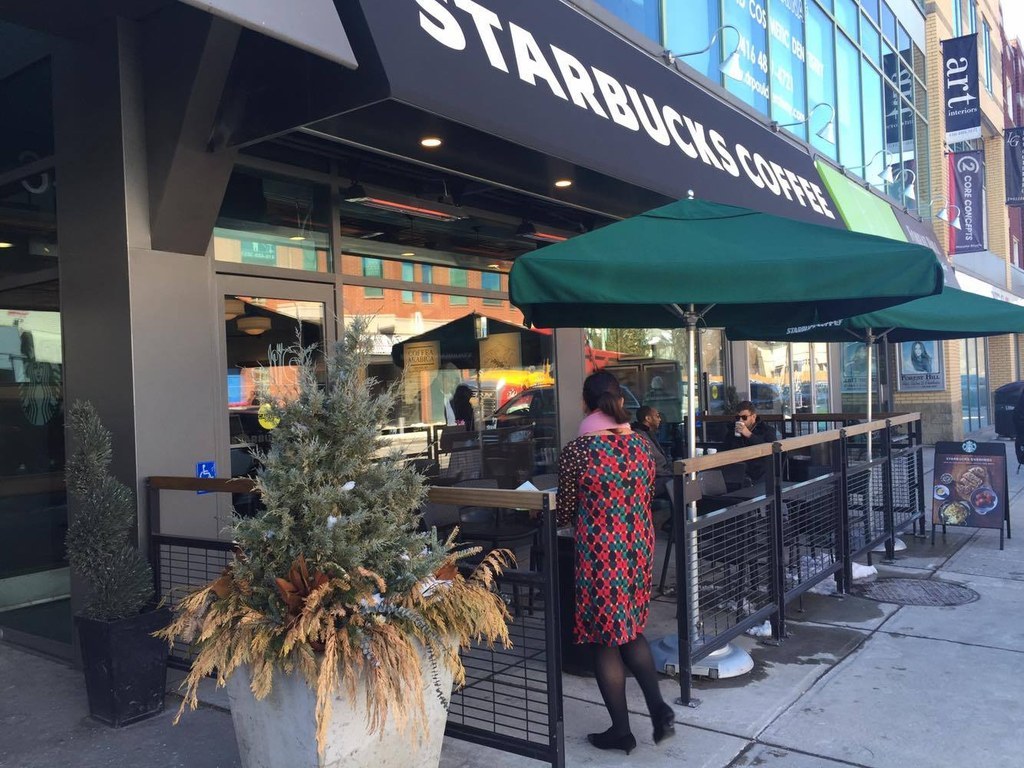 On my way there, I made a mental list of things to do that would really help me experience this uncharted boozy territory.
# Order a drink.
# Start a real tab.
# Send a drink to a random person.
# Order all the food.
# Make a friend.
3:21 p.m: I arrived at Starbucks and ordered a drink. I got the mac 'n' cheese, bacon-wrapped dates, and a prosecco. Obviously. And they ID'ed me. Obviously.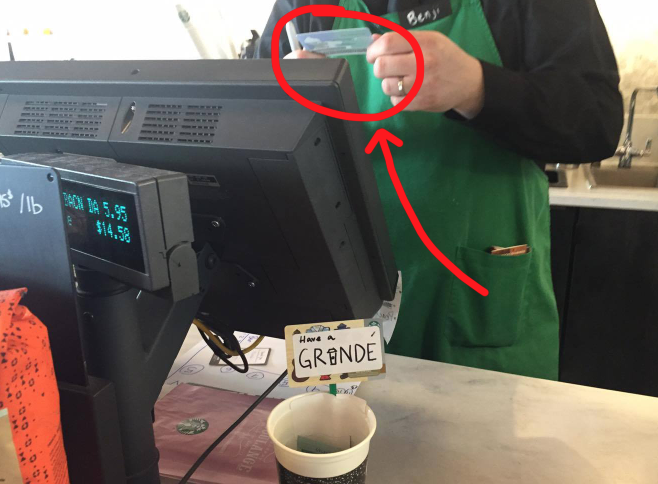 Shortly after ordering, I immediately realized that I was at the ~fanciest~ Starbucks in the world. As I waited for my food and drink, a woman wearing this was standing beside me.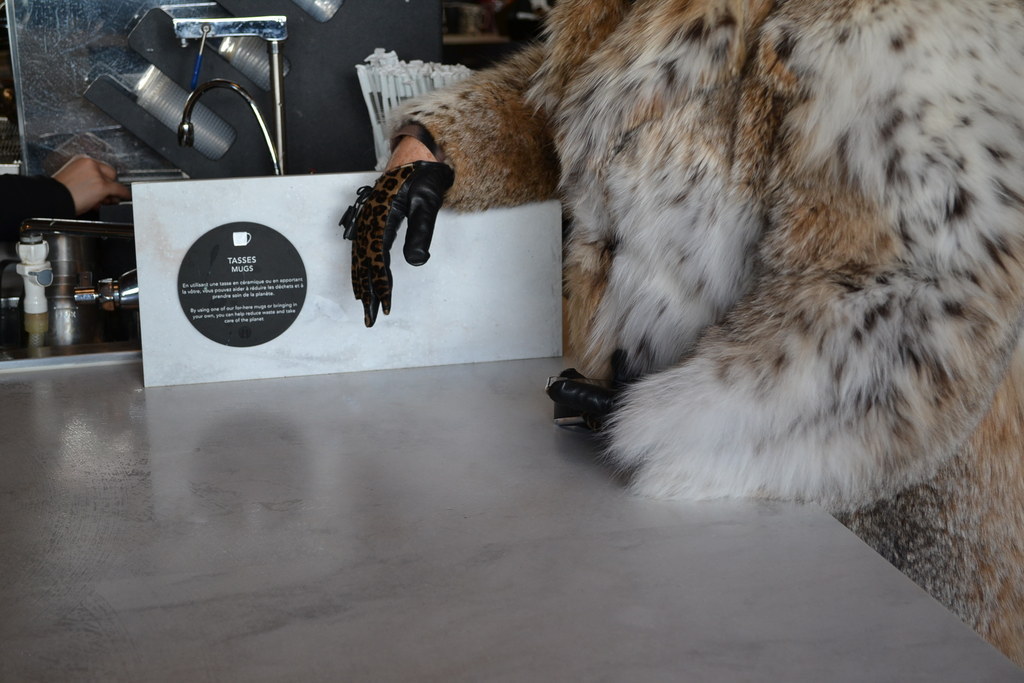 I felt underdressed. At Starbucks.
3:28 pm: Food and first round arrives. And it's surprisingly spectacular.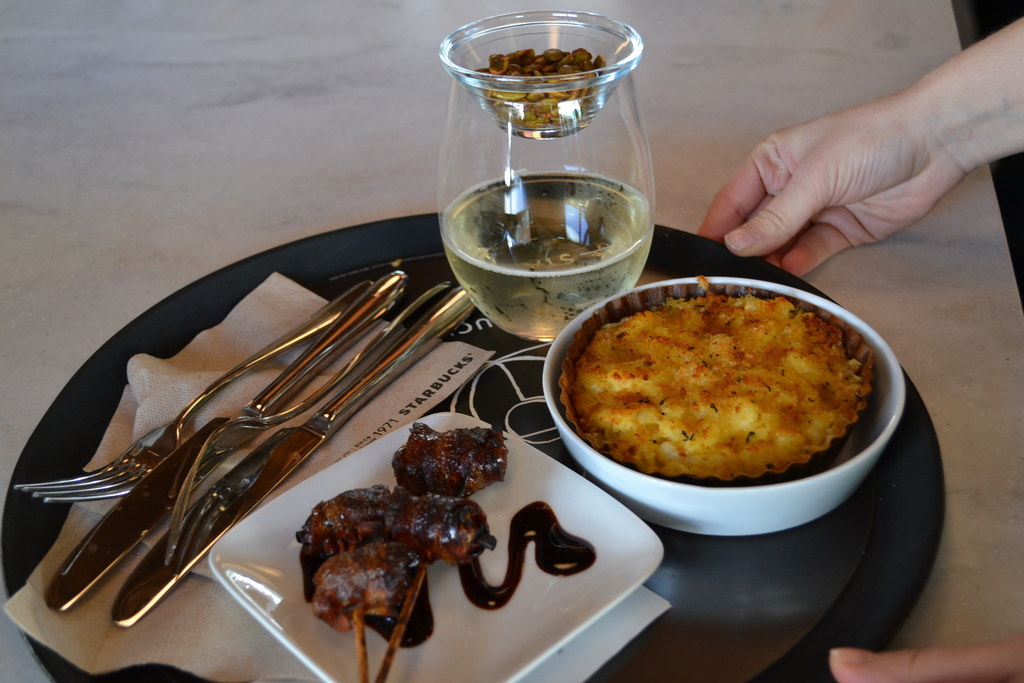 The truffle mac 'n' cheese ($6.95) was actually really good. And I shared my bacon-wrapped dates ($5.95) with a nice stranger named Lara. My drink ($9.00) came with spiced-pumpkin seeds that I could only describe as incredibly useless.
3:32 p.m: School is out. Lara abandoned me because she needed to get back to "work." Yeah, sure. I quietly sat alone eating my food while a preteen eyed my mac 'n' cheese while waiting for her frappa-whatever.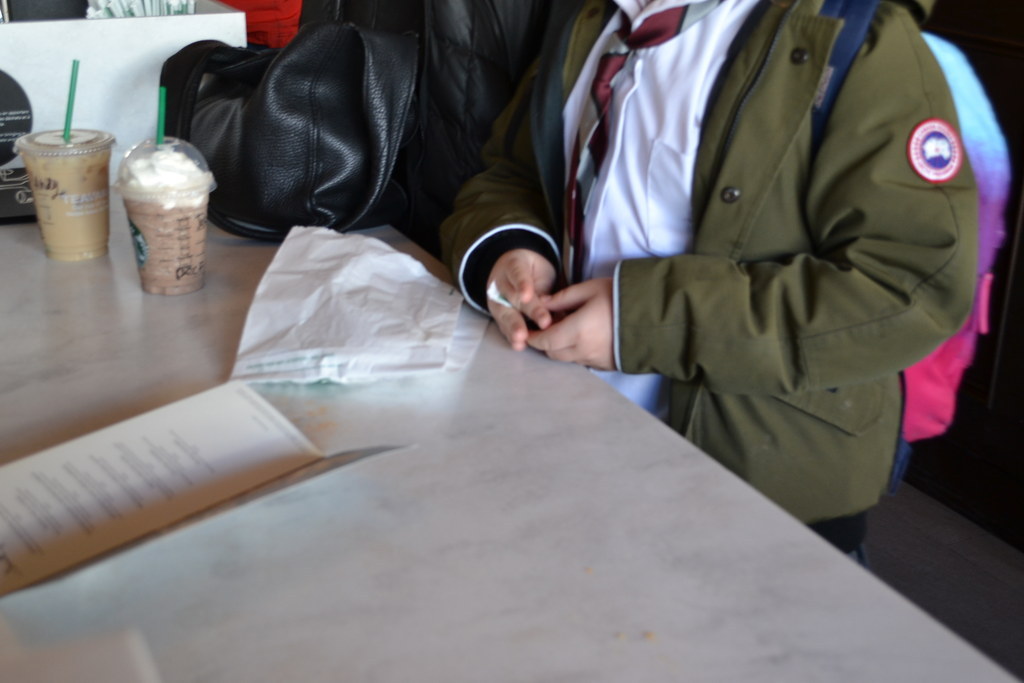 I pushed the dish closer to my boobs and whispered under my breath, "Not today, Satan."
3:39 p.m: I couldn't help but feel lonely at the bar. No one else was drinking. So I decided to just go for it and start a tab with my homeboy Benji, the store manager, and asked him to bring me a spinach artichoke dip and a wine that was "made from grapes."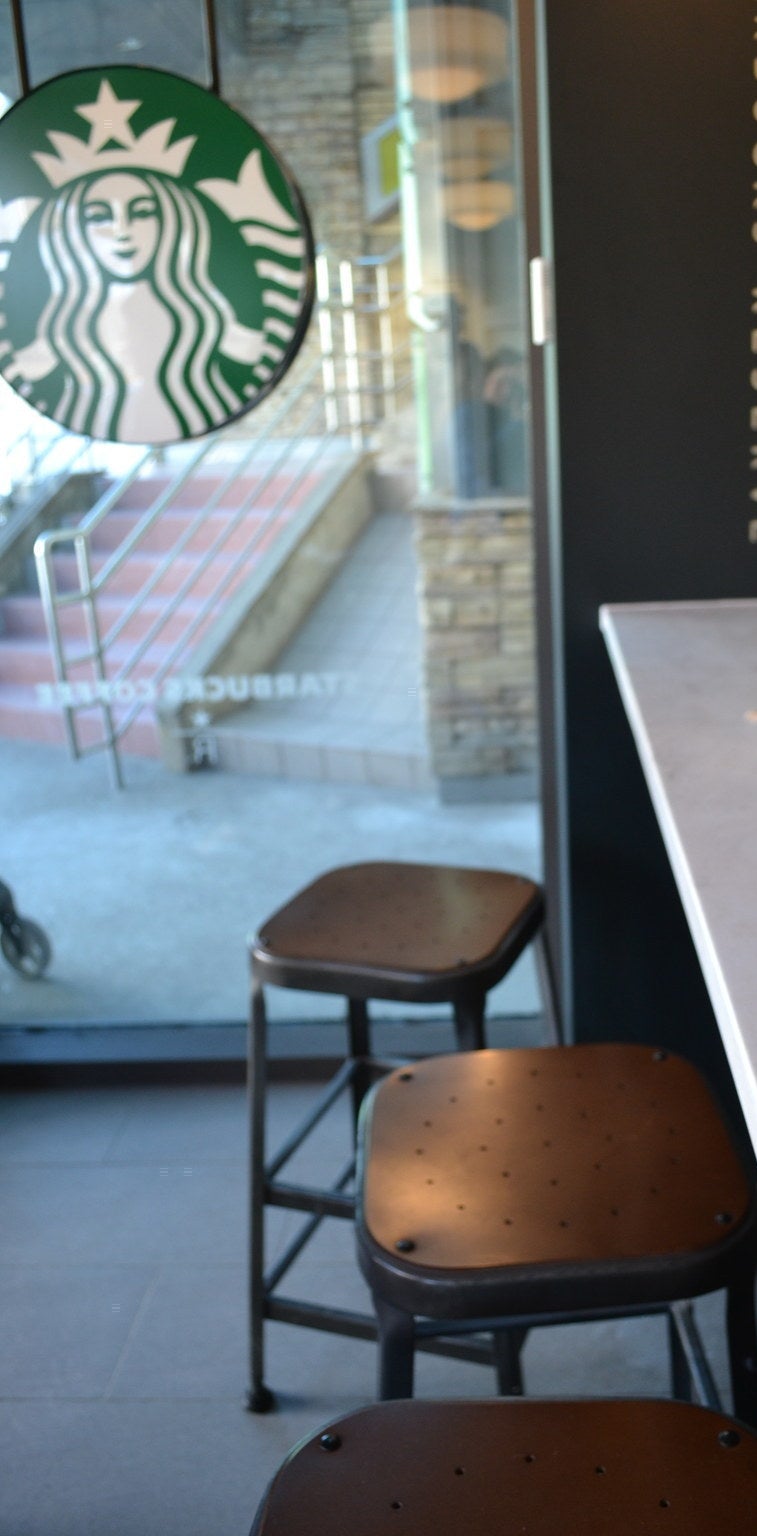 3:43 p.m: As I waited for my dip and wine, a girl sat next to me at the bar. She ordered a white wine and a muffin (because why not?) And in a flash, I knew I had encountered a potential friend.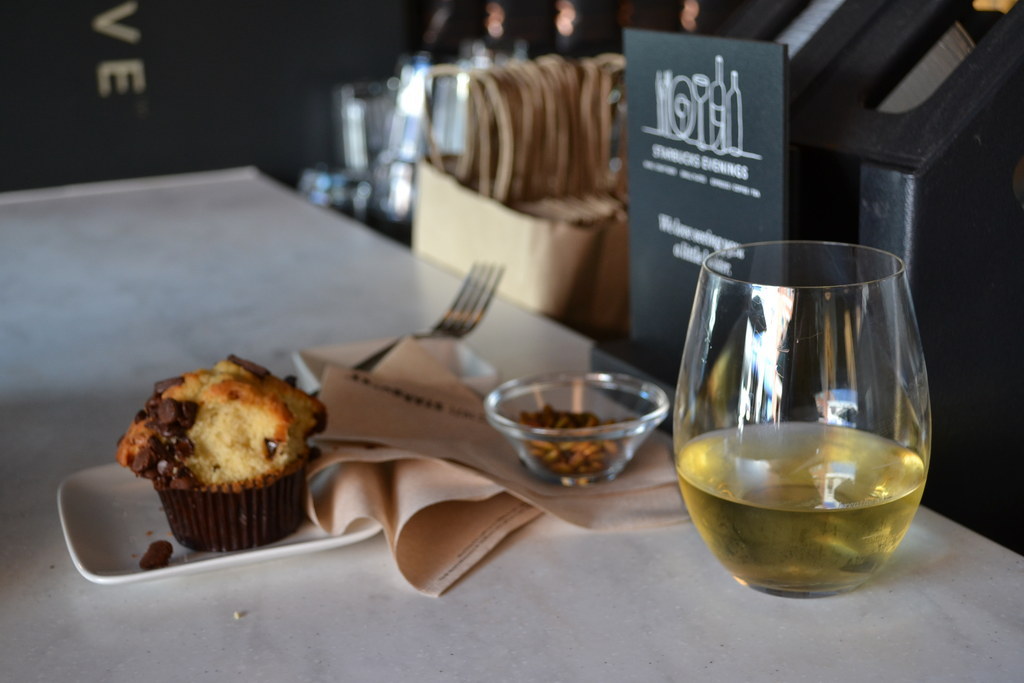 Don't mess this up, Sarah.
3:46 p.m: My dip and second round arrived. I offered to share with Alyssa (the woman who ordered the muffin and wine). She accepted and we instantly became BFFs.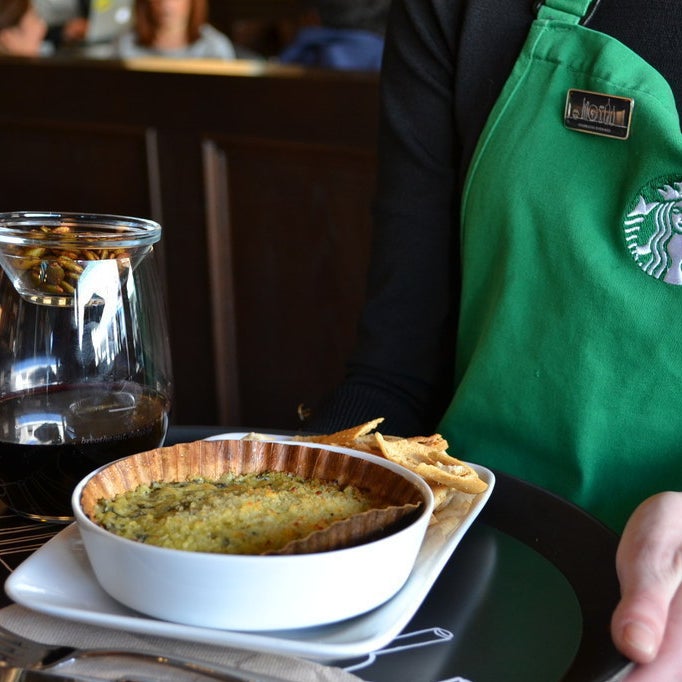 The dip ($6.95) was just meh. But all the wine (ranging from $9.00 to $13.00) was pretty good. But unfortunately, all the wine comes in one size so you can't technically order a venti Pinot Grigio (for now).
I had been drinking a red wine and then immediately ordered a white something-or-rather (whatever Alyssa was drinking) because she seemed to know ~things~ about wine.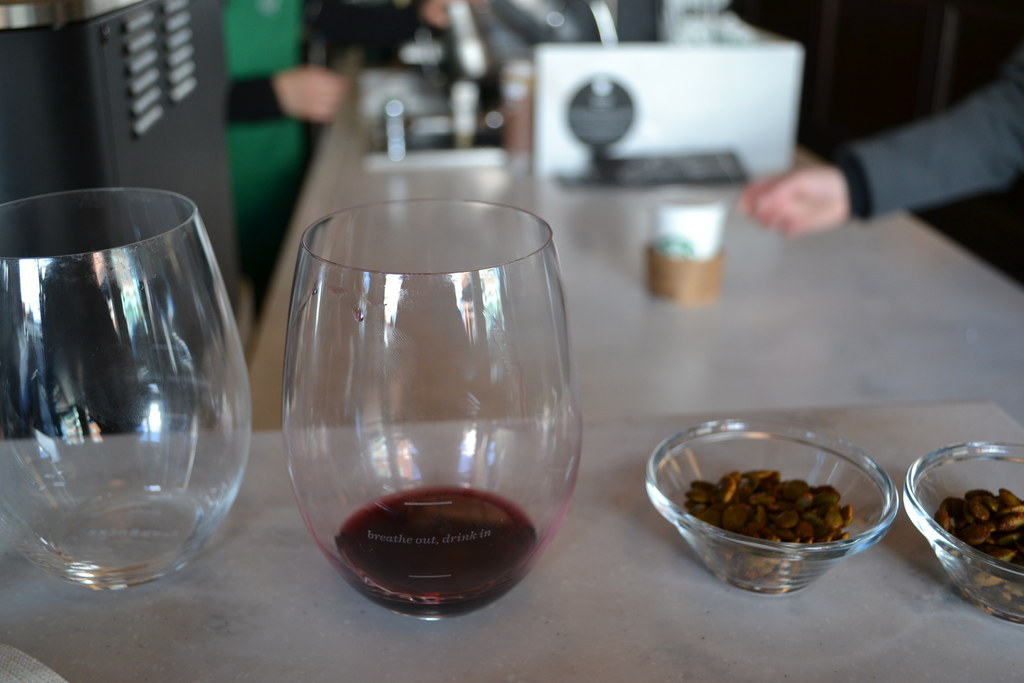 They also gave me more weird pumpkin seeds.
We then formulated a plan. We wanted to treat this Starbucks like a regular bar, so we decided to send a random guy a beer from across the room. We tried to flag down Benji but he was busy pouring dat liquor.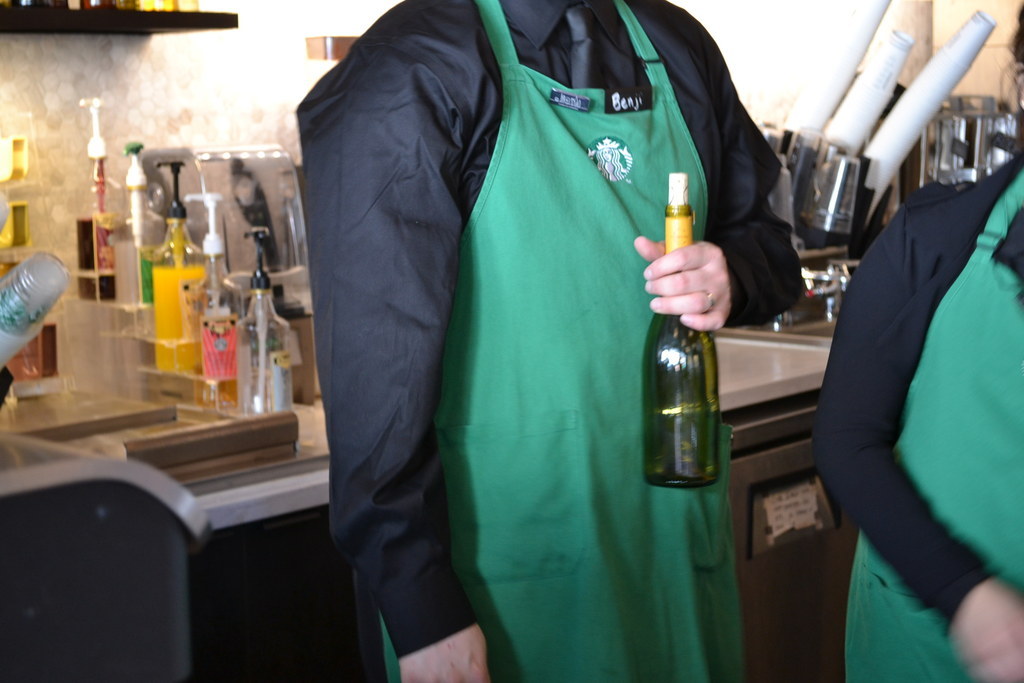 So instead we asked Haley, another barista-turned-bartender to help us out. She was down. We sat awkwardly while she walked over to him, told him about the drink, and pointed to us.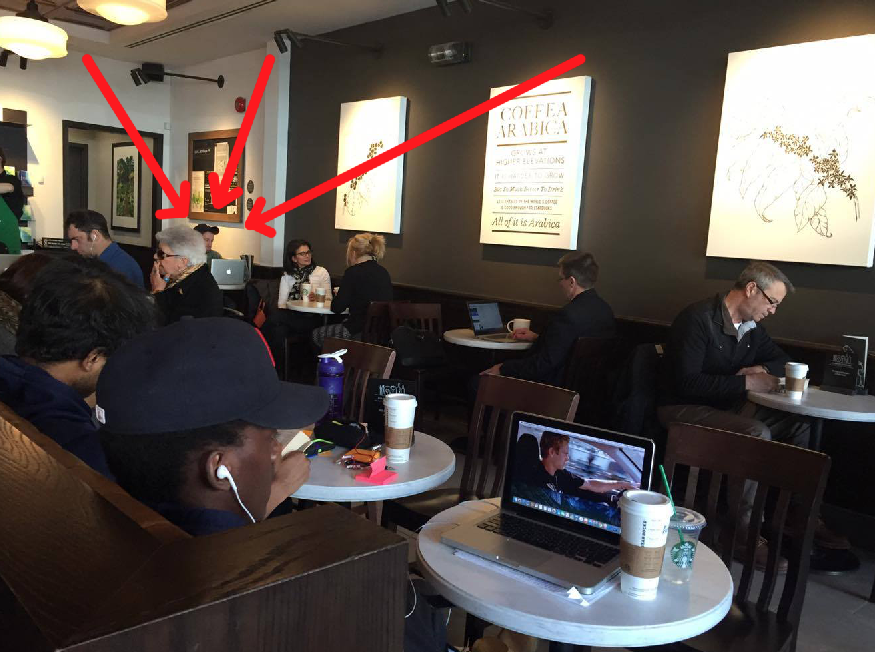 She also had to ask for his ID too so I don't completely feel like a toddler.
And, IT WORKED!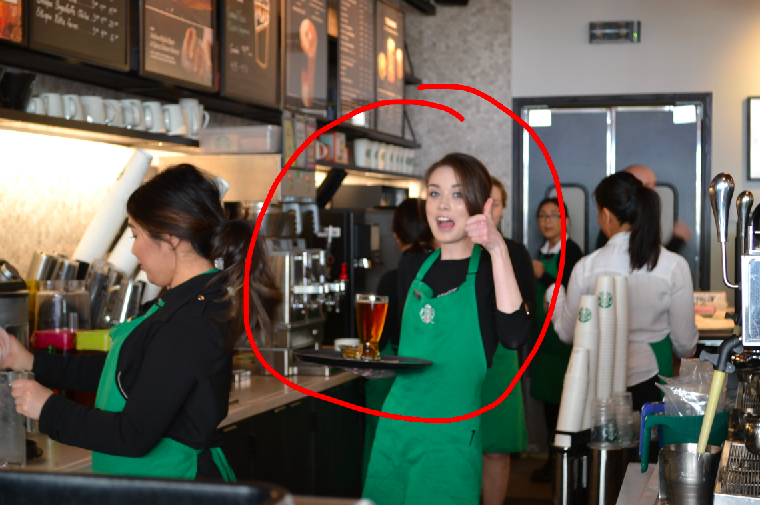 Shout out to Haley. You're a treasure.
He accepted and we became friends. Obviously.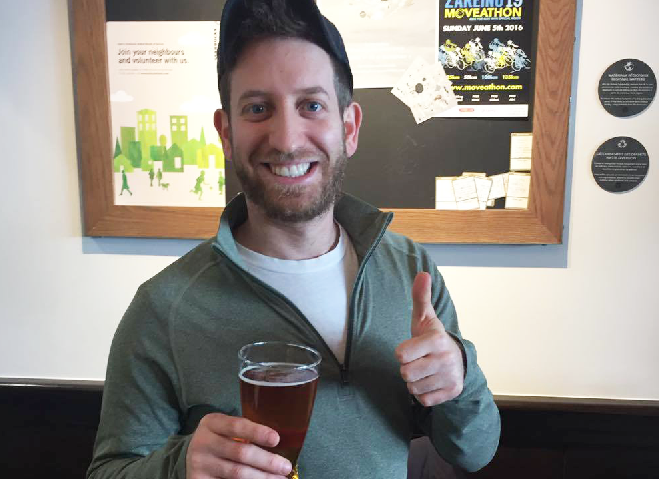 Shout out to Yonah. You're a star.
The tab was increasing (and so was my tipsiness) so I decided to settle the bill and head back to work. Just a reminder that it was like 4 p.m. on a Tuesday.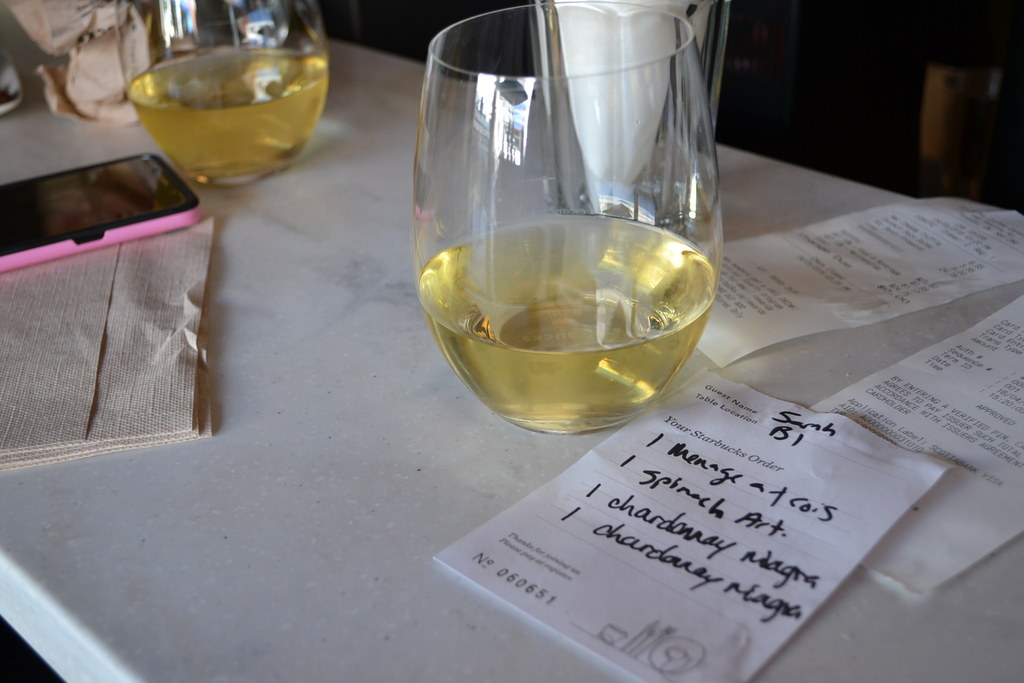 But as one last hurrah, I ordered some truffle popcorn because WHY NOT.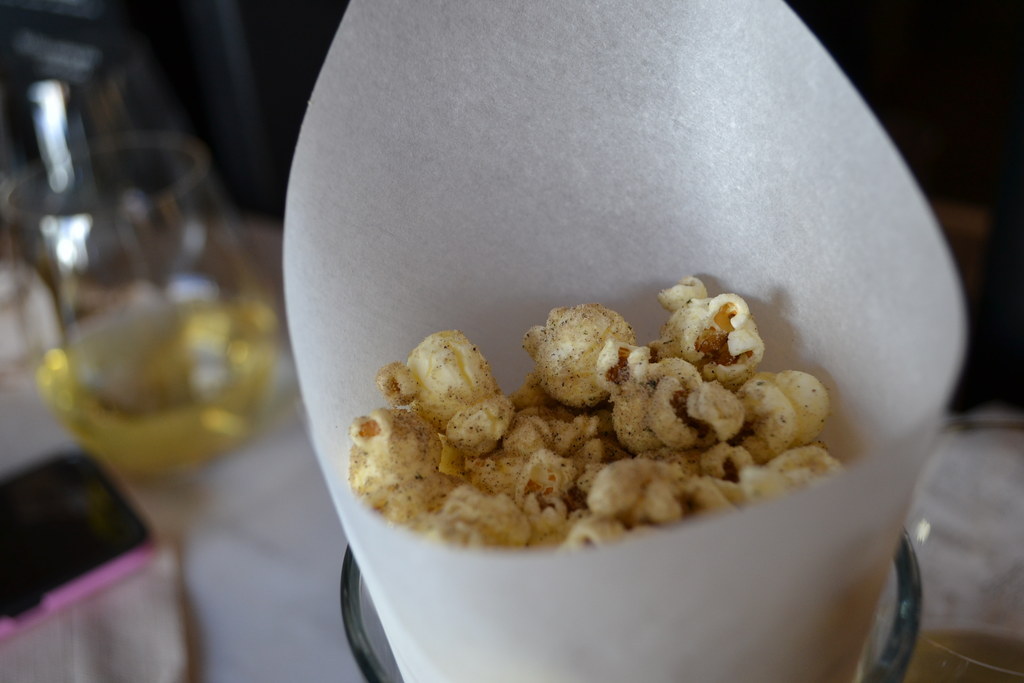 It cost $2.95 of my sacred Canadian dollars and was actually pretty tasty.
On my way out, I hugged Alyssa, waved goodbye to Yonah (it's complicated, don't ask), high-fived Benji and Haley, and grabbed a tall ice water for the ride home.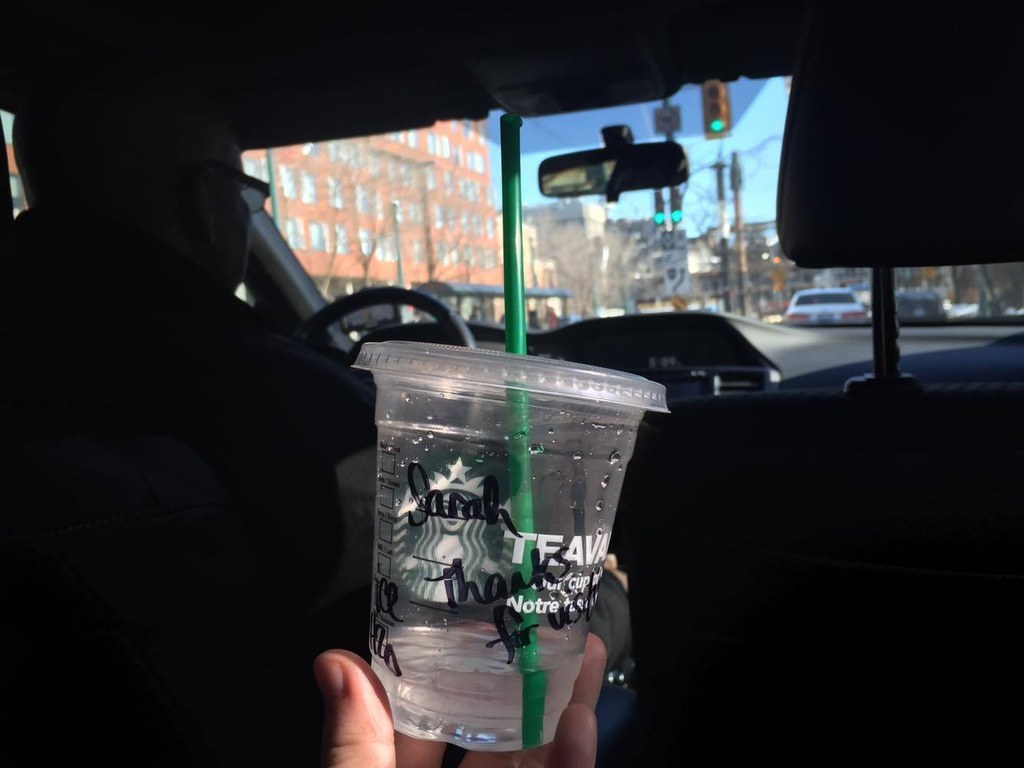 Drinking at Starbucks is a little weird. There's just something strange about getting drunk somewhere you usually recover from a hangover. Anyway, I had completed my mission. And was hella drunk.