Think it was easy to be a beauty icon? Let's find out if you have what it takes to live a day EXACTLY like Marilyn!
What's the first thing you do in the morning after brushing your teeth and washing your face?

Getty

Drink some cold orange juice to help shake off the sleepiness

Put on my sneakers and go for a light jog outside

Do a quick bust-firming routine using five-pound weights

It's a bust-firming routine!

Marilyn says, "It is a simple bust-firming routine which consists of lifting five-pound weights from a spread-eagle arm position to a point directly above my head. I do this 15 times, slowly. I repeat the exercise another 15 times from a position with my arms above my head. Then, with my arms at a 45-degree angle from the floor, I move my weights in circles until I'm tired. I don't count rhythmically like the exercise people on the radio; I couldn't stand exercise if I had to feel regimented about it."

Time for breakfast! What are you having this morning?

Getty

A small bowl of oatmeal with fresh berries

A cup of warm milk with two raw eggs

Two slices of bacon and a cup of coffee

It's a cup of WARM milk with RAW eggs!

Marilyn says, "I start warming a cup of milk on the hot plate I keep in my hotel room. When it's hot, I break two raw eggs into the milk, whip them up with a fork, and drink them while I'm dressing. I supplement this with a multivitamin pill, and I doubt if any doctor could recommend a more nourishing breakfast for a working girl in a hurry."

How many lipsticks and glosses does it take to achieve that iconic red lip?

Getty

Monroe expert Gene London says, "Her pout was created with five different varieties of lipstick and gloss: darker reds on the outer corners, lighter shades in the middle to lend dimension, with a highlighted cupid's bow and bottom lip."

What areas of your face do you contour with creams, foundations, and powders?

Getty

London says, "Further contour tricks were used to shape her nose, sharpen her cheekbones, make her eyes look more deep-set, arch her brows, and emphasize her heart-shaped face."

Which of these beauty or style trends do you absolutely hate?

Getty

London says, "She had the heaviest peach fuzz beard of any actress in Hollywood. They [studio chiefs] wanted to remove the facial hair, but Marilyn absolutely refused. She said that when the light hit the fuzz it caused her face to have a soft glow, so they didn't have to photograph her through special lenses, lace, or Vaseline the way they did with so many stars."

What's your secret trick for making it look like your nipples are always perky and erect?

Getty

Wrapping two thimbles in fabric and putting them in your bra

Putting marbles or stacks of buttons in your bra

You don't have a trick, they always look like that

It's marbles and buttons!

London says, "Marilyn took to placing marbles in her bras, or she'd take three buttons … and sew the buttons together and place those inside her dress."

Time for dinner! What are you having?

Getty

Broiled lamb chops or liver with five carrots

Chicken breast with a side of steamed broccoli

A large, perfectly cooked steak and nothing else

It's lamb chops or liver!

Marilyn says, "My dinners at home are startlingly simple. Every night I stop at the market near my hotel and pick up a steak, lamb chops or some liver, which I broil in the electric oven in my room. I usually eat four or five raw carrots with my meat, and that is all. I must be part rabbit; I never get bored with raw carrots."

Do you ever indulge in dessert?

Getty

A slice of warm apple pie with ice cream

No, I like to stick to my healthy diet

Marilyn says, "I have developed the habit of stopping off at Wil Wright's ice cream parlor for a hot fudge sundae on my way home from my evening drama classes. I'm sure that I couldn't allow myself this indulgence were it not that my normal diet is composed almost totally of protein foods."

How many hours of sleep do you get per night?

Getty

I always get 8 hours of sleep and nothing more

It's between 5 and 10 hours!

Marilyn says, "Depending upon my activities, I sleep between five and ten hours every night. I sleep in an extra-wide single bed, and I use only one heavy down comforter over me, summer or winter."

And finally, before climbing into bed, what do you change into?

Getty

Marilyn says, "I have never been able to wear pajamas or creepy nightgowns; they disturb my sleep."
Could You Get Through Marilyn Monroe's Beauty Routine?
Yikes! You failed. But don't be too hard on yourself! Some of those answers were pretty interesting. Being fabulous is a lot of hard work!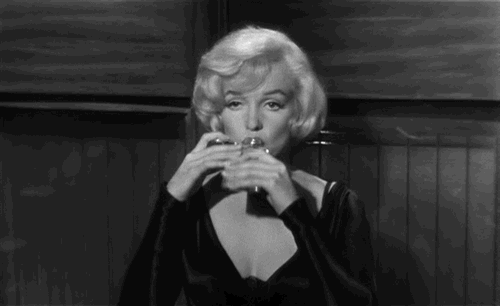 You passed! You're an expert when it comes to beauty. Marilyn would be proud!