Londoners Can Now Go To Work In A Tree
TREExOFFICE is a co-working space built around a tree in Hoxton Square. For those who think a little nature could make work a lot better.
London's desk dwellers can now go to work in a tree. Over the summer the city got its first treehouse office.
TREExOFFICE is a co-working space created by regeneration charity Groundwork in collaboration with Artsadmin and Hackney Council.
Located in Hoxton Square the office isn't knocked together with spare bits of wood and rusty nails and nestled in a rickety oak the way your childhood treehouses were. Instead TREExOFFICE is a futuristic looking pod on stilts sat around the bottom of a tree. It is made of see-through plastic panels that let in lots of soothing sunlight and immerses workers in the greenery of the surroundings.
The structure is 4 meters tall, created out of compressed paper and translucent polycarbonate. It's weather proof, has wi-fi, a power supply and eight individual workspaces.
Because of its East London location and the mildly quirky notion of like, working in a tree, with nature and whatever, yeah, the office has been labelled a hipster space. While it is easy to be dismissive of the idea of a bunch of Londoners sat in a pop-up tree pod updating spreadsheets TREExOFFICE has been built for noble purposes.
Groundwork is keen to 'test new innovative models that sustain and enhance public open spaces'. It wants to get city dwellers using parks differently, showing them new ways to interact with and appreciate the nature that surrounds them - as urban green spaces are too often taken for granted. It's also a small solution to London's burgeoning office space problem.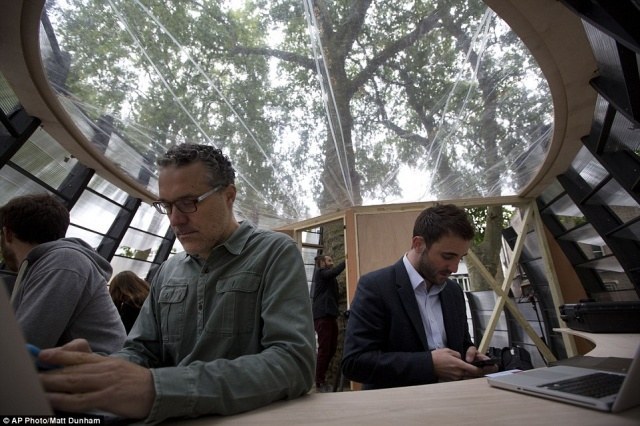 If you work in London and are looking for a brief respite from the four walls of your oh, so conventional brick office. Or you, like me, are a freelancer who wants to give your local cafe a couple of hours break from your moody work face you can book a desk at www.TREExOFFICE.london. They are available in two hour slots on weekdays only, costing £7.50 for an individual workspace or £60 for businesses interested in taking over the whole place. The income generated by bookings will be reinvested into Hackney's parks and green spaces.
TREExOFFICE's creators hope the space will be embraced as a productive and calming oasis in the rush and rumble of the busy city. It is free for community groups to use at weekends and has already played host to an intimate pre-wedding celebration.
TREExOFFICE is open until December 2015.