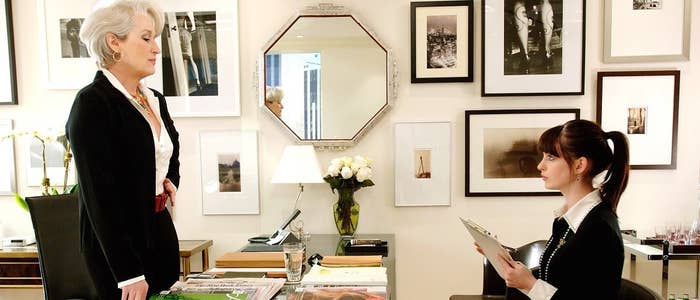 Yes, it's true. I've gone these past eleven years without seeing this iconic film and no, I have not been living under a rock. But in my defense, gifs and quotes from this film make up 80% of the internet, so was there really a need for me to watch it? Don't @ me.
I was sure I'd already seen all of the best parts in gif form, but even having a general idea about the plot didn't prepare me for this film starring our Lord and Savior, Meryl Streep.
Warning: Spoilers!
Because I truly can't be the only person that still hasn't seen this movie, right?
1. Is she…is she brushing her teeth without toothpaste?
2. Honestly, the most unrealistic thing here isn't even how thin literally everyone is, it's how fucking organized all of those closets are.
3. Okay, I get that Andy is supposed to be pretty fashion ignorant, but come on! I didn't sign up for a reincarnation of Princess Mia pre-Paolo.
4. DAMN. Go Andy with the hot, supportive boyfriend in bed. Where do I get one?
5. Ew children.
6. Emily says "Andrea Sachs" with such judgment that I feel judged. #pettygoals
7. "Who's Miranda?"?! Who goes to a job interview without extensively researching the company? Andy, girl, come the frick on.
8. "It sounds like a great opportunity, I'd love to be considered," says the girl who knew nothing about this company and job she's interviewing for.
9. Oooh, I know this bit! Yass Stanley Tucci. <3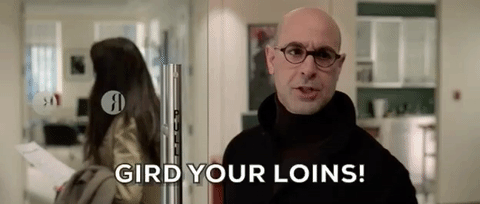 10. How did he know it was a bagel?? Maybe she had onion in an omelet, you don't know her life. Still, 10/10 nose on Nigel.
11. DAMN GIRL YOU BEST GET OUT THE ELEVATOR—oh shit she did.
12. Honestly, I would love an Emily in my life that keeps me from making terrible fashion choices.
13. ...How did Miranda know that Andy had never heard of her? O.O
14. Only in movies do you land a job with no connections and zero preparation.
15. Her friends and boyfriend are more negative than what "Sex and the City", "Friends", and "How I Met Your Mother" have prepared me for.
16. I feel like even dying wouldn't be a good enough excuse for not getting Miranda her coffee TBH.
17. Also, you do not have to be a fashion enthusiast to know about Dolce & Gabbana. How did you get Dolce and not Gabbana though?
18. I am so here for Nigel as a sassy fairy godmother character.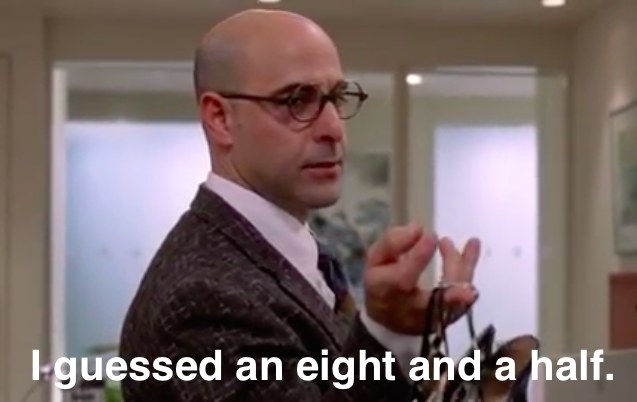 19. 98% sure that the earth stopped moving when Andy corrected Miranda.
20. Andy barely got this job and she laughs at her boss during a very important run-through? That's just natural selection really.
21. Emily trying to sneak closer to listen in is 100% me. Chismosa 4 lyf.
22. Break down that cerulean sweater thread 👏🏼 by 👏🏼 thread 👏🏼 Miranda!
23. If I could ever take down anyone in that way, my life would be complete.
24. Nate's casual grilled cheese flip is so much more attractive to me than it should be, it's problematic.
25. Also, who says no to a grilled cheese because the Runway girls are so skinny and then drinks wine?
26. Why is she shielding her eyes during the lingerie shoot???
27. THERE IS A BETTER WAY TO CHECK THE BRAKES ON SOMEONE'S CAR ANDY.
28. OMG PATRICIA. I would ride that dog into battle.
29. Andy is definitely that annoying AF co-worker that would talk to you when you have headphones in.
30. Why didn't Miranda call the first assistant with this flight issue?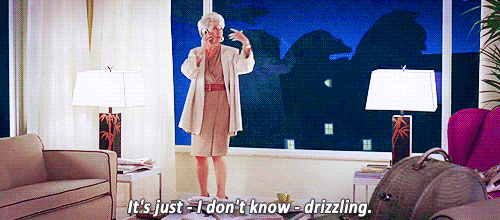 31. I didn't know anything could be worse than a mother's disappointment, and then I saw Meryl Streep act disappointed and I would just like to apologize for my sins immediately.
32. "This place where so many people would die to work, you only deign to work." Get 👏🏼 her 👏🏼 Nigel 👏🏼
33. Wait, is he just GIVING her all of this? Is she borrowing it? Even by movie standards, this seems ridiculous.
34. That…does not look like a phone. Is there a vibrate feature?
35. "This bag is like $1,900, I cannot take this from you," she says as she STUFFS ALL OF HER CRAP IN IT.
36. Andy's friends are the human equivalents of sour patch kids.
37. Nope, nope, nope, I do not trust this Thompson guy.
38. THE RAGE IN ME AFTER HE SAYS THAT SHE CAN'T DO THIS JOB IS ENOUGH TO LIGHT UP A THOUSAND SUNS.
39. Holy shit they look like the twins from "The Shining". Is that right? I've never seen the movie, but this could be in a horror movie.
40. Why would you trust the children? What. Did. Emily. Just. Finish. Telling. You.
41. I DID NOT KNOW I COULD GET SUCCESSIVE CHILLS DOWN MY SPINE AND WHOLE BODY.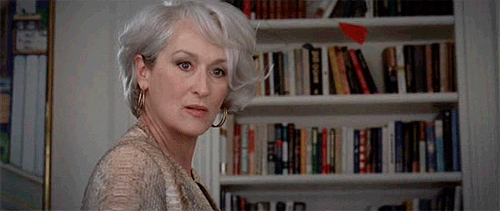 42. I had to pause the movie until my goosebumps went away. What is this sorcery?!
43. The idea of fictional characters getting an advance copy of the last Harry Potter book makes me angrier than it should. They should do their waiting, just like the rest of us!
44. I'm glad Andy is so logical. "She doesn't want this steak? Time to angrily throw everything into the sink!"
45. Interesting that Andy doesn't tell Nate about Christian Thompson and his help...
46. Nigel looking at Andy like a proud dad is all I want in my life. Stanley Tucci, where you at?
47. Okay, I don't like Thompson, but come on this is literally why she took this job, to network!
48. DO NOT TELL ME THAT SHE LEAVES THIS EDITOR OPPORTUNITY FOR A PARTY THAT SHE'S BASICALLY ALREADY MISSED. LOVE YOURSELF GIRL.
49. Where did she get a cupcake and just one candle?
50. And did he really stay up just to be all mopey when Andy got back? Wow.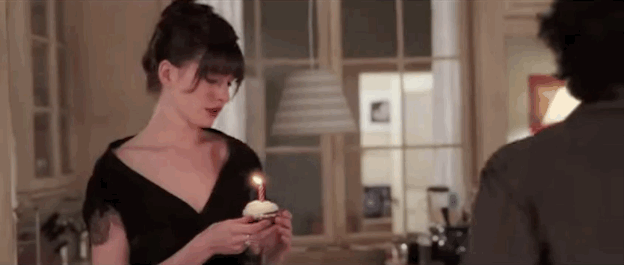 51. OH. MY. GOD. I know Miranda did this in a shitty way, but also can we pause and look at how fucking amazing this opportunity is for Andy?
52. Did Emily get fired?? What's with the empty chair? Oh no.
53. What sort of sadistic person would make Andy tell Emily? Miranda no.
54. Of course, Thompson is at Andy's friend's art gallery stalking her. Does he ever stop calling her Miranda Girl???
55. Nate feels like the kind of guy that would say he likes girls that "aren't like most girls."
56. Are they breaking up or is this a Ross/Rachel sort of break?
57. I'm surprised Christian Thompson isn't also here, stalking her in Paris—AAAAAND THERE HE IS.
58. Snoop Dog and Miranda Priestly is a show I would obsessively watch.
59. BUT LIKE REALLY, "dragon lady," "career-obsessed," and "snow queen" are such accurate titles given only to women.
60. And in cheerier news, YASSS BBY NIGEL YOU GET THAT PROMOTION.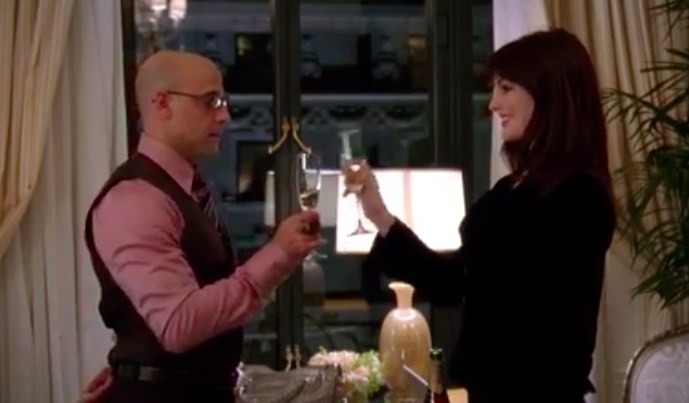 61. Can someone be a notorious sadist in a good way?? Andy, run girl!
62. And um, hell yeah she's defending Miranda because she has a valid point! Men wouldn't be given these ridiculous titles.
63. Wait…so her and Nate broke up-broke up right?
64. SHE JUST SAID THAT SHE CAN'T.
65. SHE IS SAYING THAT HER JUDGMENT IS IMPAIRED WHY IS HE STILL KISSING HER?
66. SHE IS PROTESTING. THIS IS NOT CUTE OR ROMANTIC. FFS.
67. I still wish I looked that good the morning after though, damn.
68. Not sure how much I believe that "accidental" bag fall, her chismosa senses were definitely tingling.
69. Also, WTF is that feather thing.
70. "I'm not your baby," could've been written better TBH.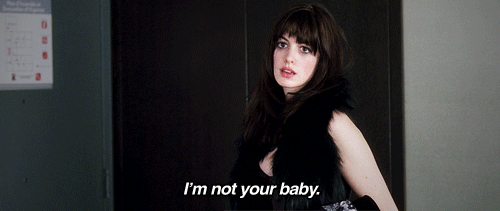 71. UGH SHE'S JUST TRYING TO HELP SAVE YOUR JOB MIRANDA!
72. ...Andy drops this bomb on Miranda and all she can talk about is flowers? Does she just tune Andy out??
73. Nigel looks so damn cute, my heart can't take it—
74. WHAT THE FLYING FUCK NO BUT NIGEL NIIIGGGEEEELLLL MIRANDA HOW COULD YOU?!
75. But damn, Andy did already do this to Emily.
76. No. don't tell me she just fucking walks away. She's got that look in her eye.
77. And there she goes. Who the fuck quits by walking away in a foreign city?
78. No. Don't. Just because there's a fountain doesn't mean—OMFG who throws a phone in a fountain instead of ignoring the call?! Sidekicks aren't cheap and your dad is already helping you with rent, Andy.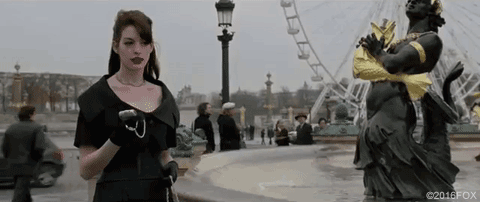 79. NO. NOT NATE. NATE IS THE WORST. Nate should also be apologizing.
80. Soooooo are they getting back together? Is she going to tell him about her little Paris penis party? Well, the one penis.
81. She's not, is she? Wow. Okay.
82. MIRANDA COMING IN CLUTCH WITH THE PASSIVE AGGRESSIVE RECOMMENDATION.
83. Not sure what Andy was expecting after making eye contact.
84. OMG THE SMILE
85. AAAAAAAND she's back
86. All hail Meryl Streep and her ability to trick us all into thinking she's just "acting" like a boss ass bitch.