STEAK ROLL AND SALTED CARAMEL CHEESECAKE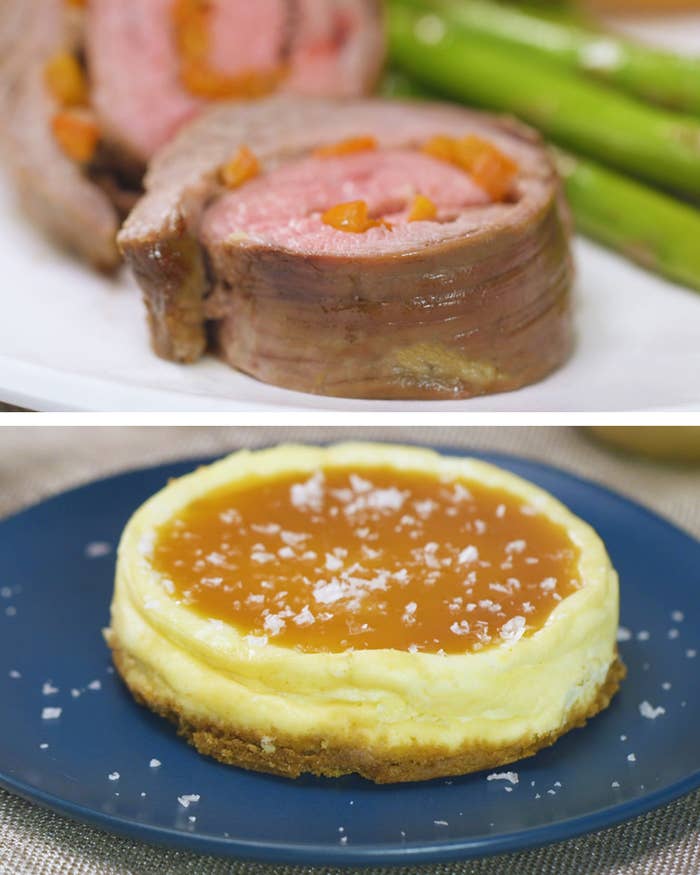 INGREDIENTS:
GARLIC AND CHEESE STEAK ROLL
Servings: 6–8
INGREDIENTS:
2 teaspoons olive oil
1 red bell pepper, diced
½ teaspoon salt
1 tablespoon garlic, minced
2 lb flank steak
⅓ lb Gruyere cheese, thinly sliced
SALTED CARAMEL CHEESECAKE
Servings: 8
INGREDIENTS:
8 graham crackers, finely crushed
¼ cup butter, melted
Pinch of salt
2 (8 oz) packages of cream cheese, room temperature
¾ cup sugar
6 tablespoons milk
2 eggs
½ cup sour cream
1½ teaspoon vanilla extract
2 tablespoons flour
Caramel
¼ cup butter
¾ cup brown sugar
¼ cup heavy cream
1 teaspoon vanilla extract
1½ teaspoons flaky sea salt
PREPARATION:
GARLIC AND CHEESE STEAK ROLL
1. Preheat oven to 400ºF.

2. Heat olive oil in a medium pan. Add bell pepper and salt and sauté for 3–4 minutes. Add garlic and sauté for one more minute. Remove from heat. 

3. Slice flank steak in half horizontally to create two pieces that are the same size. Sprinkle both sides with salt. Even lay out the cheese on top of the steak. Sprinkle red pepper mixture on top of the cheese. 

4. Starting from one side, tightly roll up steak, then stick toothpicks through both sides of the roll to secure it. 

5. Bake for 10 minutes at 400ºF, then lower temperature to 350ºF and bake for another 25 minutes.

6. Let rest for 10–15 minutes before slicing. 

SALTED CARAMEL CHEESECAKE
1. Preheat oven to 300ºF.

2. Grease (4) 4½-inch springform pans. Mix together graham crackers, butter, and salt. Press graham mixture into bottom of pan to form an even layer. 

3. Using a hand mixer, mix together cream cheese and sugar in a large bowl until smooth. Mix in milk until combined. Add eggs and mix until just combined. Add sour cream, vanilla, and flour, and mix until fully combined and smooth. Pour the filling into the crust. 

4. Bake for 30 minutes. Turn off oven, crack oven door open, and let cheesecake cool entirely in the oven. Chill in fridge for at least 3 hours.

5. Caramel: In a medium saucepan, melt butter. Add brown sugar and whisk for a minute. Add heavy cream and vanilla extract. Continuously whisk for 3–4 minutes until the caramel comes together. Add salt, whisk, and remove from heat to let cool.

6. Serving: Slice cheesecake and drizzle with salted caramel. Top with extra flaky salt.