Panzanella Skewers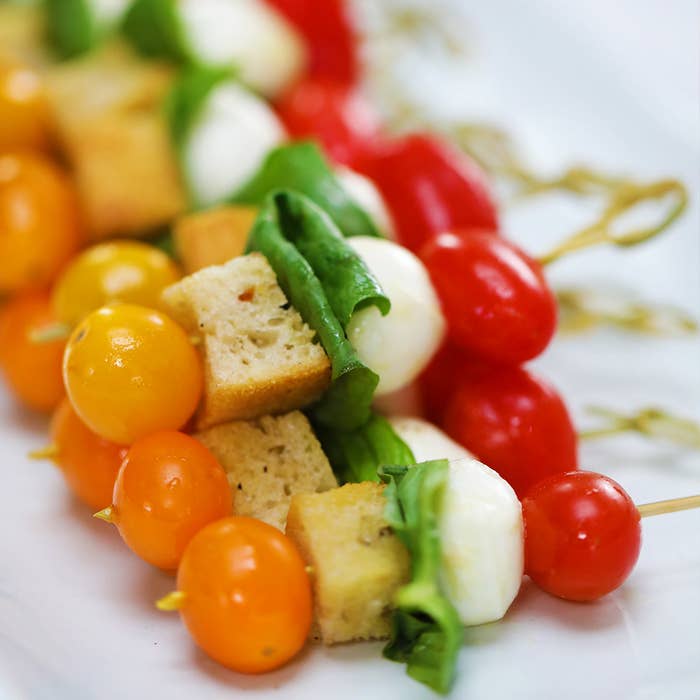 INGREDIENTS
Servings: 8

Marinade
3 tablespoons red wine vinegar
2 cloves garlic, minced
1 teaspoon Dijon mustard
Salt and pepper
½ cup olive oil
8-ounce container of mini mozzarella balls, drained  
1 pint cherry or grape tomatoes
Croutons
1 tablespoon butter
2 tablespoons olive oil
4 cups cubed French bread
2 cloves garlic, minced
Salt and pepper
To assemble
Fresh basil leaves
20 wooden skewers
PREPARATION
1. In a small bowl, stir together garlic, Dijon mustard, red wine vinegar, salt and pepper. Slowly add the olive oil while whisking.
2. Combine the tomatoes and half the marinade in a small bowl. Cover and refrigerate.

3. Combine the mozzarella balls and remaining marinade in a separate small bowl. Cover and refrigerate. Allow the cheese and tomatoes to absorb the marinade for 1 hour.  

4. Heat a large sauté pan over medium heat. Add the olive oil and butter. Add the bread cubes and toss to coat. Add the garlic. Toss occasionally to lightly toast the bread.  Season with salt and pepper. Remove from heat and set aside.

5. To assemble the skewers, alternate the pieces of tomato, mozzarella, a leaf of fresh basil, and croutons on the skewers.  

6. Serve immediately.

7. Enjoy!