Remember how Twitter users cooked up an amazing movie idea of Rihanna and Lupita Nyong'o playing scam artists, based off of this picture of the two from Paris Fashion Week in 2014?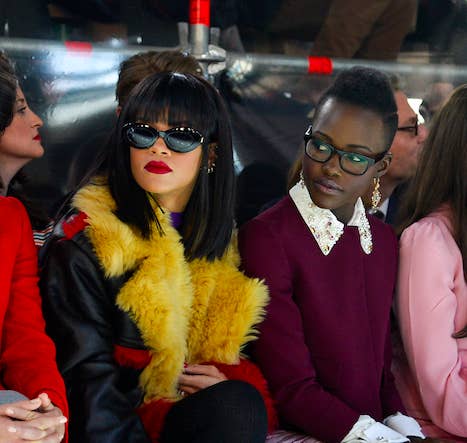 It was *SO* iconic, Lupita said she'd be down...
...as did Rihanna.
Oh, and Oscar-nominated director Ava DuVernay offered her services to make the movie happen...
...with Insecure star Issa Rae stepping up to write the script.
It was almost too good to be true, except the gag is it *MIGHT* actually be happening.
Entertainment Weekly is reporting that all the aforementioned parties will be involved in the project, which was recently sold to Netflix at the Cannes Film Festival. And Ava herself just replied to the news on Twitter:
And the people are EXCITED.
Rightfully so!
And to make things even more interesting, Ryan Phillippe has offered his services as the rich white man, FYI.
And Jane the Virgin actress Gina Rodriguez and Thor: Ragnarok star Tessa Thompson are down to round out the cast, which REALLY might be too much awesomeness to handle.
What a time...
Alright ladies, let's get in scamation!
BuzzFeed has reached out to representatives for Rihanna, Lupita, Ava, Issa, and Netflix for comment.