1.
This accurate description of straight guys:
2.
When she asked the question that we've ALL had about pets:
3.
And this holidays realization:
4.
That time she slid into B.O.B.'s DMs and history was made:
5.
When she called people out on their Pussycat Dolls bullshit:
6.
When she asked this important question about living in Los Angeles:
7.
And then shared this information with us:
8.
When she might have mixed up her history on the Fourth of July:
9.
When she revealed she might have committed a felony:
10.
The time she roasted Cameron Dallas: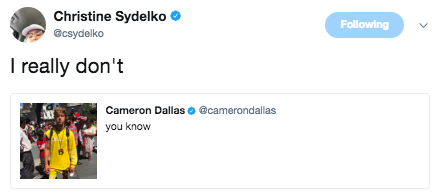 11.
When she made this crucial observation:
12.
And shared this unfortunate mix-up with a family member:
13.
When she shared this riveting story about going back to the 'burbs:
14.
When she was looking for answers about mascot anatomy:
15.
When Lin-Manuel Miranda HIMSELF started using her vocabulary:
16.
When she shared this tale about when she smoked and hilarity ensued:
17.
And then another "getting high" story:
18.
When she tried to pull a fast one on us:
19.
When she shared the plight of being a millennial:
20.
Also, this one:
21.
And finally, this classic Hall-of-Fame tweet: