This is Kylie Jenner: makeup maven, youngest spawn of Kris Jenner, and chemtrail truther. But you knew that, because love them or hate them, you clicked on yet another Kardashians article.
Since no one had heard of the band before that day (DUH, because they simply didn't exist), fans were quick to speculate that it was Kylie herself singing in the video: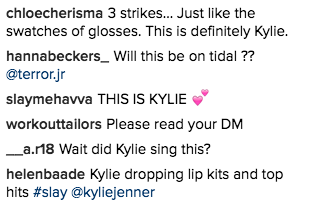 This is where things get interesting. The band's Instagram and YouTube channels also both went live that day. Oh, and the band's first-ever tweet that day? It was simply captioned with the word "Born":
Terror Jr. follows one account each on Instagram and Twitter, and you don't have to be Nancy Drew to figure out who it is: Kylie Jenner.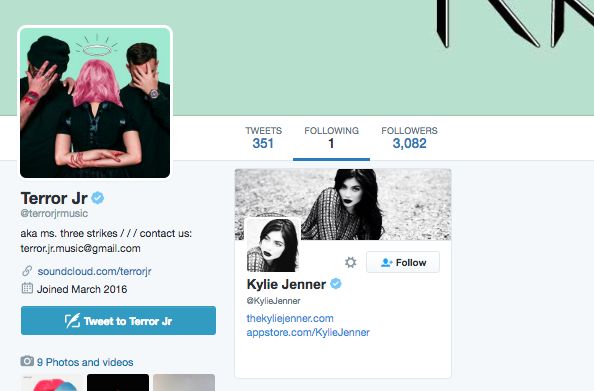 It's also interesting to note no confirmed photos of the band exist. There's one Instagram that could be of Terror Jr., but you can't see the faces of any of the members. Although if we know anything about Kylie...
...it's that she *LOVES* a colorful wig.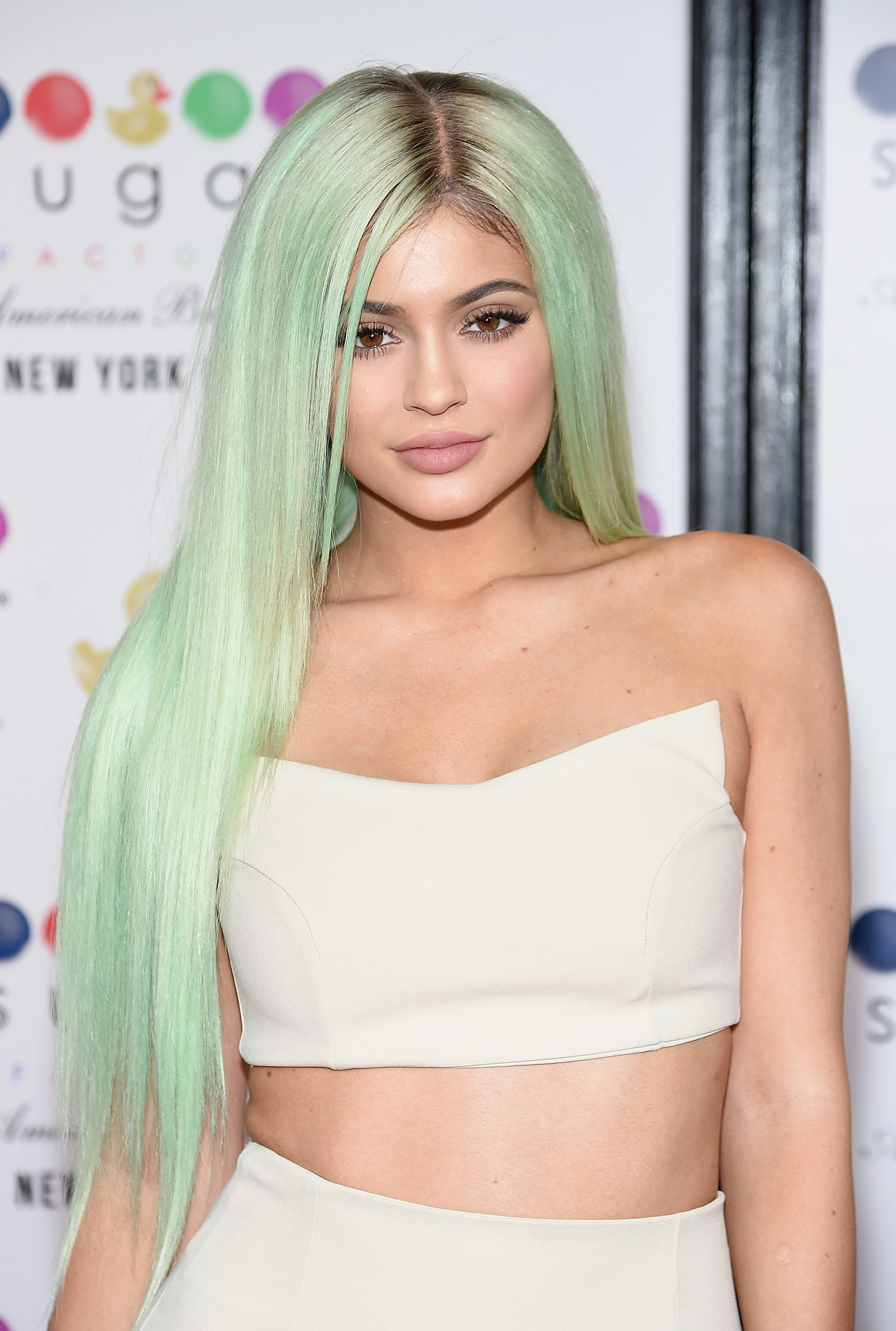 The Fader reached out to Effess Records, which was originally listed on Terror Jr.'s Facebook page and has since been removed. It turns out same producers behind Kiiara (that song "Gold" on the radio) are behind the self-described "dream pop supergroup." But that doesn't answer the question: Is Kylie Jenner behind Terror Jr.?
In May, V Magazine exclusively premiered the band's third track, "Trippin'," and in the article linked out to the Instagram of "Lisa," the frontwoman of the band. So far, Lisa Terror has uploaded one picture: a super-mysterious silhouette.
V has also pointed out that a "Kylie" is listed as one of the "creators" on SoundCloud of the band's latest track, "Come First."

And then there's the cover artwork of the single, which seems very Kylie-esque: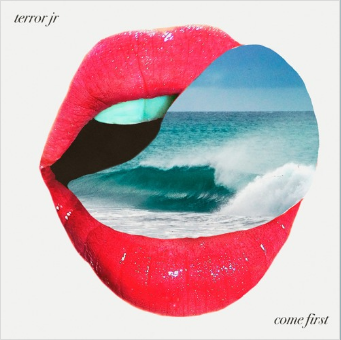 On social media, the band has played around with the theory that Kylie is the lead singer (I like to imagine Kylie in sweats on a white couch in one of her Calabasas mansions just tweeting shit like this to fuck with us):
Like, what is this supposed to mean? Do I want to know?

*Billy Mays voice*: BUT WAIT, THERE'S MORE! Kylie spends a lot of time with musicians — her brother-in-law is Kanye West, she's been on- and off-again with the "rapper" Tyga, and she's friends with the singer Pia Mia. Here you can see the two of them singing together in one of Kylie's Snapchats.
And here's some more video of Kylie singing (usually on Snapchat, duh) to give you an idea of what her unedited voice sounds like — Terror Jr. is heavily Auto-Tuned, which helps disguise the true nature of Lisa's vocals:
FWIW, it's been rumored for a while that Kylie has been trying to launch a pop career — for one, she has allegedly taken singing lessons in the past.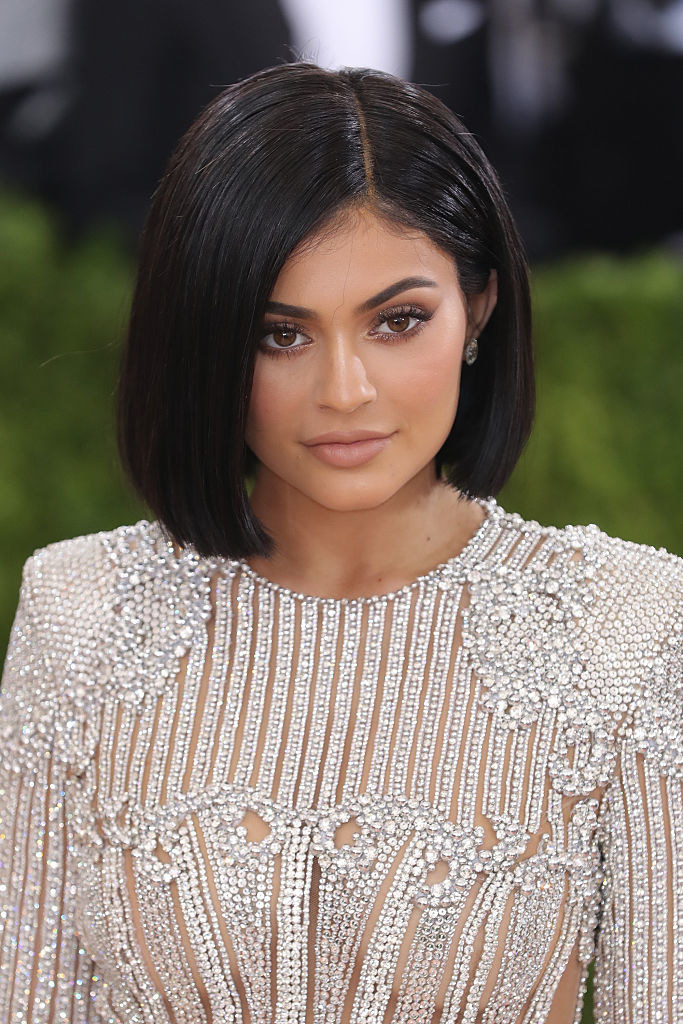 And when pressed by Entertainment Tonight last year if she'd consider a career in music, Kylie gave a noncommittal answer.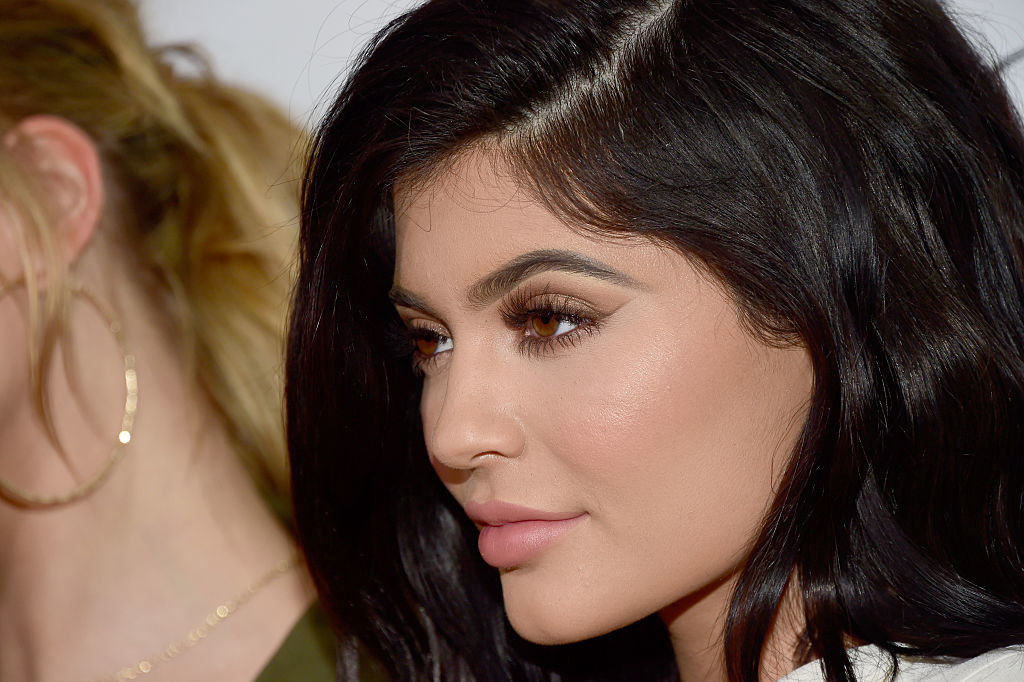 Also, as someone who obsessively follows both the Kardashians and pop stars, a "Trojan horse method" would actually be a brilliant idea to launch a music career for Kylie — after all, a straightforward approach failed miserably in the past (remember Kim's song "Jam"?).
But by establishing credit as a buzzworthy young music act WITHOUT the pressure of having to live up to the expectations that come with her name, Kylie could ostensibly become a legitimate pop star with minimal backlash.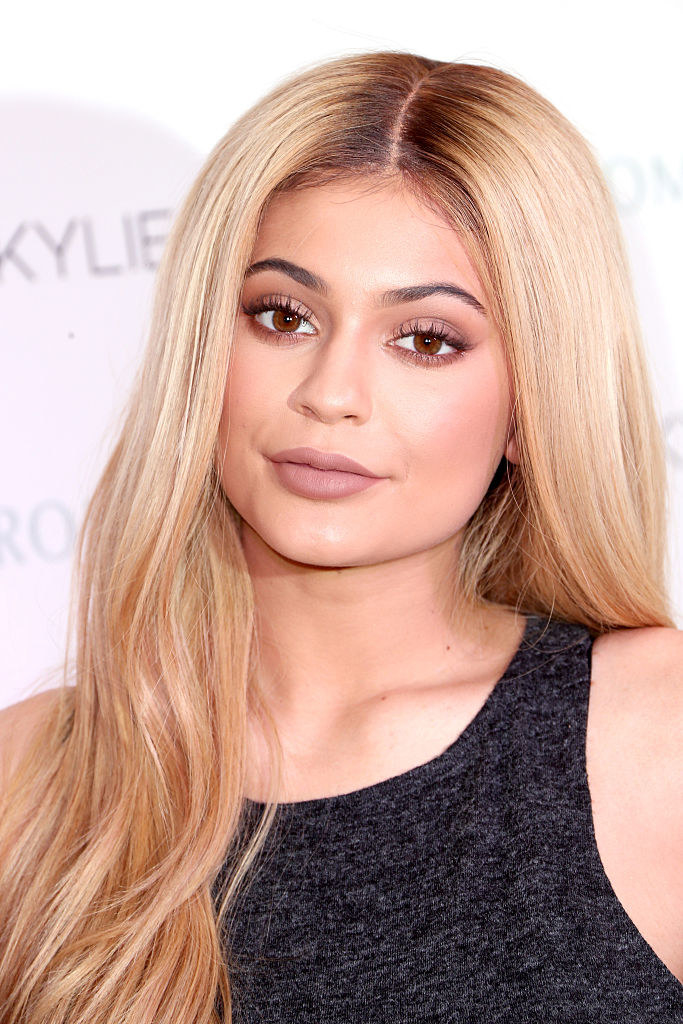 But the real question is: Is there room on the block for ANOTHER Kylie pop star?
BuzzFeed has reached out to Terror Jr. for comment and we'll update the post if they/Kylie respond.