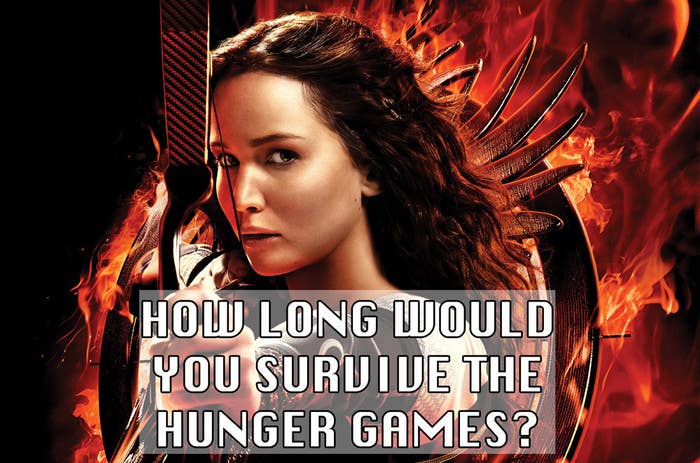 Step 1: Figure out your Training Score.
Check off all that apply to you.

I consider myself to be a ~badass~.

Or I could PASS as a teenager.

But I'm not just in shape. My mind is a weapon too.

Like, I definitely think I can outsmart other Tributes in the Arena.

And the natural sunlight.

I'm not afraid of a little dirt or creepy-crawlies.

And I don't mind camping and sleeping outside.

Actually, I genuinely like the outdoors.

And maybe even forage for food.

I'm really good with directions.

I'm really good with directions even if I don't have access to a map.

Spending a week without Wi-Fi doesn't sound fun, but I could make it work.

I'm really good at forming friendships.

And I'm awesome at making really good first impressions.

I'm not afraid to stab people in the back though.

Like literally, I would be willing to stab another Tribute in the back. With a knife. Or some other sharp object.

And if I developed a crush on one of the other Tributes, I wouldn't let it get in the way of turning on them.

I have a useful, unique skill — probably pertinent to my District.

Or even just hiding. I'm really good at hiding and/or disguising myself.

I work best under pressure.

And I don't freeze up when I am afraid.

It doesn't really bother me when it's really cold outside.

Or precipitating. Including bloody rain and/or killer fog.

I also have a high tolerance for pain.

And know how to treat a wound.

I'm not scared at the sight of blood.

I'm capable of operating on very little sleep.

Like, I'm definitely either a night owl or a morning person.

And also without my morning coffee.

If I skip a meal, it's not the end of the world.

And I'm really not that picky of an eater.

I'm not afraid of animals. Although killer dogs, tracker jackers, and giant lizard people do make me quake in my boots a LITTLE.

I'm good-looking. Like, maybe not Finnick-level hot, but pretty hot.

And I'm the life of the Capitol party.

Basically, I'm the type of person sponsors will want to support.

I'm not one of those people who "wouldn't harm a fly."

Actually, I am pretty good at killing flies. Also, assholes from District 2.

I know I'll be comfortable feeding myself, getting around the arena, and battling other Tributes with my hands and a few tools.

Yeah, I think my body is ready for the Hunger Games.
Step 2: Plug in your Training Score.
Lionsgate / Thinkstock