I'll cut to the chase. Former reality TV host and steak salesman Donald Trump held a meeting at the White House today with Senator Tim Scott and I'll give you one guess as to what is going on with his outfit here:
Yup, it looks like his jacket does NOT match his pants — the top of his outfit is navy, while the bottom is black. Whoops!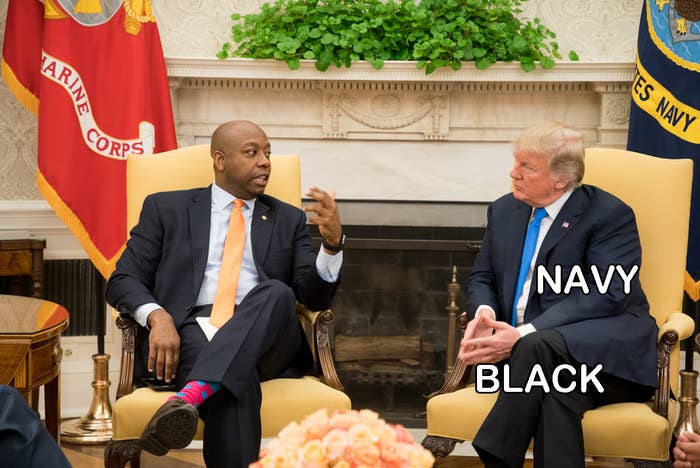 It certainly is a jarring look, but let's be honest, I'm no fashionista. So I turned to our Style Editor, Julie Gerstein, to figure out what is so wrong with the outfit.
"It's possible to pull [navy and black] off, but in this case it just looks like he accidentally paired two pieces from two different suits."
Of course, people on the internet were quick to notice...
...and call out Donald on his fashion faux pas.
Recognition quickly gave way to anger...
...as people questioned HOW Donald made such a critical sartorial mistake.
Anger then shifted to comparing Trump's mismatch to President Obama's infamous tan suit...
Although, can you *REALLY* compare the two?
I guess not.
And finally, The Daily Show had a *pretty* good theory as to how this whole mix-up happened:
Anyway...better luck with your outfit next time, Donald!