It feels like not a day goes by on BuzzFeed that we're posting about Chrissy Teigen's every move. And listen — I'm GUILTY. AS. CHARGED! So to make amends, I've decided to mix things up and write about ANOTHER iconic internet Christine...MISS CHRISTINE SYDELKO!!!
1.
And while Chrissy Teigen might be *amazing* at Twitter...Christine's tweets really are *kisses fingers like an Italian chef*:
2.
Like, remember this iconic tweet? It's been a YEAR: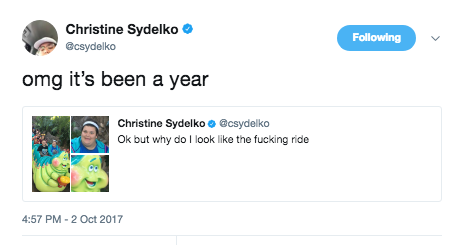 Yeah, this one:
3.
And IDK, maybe this is just funny to me...but I'm in tears:
4.
WHO AMONG US HAS NOT THOUGHT THIS?:
5.
Also, the time she shared this terrifying tale:
6.
And this pretty scary one too:
7.
She came up with this hilarious/amazing party idea:
8.
And is asking the important questions:
9.
She fights the status quo of the Hollywood studio system:
10.
And isn't above letting us into her daily struggles:
11.
She critiques broken institutions:
12.
And shares her personal history:
13.
She's not messing around:
14.
And inventing new phrases left and right (DON'T EVEN GET ME STARTED ON SHOOKETH):
15.
She might be getting more and more famous...but she's still one of us:
And when life (Jacob Sartorius) hands her lemons (or in this case, pineapples)...
16.
She makes lemonade:
17.
And when someone pointed out that they caught her on old episode's of Steve Harvey's show...
18.
Christine shared this hilarious anecdote...
19.
...and this one:
So I hope you all have enjoyed this (brief) respite from Chrissy Teigen #content and we'll see you next time we're back to our regularly scheduled programming!