Everyone knows that clapback queen extraordinaire Chrissy Teigen is quite possibly the funniest person on Twitter.
The model and Lip Sync Battle host has also made it abundantly clear she's no fan of former steak salesman/current President Donald Trump.
So it should come as no surprise that yesterday Chrissy took to Twitter to make her feelings be known about the newly sworn in commander-in-chief.
Thankfully for us, Chrissy was on FIRE all damn day...
...whether it was roasting people for confusing Katie Holmes with Jackie Kennedy...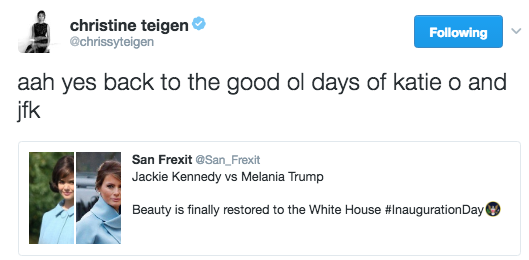 ...giving her seal of approval for the prayer during the inaugural ceremony...
...and epically clapping back at trolls.
Chrissy was also prepping for the Women's March held today...
...in only a way she can.
Basically, we need Chrissy to run for office in four years.