Chrissy Teigen, John Legend, And Macy's (Yes, The STORE) Are All Roasting Each Other On Thanksgiving
"I cannot imagine being bored enough to watch a parade on television."
Chrissy Teigen and John Legend are, IMO, the best celebrity couple because they're ALWAYS roasting each other. But this Thanksgiving, they turned the oven to 400 degrees, because the burns were better than ever.
Let's set the scene, shall we? Chrissy has been on the record as being vehemently against parades since 2014 — specifically Macy's Thanksgiving Day Parade.
In a delicious plot twist, John was one of the performer's at this year's parade.
Seizing on the moment, Macy's Twitter account tweeted out a side-by-side #TBT message of Chrissy's tweet hating on the parade, and John's announcing he was performing. Whoever runs the Macy's account deserves a raise for stirring the pot, TBH.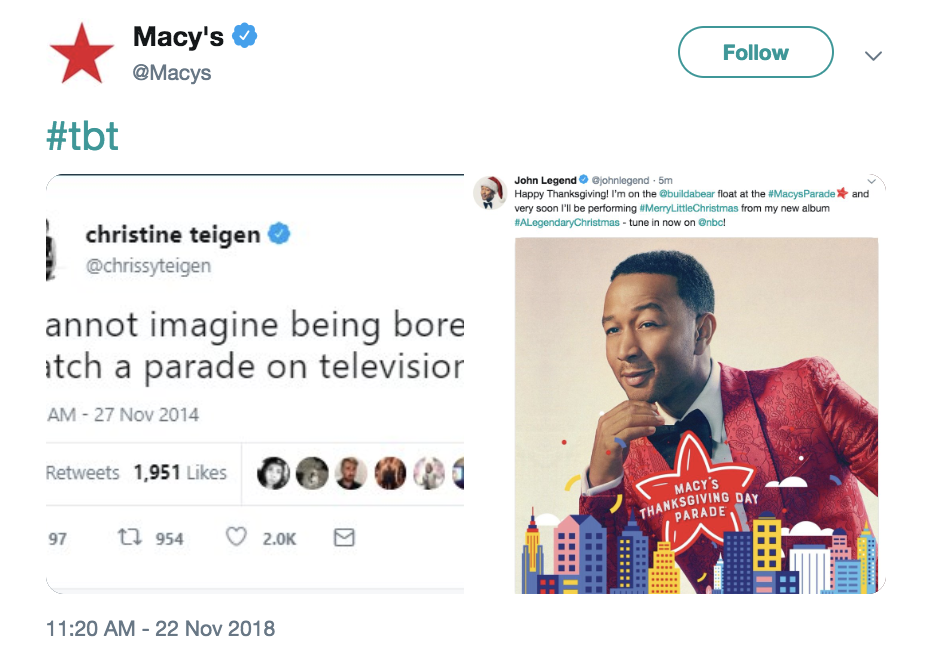 John thought the whole thing was pretty hilarious. I mean, Chrissy is Chrissy.
But expecting Chrissy to stay silent on the matter would be a fool's errand. She replied back with the *kisses fingertips like an Italian chef* perfect clap back to John's reply.
Both John and Chrissy seemed to take the whole thing in stride...
...although I think we can agree the REAL MVP is whoever is running the Macy's Twitter account.
As for Chrissy, not even her husband could change her steadfast hatred of parades.
And that's why we love her.
Happy Thanksgiving, y'all!