You know Antoni Porowski, the Food Expert from Netflix's Queer Eye. While his guacamole-making skills might be up for debate, he is the undisputed King of the Thirst Trap in 2018.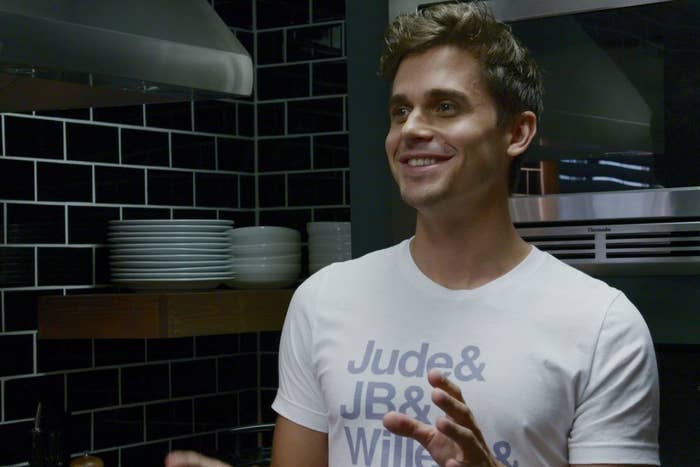 1.
Like this ad for Hanes which is literally the only #SponCon I've ever cared about and suddenly I stan capitalism:
2.
Or the time I nearly moved north because of these two Canadian daddies:
3.
Seriously, is anyone else considering renouncing their American citizenship because of these two?:
4.
There's the time he posed in a speedo and we were shook AF even though the picture is so low-res it looks like it was taken on an iPhone 4:
5.
Then there's the time when he looked dapper AF in a tux (with a shiny accessory):
6.
There's this number where he looked like a sexy Canadian nutcracker:
7.
His Gay Times cover, where he gave us a hint of peach:
8.
This 🔥portrait, which had me saying, "I mustache you a question, but I'll shave it for later":
9.
That time he put thigh meat on the dinner menu and I was so here for it:
10.
MORE THIGH ACTION BECAUSE ANTONI GIVES THE GAYS AND GALS WHAT THEY WANT:
11.
That time he looked adorable as hell and I just wanted to be this puppy, like is that too much to ask?:
12.
That time his abs looked so good I felt the strange urge to do my laundry on them:
13.
That time his biceps had more definition than my future:
14.
Some more biceps action, because I'm seriously shaking you guys:
15.
That time he was giving us pensive hunk realness, probably lost in thought about how maybe putting Greek yogurt in guacamole wasn't the best idea he's ever had:
16.
That time he had us thirsty for more than just a LaCroix:
17.
That time his avocados looked ripe to me:
18.
That time he looked moody and broody in some random patch of grass:
19.
That time he made all of us want to magically turn into some bacon:
20.
This tasteful hint of titty that made us very thankful for sweater season:
21.
That time he took a sip of soda and I momentarily forgot that high fructose corn syrup is terrible for you:
22.
This bowling thirst trap that was a total strike:
23.
The time he looked like a sexy vampire:
24.
This wholesome thirst trap where he cradled a baby duck:
25.
This tennis picture that was a total serve:
26.
And this group shot that made me want to get off my ass and go right to the gym:
27.
This one, where I seriously think he's staring right into my soul, or at least telepathically trying to communicate a mac and cheese recipe:
28.
This colorful portrait that also had me seeing stars:
29.
He's dog friendly, which really is just the cherry on top of the proverbial sundae:
30.
What's better than one shirtless Antoni? HOW ABOUT NINE SHIRTLESS ANTONIS:
31.
That time he was like, "Peace!" and I was like, "Thanks for wearing a sleeveless shirt!":
32.
IDK, I'm honestly running out of captions at this point, he's hot, you get the point, moving on:
33.
Literally this is not how you're supposed to wear a suit but who is complaining? NO ONE!:
34.
Eating chocolate on white sheets seems like a terrible idea on paper, but then Antoni posted this picture, and I had to reconsider:
35.
And finally, this thirst trap with a pot, because he's A COOKING EXPERT, DUH: