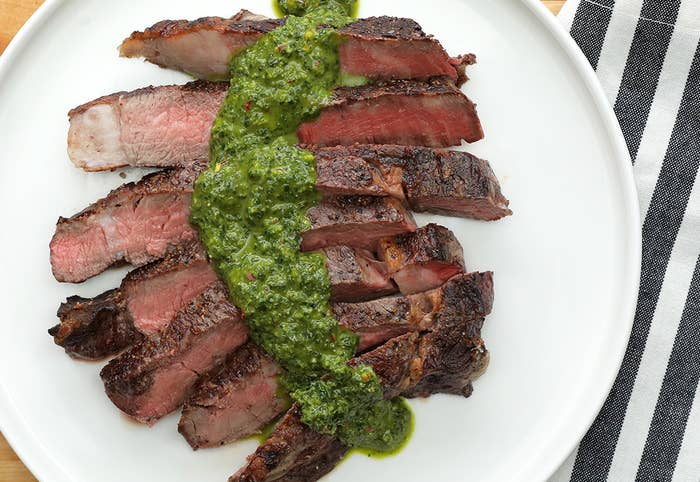 Servings: 2

Ingredients:
Chimichurri
1 cup fresh parsley, de-stemmed
3 tablespoons fresh oregano, de-stemmed 3 cloves garlic
1 teaspoon crushed red pepper
2 teaspoons kosher salt
1 teaspoon ground black pepper
1 lemon, juiced
3 tablespoons red wine vinegar
1⁄2 cup olive oil
Steaks
2 Prime Ribeye Steaks
4 teaspoons vegetable oil
2 tablespoons kosher salt
2 teaspoons ground black pepper
Preparation:
Chimichurri: In a food processor, combine parsley, oregano, garlic, red pepper, 2 teaspoons salt, 1 teaspoon black pepper, lemon juice, red wine vinegar, and olive oil. Process until all ingredients are evenly chopped and no large pieces of herb or garlic remain. Set aside.

Steaks: Coat steaks in oil and season liberally with salt and pepper.

Heat grill to high heat. Place steaks on grill. Cook until grill marks appear, then flip steaks and close grill lid. Cook until internal temperature reaches 135°. Remove from grill.

Allow steak to rest for 5-10 minutes and then slice against the grain.

Top with chimichurri and include remaining sauce on the side for dipping.