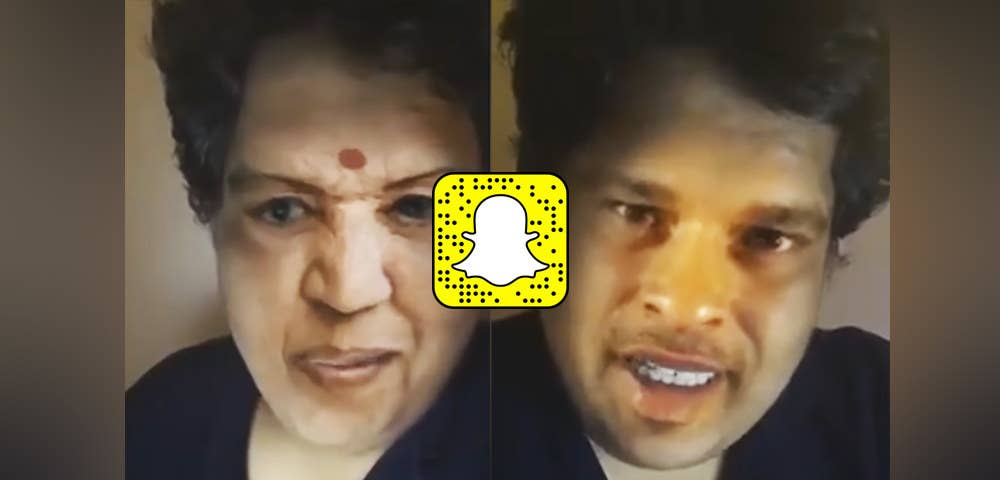 Growing up in Calcutta in prehistoric pre-mobile times, I remember occasional local news pieces about various stuffy individuals who had gathered together in jowl-quivering self-righteousness to defend Tagore, usually because some young upstarts had dared to reinterpret His material.
Many years later, versions of his work that would have made the Bengal Bard's beard fall off are being celebrated at international film festivals, rock bands are doing versions of his songs for low-budget sex comedies, and somehow, miraculously, absolutely no damage has been done to his legacy.
The comedy was always in the irreverence, rather than at odds with it.
A few days ago, comedian Tanmay Bhat started using a face-swapping filter on Snapchat for a series of perishable 10-second videos that I, for one, found hilarious. The comedian personified legends, adopting Lata Mangeshkar's face to recreate Marathi versions of top-40 pop songs, and Sachin Tendulkar's face to fictionally trash-talk Vinod Kambli. The comedy was always in the irreverence, rather than at odds with it.
Four days ago, Bhat used the face-swap filter to put Mangeshkar and Tendulkar in conversation. In a format couched by its obvious absurdity, he mouth-pieced the two as flinging deliberately undignified insults at one another.
I should say: Snapchat is the first medium that I'm legitimately too old to get, because the material you create on it disappears on its own after some time. That is how seriously Snapchat is meant to be taken – it is disposable even digitally. It's where you go to say things that are too frivolous and low-brow for solemn institutions like… well, Twitter.
So if a Snapchat video makes it to national news, it must mean everything else about your country and your world is absolutely perfect.
If a Snapchat video makes it to national news, it must mean everything else about your country is absolutely perfect.
Instead, we're in a post-irony, post-farce tragic situation where, instigated by leading intellectuals, arbiters of good taste and defenders of public morality such as Kya Kool Hai Hum actors Anupam Kher and Riteish Deshmukh, Tanmay Bhat's "insults" to Sachin Tendulkar and Lata Mangeshkar have led to complaints filed against him by the MNS and the BJP.
"Tanmay Bhat" (and various misspellings of it) have trended on-and-off on Twitter all weekend, propelled by the widespread sentiment that jokes are fine, but jokes about our Bharat Ratnas are not.

As a paragon example of respectful and lawful behaviour, MNS leader Ameya Kopekar has promised to break Bhat's bones in public view.
Social media is ablaze. Vultures from TV news are circling in large numbers, spotting fresh kills and welcome liberation from the task of actually working on, you know, news.
An ACP in charge of a Cyber Crime division, in a country where there are relentless threats of physical violence being made brazenly every day on the Internet, in a country where cyber-terrorism is a real threat, in a country where the police really don't need further damage to their credibility, has contacted Facebook and Google to get them to remove jokes.
This is the sort of thing you wouldn't take seriously in fiction. And yet this is the sort of news, right on the cusp of funny and terrifying, that we're seeing with incredibly regularity nowadays.
Let's get this straight. There is absolutely no one – no individual, however famous and successful, no country, no god – that is above being joked about.
In fact, the more revered and legendary a person, the less likely they are to be affected or hurt by jokes and mimicry and face-swap filters on sexting apps.
If you place anything or anyone on a pedestal out of love and respect, it is because your idol is great, and therefore great enough to withstand any kind of joke. Lata Mangeshkar and Sachin Tendulkar have earned the fanatic adoration on display today – they've earned it by doing work that will outlive them, outlive us, and undoubtedly outlive a Snapchat video.
The more revered a person, the less likely they are to be affected by jokes and mimicry and face-swap filters.
If your pedestal of reverence is at threat of being brought down by a face-swap filter and a couple of cuss words, how secure was it, ever?
If we are, as a nation, so insecure about the people we admire, what does it say about those people? And, more importantly, what does it say about us?
When films are actively censored by a "certification" board, producers and publishers in every other publicly distributed entertainment and culture medium are self-censoring themselves into oblivion, and individuals on social media are facing every kind of harassment, have we replaced India's rich culture of public debate with a toxic culture of bullying instead?
This is not the road we should be on. And if you're among those swapping threats for jokes, you're an embarrassment. To yourselves, and to your icons.