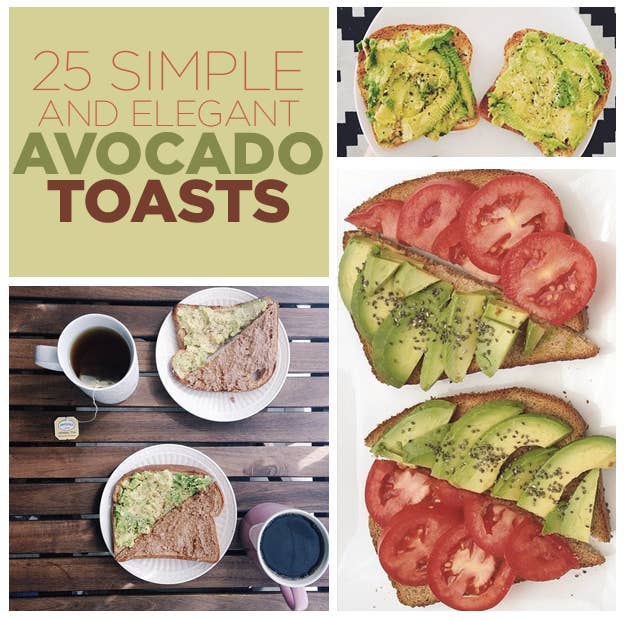 1.
Nothin' but the basics.
2.
So simple, it just becomes a part of your morning routine.
3.
Pepitas, or pumpkin seeds, add a nice crunch to this toast.
4.
When in doubt, put an egg on it!
5.
A well-balanced, and beautiful, meal.
6.
If you're feeling generous, it's even shareable.
7.
Pairing it with a side of fruit and cottage cheese really rounds out your meal.
8.
Fried eggs are always welcome in the world of avocado toast.
9.
Sure, you can dress it up with some tahini, tomato, feta and sprouts. It'll stay humble.
10.
You don't even have to give it a smash, if you prefer slices.
11.
Go ahead, throw on some sauerkraut and radishes!
12.
A whisper of cream cheese is all this toast needs.
13.
Keeping it simple is always the way to go.
14.
A quick squeeze of lemon and a light drizzle of olive oil can help bring out all the right flavors.
15.
Accidentally cross your half? No biggie! The more the merrier!
16.
A sprinkle of chia seeds really ups the nutrition level of this already healthy snack.
18.
Sourdough toast adds some fun flavor to the sweet avocado.
19.
Smash some peas and avocado together, because why not!
20.
Red bell peppers and green onions make this toast a really colorful party.
21.
Sneak a little cheese on there.
22.
The best way to greet the day!
23.
Get some herbs in on this avocado action, always.
24.
The simple life is the good life.
25.
Put whatever kind of spices float your boat!
26.
It also makes a great reading companion.
27.
His + hers = avocado + almond butter = match made in heaven.
28.
Thank you, avocado toast, for being the meal that requires so little muss or fuss.