1.
A set of pins to prevent the duvet insert from balling up or shifting while you sleep. You can also use them to pin a comforter to a top sheet so they don't get tangled or slide off the bed.

Check out the duvet clips on TikTok!

Pinion Pins is a small biz that sells home improvement products!
Promising review: "We just bought a king-sized duvet insert and several covers, but the cover never stays in one place. These pins are a game-changer. I stick one end through the fabric and duvet, simply attach the other side of the pin (it basically attaches itself), and I repeated that at about 40 centimeter intervals, and those pins are solid and don't bother us at all when we sleep. I would most definitely buy these again and recommend them highly." —M rol
Get a pack of eight from Amazon for $17.95. 
2.
The Pink Stuff, a TikTok-famous cleaning product so good, you'll be tempted to part ways with every other cleaning product you own. Seriously, this amazing stuff can be used on a plethora of household items and surfaces (both indoors and outdoors).
It shouldn't be used on plastic or acrylic surfaces, highly polished stainless steel, or hot/warm surfaces. Plus, this is vegan! 
Promising review: "Saw this on TikTok and decided to try it since it's rather inexpensive. EVERYTHING IS TRUE. This is a game-changer. I have used it on everything and it has gotten things off I didn't think were possible. Crayon on rain boots? Gone. Sucker remnants stuck to wood dining table? Gone. Who knows what all over the stove from when my husband attempted to cook? GONE. The list could go on! Highly recommend!" —Kayla

Get it from Amazon for $4.99.
3.
A hairpin holder for keeping bobby pins and magnetic hair clips in one tidy spot rather than all over your bathroom counter/makeup vanity.

Check out the HairpinPal on TikTok!
Promising review: "This is a game changer. I can't believe how well this works. My makeup table is so much nicer now that I'm not always picking up stray hairpins." —eschercat

Get it from Amazon for $16.49.
4.
A mascara to give you lashes so dramatic, no one will believe you when you tell them you bought it for less than $5 on Amazon. No need to spend hours wrestling with falsies to get the long lashes of your dreams. Reviewers also rave that this lasts all day. Thank goodness! You have better things to do than re-apply throughout the day. 
Check out the Lash Princess mascara on TikTok!
Promising review: "Mascaras always make the same claim...but my short, straight lashes have never looked thicker or longer! And, I don't have to bother with false lashes. Seriously, this mascara is a game changer." —CoCust

Get it from Amazon for $4.99.
5.
An ice tray for making the perfect spherical ice balls your heart desires . Your next glass of Diet Coke is about to be sooooo good with these.

Check out the ice cube trays on TikTok!
Promising review: "This ice tray set is a GAME CHANGER. Worth every penny. I hit a wall with my ice trays always breaking, being hard to get ice out of, and emptying too quick. I splurged on this set and am really impressed. I already have a bin (which it comes with) full of ice and two backups freezing. And the little scoop is fun as heck. Highly recommend if you don't have an ice maker!" —Kascidy Badon
Get it from Amazon for $22.99+ (available in four colors).
6.
A portable carpet and upholstery cleaner that boasts strong spray and suction so cleaning stubborn stains will feel effortless. Messes left behind by pets or small children shouldn't mean permanently ruined carpets, furniture, or car interiors.
Each cleaner comes with a trial size of Bissell's Spot & Stain Formula, which is also available on Amazon for $12.99! 
Check out the Bissell Little Green machine on TikTok!
Promising review: "I love my green machine. A big game-changer for cleaning up messes on furniture. I don't even need to add soap most of the time. Just the pressure of the water and vacuum works for most messes. Worth the money. Highly recommend." –Amy
Get it from Amazon for $109.59.  

7.
A pet grooming brush with a release button you simply push to empty the contents — that's a million times better than picking out all the hair with your bare fingers. 

Check out the slicker brush on TikTok!

Promising review: "My golden loves it. First use — 10 pounds of hair came off. No mess and no fuss. Grooming game changer 💯." —Pibble
Get it from Amazon for $11.99 (available in three colors). 
8.
A nail and cuticle care solution for helping your nails look fresh and healthy. Use it consistently for results that'll wow you!
Check out the CND cuticle oil on TikTok!
Promising review: "This product is a game changer for my nails. I use it every night before bed. It has helped my nails become stronger because they are no longer dry and brittle. I highly recommend it." —Christine Murray
Get it from Amazon for $9.90.
9.
A pack of detergent sheets to make laundry day a greener and easier task. These sheets are formulated with plant-derived ingredients, dissolve in water, and eliminate the guesswork that comes with measuring out liquid detergent and the waste of the heavy plastic jugs they come in.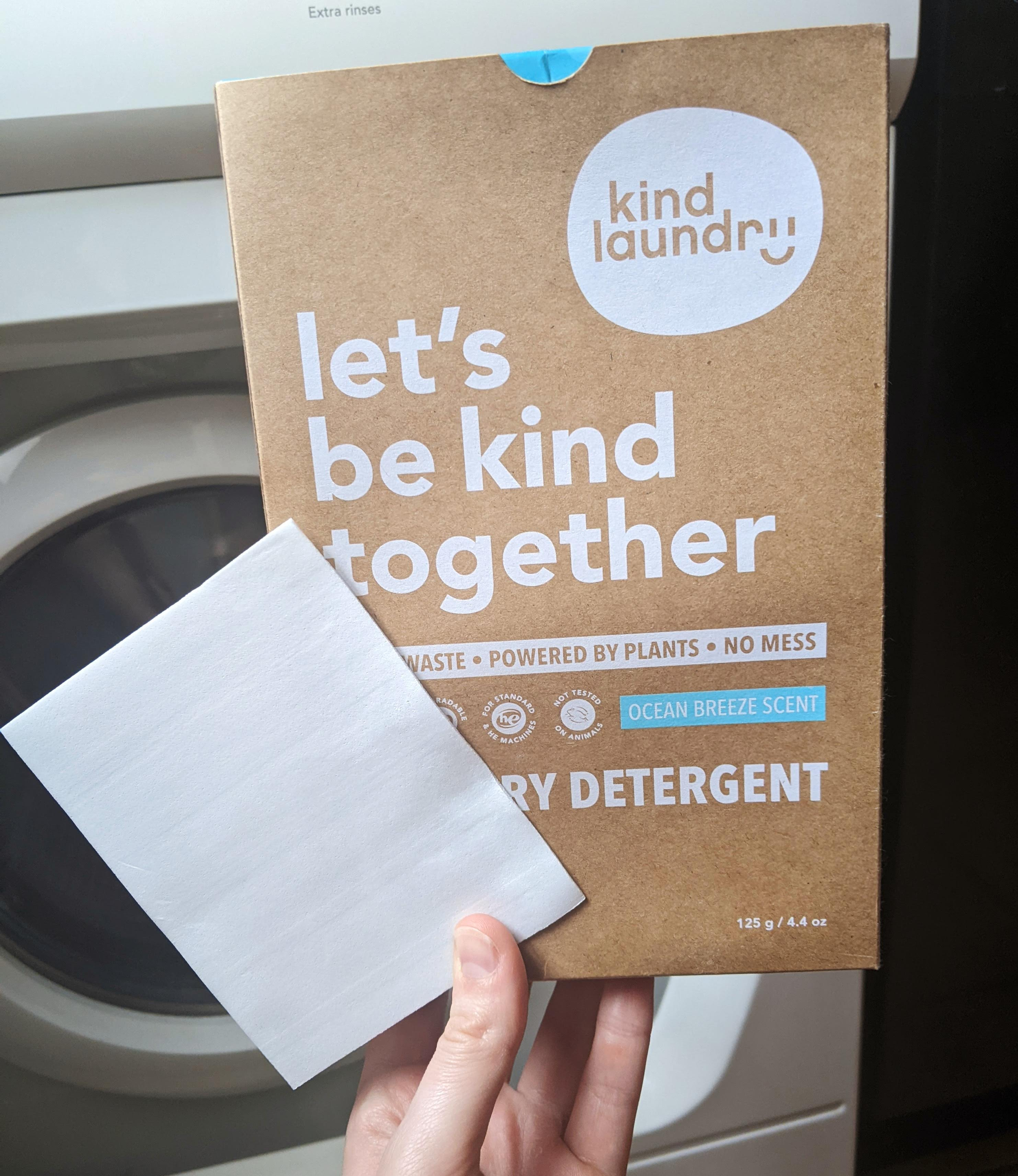 Danielle Healy / BuzzFeed
Kind Laundry is a small biz that sells this planet-friendly laundry detergent!

Check out the laundry detergent sheets on TikTok!
Promising review: "These laundry sheets are game changers. Easy to use. Excellent job cleaning our clothes and linens. No perfume/scent. No problems with residue irritating my skin. No container to recycle. I love these laundry sheets!" —Paul Bergman
Get a 60-pack from Amazon for $19.95 (available in unscented and ocean breeze). 

10.
A lightweight snail essence (no snails are harmed in the making of this product, promise) that'll deliver seriously good hydration, and can help brighten your skin and reduce/prevent acne.
Check out the Cosrx snail essence on TikTok!
Promising review: "Skincare game changer. I started using this two years ago and this product has transformed my skin completely! I have dull, dry skin and this helps hydrate and makes my complexion look healthy and hydrated. I use this under my moisturizer day and night." —Nhi Luu
Get it from Amazon for $16.90. 
11.
A stainless steel tumbler for keeping hot drinks hot and cold drinks cold for hours!!! Not to mention it looks super sleek and comes in a bunch of great colors. 

Check out the Simple Modern tumbler on TikTok!
Promising review: "This is a game changer. First, it just looks great. Slick and modern. However, what really makes this a game changer is how cold it keeps my water! I conducted a little experiment. I put ice and water in the cup. After 24 hours, yes 24, the water was still as cold as if it had been dispensed from the refrigerator. For a teacher, this is phenomenal!" —melanie
Get it from Amazon for $29.99+ (available in 32 colors). 

12.
Wet & Forget, a super simple cleaner you just spray in your shower/tub once a week. The best part? You don't have to scrub...like...at all. Just rinse it the next day and you're good to go. I know, I know, I'm crying tears of joy, too. 
Check out Wet & Forget on TikTok!
Promising review: "I have back problems and really struggle to keep my tubs clean! This is a game changer and I'm going to tell EVERYONE to buy it! Amazing product I will be buying again!" —Shannon
Get it from Amazon for $20.76 (available in two scents).

13.
A makeup sponge holder because that handy tool you use to blend makeup on your face? Yeah, it deserves a spot where it can stay clean. 

Check out the makeup sponge holder on TikTok!

Promising review: "Game changer! I'm obsessed with this. It does exactly what it advertises. The size is great so it fits some of my bigger blenders. It's essential at this point and I don't know how I lived without it before. I'm not being dramatic 😅." —angela mccready
Get it from Amazon for $7.99+ (available in 10 colors and with or without a sponge). 
14.
A power scrubbing cleaning kit you can attach to your drill and get to work in making your living space look brand freakin' new.
Useful Products is a small business based in New York. Its founder is a former technician living with carpal tunnel who started the company to create products that'll allow folks like him to clean pain-free.  

It comes with three different sizes and shapes of brushes. The bristles won't scratch and are good to use on tubs, sinks, baseboards, fiberglass shower enclosures, shower door tracks, and porcelain. BTW, the drill isn't included, but you can find a bunch of great ones on Amazon!  
Check out the drill brush attachment on TikTok!

Promising review: "This drill brush is a game changer when it comes to cleaning. I used it to clean the carpet and mats in my car, and it got the job done so much better and easier than using the vacuum alone. My shower has never been cleaner since using this brush. I don't have to use as much elbow grease. I highly recommend this product." —EcoJon

Get it from Amazon for $18.95 (available in different brush stiffness levels).