1.
A Dawn Powerwash dish spray capable of cutting through grease five times faster than regular dish soap. Now you can spend less time doing the dishes and more time watching White Lotus as you digest your dinner. 
Promising review: "Dawn is a soap that I think most people are familiar with. This is Dawn, but about 50x stronger! I used to dread cleaning pots and pans, but Dawn Platinum Powerwash makes that chore a lot quicker and and the pots and pans cleaner. Note: you get the original spray bottle plus three refills, so when you run out of the product in the bottle, it's no problem. I would highly recommend this cleaning power house! I don't think there is anything else on the market even close to what this does." —Phoenix Tyler
Get a spray bottle and three refills from Amazon for $17.50.

2.
A winged eyeliner stamp that'll prevent you from wasting time during your makeup routine trying to nail the perfect cat-eye. Just stamp it on and go, go, gooooo!
3.
Velvet sofa cushion covers so you can enjoy the perks of owning a brand-new velvet couch without having to buy a whole new couch. *Breathes a sigh of relief.*
Promising review: "I have never been so excited about a slipcover. Total transformation of our couch and loveseat. I was worried about it not working on our leather couch, but it stays on really well due to the straps and the separate cushion covers. LOVE." —Brian/Liz

Get it from Amazon for $31.49+ (available in 10 colors and five sizes).
4.
Bra extenders that'll instantly add an extra 2 inches to your bra. If you wear a bra, you know just how rare it can be to find one that you actually adore and we want to help you preserve your faves for as long as possible. 

Promising review: "Bought these for my pregnancy based on a tip from a recently pregnant friend. Total game-changer. Only had to buy a new sized bra once, and then used these for the rest of my pregnancy, as my cup size didn't change any more but OMG my ribcage just kept on expanding and expanding to accommodate baby. IMO, these make wearing a regular bra possible during those body-changing portions of pregnancy, saving me money in the long run. Additionally, they work as expected...they clip onto the original spacers easily, they match up with the original hooks really well, and they are very comfortable and easy to use. Best $6 I've ever spent on Amazon. Buy them, you won't regret it." —Queen Bee
Get a pack of three from Amazon for $5.96+ (available in 36 styles).
5.
Seche Vite — a quick-dry top coat with a cult-following and for a good reason. This stuff will provide a beautiful glossy coat to your manicure and help it dry in about 10 minutes.
I am incredibly impatient and truly hate waiting for my nails to dry. I have spent close to 30 minutes at times allowing my nails to dry (even at the salon) just to smudge them a few minutes later. This top coat must be formulated with pixie dust because my nails are legitimately dry in 10 minutes. I still try and be careful so I can avoid potential smudging, but I started using this about three years ago and it's a true miracle product. I even bring this with me to the nail salon now, it's THAT good.
Get it from Amazon for $8.73.
6.
A jewelry cleaning pen to get your precious gems looking brand-new with a quick pen swipe.
Promising review: "Don't get me wrong, my wedding ring was gorgeous before. It did sparkle and still made me smile every day. However, after using this Diamond Dazzle Stik, oh my goodness! After one use my ring is absolutely breathtaking! I knew my ring got dirty now and then simply from sweating and being outside in the elements. However, I never realized just how much dinge and schmutz marred my beautiful diamond until I cleaned it — it literally took my breath away with its fiery, dazzling brilliance! This thing is an amazing value with mind-blowing, beautiful results!" —liltreeclimber
Get it from Amazon for $7.99.
7.
An ice roller that may help relieve pain associated with migraines, TMJ, inflammation, and sinus infections — just to name a few. If nothing else, this will certainly feel super nice on your face.
Promising review: "I was skeptical about this product. I wasn't sure how it was much different than rolling any other frozen thing on your body. I'm beyond pleasantly surprised. I've used it for sinus pain, migraines, swollen neck glands, under-eye circles/bags, inflamed acne, TMJ pain, etc. Not to mention, when I used it on my face, it leaves my skin feeling tight and wakes me up in the mornings. It also stays cold for forever but never sweats or leaves water behind. It's like magic. I also bought one for my mom who suffers from nerve damage in her arms and legs. I think it'll really help when she has bad pain days." —Jessica McRee

Get it from Amazon for $18.99+ (available in nine colors and in multipacks).
8.
A measurement conversion decal so you can refer to this handy cheat sheet while cooking and baking instead of having to constantly rely on a Google search.
LatigoLace is a small business that sells these super helpful, aesthetically-pleasing kitchen measurement decals to seriously help simplify the task of figuring out the right conversions.
Promising review: "I am so happy with this purchase! It was one of the things on my list of things to better organize my kitchen! Great quality and just what I had hoped for!" —Ann Riley
Get it from LatigoLace on Etsy for $13+ (available in four sizes and two colors).
9.
A thaw claw that'll help thaw frozen meat up to seven times quicker (depending on which meat you're thawing, some reviewers say it only takes minutes). If only this product had been around when I was in high school when my mom would ask me to take the chicken out of the freezer when I got home (which I almost always forgot to do until she got home from work, oops). 
Promising review: "A package of frozen meat would have taken at least two days to thaw in the fridge. I used this for a 2-pound package a couple of days ago, and the meat was thawed within 90 minutes. One of the most practical kitchen gadgets I own." —Llda Schellhase
Get it from Amazon for $19.95 (available in two colors).
10.
A cleaning ball you just toss into a bag. Then shake up your bag and let the ball collect crumbs, dust, and anything else living in there. 
11.
A vegetable chopper for those who wanna cook homemade meals, but are so daunted by the thought of prepping the ingredients, they're already ordering Seamless a fourth night in a row.
Promising review: "This product is amazing and is a definite kitchen necessity. The multitude of tools that come with it makes it an all-in-one machine. Prepping for meals is no longer a hassle. The small dicing attachment makes veggies the exact size I need for a lot of my meals." —Amazon Customer
Get it from Amazon for $34.99+ (available in two sizes).
12.
A makeup remover eraser stick you're gonna be so grateful you have around on those mornings when your eyeliner just won't cooperate, you seemingly forgot how to apply lipstick, and your body decides to produce a sneeze right after you've finished putting on mascara.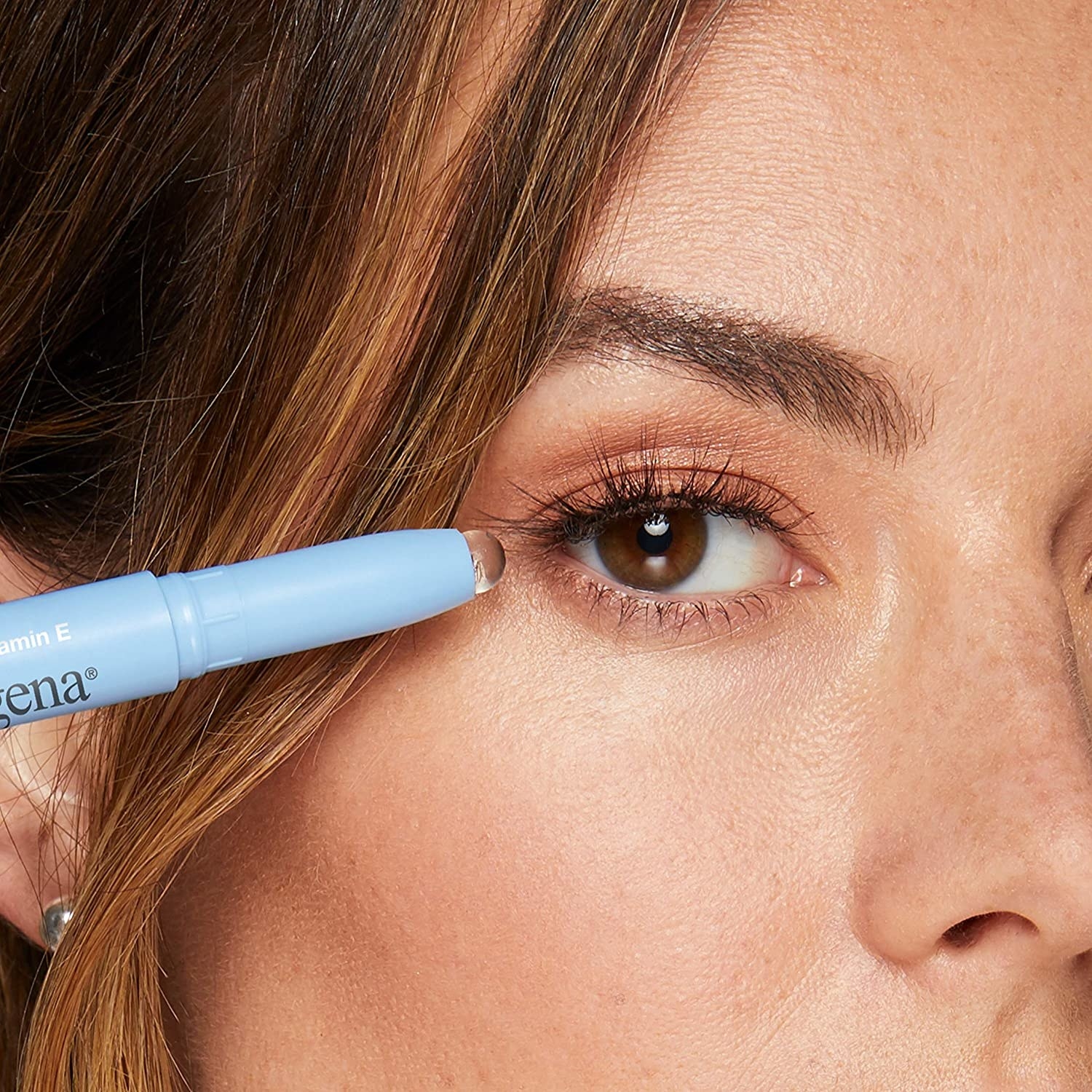 Promising review: "Why didn't someone think of this sooner? For years, I've been using cotton swabs dipped in makeup remover to remove little goofs or mistakes. This is so much better and portable! Erases waterproof mascara marks around my eyes easily. Must-buy product!!" —Katherine
Get it from Amazon for $8.72.
13.
Ear hooks — a quick-fix must-have for anyone who is all too familiar with the struggle of their wireless earbuds constantly trying to plan their escape. They belong in your ear, not on the subway tracks. 

Promising review: "Overall works great. I do about 30 minutes of running each day and after I started sweating, my AirPods would start slipping out and I'd have to adjust them back into my ears constantly. This product works great and holds them in. They won't stay super tight in your ear necessarily, but they only move out a little over time. The difference for me was adjusting once during my workout instead of every two minutes while running. Highly recommend if you're looking to keep your AirPods in your ears during workouts." —ChrisW

Get a pair from Amazon for $9.99+ (available in four colors).
14.
A pack of toilet tabs you simply drop into the bowl (you only need one) and let dissolve. Then give the bowl a quick scrub with a brush. Plus, they come in a variety of awesome scents like lavender, peppermint, lemongrass, citrus, and more!

Pardo Naturals is a Black woman-owned small business based in Covington, Georgia that sells natural cleaning, body, and hair products, candles, and more!
Promising review: "For all the folks who don't enjoy cleaning the toilet — myself included — these dissolving tablets make quick work of a grimy bowl. The tablets are a little hard to dislodge from the plastic container (although that does make me feel confident that they're secure during transit and won't break; mine all arrived intact!), but once you get one out, you drop it in the toilet and let it do its thing. It'll start fizzing — just like a bath bomb — loosening any stains and streaks in 10 minutes so they come away with a light brushing. I never let the toilet get too bad (and usually it takes awhile for me to notice any buildup since there are only two people in the apartment), so I can't vouch for them if you have really set-in hard water stains or haven't cleaned the commode in six months. But if you're looking to ditch the harsh cleansers in your toilet cleaning routine, this is a great addition to your lineup." —Melanie Aman, BuzzFeed Editor

Preorder a pack of six from Pardo Naturals for $10.50 (available in seven scents).