1.
A cleaning checklist to help make the overwhelming task of cleaning your living space feel manageable. This printable sheet organizes cleaning tasks by different rooms on different days of the week so you don't feel like you have to tackle everything all at once.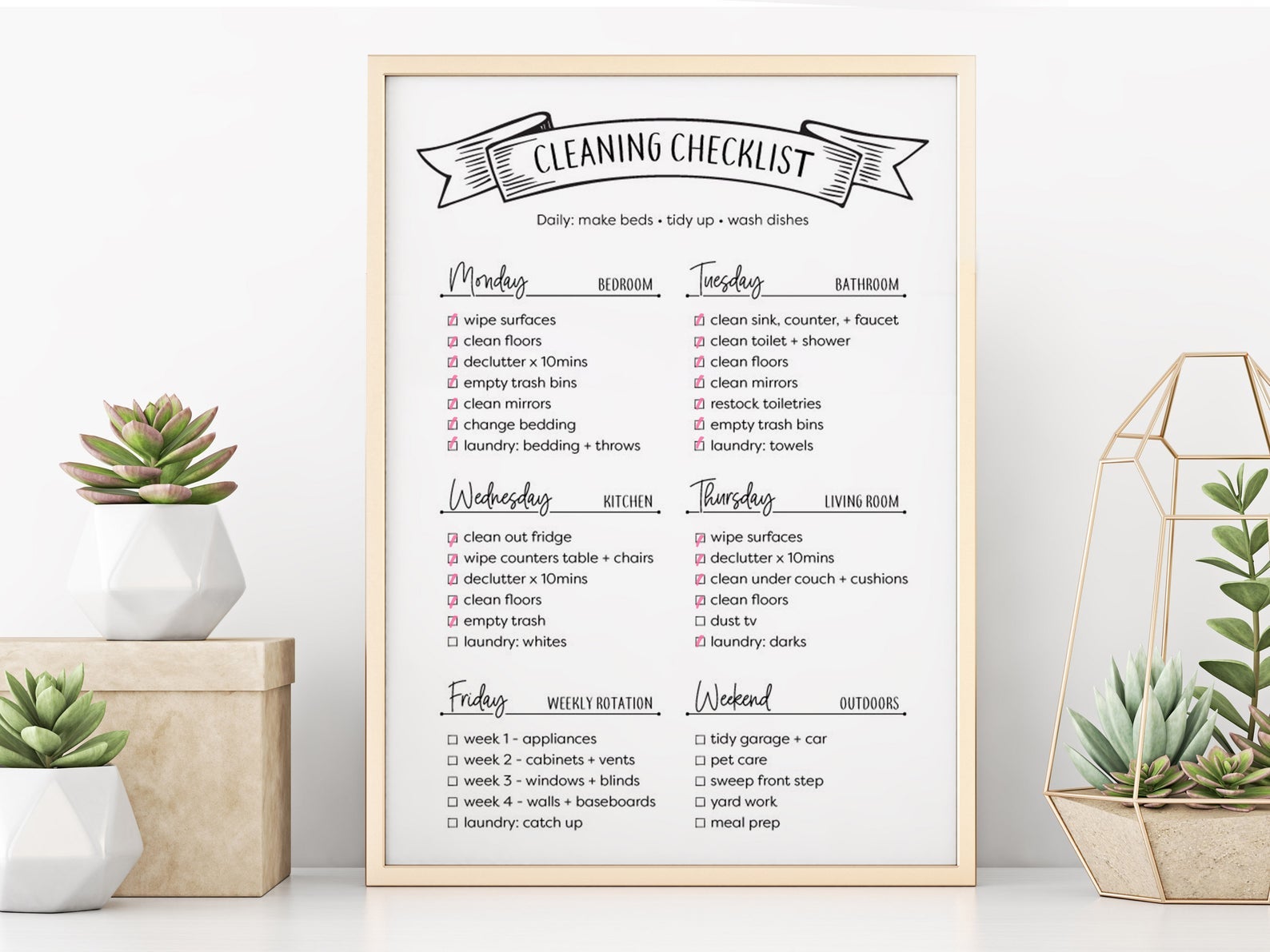 Creative Type Store / Etsy
Creative Type Store is an Etsy shop based in Warman, Canada that sells illustrated prints to help make your life more organized. 
Promising review: "Great for what I needed! I had started my own schedule, but felt like I was forgetting things, too much to do in a day, etc. This is super helpful!" —Erin Brie
Get it from Creative Type Store on Etsy for $4.51.
2.
Melamine cleaning sponges — extra thick, but gentle sponges ready to tackle all sorts of surfaces in and around your home. They're described as "magic" for a reason.
All you gotta do is wet and swipe!
Promising review: "I own a cleaning business and have spent a small fortune on the name brand. I clean everything from condo rentals to long term lease/residential rentals and I have had to clean unimaginable NASTY, I mean 'pics or it didn't happen' kind of nasty and these cut right through it. They work just as well as the name brand, if not better, and they seem to last a little longer!" —Keisha Marie

Get a pack of 20 from Amazon for $9.95.
3.
A universal cleaning gel perfect for getting rid of dust, hairs, crumbs, and more from things like technology items and your car. It's like playing with slime WHILE cleaning, so it's a win-win.
Promising review: "I purchased this product to clean those little spaces in my car filled with random crumbs from my husband and dog hair, and it works amazing. Picked up everything and didn't leave a residue. The lemon scent was faint and didn't overpower the vehicle while I was cleaning it. But this definitely got in all the little nooks and crannies." —Kimberly
Get it from Amazon for $6.99.
4.
A pack of toilet tabs you simply drop into the bowl (you only need one), let it dissolve, and give it a quick scrub with a brush. Plus, they come in a variety of awesome scents like lavender, peppermint, lemongrass, citrus, and more!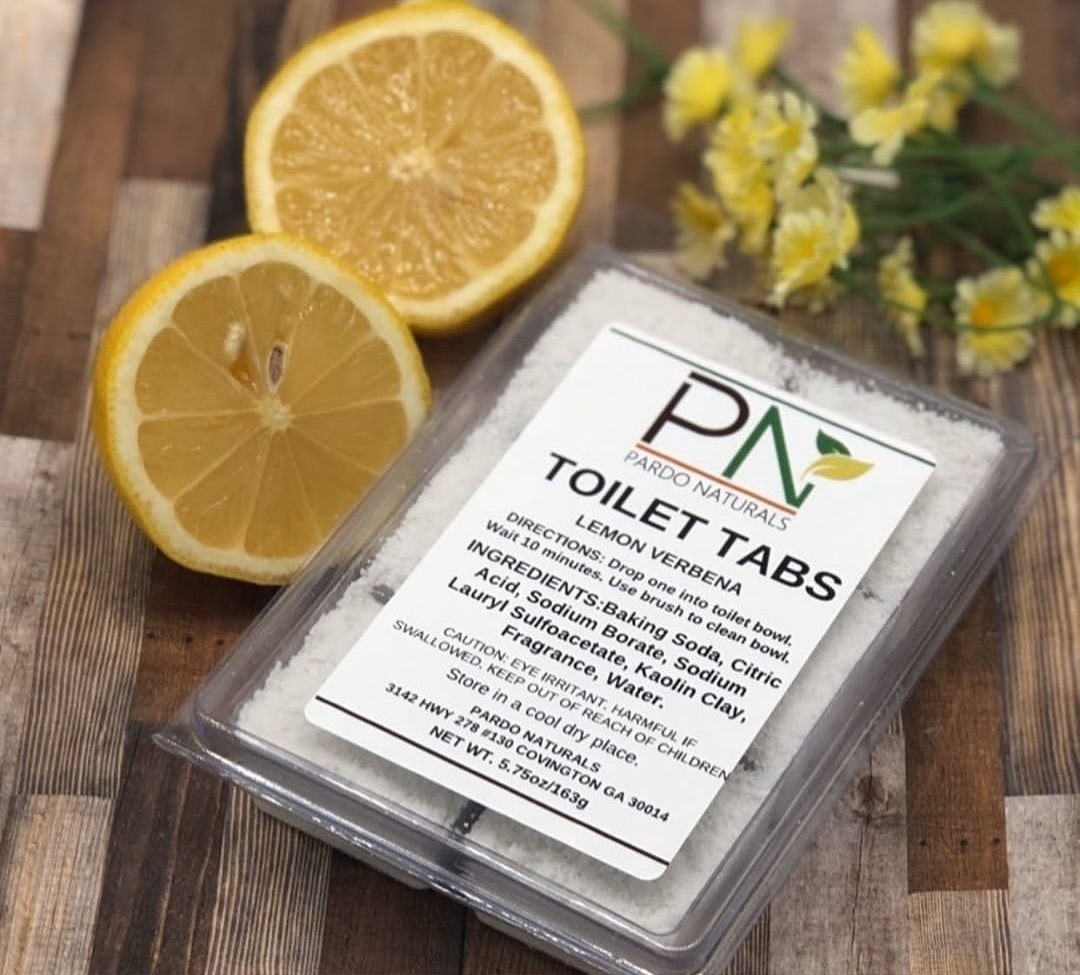 Pardo Naturals is a Black woman-owned small business based in Covington, Georgia that sells natural cleaning, body, and hair products, candles, and more!
Get a pack of six from Pardo Naturals for $10.50 (available in seven scents).
5.
A hard water boosting powder that'll help give your kitchenware a tougher clean than just detergent alone. Plus, it leaves behind a fresh lemon scent, and personally, I'm a sucker for anything lemon-scented.
Just add this to your pre-wash chamber with detergent. If you don't have a pre-wash chamber, don't fret. Just add 2 tablespoons to the bottom of your dishwasher!
Promising review: "I could not get my flatware to come out clean from the dishwasher and I wondered if it was the hard water. I was using up to three soap blocks in each load with only partial improvement. I used this the first time and voilà! Perfectly clean flatware for the first time. I LOVE this!" —Susan A
Get it from Amazon for $12.12.
6.
A jetted bathtub cleaner — just fill up your luxurious bath, add a quarter of the bottle, watch it work its magic by removing gross residue, and drain the tub to find it sparkly and clean.
Each bottle cleans about four times, and it's septic-safe! Only takes about 15 minutes to clean!
Promising review: "Love this stuff. I was skeptical at first. I am a huge germaphobe and this worked well enough for me to actually take a bath at my new place with the jets on!" —Ann
Get it from Amazon for $16.99.
7.
A FlexiSnake so you can unclog your hair-filled drain by simply ~snaking~ this tool down there, letting it grab the hair, pulling it back up, and deciding whether you should be marveled at its abilities or gag.
More than 4,000 hook and loop micro-hooks cover the full 18-inch span of the snake. It's reusable! Just remove hair after use, and clean with soap, water, and a brush. It's compatible with most bathroom drains, without needing to take off the stopper.
Promising review: "I don't write many reviews, but when something blows my mind like this, I have to! Not only did this remove an enormous amount of hair from my drain, it took less than 30 seconds to do so! I didn't really read the instructions, but it's pretty straightforward. Stuck it in the drain, cranked the handle, pulled it out. Voila, no more hair! Buy it! You won't be disappointed." —Linsey Walker
Get a pack of five from Amazon for $19.99.
8.
A natural, all-purpose cleaner featuring a list of just five readable ingredients you'll be glad to use for all your cleaning needs. Plus, it'll leave your home smelling super yummy!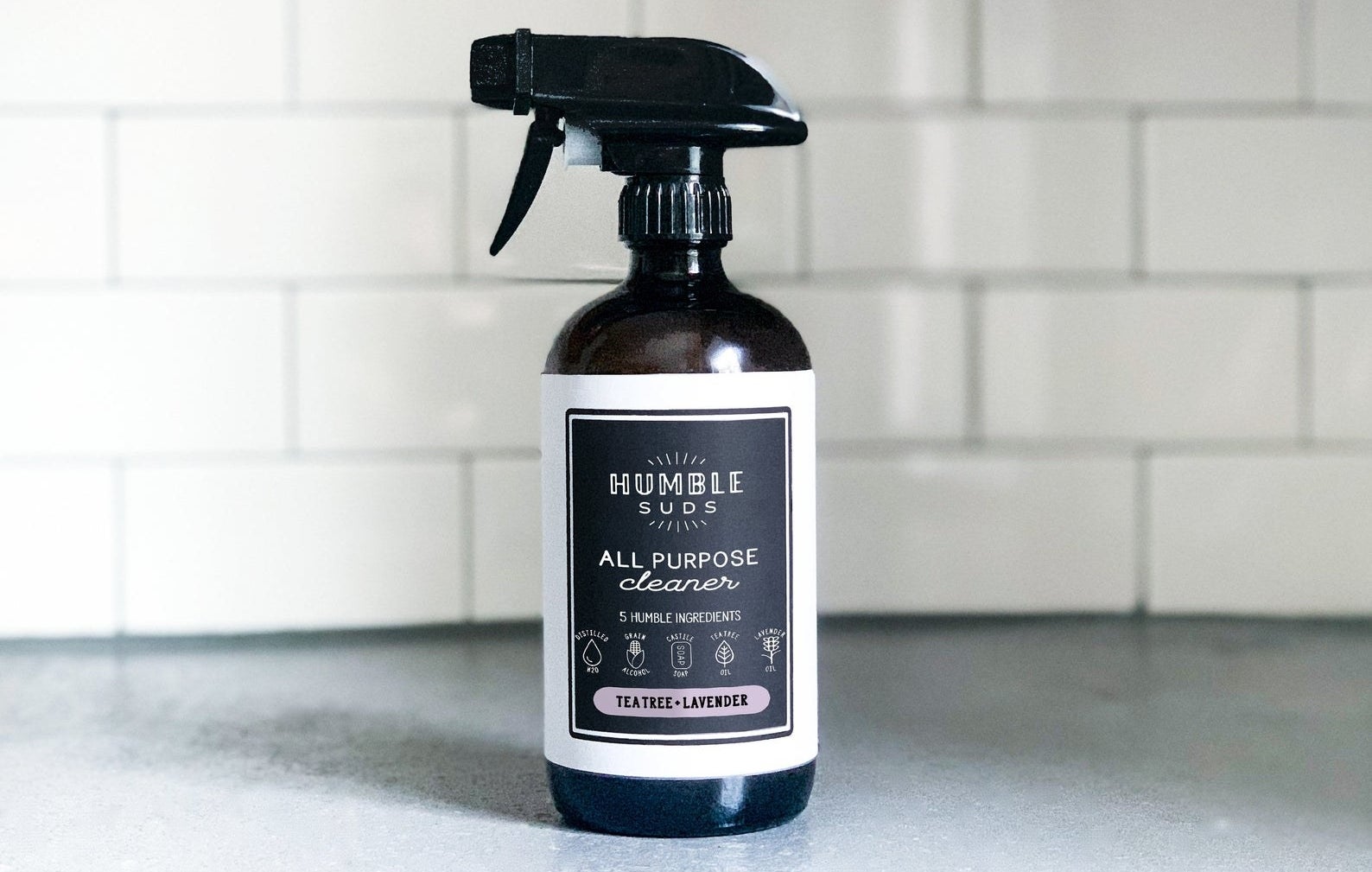 Humble Suds is a woman-owned Etsy shop based in Denver. They sell plant-based cleaning products boasting ingredient lists that never contain more than six ingredients.
Promising review: "I got the tea tree oil and lavender cleaner, and have had an easier time cleaning my kitchen than when I used chemical cleaners. Plus, I know it's non-toxic, so I find myself cleaning far more frequently (I have asthma and this product doesn't trigger an attack or take my breath away). My kitchen has never looked cleaner." —Jessica Mathisen
Get it from Humble Suds on Etsy for $15.55.

9.
A watermark remover cloth to get rid of those annoying ringlet stains on your furniture — you warned your family to use a coaster but, of course, they didn't listen!
Cloth is reusable, and can be used to remove marks on wood caused by water, alcohol, and heat. It can also be used to polish metal and chrome.
Promising review: "I must admit I ordered this as a last hope. I had a mark on my bedside table that I tried various things to remove, but was totally unsuccessful. I tried this today, and there is NO sign of the mark. It is like brand-new again. I was thrilled with the result and highly recommend it to anyone, but would suggest you try it first to save yourself grief! It is inexpensive in the first place, but to know I can reuse it if necessary on another mark, (hopefully that doesn't occur, but life happens), makes it an even better value." —Kritik
Get it from Amazon for $8.28.
10.
A fabric defuzzer you simply glide over an area of furniture that's covered in unwanted fuzzies.
Check out our write-up of this magical fabric defuzzer! The battery-operated model requires two AA batteries that aren't included, but you can buy some right here!
Promising review: "Okay, I don't normally rave about things like this. I bought this on a whim in a last attempt to save my favorite duvet cover. The pills had gotten to the point where it was seriously uncomfortable to sleep with them getting all up in my leg space. I thought I was going to have to get a new duvet cover entirely. Along came this lil' baby. Not only is my duvet cover basically brand new, but I have found a new hobby. I'm depilling everything. Sweatshirts, leggings, blankets, socks, anything that looks like it needs some love. It does the job quickly and leaves everything looking fresh. Hi, I'm obsessed. I can't stop. I should send this back. I've started asking if my neighbors need anything depilled. I'm going to buy one of these for everyone in my life. Everyone needs to own this. Take it away from me." —Sydney Jensen
Get it from Amazon for $14.79 (available in five colors)
11.
A multi-purpose outdoor cleaner to help keep the outside of your home in tip-top shape.
Promising review: "I first used this product about two years ago on the awning on my RV. That awning was so bad, that I thought I was going to have to replace it. After using this Scott's product as directed, the mold and mildew completely disappeared. This product definitely works and it works GREAT! What more can I say — it saved me nearly $500." —R. Latreille
Get it from Amazon for $10.98+ (available in two sizes).
12.
A carpet freshener you simply sprinkle over your carpet or rug (pretending like it's fairy dust, OF COURSE), let it sit for 10–15 minutes, and then vacuum it up. It'll make your living space smell fresh and delicious for days.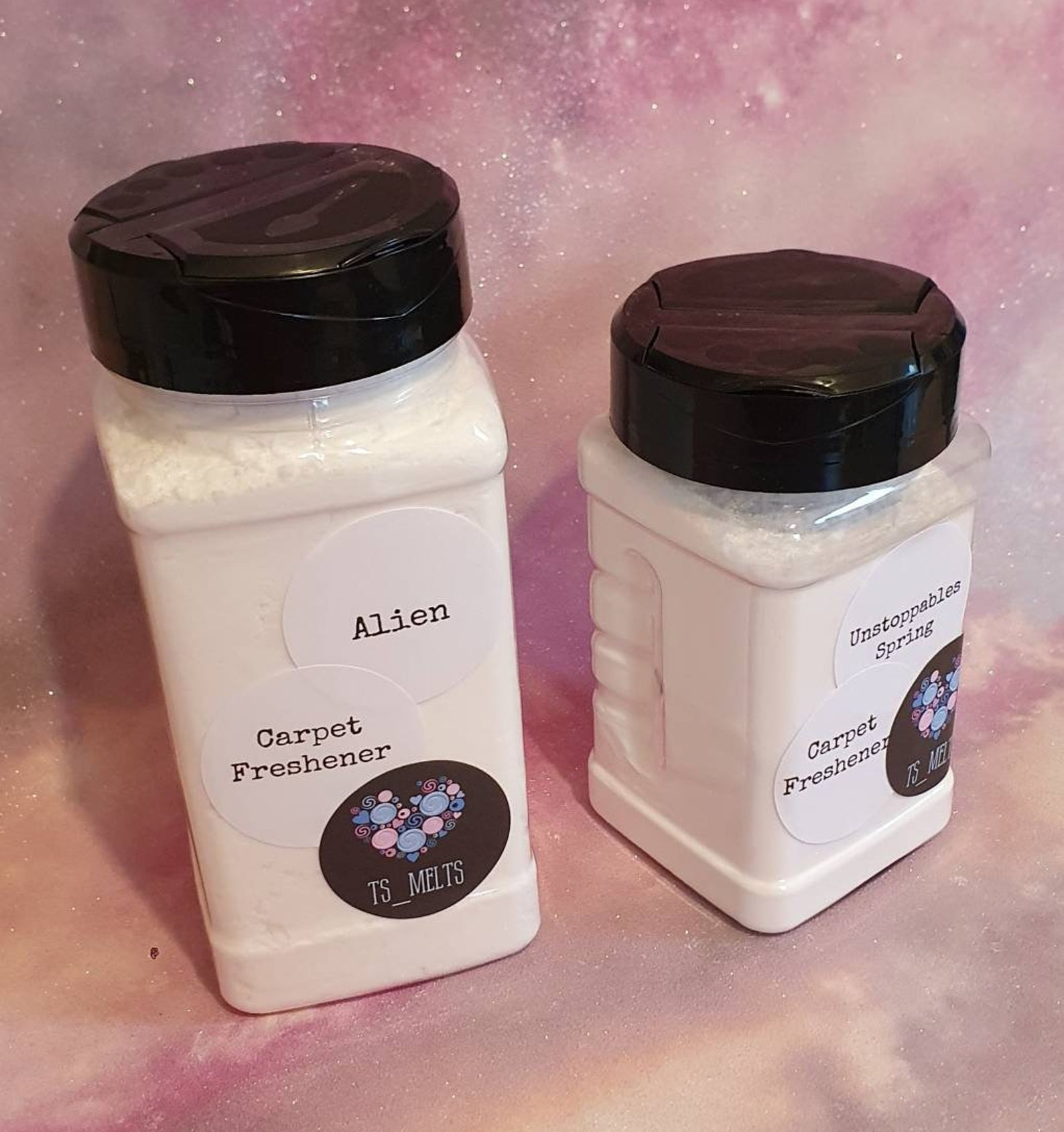 TS_Melts is an Etsy shop based in Bolton, United Kingdom that creates all sorts of lovely products to make your home smell nice like wax melts, home diffusers, bath bomb rocks, and more. 
Promising review: "GO AND BUY! I absolutely adore these carpet fresheners! They have made my bedroom and living room smell gorgeous. Even sprinkled some on my mattress and I can safely say I'm in love. I'll be back next month to order more for myself and family!" —Jessica Higginson
Get it from TS_Melts on Etsy for $3.48+ (available in four sizes and various scents).

13.
A grout pen that'll get your floors shining like the top of the Chrysler building in no time at all. Did you hire a fancy schmancy service to clean your tiles? Nope, you used a PEN to cover it all up.
Pen is ideal for use on floors and walls!
Promising review: "I was pleasantly surprised by how far these went. I did the entire floor of my large master bathroom plus a little of the shower with one pen. It is pretty forgiving and you have quite a bit of working time before it dries completely. This was not a quick task, but it went faster than I thought it would. I was worried the white would look too bright, but it just makes everything look so much cleaner. I'm very happy with this product!" —Jenelle
Get it from Amazon for $8.99+ (available in two sizes).