1.
A set of airtight storage containers that boast a multitude of good reasons to hit "add to cart" immediately. For starters, they'll help keep dry food (like cereal, crackers, dried fruit, etc.) fresh, they'll keep your kitchen nice and organized (because boxes and bags strewn all over is NOT it), and they look damn good. Hello, it's 2023, we're all about the aesthetics.

The set comes with reusable labels and markers!
Promising review: "No matter how many times I tried to make the package clutter in my pantry look nice, it wasn't happening. I tried the pop-top containers before but things still got stale, and [the containers] were too expensive to do the entire pantry. This set was so affordable that I bought two of them and was able to finally get everything organized! I've had no issues with things getting stale and my 4-year-old is now able to easily see, access, and open cereal or snacks when he wants to. Definitely recommend!" —Fisch
Get a 14-piece set from Amazon for $26.99+ (available in black and blue, and sets of 4, 24, and 36).
2.
A padded top to give you the support of an A+ sports bra and the coverage of a cropped tank so you can work out (or lounge around the house) in comfort and style. 

Promising review: "This bra top is absolutely amazing!! It is so comfortable, yet also supportive. It's the perfect length and doesn't roll up. I ordered my usual sports bra size and the fit is perfect. I am going to order one in every color I like!!" —Jenny

Get it from Amazon for $21.99+ (available in 20 colors and women's sizes XS–XL).
3.
A genius quick-drying mesh bath toy holder for scooping up your kiddo's toys with ease and hanging the basket up on the included mounting disc. 

Promising review: "We've had this for about three months and the suction is great. We haven't had it fall even with kids who tug and yank on it to get their toys out. It also makes bath time cleanup so much easier, and I love how it air dries the toys without much work on my part." —Molly 

Get it from Amazon for $12.71. 
4.
A useful, gorgeous, and AFFORDABLE duffel bag that'll make you wonder how you ever took weekend roadtrips or packed a carry-on for your flight without this baby. The interior features four compartments and the bag itself is made of water-resistant nylon because a little rain can't come between you and your much-needed rest and relaxation time. 

Promising review: "Exactly what I was looking for in a weekend bag. It is very well made, good construction from zippers to straps, inside and out. I was able to pack all my needed items for the weekend, including a laptop. Extremely happy with this bag. Will gladly use this bag on longer trips as well. I purchased the light pink color and it's perfect." —pixie trinket

Get it from Amazon for $22.99+ (available in a variety of colors and options with a toiletry bag, mini crossbody, laptop pocket, and more).
5.
A handy grape cutter to quarter grapes and grape tomatoes quickly so you can spend less time snack-prepping and your little one can spend more time enjoying!

6.
A pack of disposable shower hair catchers you simply place over your drain so your hair doesn't go down and clog it. Simply peel and toss when it's full and replace with a new one! No snaking needed! 

Promising review: "I saw these on TikTok and bought them when I was visiting family. Tried them out and left a few behind for family and sent a few home with family — everyone is now ordering them and using them. They work great. Each one is on its own plastic shield. Just peel off and center onto your floor drain. I leave mine on for two to three weeks. I'm the only one using my shower, but if it's a shared shower probably wouldn't last that long. It's still a great way to catch hair before going down the drain, because we all know, people say they use the traps but they really don't. A must-have!!" —C. Crocker

Get a pack of 25 for $11.99 (also available in packs of 50 and and 100).
7.
A portable carpet and upholstery cleaner that boasts strong spray and suction so cleaning stubborn stains will feel effortless. Messes left behind by pets or small children shouldn't mean permanently ruined carpets, furniture, or car interiors.

Promising review: "This vacuum is amazing. I first heard of it on TikTok where people were using it to clean their stairs, mattresses, car seats, etc. and from the videos, it already looked amazing. But considering how dirty my dining chair cushions were, I was a little bit apprehensive and skeptical. I purchased the item and used it on my chairs for the first time and the results were SO AMAZING. Best vacuum I've ever used. I even bought a second one!" —Davina
Get it from Amazon for $109.59.
8.
A mascara to give you lashes so dramatic, no one will believe you when you tell them you bought it for less than $5 on Amazon. No need to spend hours wrestling with falsies to get the long lashes of your dreams. Reviewers also rave that this lasts all day. Thank goodness! You have better things to do than re-apply throughout the day. 
Promising review: "My review has some layers to it. I promise there's a point. First I was 'targeted' on social media to buy this new mascara. It was only $5 and the reviews were all really positive and I thought, why not? So I bought it. I'm a teacher and since the pandemic hit, I no longer wear makeup to school. Makeup irritates my skin with my mask so I just haven't been wearing anything plus it makes morning time hella easy. #bareface This mascara was delivered in the evening, so I decided to try it out the next day and wore it to school. I only put on the mascara, literally no other makeup on my face. Just my lashes were done with this $5 magic. I kid you not — my lashes were literally ALL I heard about that day. Upon walking into the building, a teacher friend from all the way at the other end of the hall and was like 'oh she got makeup on today!!!!' Each kid that came up to me commented on the lashes. One kid even told me I looked younger and the best story of all — a teammate of mine was out and the sub was having trouble with the announcements and so I went in to help her. Her homeroom just went bananas about my lashes and then they started clapping and I got a standing ovation. A literal standing ovation. Best $5 I've ever spent LOL!" —Katie
Get it from Amazon for $4.99.
9.
The Pink Stuff, a cleaning product so good, you'll be tempted to part ways with every other cleaning product you own. Seriously, this amazing stuff can be used on a plethora of household items and surfaces (both indoors and outdoors).
Check out The Pink Stuff on TikTok!
Promising review: "This. Stuff. Is. Amazing. Just buy it. I have never loved a cleaning product so much. Just moved into a new house and my oven and stove both set the fire alarm off every time. No product (organic or chemical) could get them fully clean except this stuff. I was ready to buy a whole new oven because I couldn't stand it. I have now gone on a cleaning spree and have used this to remove the rust on my kitchen sink, marker from a dresser (darn kids), grout in the bathroom. The list goes on. I would probably still use a Magic Eraser on painted wood/walls because this is pretty abrasive but other people have done it and had success. The smell/scent is so minimal. Didn't even notice it. It's so easy to use. Some things will require more elbow grease than others but that should be expected with any cleaning product." —NYC Livin
Get it from Amazon for $5.97.
10.
A genius sandwich bread dispenser reviewers say helps keep loaves of sandwich bread fresher longer (think: weeks) because it's time we finally put an end to that annoying moment of discovering green spots a few days after grocery shopping and having to throw away half the loaf. 
Buddeez is a family-owned small biz based in Missouri that sells home goods!

Promising review: "The Buddeez Sandwich Bread Dispenser is great! It does exactly what it was intended for. I live alone and I don't quite go through bread often enough before the last quarter section of the loaf starts to go stale. I was originally looking for something to put a loaf of bread in as a shell for my vacuum sealer, that would keep the bread from getting crushed from the pressure. This dispenser solved all of my problems. Thank you!" —DRMcQuaig

Get it from Amazon for $12.49 (available in two colors).
11.
Lock Laces — a super smart invention that'll turn your laced-up shoes into slip-ons. Being interrupted mid-run by your shoe laces coming undone and trying to trip you is SUCH a vibe killer...not to mention, also a major safety hazard.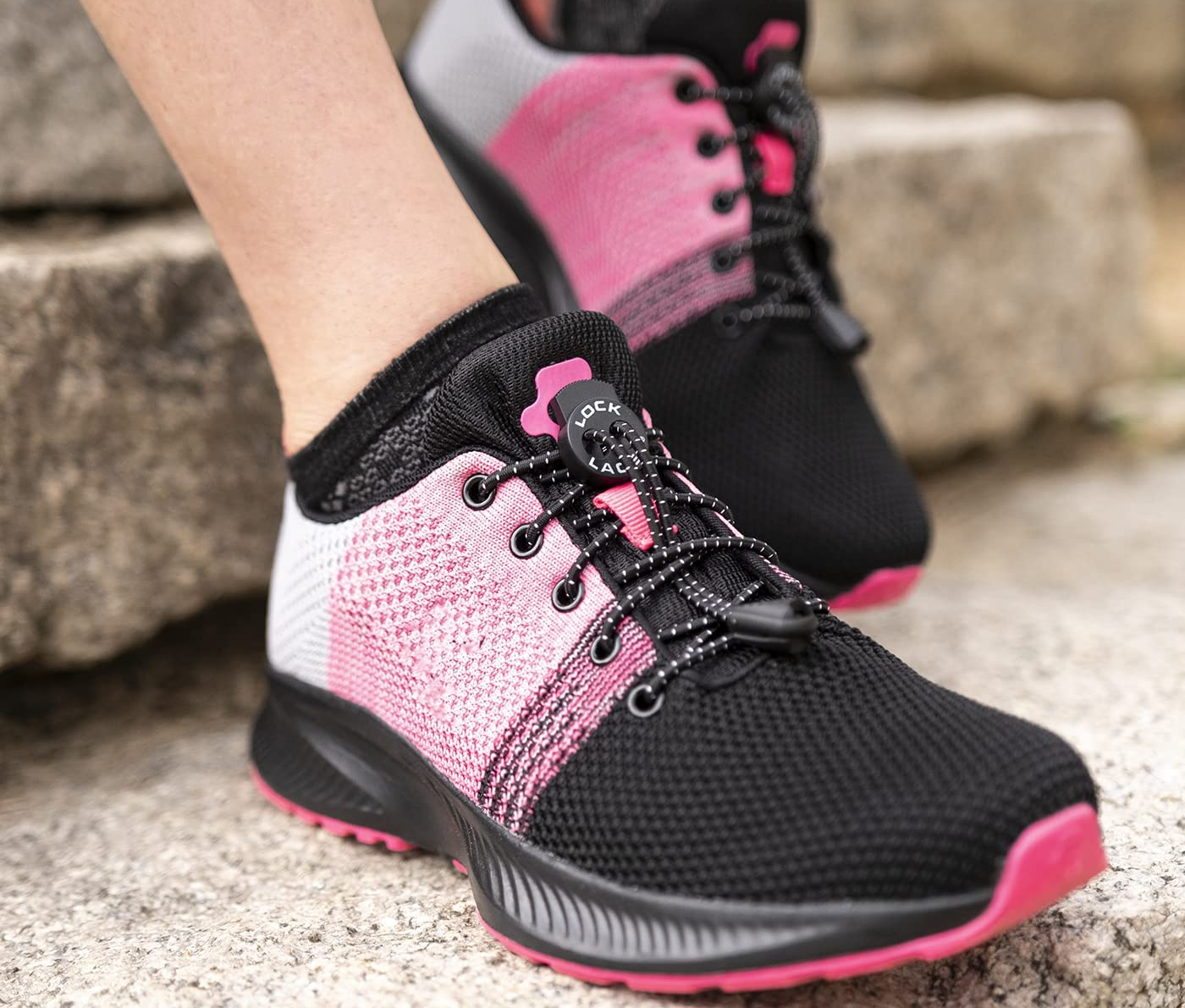 Promising review: "Purchased two pair for my running shoes. They work very well, and I have put a bunch of miles on them. No more tying/untying, just slip on. I like how they keep unified tension across the entire laces from top to bottom. I have had no issues with the lace lock at all, it snapped in well." —Scott

Get it from Amazon for $9.99 (available in 13 colors).
12.
A clear gel for keeping valuable (and breakable items) set nice and sturdy where you want them. Playful pets who like to jump and knock things over, curious kiddo hands, and even natural phenomena like earthquakes are no match now for this powerful paste.

13.
A 2-in-1 whisk that'll do a stellar job as a balloon whisk when it comes to fluffing up eggs and cake batter and then collapses down to a flat whisk with the twist of a handle so you can flip your omelette when it's cooking in the pan and best of all...ensure all the funfetti goodness in the bowl comes off and makes it into the finish product.