1.
Dishwasher cleaning tablets so the machine you rely on to clean the things you use to eat isn't gunking them up even more.
These tablets remove odor-causing residue and help get rid of lime and mineral build-up that naturally occurs inside dishwashers. The tablet is designed to last throughout the entire wash cycle, and is recommended for use about once a month. These are safe to use in stainless-steel tub and plastic tub dishwashers.
Promising review: "After using this product, I am happy to report that my $5 investment saved me over $500. I was ready to replace my dishwasher due to super cloudy glasses, residue, and just not getting clean. Then, I became aware that the water softener no longer was doing its job, so I had the rental company replace it. Dishwasher performance improved somewhat. I decided to do two more loads before deciding to purchase a new one. Then I saw a product test review for Affresh in a magazine. I was ordering some stuff from Amazon anyway, so I added that to my order. When it came, I tossed one of the tablets into the bottom of the full machine, and ran the regular cycle. I did not expect the results I got! My glassware that I thought was permanently etched and ruined came out like new. Same with cutlery. The difference is unbelievable. I will use this faithfully on a monthly basis, as recommended. I can even put it on my subscribe and save order, so I will get a new pack every six months. I am amazed!" —Sheila
Get a pack of six from Amazon for $5.99.
2.
And while you're at it, you'll want to add this pack of washing machine cleaning tablets to your cart as well!
These are safe to use with front-load washing machines and top-load washing machines, and both high efficiency and conventional machines. Recommended to use once a month!
Promising review: "I have been using bleach to clean my machine for some time, but decided to give this a try a few months ago. My very first clean with Affresh left me surprised and delighted, for not only did it clean my machine, it eliminated the nasty smell that always transferred to my clothes thanks to a build-up of mold I didn't even know about. Every month now, I toss a tablet into the drum and let it work its magic. Now, my machine is cleaner than ever, and my clothes always smell wonderfully fresh. I highly recommend this to everyone." —Kelli Crawford
Get a pack of six from Amazon for $10.79.
3.
A pet hair roller because everything about our little friends is absolutely perfect except for the fact that their fur and hair get on everything we own. But we still love them, right?
Promising review: "Where has this been all my cat-loving life? Sticky rollers work fine for clothes, but this is the only product that has ever COMPLETELY removed all the cat hair from my bed. I have a long-haired, 20-pound tabby, and if you run your hands up his back a few times and fling the hair everywhere, it looks like it's snowing — he never stops shedding no matter what I do. After using the ChomChom, I can put on a black dress and roll around on my bed and not get a single hair on me. It's absolutely amazing. Everyone is getting one for Christmas, even if they don't have a pet. I don't care; it's THAT good." —Stephanie
Get it from Amazon for $24.95.
4.
Water bottle cleaning tablets for getting your beloved drinking bottle back to the condition it was in when you first fell in love with it. Not to mention the fact that you should only ever consume water from a CLEAN bottle.
Tablets are biodegradable, chlorine-free, all-natural, and environmentally safe. They're individually packaged, and don't require any additional brushing or scrubbing. Good for use on stainless-steel bottles, mugs, hydration reservoirs, coolers, dishes, and hard-to-clean plastic containers and bottles.
Promising review: "In all fairness, I first heard of this product while watching Shark Tank, and their pitch was impressive so I gave the underdog a try. Now, I'm on my fourth re-order. My whole family drinks out of various name brand bottles, coffee mugs, etc. The fact is, they are rarely cleaned because they are a part of our daily lives and they are a pain in the ar$e to clean, because of the inconvenience that they are not dishwasher-safe, or don't fit. The answer is these tablets. They work and they're simple to use." —K.R.
Get them from Amazon for $8/12 tablets.
5.
A touch-up paint pen to fill with your paint color of choice and apply to any imperfections you're trying to cover up.
Promising review: "Love this — absolutely perfect for touchin' up little spots that need touchin' up. I have several sets filled with different paints and so far they've stayed usable, without the paint drying out. I rinse the brush really well after each use (latex paints) and recap it. It would be nice if the manufacturer put an area on the pen where you could easily label the paint info, but I use a permanent marker, and it works okay." —Hooked on Amazon!
Get a pack of two from Amazon for $17.99.
6.
And this little bottle of paint touch-up so you can quickly fix chips, cracks, and stains on your walls without having to re-do the whole thing.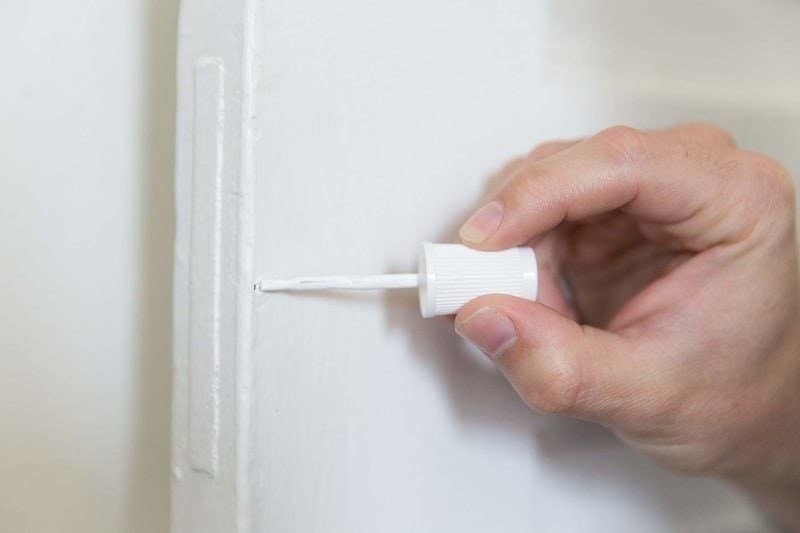 This paint is nontoxic, zero VOC, low-odor, and solvent-free, so if you're sensitive to chemical smells, this stuff is A-OK!! What makes this different than the one above? Great question! This bottle is already filled with paint so if it's a neutral color you're trying to cover up or you simply don't have the original jar of paint (or remember what the shade was called), this is great. Whereas the pen above is ideal for more specific paint colors and those who still have easy access to the paint color they need. 
Promising review: "This product is excellent. It goes on easily and covers paint scraps very well. I used it on a door frame that had been chipped. Now the chip is practically unnoticeable. I asked for a sample of colors before buying and received a color chart promptly. I appreciate the customer-friendly attitude of this company." —Educator
Get it from Amazon for $14.95 (available in eight shades).
7.
A bug bite suction tool to help get rid of itchy bites. Kinda rude that little buggies get to munch on our skin and blood, and we have to deal with itchiness after.
This works by suctioning up insect venom, saliva, and other irritants under the skin, which in turn prevents your body from producing a reaction to said irritant.
Promising review: "I am a magnet for bites of all kinds and carry topical and medicines with me at all times — so I figured this would be a good product to see if it really works. It arrived on Monday and on Tuesday morning I woke up with a bug bite on my arm. I used this little tool (3x per the instructions) and documented with photos. Immediately after using, it stopped itching! And less than 24 hours later the bump/bite was gone! There is a very faint red mark from using the thing but a small price to pay IMO. Bottom line: it's awesome. I'm carrying it with me everywhere!" —Rebecca
Get it from Amazon for $9.95 (available in three colors).
8.
A eucalyptus and lavender shower/bath pouch that'll help give you a spa experience right from the comfort of home. These may also help provide some relief from colds, congestions, and stress.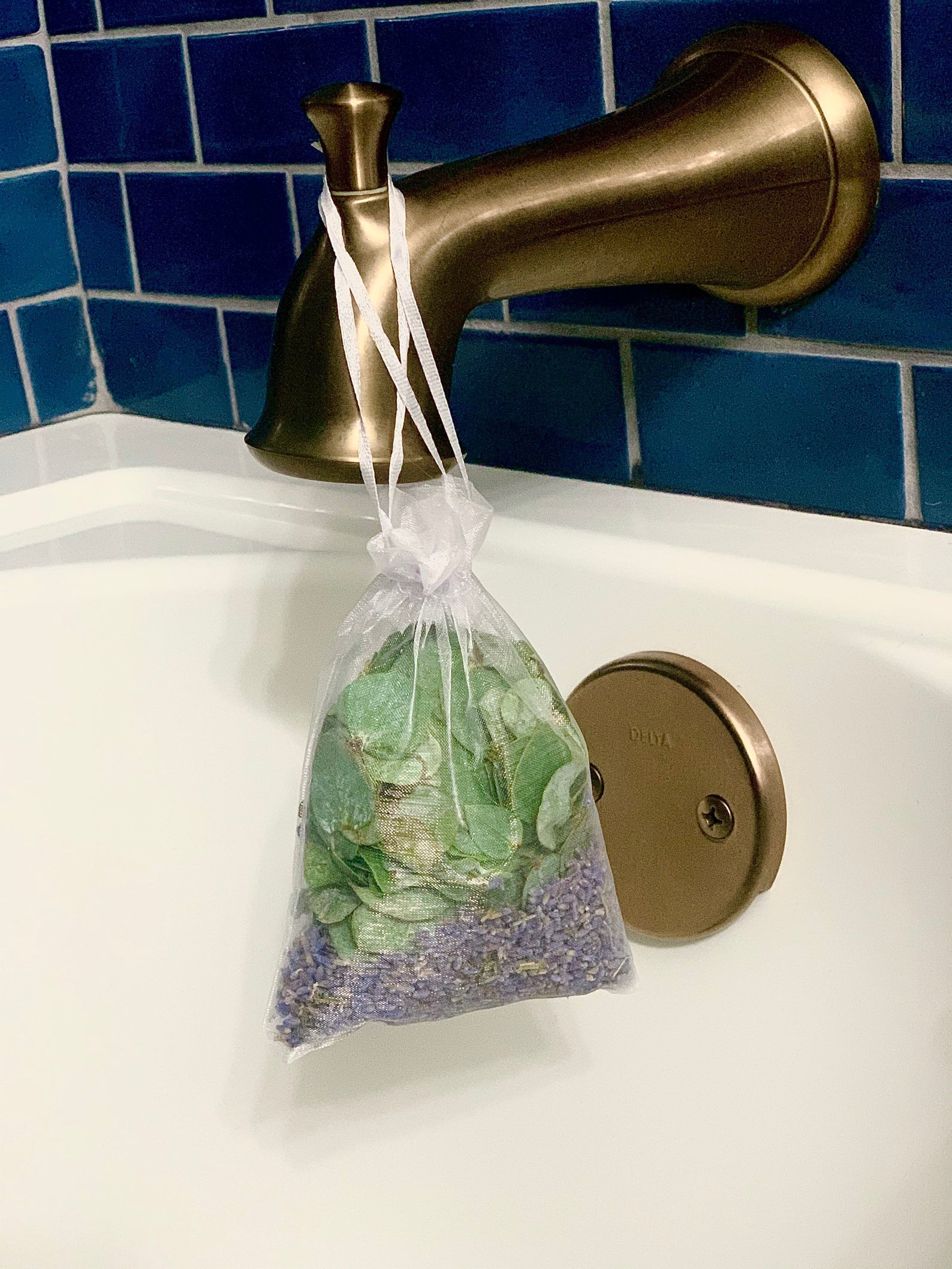 Eucalyptus Blooms is an Etsy shop based in Charlotte, North Carolina that sells eucalyptus and lavender shower and bath products and bouquets.

Promising review: "Not only does these enhance my shower experience, but my whole bathroom smells nice all the time!" —Edward
Get it from Eucalyptus Blooms on Etsy for $13.59/three pouches or $17.84/five pouches.
9.
A dental health powder you simply sprinkle onto your pup's food as if you're a magical fairy giving them the mystical gift of clean teeth and fresh breath.
Promising review: "I began to use this product on my Doberman at about 1 year. He is now 4 years old, and the vet says his teeth and gums are amazing. I have never done any dental work with him and do not brush his teeth. He has fresh breath and no tooth decay or gum issues. I absolutely credit Perio Support for his healthy mouth and will always use it on my dogs." —HappytoGrill
Get it from Amazon for $20.
10.
Soundproof door strips for those whose bedroom currently doubles as a home office, and their new "co-workers" (aka roomies, family members, and pets) are kinda noisy. These also help prevent cold air escape in the summer, and warmth escape in the winter, so you can save energy, too!
Promising review: "Product works really well! I needed a quick fix to my home office situation. I live in an apartment in Manhattan and never noticed how much sound comes in and out, until I had to be on conference calls working from home! This little tape made a big difference, took me a couple of minutes to install." —Sandra Revueltas
Get a pack of two from Amazon for $7.97+ (available in four colors).
11.
A FlexiSnake so you can unclog your hair-filled drain by simply ~snaking~ this tool down there, letting it grab the hair, pulling it back up, and deciding whether you should be marveled at its abilities or gag.
More than 4,000 hook and loop micro-hooks cover the full 18-inch span of the snake. It's reusable! Just remove hair after use, and clean with soap, water, and a brush. It's compatible with most bathroom drains, without needing to take off the stopper.
Promising review: "I didn't expect this to be professional grade or anything, but hey, for the price, this definitely did the job. Our bathroom sink was starting to drain really slowly, so I bought this. In less than two minutes, it had fed down the drain easily and pulled up two separate disgusting chunks of hair and soap scum. I wore cleaning gloves to clean that gunk off the snake, but it wasn't too difficult. Drain worked perfectly after. I use it maybe once a month to maintain. Good value!" —KB
Get it from Amazon for $8.99.
12.
Or a TubShroom that'll collect your hair while in the shower/bath, so it doesn't go down the drain and clog in the first place.
This fits any standard 1.5 inch tub drain or bathroom sink drain. But, if you want to keep your hair catching separate between your tub and sink, then treat yourself and your home to the SinkShroom!
Promising review: "This is absolutely worth every penny. Kudos to the inventor of this product. I have thick long dark hair, and after two months of moving into my own apartment, my shower drain was completely clogged with all my hair. After being disgusted at the amount of hair I had to clean out with a snake (which is NOT a fun task), I decided I needed to purchase something to prevent it from happening again. I read about this product on a BuzzFeed article, and I have no regrets. It is so satisfying to clean out, and it does not lie when it says it catches every single hair. I have had it for close to 4 months without once instance of my shower drain backing up. This product is absolutely worth it." —JT
Get it from Amazon for $12.95+ (available in five colors).
13.
A car vent face mask holder to provide a more organized, cleaner space in your vehicle to keep masks. Whether it's a mask you're already wearing while running errands, or just keeping some extra masks on-hand, this baby will be super useful.
ArchersDesignShop is a small business based in Indianapolis, IN that sells 3D printed goods for your car so that belongings like face masks and sunglasses are in a tidy area, rather than strewn on the seats, floors, or worse... in hard-to-reach areas.
Get it from ArchersDesignShop on Etsy for $4.50 (available in four colors).