This Salad Spinner Will Make Eating Your Greens A Whole Lot Easier
We're proud of you.
We hope you love the products we recommend! All of them were independently selected by our editors. Just so you know, BuzzFeed may collect a share of sales or other compensation from the links on this page if you decide to shop from them. Oh, and FYI — prices are accurate and items in stock as of time of publication.
If you're anything like me, then perhaps you're one of those people who genuinely really loves salad. There are so many versatile ways of eating salad — the possibilities are practically endless. Not to mention, of course, that it's nutritious! But, OMG, prepping a salad can feel like such a damn chore, you know?
But fret not, people, because I'm about to introduce you to a gadget that'll seriously revolutionize all of your at-home salad-eating ventures. Meet the OXO Good Grips salad spinner. Ain't it a beaut?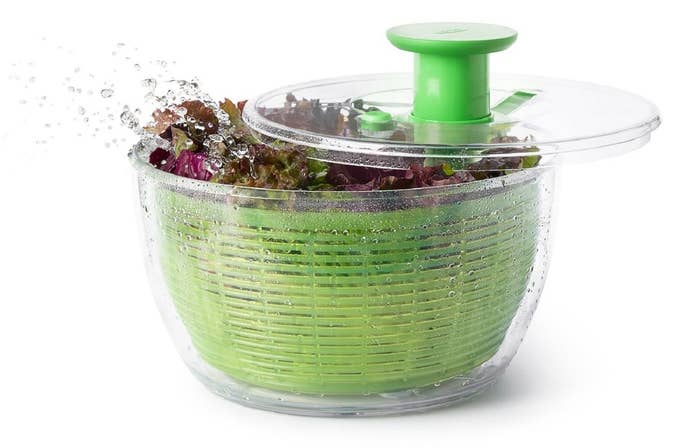 This handy AF item makes cleaning lettuce easy peasy, lemon dressing squeezy.
Some other amazing ~selling points~ of the salad spinner? It features a soft, non-slip knob and a wide base with a non-slip ring to ensure it stays steady on surfaces and can be easily stowed away. The basket interior can be used as a colander, while the bowl can be used for serving.
Annnnnd it has over 3,700 reviews on Amazon, a 4.3-star rating, and passes Fakespot with an A!
Now, I know what you're thinking, "Dayummmm, that's a lot of reviews for a salad spinner." I KNOW! So, take a look at some of them. If you're not already persuaded, these should do the trick.
"This is one of those 'must-have' kitchen tools. It works like a champion! The first time I used it I was so impressed, as I had been used to my old one with the handle that you crank around and around, and was so much work to use, and only poorly effective. Poor thing was always off balance! Not so with this one. This OXO pump mechanism makes quick, easy work of drying salad greens and is so easy to use. I'm going to try it for berries as well. It stays put, and stops quickly when you want it, too. The nice large bowl holds a little, or a lot. It is plastic, but a very hard plastic, and it's, attractive, strong, and looks durable (and I'm not a plastics person)! Try it. I predict you will love it! Marvelous!" —Susan
"This has been a lifesaver! We would buy pre-washed, pre-packaged organic romaine lettuce for $4 or more per package. If we didn't use it all in one sitting, most would spoil in a few days and go to waste. Now we buy three times as much lettuce with whole hearts of organic romaine for a fraction of the cost, and use as little or as much as we want, without wasting it. The device itself is amazingly simple and easy to use and clean. You can wash the lettuce or other veggies in a just a minute or two. The very best part is you can use the same bowl as a serving or storage dish! We have had lettuce stay fresh for over a week! This is amazing!
Every salad eater must have this!" —Natalie Hill
"This is an absolutely fantastic salad spinner. I love salads. I eat them almost daily. Buying pre-packaged already washed salads gets to be pricey, so this is perfect. The lettuce comes out tasting fresh, crisp, dry, and absolutely delicious. It's a very good size and perfect for a large dinner salad for both my husband and I to share. It's easy to use and the pump on the top is very comfortable to press. I love how I can use the basket separately as a colander to pre-rinse my lettuce, and then put it in the spinner to get the remaining water off. The spinner is very easy to clean, the pump on top locks when not in use, and I can easily store this in my cabinet when I'm not using it. It's a solid product and made very well." —Melissa Anne
"I LOVE this salad spinner! It has become an essential item in my kitchen. I can now easily throw together a salad very quickly. I've used it for rinsing and spinning a variety of lettuces, and they all have come out beautifully clean and crisp. I've also used the spinner for cherry and grape tomatoes, as well as berries. I am definitely eating more salad now than I was before. The prep is SO much simpler with this spinner." —Janice
So if you're now feeling oddly hungry for a big bowl of salad like I am, get the OXO salad spinner from Amazon for $28.68+ (available in two colors).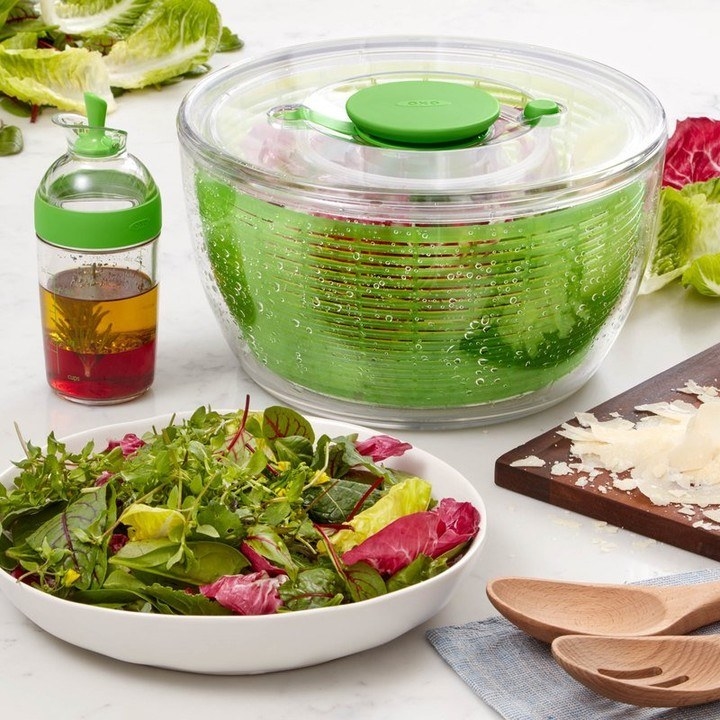 Time to go eat alllll the salads!
And if you're looking for even more amazing kitchen gadgets, check out these links!