NBC

Yup, Jim asked Pam if she was free for dinner and that was the official start of their love story.

Via NBC

NBC

Jim admitted that he bought Pam's engagement ring just one week after they started dating. He also made everyone's heart melt.

Via NBC

NBC

Pam temporarily decided to leave her job at Dunder Mifflin to pursue her dreams of studying graphic design at Pratt Institute.

Via NBC

NBC

What's more romantic than getting engaged at a gas station?

Via NBC

NBC

Right before he gets down on one knee, Pam jokes with Jim that Montclair, New Jersey, would have been an easier spot for them to meet up in. Little did she know...

Via NBC

NBC

During a corporate volleyball game, Pam injured her ankle and was forced to go to the hospital to get it checked out. The show hinted that during her hospital visit, Pam got the news that she was pregnant, and early in the next season they made the big reveal.

Via NBC

NBC

Jim and Pam celebrated their wedding with the rest of the office, but said their vows, just the two of them, on the Maid of the Mist boat in Niagara Falls.

Via NBC

NBC

The entire office took time off of work to invite themselves to Jim and Pam's wedding, and being the crazy bunch they are, they made the most dramatic entrance down the aisle. Forever one of the show's most iconic moments.

NBC

On the day that she went into labor, Pam was scared to give birth and refused to let Jim take her to the hospital until it was almost too late. Once Michael told Jim that Pam's contractions were two minutes apart, Jim made Pam finally go to the hospital.

Via NBC

NBC

When they finally were headed to the hospital, Pam realized she forgot her iPod with her birth song on it and panicked.

Via NBC

NBC

Just look at that happy family!

Via NBC

NBC

We never find out what exactly Jim said to Pam in that note. Rumor has it that John Krasinski (aka Jim) wrote a note for Jenna Fischer (aka Pam) about how special it was working with her and her reaction caught on camera was really her reaction to reading his note.

Via NBC
How Well Do You Know Jim and Pam's Relationship?
Ok, so you don't really know your stuff about the greatest show to ever exist. Or maybe it's been a while since you've watched the show. Either way, you've got your work cut out for you. Open a new tab, watch the show on Netflix, and come back to retest your knowledge. The Halperts will be waiting.
"I did not love the dialogue or the character."
So, you know some things, but not EVERYTHING. I'll call you a fan of the show, but don't get too excited. You're not an honorary Halpert yet or anything. Reward your efforts by going back and watching moments from the show like where Jim proposes to Pam or the whole office goes to their wedding. Just make sure you take note of the important details this time around.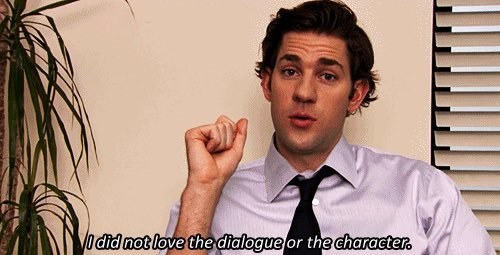 HEY, LOOK AT YOU!!! Do you work at Dunder Mifflin? Are you like Dwight's co-worker who observed every second of Jim and Pam's relationship? ARE YOU THEIR CHILDREN? Either way, you are obviously a fan of the best show ever, and you paid very good attention to the most perfect TV couple to ever exist. Just add Halpert to the end of your name, because that's clearly what you are!