1.
A genius sandwich bread dispenser reviewers say helps keep loaves of sandwich bread fresher longer (think: weeks) because it's time we finally put an end to that annoying moment of discovering green spots a few days after grocery shopping and having to throw away half the loaf. 
Buddeez is a family-owned small biz based in Missouri that sells home goods!

Promising review: "The Buddeez Sandwich Bread Dispenser is great! It does exactly what it was intended for. I live alone and I don't quite go through bread often enough before the last quarter section of the loaf starts to go stale. I was originally looking for something to put a loaf of bread in as a shell for my vacuum sealer, that would keep the bread from getting crushed from the pressure. This dispenser solved all of my problems. Thank you!" —DRMcQuaig

Get it from Amazon for $12.49 (available in two colors).
2.
A double-sided pickle juice straining jar so the next time your craving for a crunchy snack strikes, you won't have to wrestle it out of a messy pickle juice pool. Simply turn the container so the juice strains, take your pickle, and then flip it back over so they can go back to soaking up the brine and staying fresh. 

This works well for olives, too!
Promising review: "I love pickles and olives but hate the mess and pain of pickle/olive brine. I've been known to just drain it out of a jar immediately, even if that means having to throw away the pickles or olives sooner. I randomly discovered these containers from some online article, and knew right away I would be getting one. I now have two but plan on buying more. They're just great. The only thing is, you need to be 100% sure you've got the lids on completely or you will have a disaster on your hands. Check and double check each time you are securing them. The tongs are useful just to have around for anything, too." —Nick

Get it from Amazon for $12.95+ (available in six style including ones with a tong).
3.
A prep and pour cutting board because how many times have you cut up an assortment of fresh veggies for a chopped salad just for a quarter of those veggies to end up on the floor instead of the bowl when transferring them afterwards?! If you're anything like me, then too many. 

Promising review: "I gave one to my daughter and kept one for myself. I like how it folds to get all the ingredients into the bowl or pan on the first try. My husband used it for the first time and said this works great!" —Sheri Marley
Get a set of two from Amazon for $23.99.
4.
And some brilliant fog-free onion goggles you'll wanna add to your cart if you plan on using your new cutting board to chop onions but don't want to turn into an endless stream of tears while doing so. 

My colleague, Britt Ross (seen wearing the goggles above, left), swears by these! Check out what she has to say about them:
"As you can see from the ~extremely~ stylish photo above, I own these very goggles! OK, maybe they're not the coolest-looking accessories in the world, but NONETHELESS (!) they are an absolute lifesaver if you suffer from painful eye stinging and tearing while slicing those alliums. I used to avoid recipes that called for any onion that wasn't a scallion because I hated preparing onions with all my might, but once these entered my life, I found myself chopping away with ease. The key is to make sure the goggles create a really tight seal around your eyes — I have a smaller head, so I sometimes have to really push them on to make sure they're airtight, but once I figured this out, it was a total game changer. Will you feel super silly while you have 'em on? Yes! Will you care after you see your finished pile of onions that were chopped without shedding a single tear? No! And if I'm willing to plaster myself wearing them all over BuzzFeed, you can definitely wear them in the privacy of your own kitchen. I highly recommend them to anyone who also suffers from onion tears!"

Get them from Amazon for $17.78+ (available in five colors). 

5.
Or a veggie chopper if the thought of cutting up produce by hand is daunting. Do yourself a favor and grab this. I own this and let me tell you, it is a DREAM kitchen product. Sometimes you're just too hungry or impatient to do the prep work yourself and that is OK!!!
Fullstar is a small biz that specializes in super useful kitchen gadgets!

Promising review: "Makes life so much easier. I can't imagine chopping onions or bell peppers by hand anymore, and it does so much more. We used to have a Prepworks chopper which was a similar idea, but you had to press so hard to chop, and it broke after not too long. This one requires very little effort to cut through the food and it has a generous container." —Amazon Customer

Get it from Amazon for $24.99+ (available in three colors).
6.
A pancake batter blender and dispenser that'll make the most important meal of the day the most simple one, too. Just add your ingredients to the bottle along with the blending ball, give it a shake, and then have some fun by pouring the batter onto your pan/griddle in fun shapes or diner-quality perfectly round circles.  

Promising review: "If you like to eat pancakes for breakfast a lot and want to avoid a lot of dishes, please get this! This is so worth it. I saw this on TikTok and had to get it. Just make sure you're putting the amount of water that's right for the amount you're going to eat." —Buchii
Get it from Amazon for $14.99 (available in two colors).
7.
A fruit bowl doubling as a colander so you can rinse apples, citrus fruits, or anything else you like and display them all on one neat little invention. Plus, the pedestal fruit bowl is sleek and versatile and is truly gonna look great in any kitchen it's in. 

Promising review: "I love the way this looks on my counter. It is sturdy and holds all the fruit that I purchase in a week just perfectly." —Jami Lively

Get it from Amazon for $24.99.
8.
A roll-up dish drying rack anyone with a kitchen on the smaller side (especially when it comes to counter space) is gonna be so thankful exists because now you don't need to contemplate if you have enough room to squeeze a whole drying rack between your coffeemaker and air fryer. 

Promising review: "I bought this because I saw it on TikTok and I'm so glad I did! I hate having things on my counters that don't belong. I have a dishwasher but I have some things (like most everyone) that aren't dishwasher safe. I love that I can just roll this out and dry my dishes over the sink. The fact that air is able to get to all sides allows dishes like cups and bowls to actually get dry. Prior to this I was using a drying mat next to my sink, but I was always having to towel dry items that had been sitting out 'drying' for hours. Even my husband is impressed. He has told me multiple times it was such a good buy!" —Sheri

Get it from Amazon for $9.89+ (available in eight sizes).
9.
And an expandable colander that'll be a game changer when it comes to rinsing off your food — while we're on the subject of making the most out of your limited kitchen space by utilizing the sink.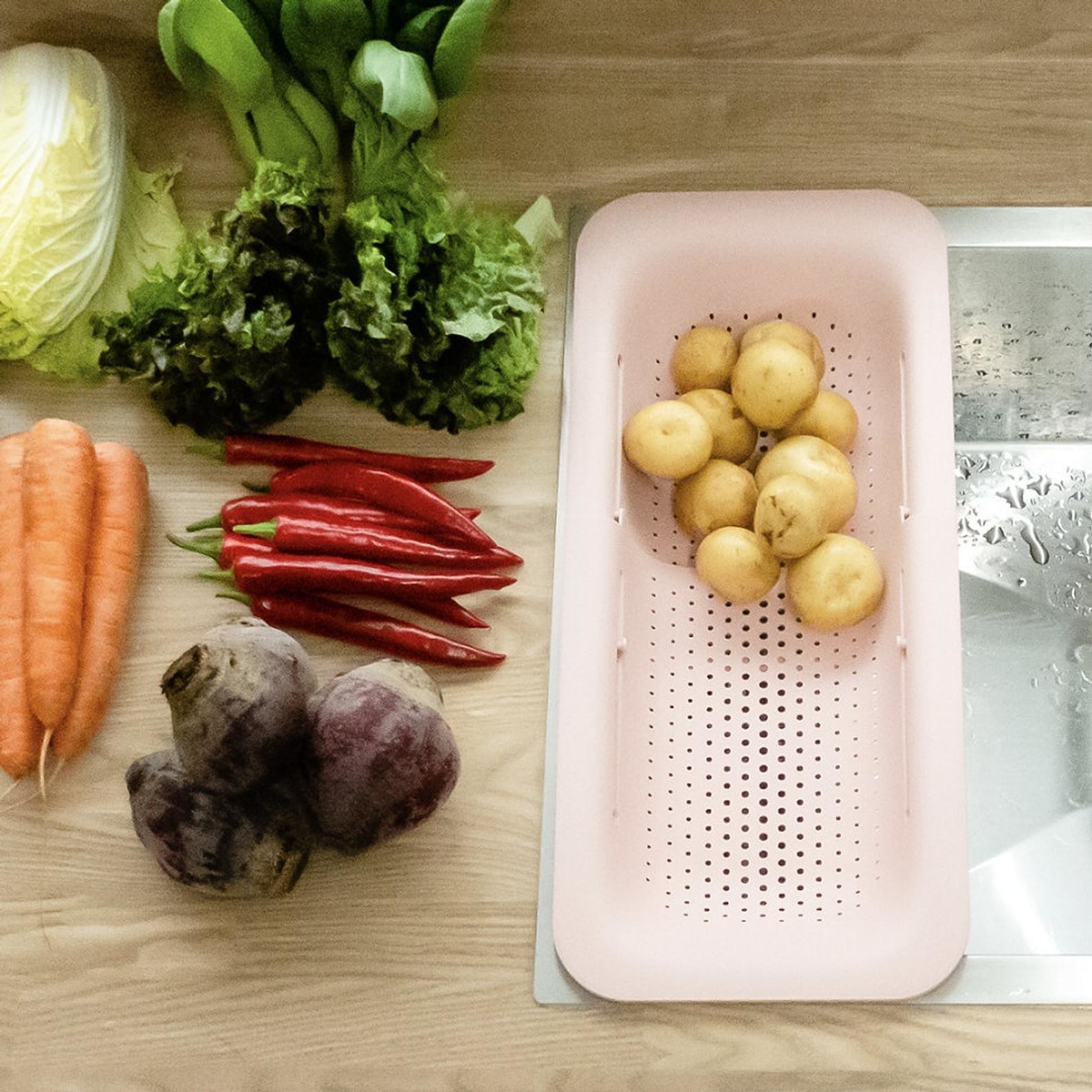 This colander can expand from 14.5 to 19.5 inches. It's top-rack dishwasher safe as well!
Promising review: "I'm obsessed with this. I leave it in my sink always. It makes washing fruits or draining pasta so much easier and has such a simple cleanup. It also adds a nice pop of color to my kitchen. I highly recommend it." —Alyssa
Get it from Amazon for $17.99 (available in six colors and in two-packs).
10.
A set of silicone air fryer liners because the only thing stopping you at the moment from living your best "air-fried chicken tenders and french fries for dinner every night" dream is the thought of having to clean the air fryer basket after. Just pop the silicone bowl in the dishwasher when you're done and voila! 

Promising review: "I bought these because I was tired of cleaning the whole air fryer container. These were bought on a whim for both mine and my boyfriend's parents, who each have an air fryer. They work great, keeping all greases and crumbs inside, and make it easier to clean. The only bad thing (and this may just be me) is the ridges/ripples on the bottom of the inside of the liner. When you try to wash it in the sink, don't put the stream of water right on those unless you want to take a small bath. Other than that, these are fantastic. My boyfriend also says that it seems to make everything crispier, and we love that." —Jordan Hixson

Get a set of three from Amazon for $13.99+ (available in four color combinations). 
11.
A super cool and useful magnetic stove shelf you simply put on top of your stove and boom — instant additional storage space for things like spices, oil, and anything else you may need!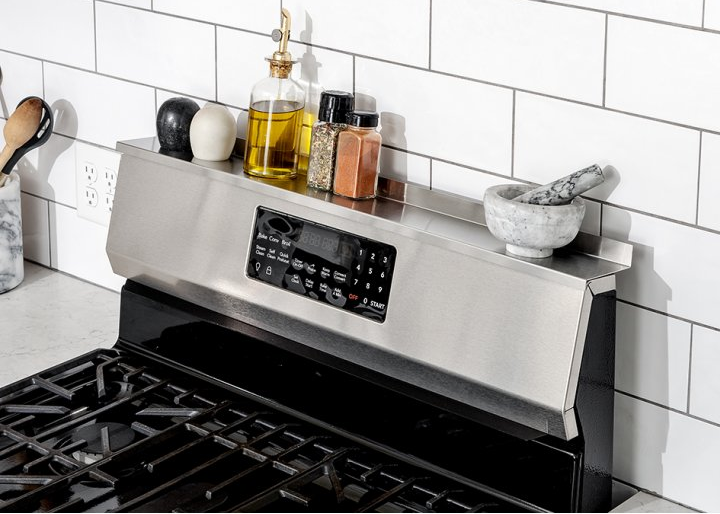 StoveShelf is a small biz based in the US and sells various options of shelves for your stove.

Promising review: "There was no setup. Take it out of the box and place it on the stove. The magnets are very strong keeping the shelf fixed in place. The magnets are raised allowing air flow underneath preventing the shelf from heating up. Sizing was perfect. I love it!" —Amazon Customer

Get it from Amazon for $39.99 (available in three sizes and in six finishes). 
12.
Cleaning K-Cups that'll serve as the easiest, fastest way to get your beloved Keurig in the clean condition it should always be in.
All you have to do is put one of these babies in like you would with any other K-Cup, brew one large cycle, watch dirty water get cleaned out, throw the pod away, run a water-only cycle, and then return to brewing your faves.
Promising reviews: "We've had our Keurig for a few years, and with the exception of using only filtered water and dispensing hot water every so often, we've never cleaned the needle or K-Cup area. I used three cleaning cups back to back and WOW our machine was dirty! I'm so happy I purchased these! I'll be keeping up on cleaning these more often." —Heather Garcia
Get a pack of six from Amazon for $9.95.

13.
An oil solidifier powder (from Shark Tank!) you just sprinkle over hot oil (do it dramatically like you're a fairy godmother and it's magic dust), let solidify, and then scoop out the now-hardened leftover oil from the pot/pan. 

This product is made from 100% plant-derived fats.
Promising review: "Honestly I didn't know if this would work. Waiting for it to cool down made me nervous, but once it was at room temperature it was solid. It popped out of the fryer so nicely. Worth every penny." —Emma
Get it from Amazon for $12.99.
14.
A rapid egg cooker that'll prepare your favorite style of the yummy breakfast food EGGtra quick — hard-/medium-/soft-boiled, poached, scrambled, omelet — breakfast for every meal, anyone?
It also features an auto-shutoff function! It can boil up to six eggs at a time, poach up to two eggs at a time, or make an omelet! There's a poaching tray, omelet tray, a six-egg holder tray, a measuring cup, a recipe book, and access to a recipe database. All nonelectric parts are dishwasher-safe! To learn more about this EGGcellent product, check out our Dash Rapid Egg Cooker review!
I love cooking, I really do, but there are two very inconvenient times that my cooking laziness strikes, and that is first thing in the morning when I wake up, and at the end of the day when it's time for dinner. Thankfully, in the morning, I now have this rapid egg cooker which allows me to make soft-, medium-, or hard-boiled eggs, poached eggs, or an omelet, all without having to stand over the stove.
It's also a great way to whip up a high protein snack during the day when you're busy with work, school, or just in the middle of a very important Netflix binge. The egg maker will let out a sound when your eggs are cooked, and then all you have to do is enjoy them!
Get it from Amazon for $16.99+ (available in eight colors).
15.
A set of sheet pan dividers so you can cook all the different elements of your meal in one pan in the oven and ensure they heat up evenly too. Now that's what I call a win-win situation.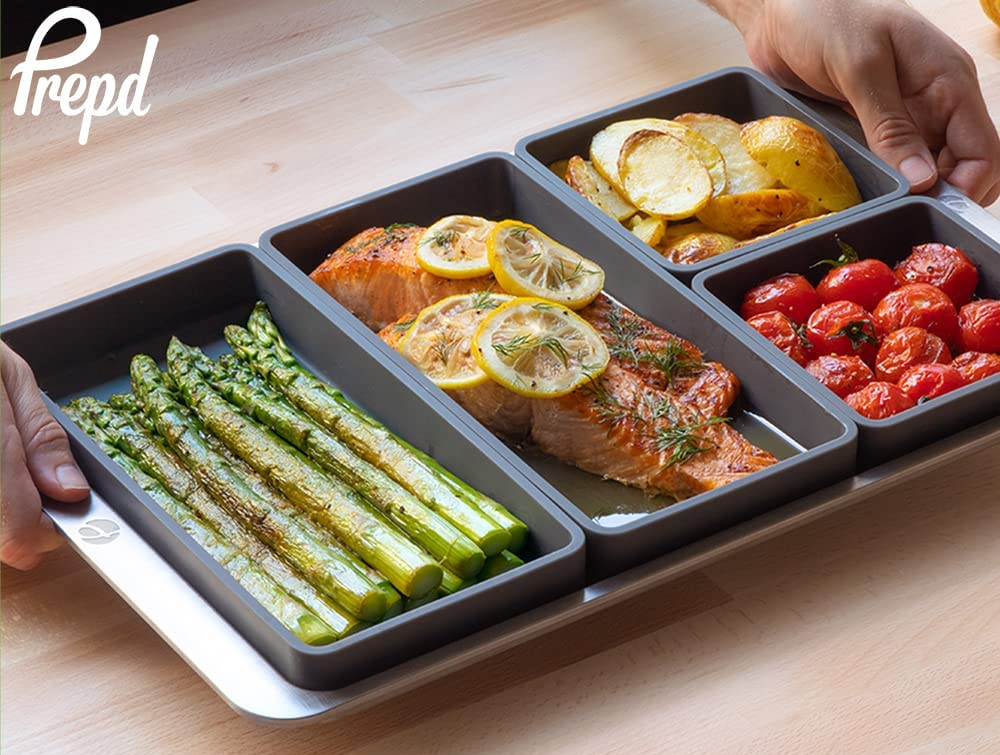 Promising review: "Brilliant. 100,000% recommend them! They let me separate veggies by how long they take to cook so they are all ready at the same time and nothing is over- or undercooked. I love these cheat sheets. They are a great tool for my kitchen." —yule

Get a set of four from Amazon for $29.99 (available in two colors).