1.
A Hydro Flask car cup holder adapter my fellow Flask owners will want to add to their cart ASAP. That insulated bottle can do it all — it can keep hot drinks hot and cold drinks cold, but it can't fit into your car's cup holder!!! Well, thanks to this genius product, now it can. What a great way to ensure you have cold water or a caffeinated bev in easy reach!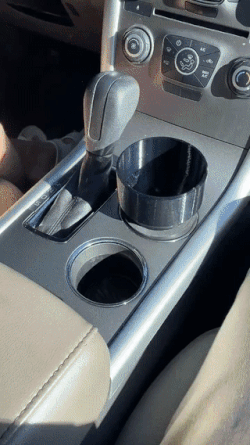 Wine & Whiskey Co is based in Texas and sells phone cases, clothing, and car accessories.

Promising review: "I had to remove the foam wrap that was on it for it to fit in my cup holder, but now it works perfectly. No more having my water bottle in the seat next to me, rolling on the floor, or spilling 'cause I forgot to close it! Yay!" —sprocketnellie
Get it from Wine & Whiskey Co on Etsy for $12.99.
2.
An all-natural laundry stain remover so you can say adios to dirt, grease, sauce, and wine stains with an awesome product that boasts a vegan ingredient list.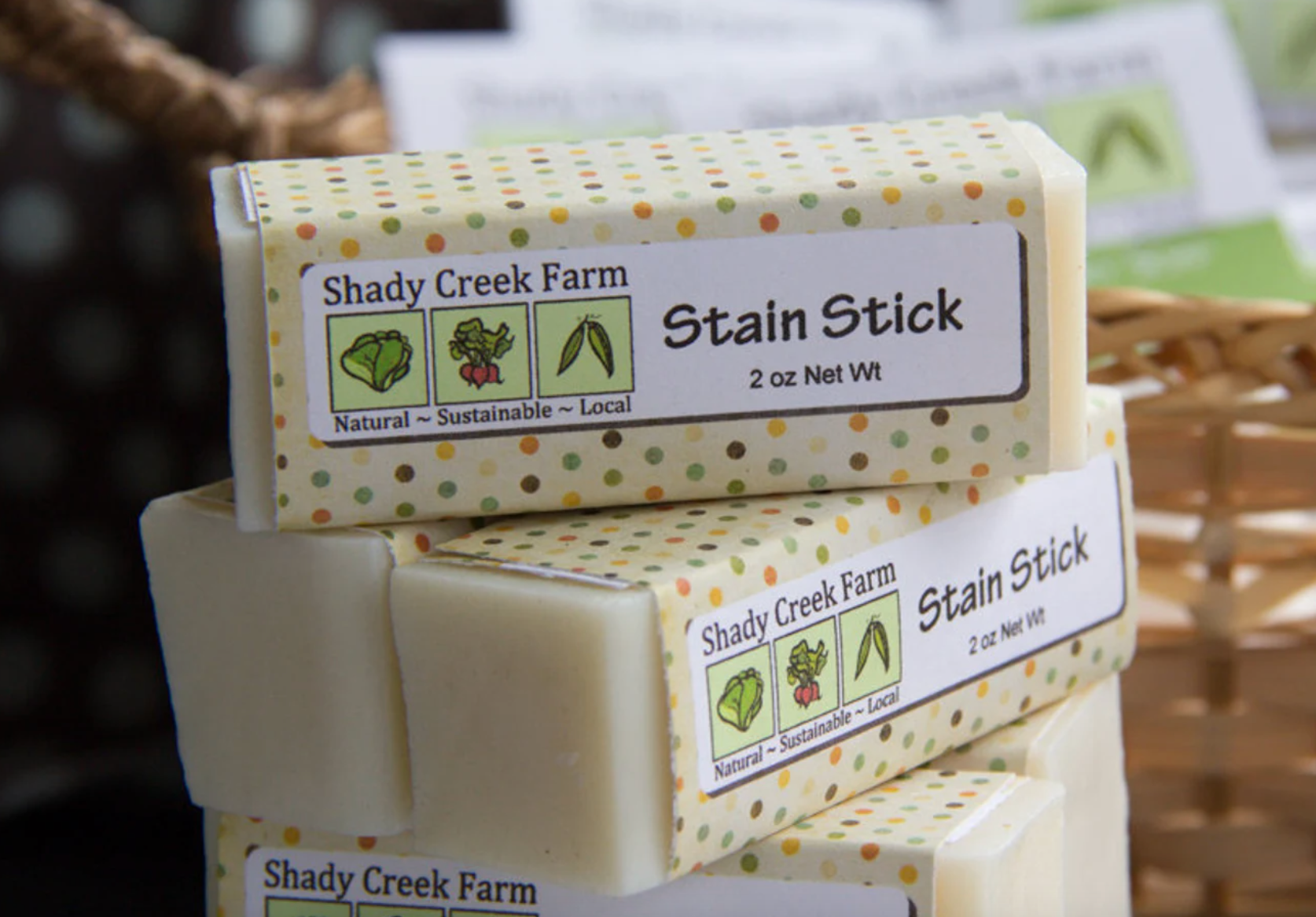 Shady Creek Farm is based in Dallas, North Carolina and sells natural soap, laundry products, gift sets, and more!
Promising review: "I had a stain on my favorite white T-shirt. I used a name brand and washed it twice. Still stained. Got this in the mail and gave it a go. Stain gone! Highly recommend!" —Jennifer Ruef
Get it from Shady Creek Farm on Etsy for $8.
3.
A tic-tac-toe toilet roll holder because why not make a display out of your toilet paper? Your bathroom is about to become your new favorite room in the house with this thing!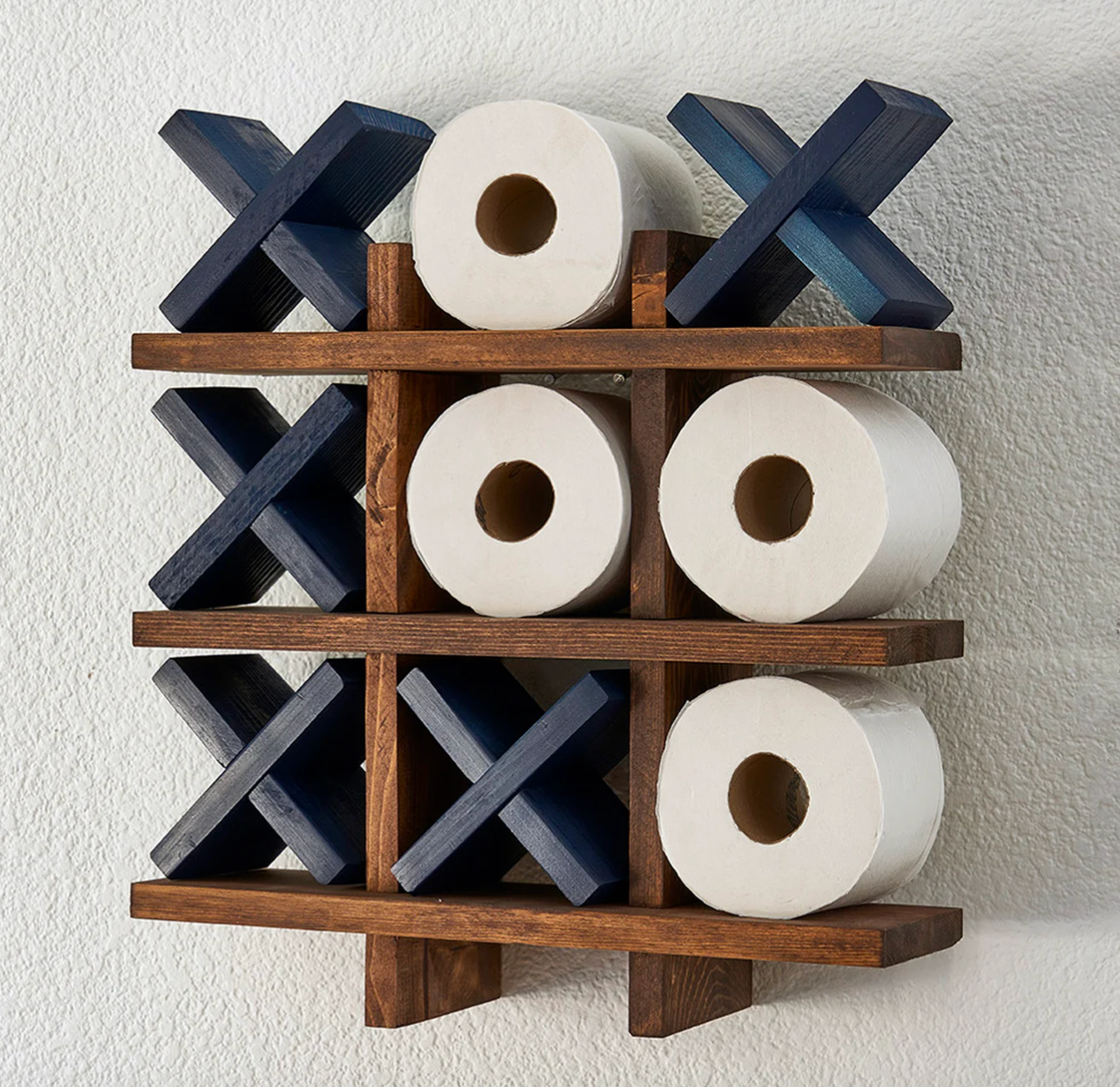 Hand and Homes is based in Littleton, Colorado and sells fun home and bathroom decor.
Promising review: "Packed perfectly and arrived promptly. No issues with my order. I painted and mounted it. Holds Costco toilet paper so I'm happy!!! Let's tic-tac toilet roll!!" —Amy Knox
Get it from Hand and Homes on Etsy for $59+ (available in six paint colors including unpainted and two stain options).
4.
A carpet cleaning solution for those whose home deserves a million-dollar-looking floor...for under $20 that is.
Sunny & Honey is family-run and sells home cleaning products. This stuff both cleans AND deodorizes carpets. It can be used in pretty much all machines — Hoover, Bissell, Rug Doctor, Kenmore, Carpet Express. The solution works on all water-safe surfaces like carpets, rugs, furniture, and automobiles. Plus, it's biodegradable and nontoxic.
Promising review: "This works like a dream. I have light beige carpets, and this gets all the dirt and stains right out." —Karen M.

Get it from Amazon for $19.97.
5.
A set of books that's actually not at all a set of books, but a storage box you can use to hide messy tangles of wires or keep things like important documents, electronics, or jewelry out of sight.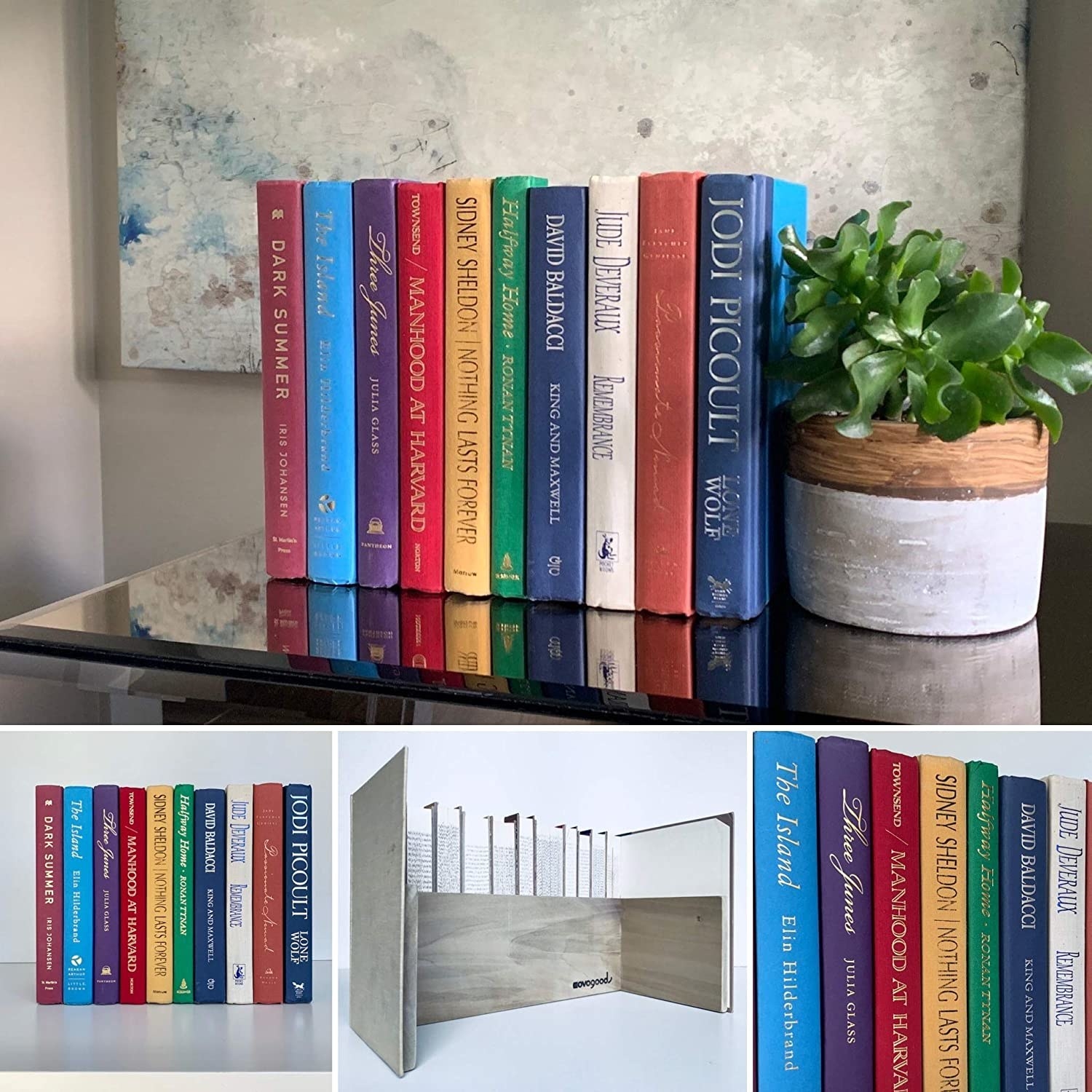 FYI — the photos above are just an example. You receive different books than what are shown in the product photos. You can opt to pay extra for a different length and a specific color scheme. If you'd like for them to send you a preview before they ship it, be sure to select "YES, preview books" on the order page and enable Amazon notifications. Covogoods is woman-owned, based in Utah, and sells storage products made out of upcycled books!

Promising review: "This is perfect for hiding our router and accessories in our bookcase. Love it!" —supergirl

6.
A genius faucet catcher to help finally solve the pesky issue that is water from your kitchen sink splashing onto your counter.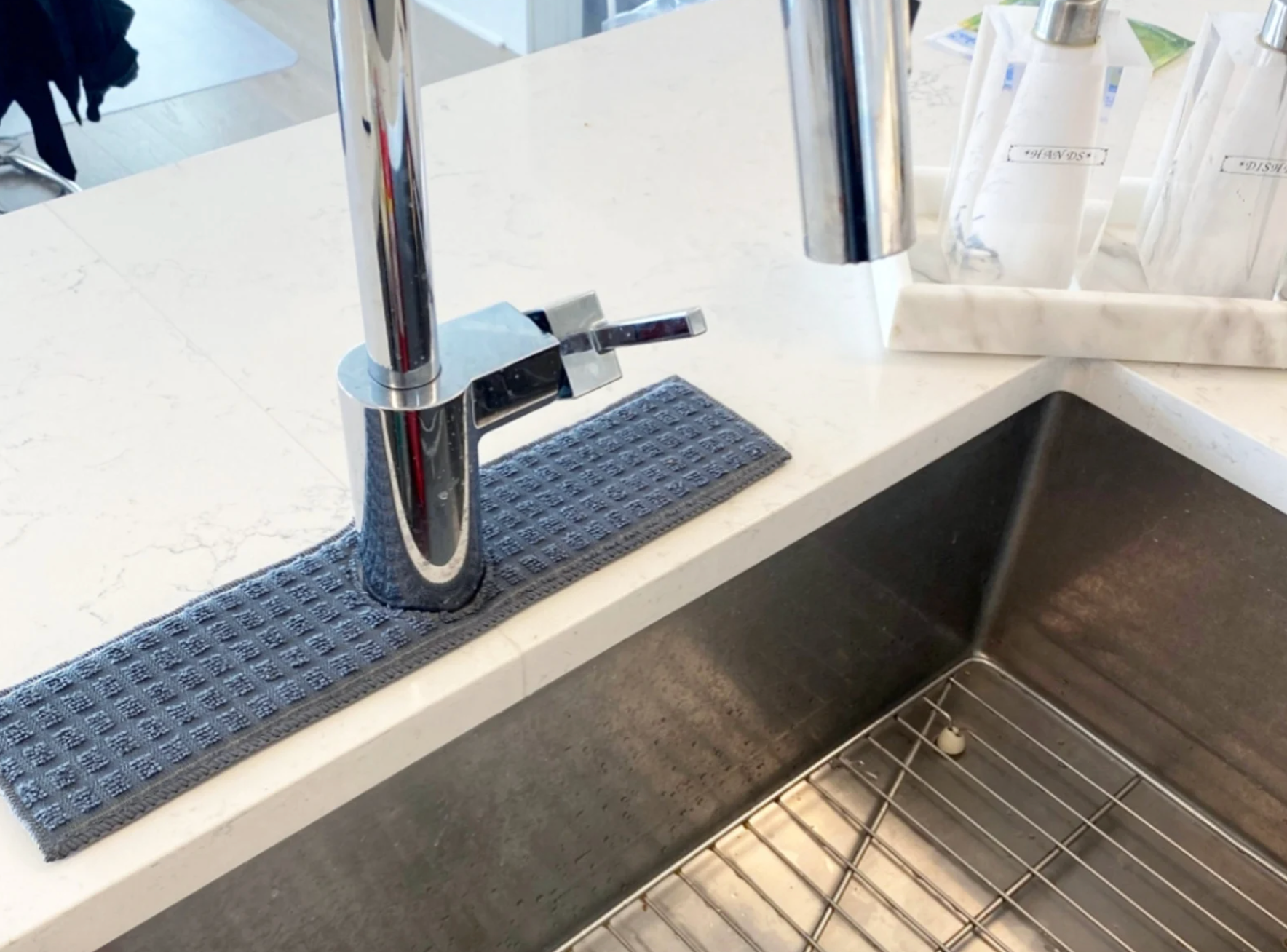 Hustle Sew Shop is based in Saint Helens, Oregon and sells handmade goods you can opt to get personalized! 
Promising review: "Great item, catches all the drips! I requested an off center hole for my faucet and it turned out perfect. Highly recommend this shop!" —Ellen Lucas
Get it from Hustle Sew Shop on Etsy for $13.50+ (available in six colors and four sizes).

7.
A ScratchPad — a genius tool that'll allow your pup to file their own nails. Say goodbye to scary clippers and noisy grinders you both hate and hello to this wonderful invention.
ScratchPad is based in Atlanta and sells, well, the ScratchPad, a fancy name for a nail file for dogs! 
Promising review: "Highly recommend this product! After three months of challenges to cut the nails of our German shepherd, this product saved the day!!! We are now able to file his nails in a non-invasive way. Excellent customer service and fast international shipping." —Michelle Rosenberg
Get it from ScratchPad on Etsy for $44.95+ (available in three materials and four styles).
8.
A pretty, customized canister perfect for holding things like ground coffee, loose leaf tea, sugar, and other food items of that nature. Not only are these great for storage, but they're also a nice option for bringing a fresh look to your kitchen counters.
Gabriel Home And Garden / Etsy
Gabriel Home And Garden is based in Richmond, Texas and sells handcrafted home decor and rare plants. 
Promising review: "I purchased one of these containers as a coffee canister. The quality is excellent and I am very happy with it. I would purchase from here again." —Michele Berning
Get it from Gabriel Home And Garden on Etsy starting at $29.90/canister and decal (available in three fonts).
And if you're a Disney fan, you may also wanna check out these super cute and totally splurge-worthy Mickey and Minnie canisters from Glamjar on Etsy starting at $99.20.
9.
Wad-Free, a truly wonderful creation that'll stop bed sheets from getting all tangled and twisted in the washer and dryer. In turn, this will help ensure that your sheets, and the other items that frequently get caught in them, come out cleaner. I don't know about you, but I'm all too familiar with finding a soaking wet sock or shirt caught in the crevices of my bed sheets and having to put them back in the dryer and it's SO.VERY.ANNOYING!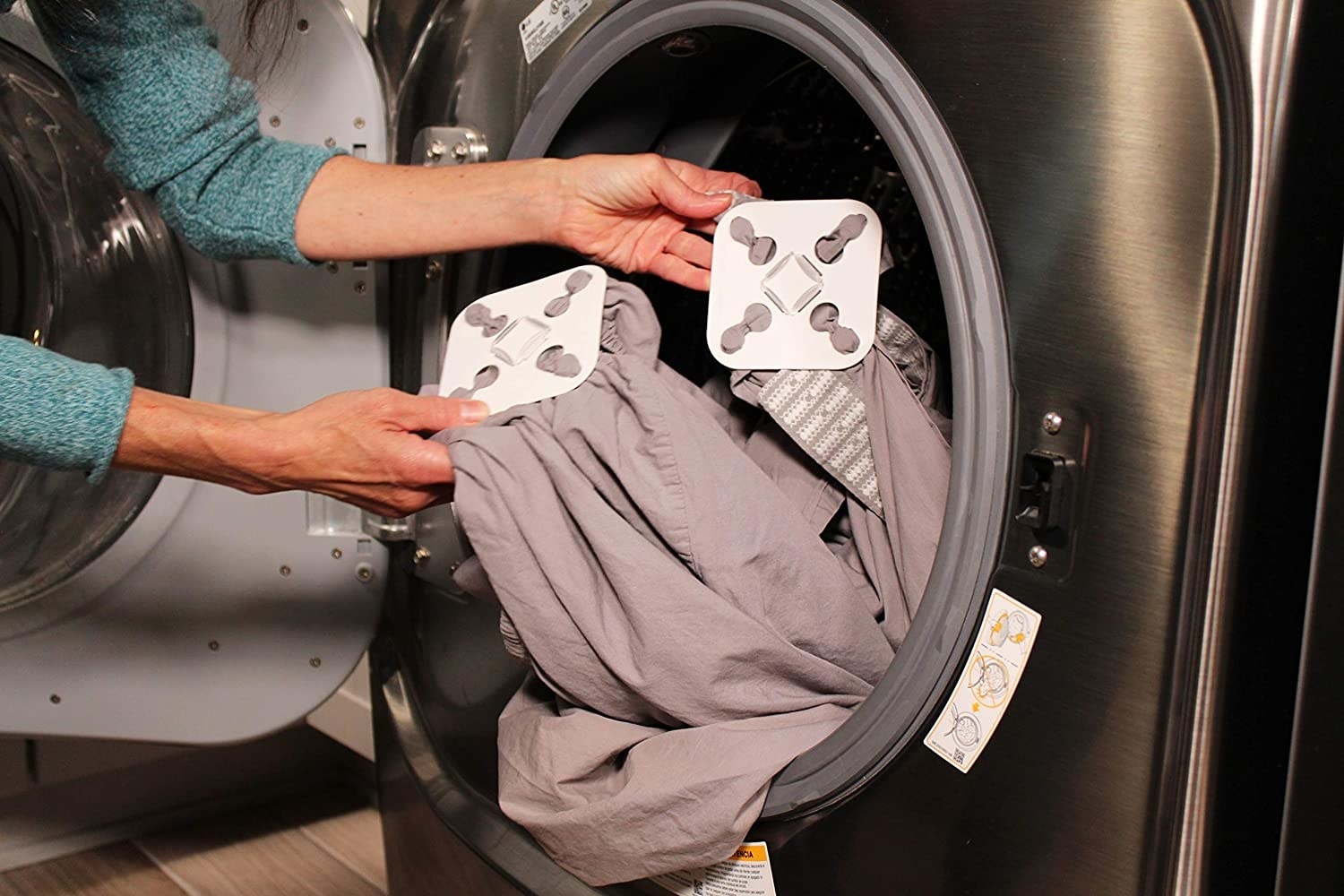 Wad-Free is woman-owned. If you watch Shark Tank, then this product may look familiar to you! Kevin and Lori both made offers, but the founder picked Mr. Wonderful. These are reusable and BPA-free!

Promising review: "Wow!!! You wonder if things like this really work — well, I can absolutely confirm this does! I was impressed that the package came with two of the devices so there was one for the fitted sheet and the flat sheet. I tried it out and my sheets not only did NOT wad up, but they came out of the dryer feeling fresher, feeling more dry, and unwrinkled! I will be buying a set of these for each of my immediate family members and close friends! What a great gift!!!" —katy
Get a set of two from Amazon for $18.99.
10.
A calendar of good for allowing yourself a moment each day to highlight one good thing that happened. We're living in a time where things can easily feel dark, scary, and hopeless, so this is a small way you can highlight the moments that make life feel a little easier and brighter through all the chaos. 

Free Period Press is a queer woman-owned biz based in Cleveland, Ohio that sells thoughtful notebooks, prints, stickers, and more!

Get it for $28 from Free Period Press on Etsy or Amazon.
11.
A pair of shorts that'll make summertime workouts, errands, or just lounging around the house a million times more comfy. These shorts feature a mid-thigh length, are super flexible, and have zippered pockets!

Humankind Swim is a queer woman-owned biz that sells swimwear and apparel that's both gender- and size-inclusive. 

Promising review: "Just what I wanted! Comfy and good length. I love the pockets and the material. I bought two different colors and I wear them all the time when I can. Great for lounging around and for being active too." —Morgan H.
Get them from Humankind for $55 (available in five colors and sizes S–4XL).
12.
A floral bill tracker to make managing your finances a more organized, simple process. Look at you #adulting! So proud of you!
Daisy & Decor sells beautiful and super helpful items to help make life feel more organized like kitchen recipe journals, notepads, cosmetic bags, and more!
Promising review: "This meets all my organizational needs for financial record keeping in one beautiful place. It was exactly what I was looking for and is the perfect size to keep thorough records." —Melisa Sellar
Get it from Daisy & Decor on Etsy for $12+ (available in three patterns and with or without stickers).
13.
A natural oven scrub cleaner so the appliance you use to roast yummy veggies, bake sweet treats, and heat up frozen pizzas will be clean as can be.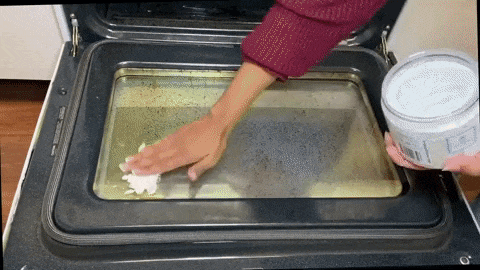 This comes with the jar of oven scrub as well as a professional-grade metallic scrubber. You can use this to clean your enamel oven, racks, the oven door's interior glass panel. Everneat is based in Fairfield, Connecticut and sells 100% natural cleaning products and microfiber cloths. 
Promising review: "I am in absolute shock over how well this works. I really wish I took a before picture. WOW! My oven door window had grime on it for years that i couldn't get off from the previous owners so I'm estimating it's been like that for 4+ years. Nothing helped to cut through it and finally this oven cleaner made it look brand new. Still in shock!! Would highly recommend. Also, the smell of the product is sooo delightful." —Vanessa

Get it from Everneat on Etsy for $19.99 (available in three scents).