You may've heard of Call My Agent! – or Dix Pour Cent – the incredible French comedy about a talent agency scrambling to stay on its feet after its illustrious founder dies suddenly. Well, meet its British adaptation, Ten Percent.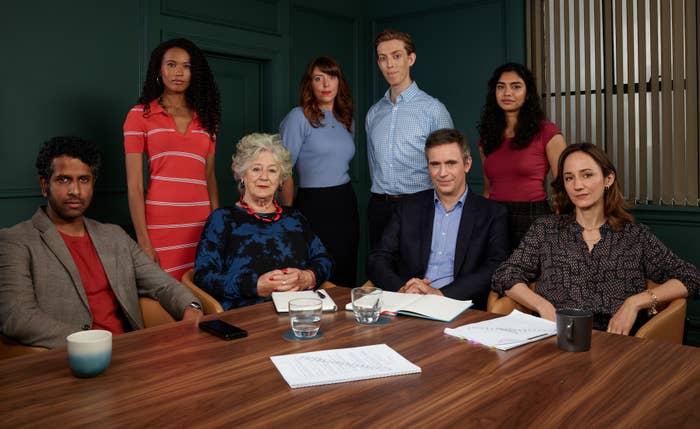 The series is created and written mainly by W1A and Twenty-Twelve auteur, John Morton. We sat down with John, as well as cast members Jack Davenport, Maggie Steed, Hiftu Quasem, Harry Trevaldwyn, and Rebecca Humphries to find out more about the series!
First off, how did this whole series come about?
John: The literal answer is a call from my agent. We went and had a coffee with a couple of producers in a hotel about three years ago. I was a huge fan of Call My Agent!, so the idea of adapting it was very exciting yet daunting in equal measure. Your first thought is, how do I do this without fucking it up?
How did you find your amazing cast?

John: Two words – Rachel Freck, our casting director. She's brilliant! I think Jack was first cast, and I called him on the way to the dentist. Now, today, I can't imagine anyone else playing any of the characters. Initially you're writing blind, and then when the actors come on board, you start to hear their voices in it.
The odd thing is, in this show, there's a group of fictional characters who are our main characters, and into this comes a "real" person playing a version of themselves. That interface between fictional and real is quite strange. Rachel and I are were chatting about whether the actors we cast were too famous to be the agents for the actors playing themselves. I've definitely seen a picture of Jack with Olivia Williams before, for instance, but we cast him anyway!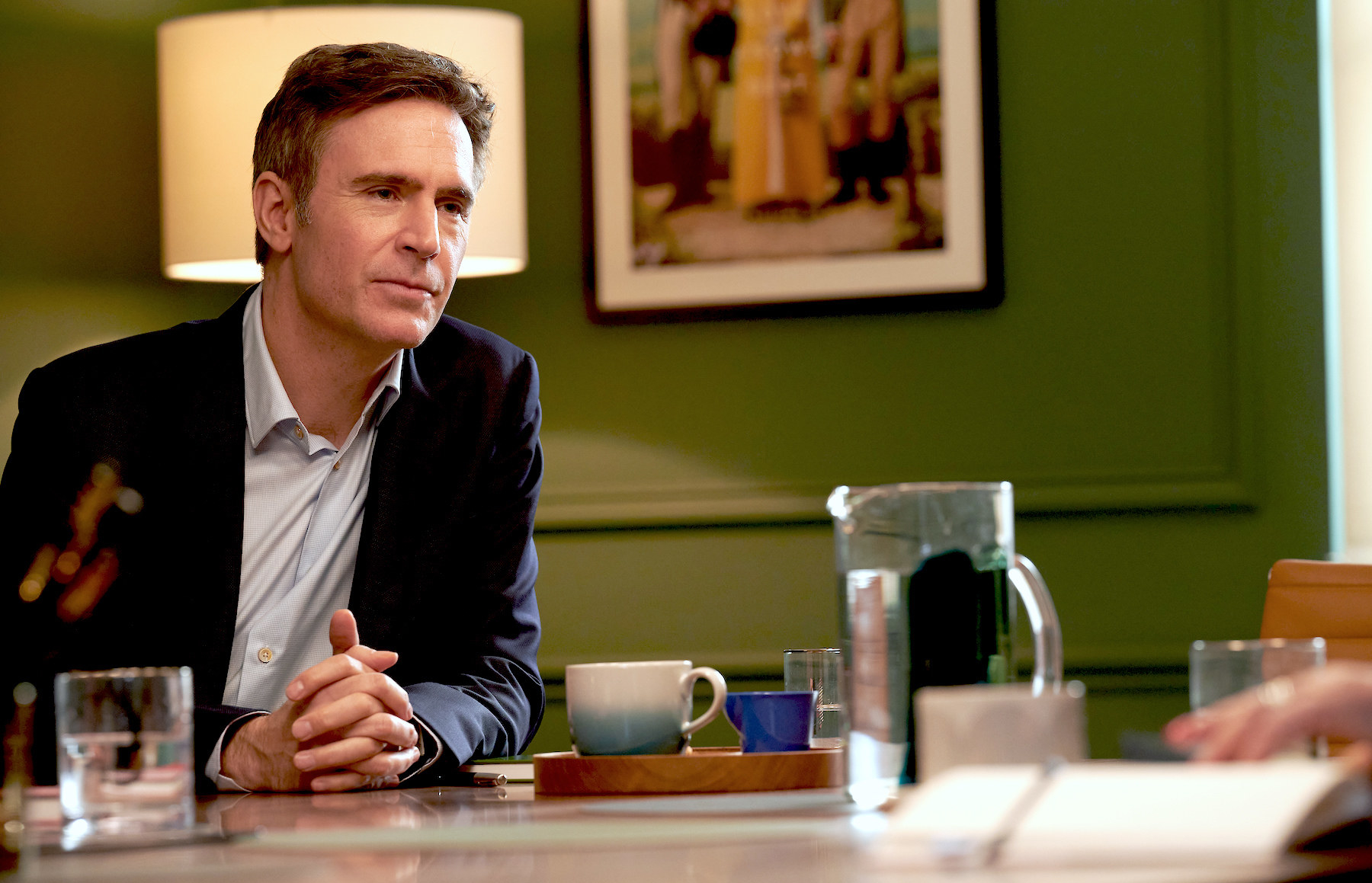 What first attracted you all to the project?
Rebecca: I loved the French series and I love John Morton, so I just knew that of all people, he was going to be able to infuse this incredible concept with a real "Britishness".

Maggie: I agree, there isn't another person to do it in my view. I was incredibly interested anyway because of Call My Agent!, but as soon as I knew John was doing it I knew I had to go for it like a rat up a drain pipe.
Jack: Yeah, I soon as I read it I remember thinking wow, this is awfully good.

Hiftu: I remember feeling like I'd lived a version of my character; I also loved the whole script immediately, every person was really fleshed out.

Harry: Yeah, when the script came through, that was it for me. I was desperate to do it. Once I did the Zoom read through with everyone, I just couldn't wait to start.
Did you feel any pressure to deliver given that Call My Agent! has been such a success?

Harry: I kind of forgot about it when we were filming because what we were doing felt so unique and different, but with an homage to the French original.

Hiftu: Yes, during filming I think we were very immersed in what was happening, but now I guess I feel more pressure. To be honest though, the characters we play and the journeys those characters go on are so different that I think it's a completely new show!
Maggie: I think there was pressure, but what we're hoping to do is steer fans away from Call My Agent! a bit so that they still love that but in the end they'll love us as well for different reasons.
Rebecca: And with our show, you can make a cup of tea while it's on because you don't have to watch the subtitles!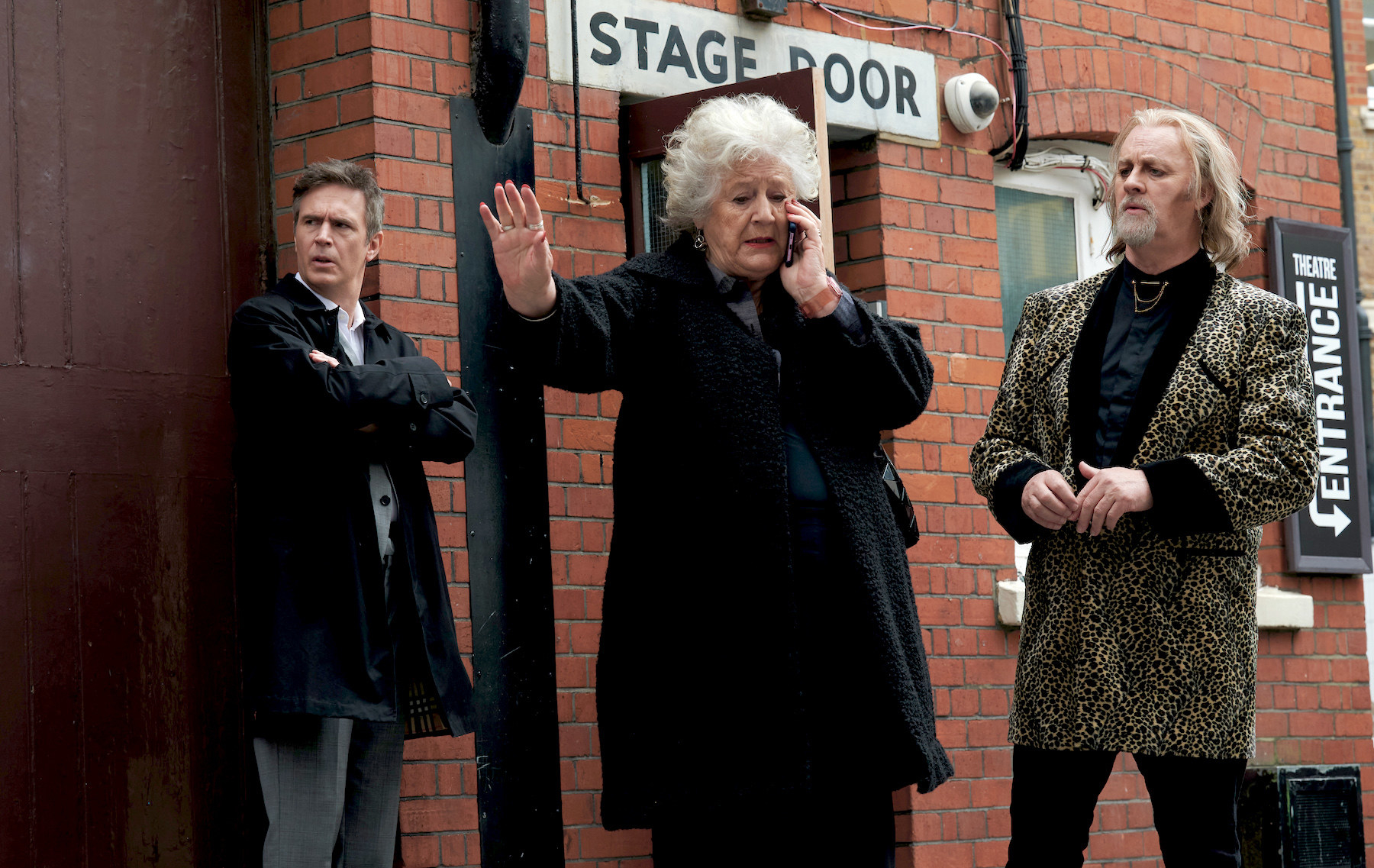 Did you have a favourite scene to film?

Jack: Well, I almost think I can speak for all of us – we were all terrified of the conference room scenes. There's like eight people in those scenes, the dialogue is so rapid and sometimes you won't say anything for like a page and a half, but you need to be on it the whole time. You don't want to be the idiot who drops the ball!
I remember the first one we did, we were all like deers in headlights, but then we found our rhythms and they became the most fun scenes to do. I usually only watch things I'm in once for professional reasons, but I've seen this series four times because I love seeing what everyone did in those scenes!
John, which character would you say is most different to their French counterpart and why?
John: They're all quite different, but I would probably say Jonathan is the most. I decided to make the founder who dies Jonathan's father, which opens up a layer to the character that is new, and it alters the way audiences interact with him, I think. He's not the sort of self-confident, the-world-at-his-feet guy that Mathias is in the French show.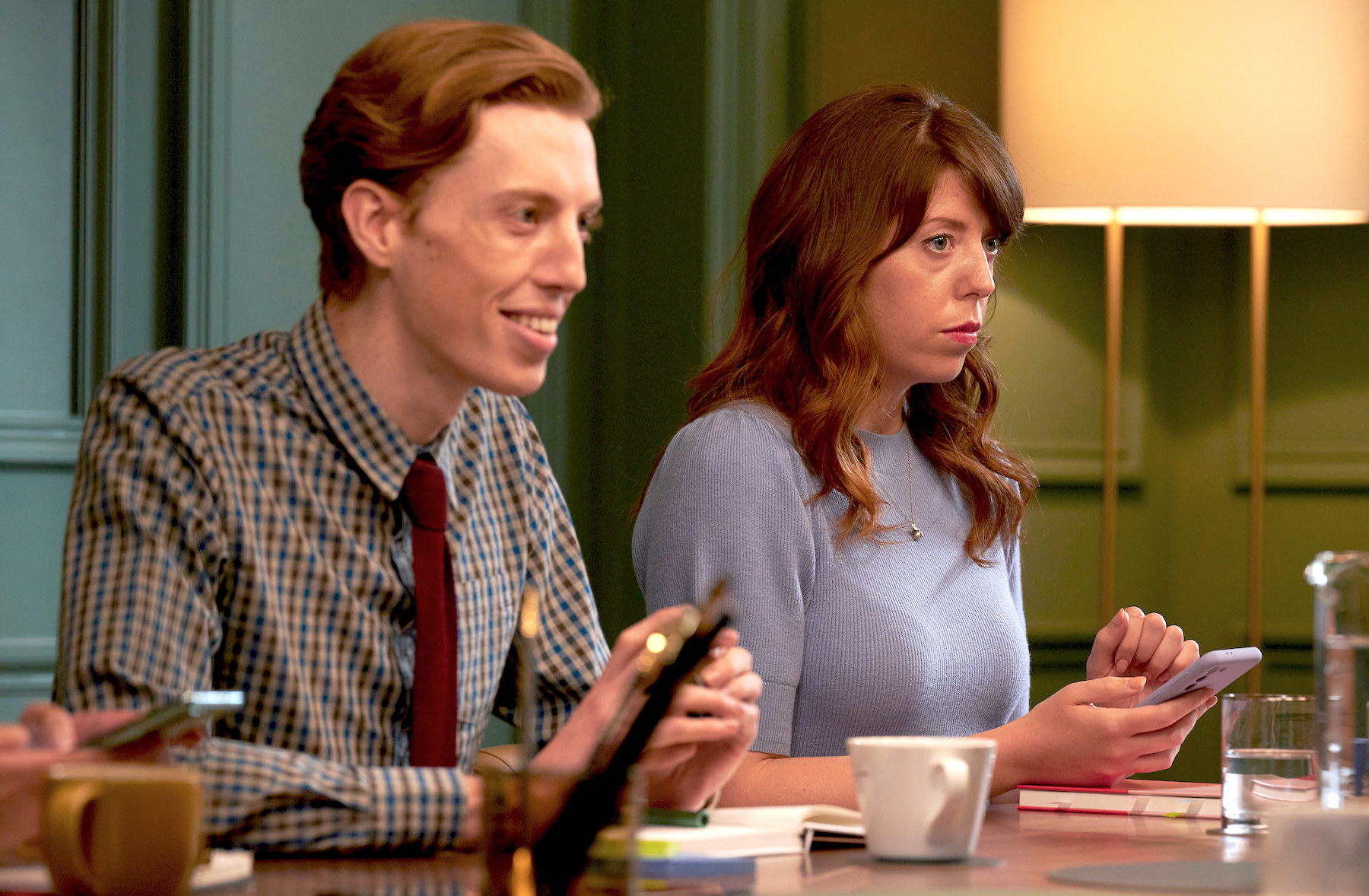 Given you are all actors, was it weird to switch roles and be on agency side?

Maggie: Yes, I suppose it was, but it's a world I know really well. When I was a baby actor, I used to work in my agent's office quite often. We know that agents like to appear cool, but their feet are running like mad under the surface!
Harry: I agree, the actual office felt so familiar to me because I've done so much temping and I did work at an agent's office very briefly. Also, the computers worked, so I was always emailing Hiftu or doing a crossword with the help of the crew!

Rebecca: See, my agent would never let me anywhere near their office! That said, I remember when I got the part they actually told me I should come in and see how everyone operates, but I never met anyone like Julia!
Speaking of, did anything or anyone inspire your performances?

Jack: I've had an agent since I was 14, and my parents were actors who were friends with their agents, so I've been around agents for years. There are definitely certain aspects of agenting I've internalised, which I drew upon.
Maggie: I'd say, in retrospect, I know my character is informed by somebody who I have the most enormous respect for in my agency. I'm not going to say who she is, but she's one of a whole load of older woman who have been agents for years, and you don't mess with them!
Rebecca: Yeah, I recognised Stella (Maggie's character) straight away as one of those woman who has paved the way when the industry was so hard for women. I didn't really take inspiration for Julia from anyone, really. I just saw the page and I knew exactly who she was straight away; this posture and way of speaking just came out!
Hiftu: I spent a lot of time thinking about young people entering the workplace for the first time. One character I considered was Peggy Olson in Mad Men; she's quite unassuming yet ambitious and sharp, but she does push back when she needs to.
Harry: There were so many things that informed my character, but the best thing for me was that Ollie felt like a 3D character who wasn't just "gay assistant".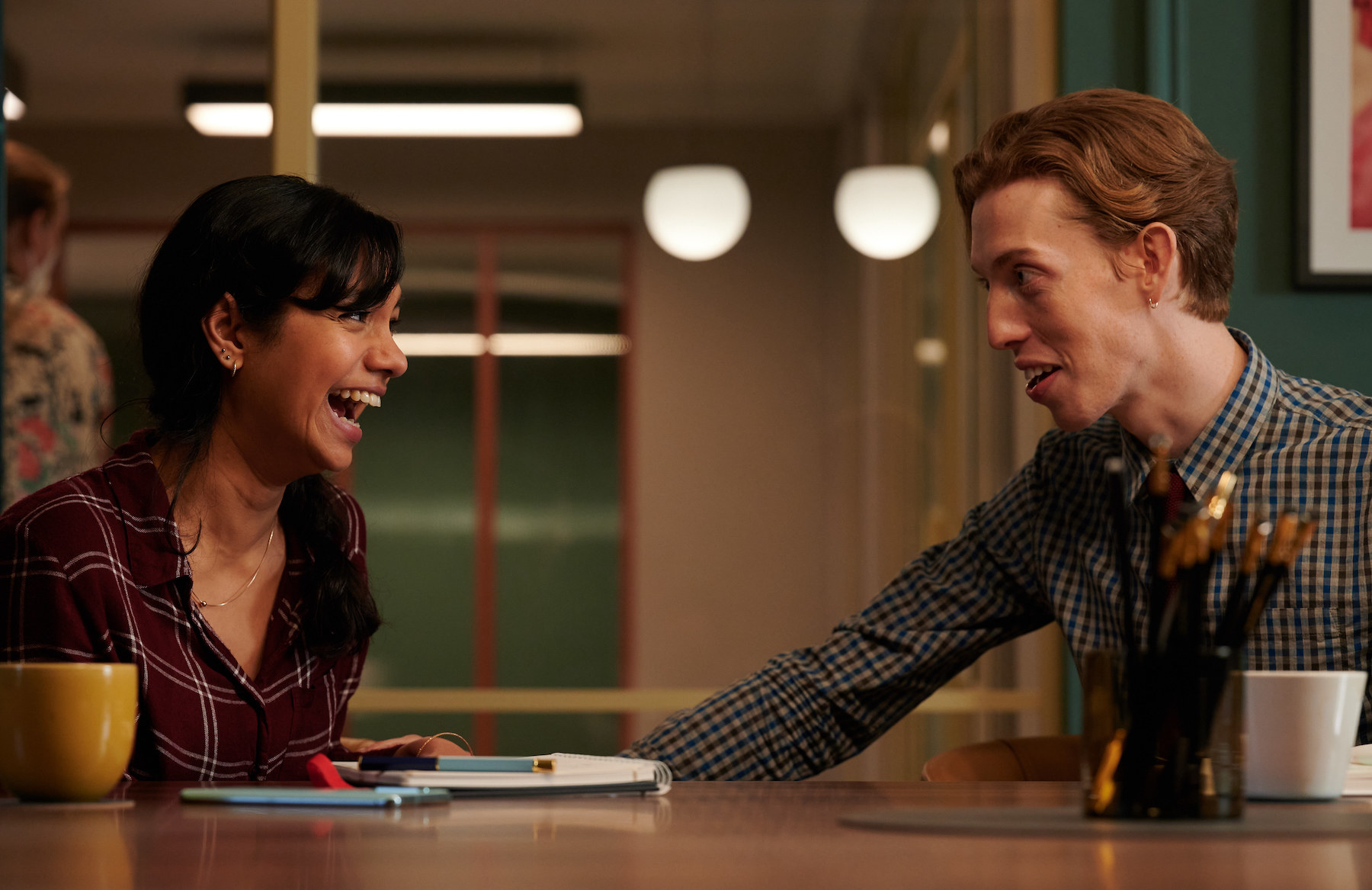 Who was your favourite guest star?

Maggie: Oh, we're not going to say things like that! They were all such fantastic sports! I will say that my client who came in was Dominic West and he was divine, but every single one of them was up for it!
Hiftu: I think Harry and I have the same one – Helena Bonham Carter.
Harry: I mean, she was so iconic. I didn't meet all of them because some filming was done on location, but honestly everyone was amazing. David Harewood also was great and Olivia Williams, I would say, is like a child to me.
On that note, if your character could represent anyone and they make a guest appearance, who would it be?
Maggie: I've thought about this, I would choose Al Pacino because he's such a handful and I've adored him forever! He should be Stella's client, and it would make for funny viewing because he's minute and I'm rather tall. It's always been one of the tragedies of my life that I'm too tall for Al Pacino.
Rebecca: I'd say Jonathan should represent Hugh Grant and he should get off with Julia... or Colin Firth!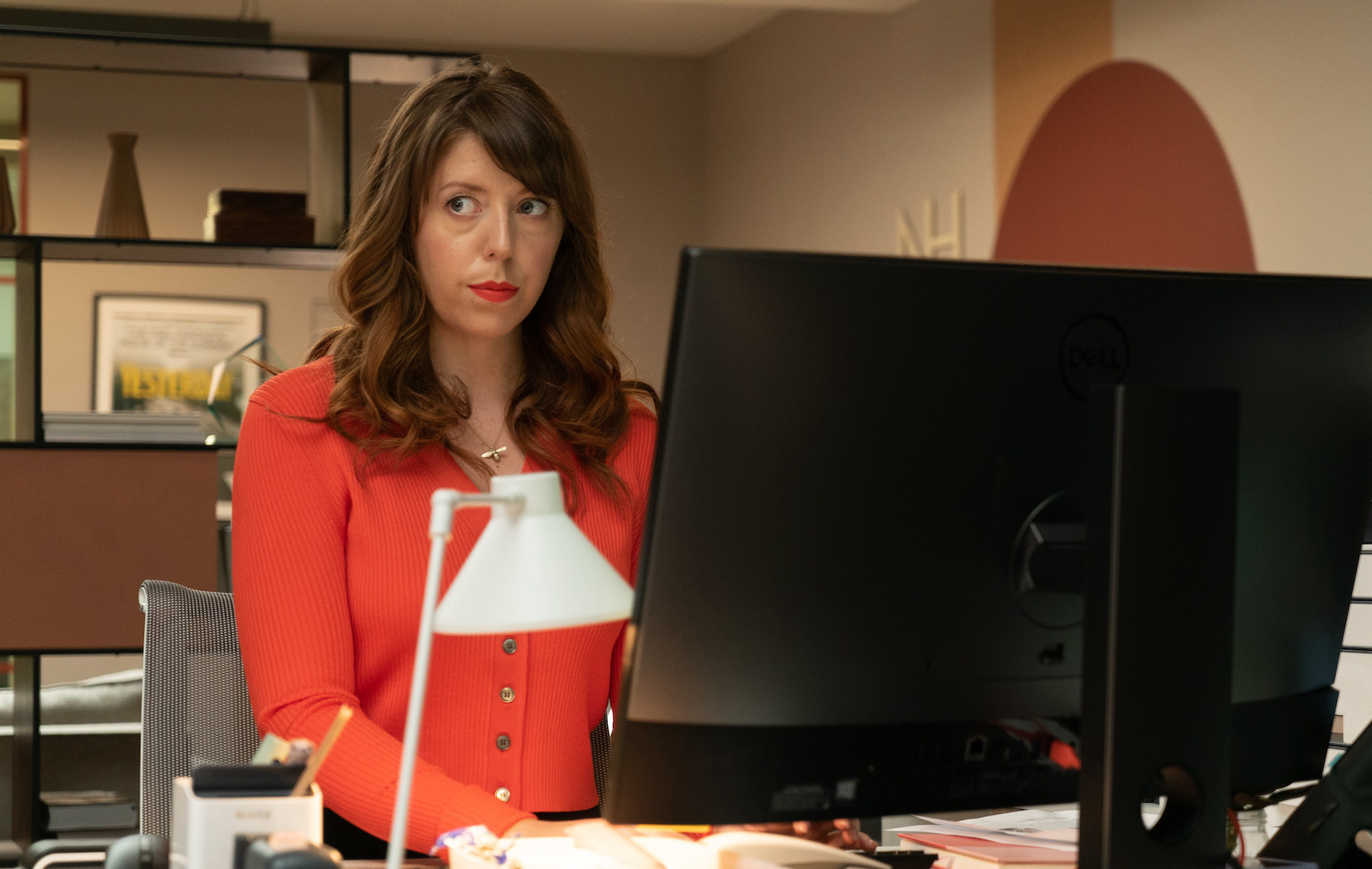 Do you have any memories from the set you can share with us?
Maggie: I have a tragic one – when the dog ran into the glass window! So anxious to please was this dog, that he ended up running into a pane of glass and he sort of winced.
Rebecca: I remember, we were all sitting together – me, Harry, and Amy who plays Chloe in the first episode – and in comes Maggie and we hear this thump. The camera was still on us, but we all knew it was the poor dog!
My last question is, out of interest, have you ever met any of the French series cast?

Rebecca: I wish!
Maggie: Maybe one day, that would be fantastic.
Harry: I want to do a photoshoot where we're all wearing matching outfits!

Rebecca: No, the dream would be, do you remember in Coronation Street when one of the characters went to prison and then she turned up in Bad Girls? That's the dream.
Maggie: Actually, that's a really good idea!
Ten Percent is available now on Prime Video.