Have you made a huge change to your health and/or fitness?
Maybe you've gone from that Netflix binge life...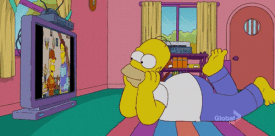 To being super excited about working out.
Or maybe you've changed the way you eat and drink.
Have you found or rediscovered a sport or activity that's helped you get in shape?
And as a result of any or all of these you've lost weight and feel great?
Tell us: How have you overhauled your health and fitness?
We want to hear all about your journey, from the motivation that got you started to the bumps along the way and how you overcame them and transformed yourself. The more details you share (include photos!) the more likely it is we'll profile you in a future post. And if you'd like to nominate a friend or loved one, we want to hear that, too!
Write to us at healthstories@buzzfeed.com with your story for a chance to be featured in a future BuzzFeed post.