1.
A pet hair remover if you love and adore your furry friends but not necessarily the layers of hair and fur they leave on your furniture and bedding. The most wonderful thing about this tool — aside from the obvious: that it works so stinkin' well — is that it doesn't require single-use sticky sheets to pick up hair. Instead, it has an interior wheel that picks up hair/fur/lint and it goes into a built-in receptacle. When you're done using it, just press down on the release button to open it and empty it out completely.

See it in action on TikTok! 

BuzzFeed staffer Jenae Sitzes has this and LOVES it: "The tens of thousands of 5-star Amazon reviews are reason enough to add the ChomChom to your cart immediately — but let me add my own personal review to the stack. I've been using the ChomChom for quite a while now, but I took the photos above literally just now to show just how quick, easy, and effective this roller is. It took 10 seconds to rid my velvet couch ottoman (yes, velvet...a terrible cat owner choice, I know) of the hair my two gray kitties are constantly leaving everywhere. It takes a bit of practice to get the hang of using this roller — at first, I thought you only brushed down in one direction, and was confused why it wasn't picking up hair. It's important to do a push-and-pull brushing in *both* directions so it actually pulls the hair inside, which does require you to apply a bit of pressure. Afterward, you'll just dump out the hair that's been trapped inside. The ChomChom is best for large flat surfaces like couches and beds." 
Promising review: "I was cautiously optimistic, but this tool is as effective as everyone is saying. My couches, and especially my recliner, look brand new. It takes little to no effort to use. Just use it in a 'scrubbing' type motion, and it catches and traps the fur (and other small debris, such as crumbs...) in the little compartment. Pop it open; empty it out. Done." —Ian K.
Get it from Amazon for $29.99.
2.
A garbage disposal cleaner that uses magic bright blue foam to rid your disposal of nastiness and lingering smells. You just plop one of the packets into the drain and then it does its wizardly thing. After a minute or two it's over, and your kitchen sink looks and smells amazing.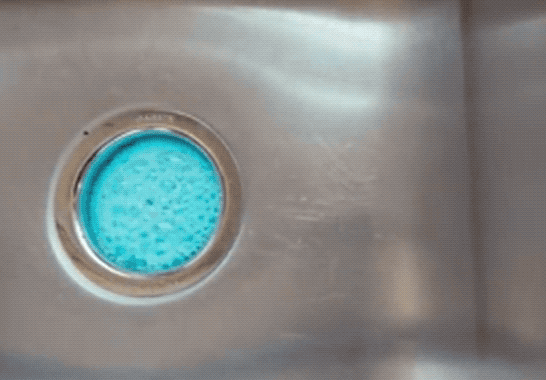 Promising review: "Saw on TikTok (don't judge) and automatically added to cart. So easy to use, takes probably a minute to fully bubble up and clean, and you're left with a clean sink! I use with other drain cleaning products, but would 100% recommend for weekly maintenance." —Jessica Hamilton
Get a four-pack from Amazon for $3.78.
3.
A pack of solar-powered, motion sensor-activated lights to illuminate your nightly walks in your outdoor space. From taking out the trash to picking up that one Amazon package that arrived super late, these will make sure you can safely navigate without fear of stumbling over something you can't see. 
Promising review: "I purchased these to cover the side of my house. Installation was easy and I left them outside for two days to charge. The light coverage was about what I expected from them and do the job well. The motion sensitivity covers all the side and lights turn on. It has rained about three times and still work great and hoping they last for a long time." —J. Argueta
Get a set of four from Amazon for $29.99.
4.
A Bissell Little Green cleaner capable of tackling the most aggressive messes and stains, all without the annoyance of a cord. Reviewers have used this to save their couches, rugs, stairs, car seats, and more. 

It comes with a tough stain tool, a HydroRinse self-cleaning hose tool, and a trial-size Spot & Stain with Febreze Freshness formula.

Promising review: "This vacuum is amazing. I first heard of it on TikTok where people were using it to clean their stairs, mattresses, car seats, etc. and from the videos, it already looked amazing, but considering how dirty my dining chair cushions were, I was a little bit apprehensive and skeptical. I purchased the item and used it on my chairs for the first time and the results were SO AMAZING. I posted photos for reference of how dirty my cushions were before the cleaning and after the cleaning! Best vacuum I've ever used. I even bought a second one!" —Davina
Get it from Amazon for $123.59.
5.
A carpet cleaner that's a celebrated miracle product — there's a reason it has over 50,000 five-star ratings! I personally have been using this product for years, and it's easily cleaned up all sorts of spills I was sure would leave a permanent stain. Just spray, let it saturate for a few seconds or minutes, and then pat dry. 

Promising review: "It's a miracle in a bottle. My German shepherd mix decided to pull a black fountain pen out of my purse and chew it to pieces on my beige carpet while I was sleeping — this cleaner lifted the stain, and now it's like the devastation my dog caused never happened! As soon as I saw it lifting the ink, I got back on Amazon and bought more bottles. I will never let myself run out of this. I use it in my Bissell carpet cleaner for some crazy good cleaning power. I've become that weird lady who goes around singing the praises of a cleaning product. No regrets." —L. Logan
Get it from Amazon for $6.65+ (available in two sizes and various packs).
6.
A pack of fabric shelf dividers to make sure you get the most out of your shelf space. These snap onto the bottoms of shelves and provide the support to pile soft goods like sweaters, pants, and bedding as high as you'd like without fear of it toppling over.
Promising review: "I was a little doubtful about these being able to stand up straight but was pleasantly surprised. I'm using them in an old antique cabinet/wardrobe to separate stacks of clothes that would otherwise turn into a pile of clothes on a shelf. I would definitely buy again." —the booniepepper
Get a set of two from Amazon for $13.99.
7.
And some labeled Sheet Keeper bands for keeping all your sheet sets tidy and labeled, because it's the pits when you go to change your bedding and you grab the wrong size sheets.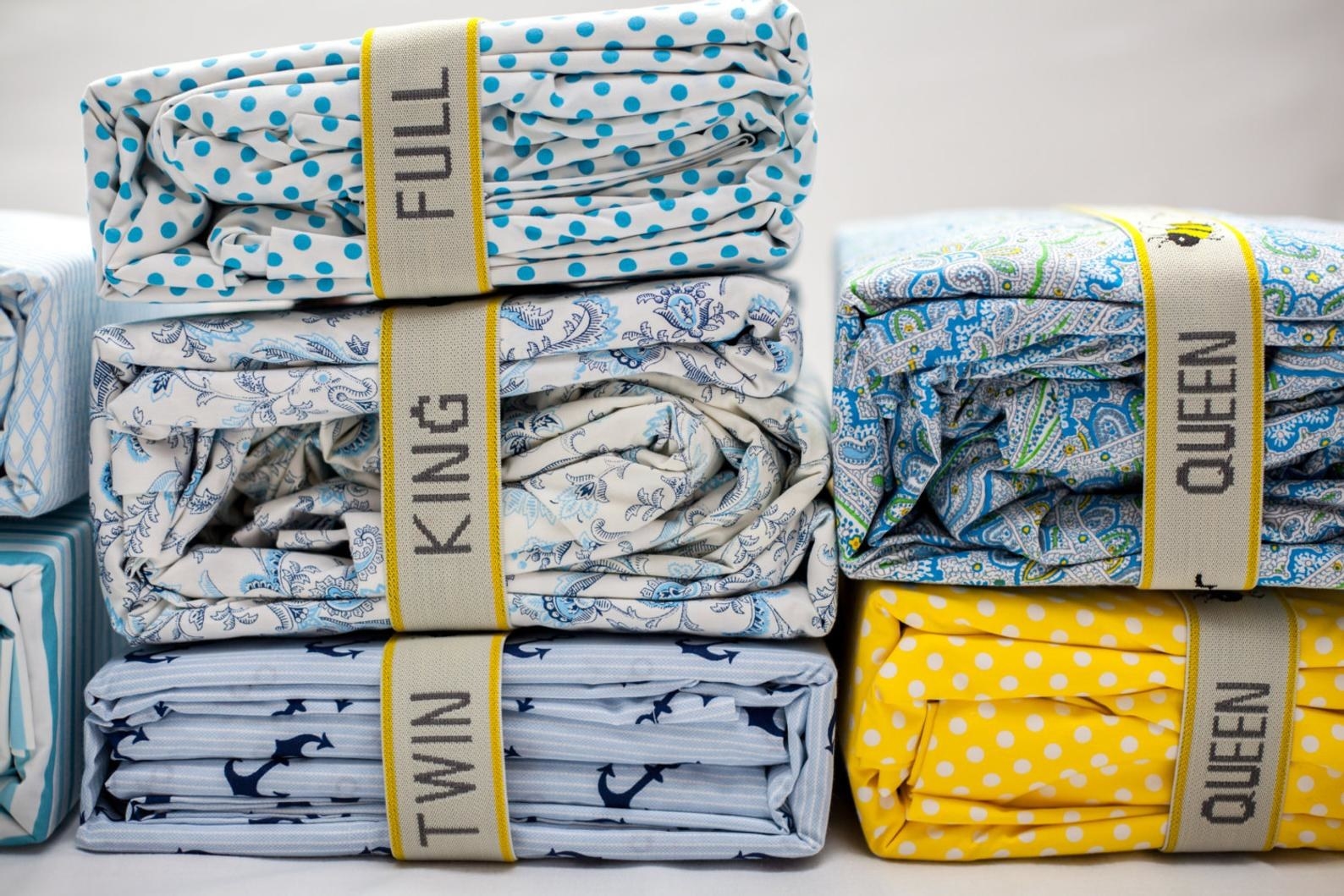 Sheet Keeper is a woman-owned small business based in Los Angeles and their adorable bedding bands will actually make staying organized fun!
Promising review: "Great product. Came quickly and they work great! Such a great idea to keep sheets organized and together while being able to tell what size bedding it is. Will order again for sure!" —devonhansen1
Get a set of two from Sheet Keeper on Amazon for $14.99 or Etsy for $15.99 (available in sizes twin—California king, as well as in duvet and comforter labels).
8.
A TubShroom, because hair and bathing products clogging your drain can be an expensive nightmare to fix. Instead, this little guy catches the gunk before it enters the drain, and then you just remove it once it fills up. Trust me, this thing rules — it even has 84,000 perfect ratings on Amazon! 
Promising review: "I hardly ever write reviews but this thing is so amazing I had to share. With every shower I take, I shed a TON of hair and (as you can see from the picture) stick it to the wall so that no hair goes down my drain. I thought this method was working out well but my drain was continuing to stop up. I figured it must be my sister's fault since I was so good about not letting any hairs go down the drain, but I went ahead ordered the TubShroom after seeing advertisements on Facebook. I got this thing and after only two showers, it collected a crap ton of my hair that I didn't catch. It really is so easy to install and wipe away the hair, exactly like the videos. Awesome invention and I'm super happy with this purchase!" —Megan K.

Get it from Amazon for $8.99+ (available in six colors). 
9.
However, a drain clog remover if a clogged bathroom drain is already a problem for you, especially if you just bought a place that had previous owners! 
Just stick it down your drain and it'll lift out all of that gunk — try not to be too grossed out when you see what's been hiding down there.
Promising review: "When I pulled the orange plastic spiked strip from the package, I was immediately skeptical and felt like all those 5-star reviews were from people who exist in an alternate universe. I was tempted to initiate a return on Amazon but decided that I might as well gamble on a piece of $9 plastic before gambling $200 on a plumber. I slipped the plastic strip down my shower drain and literally FIVE SECONDS LATER I was pulling up gobs and gobs and gobs of hair. HOLY COW!!!!!!!! OHMYGOSH. I can't believe I still have any hair left on my head. SO MUCH REPULSIVE GUNK!!!! I saved my prize hairball on the shower floor to show my husband because I knew he would be as skeptical as I was. We both agree it looks like a small raccoon or a large squirrel lying helplessly on my shower floor. It's a grisly, messy, smelly and oh-so-rewarding job." —Chocolate and Chips

Get a six-pack from Amazon for $9.29+ (available in orange or green).
10.
A critter catcher so you can humanely and from a distance catch and release bugs from your home. The bristles mean the critter can't escape while it's trapped, but is soft enough that it won't hurt them. Just take 'em outside where they belong and set them free.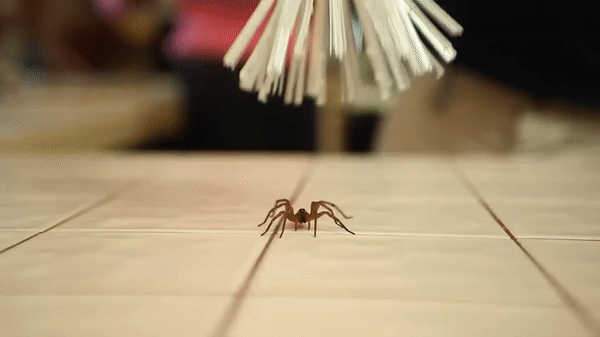 Promising review: "This thing is awesome! Initially I was hesitant that it would squish the little guys or they would fall out in transport but it's great! Highly recommend! Sorry your GPS brought you into my house, little guy, I will help you find your way back outside :)" —Crystal R
Get it from Amazon for $22.95+ (available in three colors).
11.
And a pack of disposable Houseplant Sticky Stakes if your houseplants are in trouble and it's due to a pest infestation. These will capture all the pests, and quickly, so that your plants can return to their former glory. 
Promising review: "Holy cow these suckers work! I'm so grossed out by the result, but at the same time, I have a sick sense of satisfaction. I used these in my house plants that are breeding fungus gnats like crazy. I used them in conjunction with beneficial nematodes, and they definitely cut down on the number of gnats in our house. I'm buying another package of sticky traps as soon as I finish this review!" —Megan
Get a pack of seven traps from Amazon for $5.33.
12.
A dryer vent cleaner attachment to suck out all the old lint from your dryer. You will be shocked — shocked! — at how much buildup is in there, and then be stoked because your clothes will dry way faster. 
This adapter is compatible with most vacuum cleaner pipes, so all you have to do is attach it to your vacuum and guide it around your dryer to suck up excess and hard-to-reach lint. Too much lint buildup not only slows down the drying process, it's also a fire hazard, so this handy device can actually be considered a safety tool!
Promising review: "Yes, we had a sock in our dryer vent!! This past summer, the lint trap broke on our dryer. Our kids ran the dryer regardless! What a disaster. Received my vacuum kit today, and now my clothes are dry! I sucked up the sock, as well as a piece of lint roller tape. Great product!" —Laurel Enoch
Get it from Amazon for $11.99+ (available in five colors).