1.
A slim profile pull-and-rotate cabinet organizer that smartly stacks spices and such on top of each other thanks to two shelves. The top shelf holds short items, and the bottom shelf holds taller ones. 

Promising review: "TikTok inspired me. Guys, this thing is the real deal. Everything that doesn't fit on my spice rack ended up cluttering my cabinets. This thing solved that problem efficiently, quickly, and reasonably. We added a little extra double-sided tape to the bottom to make it extra secure. Love it." —Kaitlyn B. 

Get it from Amazon for $29.99. 
2.
A do-it-all toothbrush holder and dispenser to mount to your wall. Over 6,200 reviewers on Amazon have given it 5 stars because it really is the best thing ever. It's an amazing product that dispenses toothpaste and keeps your dental hygiene essentials tidy and off the countertop.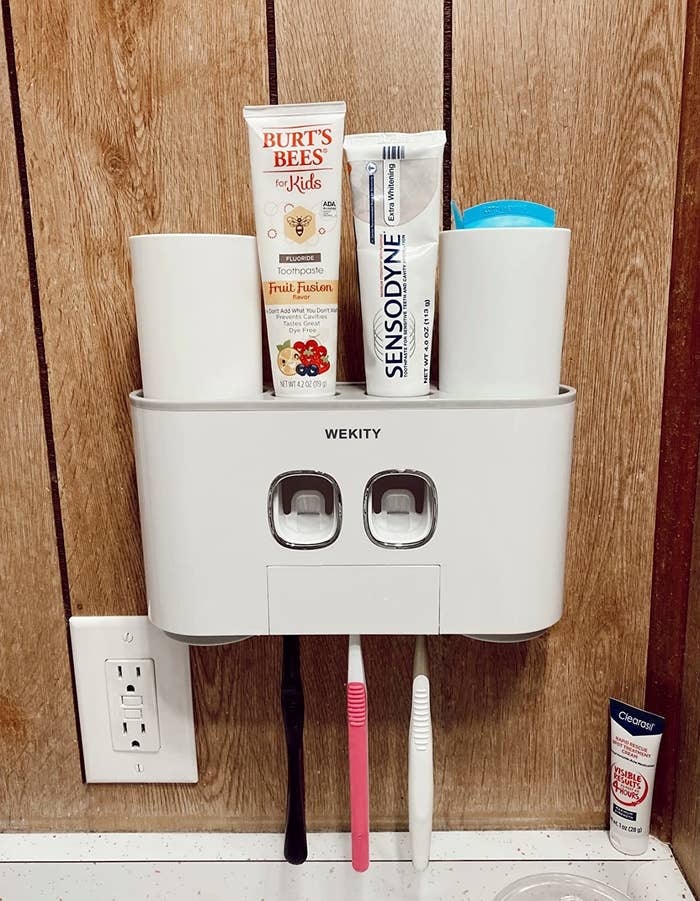 3.
A paper towel roll holder that literally sticks to your wall or under the cabinet, all thanks to being backed with self-adhesive. That's right, this genius product requires no tools to install and won't damage your walls or cabinets with nails or screws. You're going to save so much countertop space, too!

Promising review: "I just happen to see this in a TikTok video and immediately went to Amazon to order! Matches my stainless steel theme of my kitchen, super easy to install with included adhesive stickers, sturdy! Looks fabulous, great price." —Nana
Get it from Amazon for $12.99+ (available in seven finishes). 
4.
A super-slim three-shelf storage cart, because we all have those awkward slivers of space in our homes that we really wish we could do something with. I'm talking about the spot between the laundry machines, the fridge, and the wall, and even your nightstand and bed.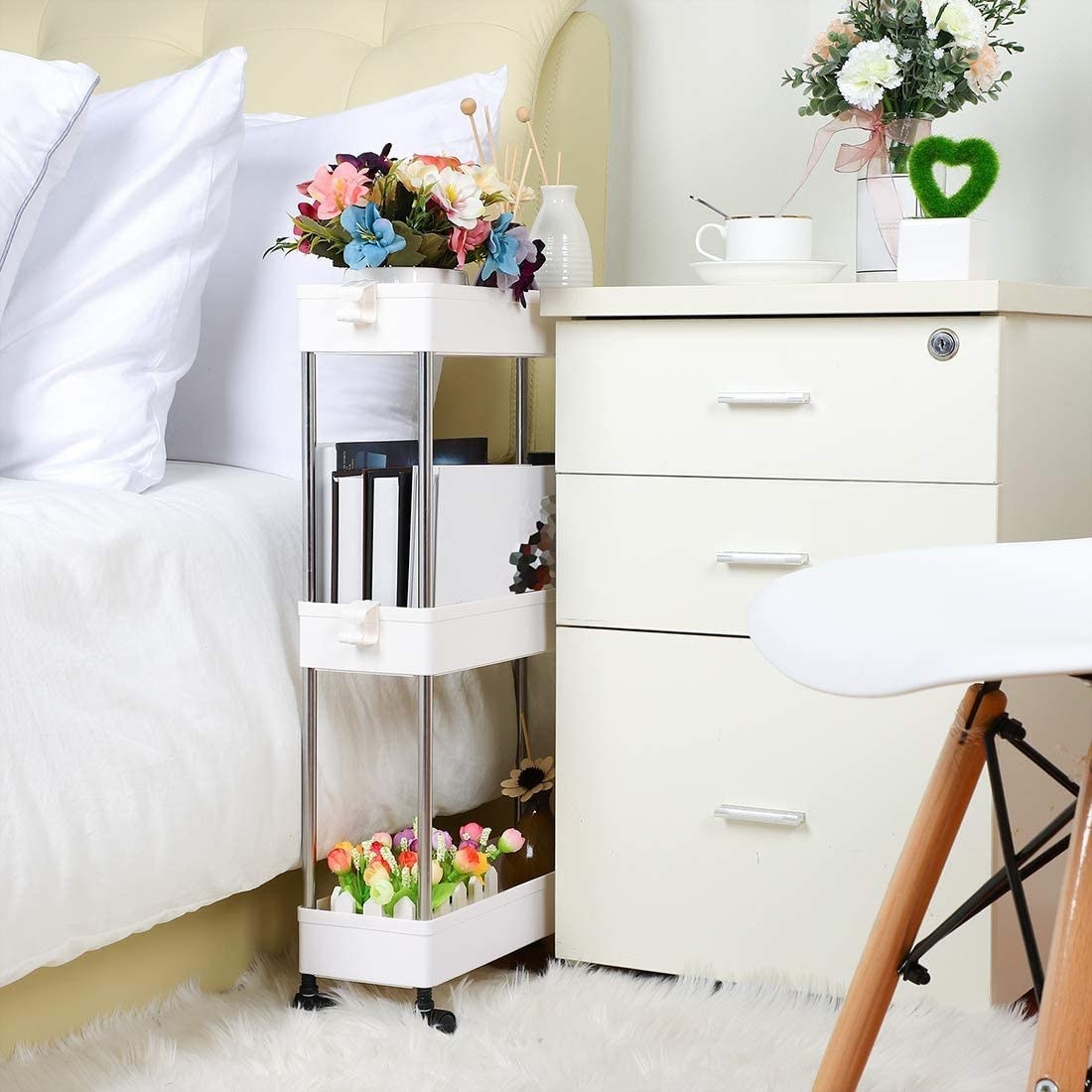 Promising review: "This has transformed the way my bathroom looks in the best way, I have nothing on my floor and top of my toilet anymore and it really just makes everything look 10x cleaner!! I wish I would have bought this sooner, literally will do wonders for whatever it is you need to keep clean and organized (just make sure you're getting the right size and you'll be golden!!)." —Monika Fia
Get it from Amazon for $21.99 (available in three colors).
5.
A "Bread Buddy" dispenser to keep your bread fresh for longer. The bread stays in its original bag — which prolongs its life — and dispenses one slice at a time. It's designed to stand upright, which will free up valuable countertop or fridge space. 

Check out a TikTok of the Buddeez sandwich bread dispenser in action. 
Promising review: "After 14 years of my kids not sealing the bread back up, we have finally found a solution to bread going stale before being used up! Not only do these prevent waste, they allow me to stand the loaves on end, saving valuable counter space! It's a win-win." —Katherine Anthony

Get it from Amazon for $12.49 (available with a white or red lid). 
6.
A set of two under-bed storage containers that can store seasonal clothing or bulky bedding. Reviewers say you can easily store four of these under a queen-sized bed. 
Promising review: "These storage bags are fantastic. I live in a small apartment where storage space is at a premium. I use these to store my Costco toilet paper and paper towels so I don't need to make as many trips to the store. It keeps them in pristine condition and out of sight. The handles make them easy to pull in and out, and they fold up nicely when not in use. I'm thinking about getting two more since four will fit under my queen bed." —Kimberly Dorn
Get it from Amazon for $12.97+ (available in six colors).
7.
A super slim rolling egg dispenser to fit into that sliver of space in your fridge where nothing else will — especially a traditional cardboard carton of eggs. This genius product instead stacks one row on top of the other, so it holds a dozen (and maybe a few more, depending on egg size) eggs but takes up 50% less space. Each time you take out an egg, the row slowly rolls forward. 
Check out a TikTok of the egg storage roller in action. 

YouCopia is a woman-owned small business that specializes in home storage solutions. 
Promising review: "Here it is! The best egg container on Amazon! How can I say that? Easy! Engineering! The slight tilt angle on the bottom of the container that the egg drawer sits on forces eggs to lightly roll forward, keeping all your eggs in the front, and never in the back, where you don't need them. It's super easy to use, so easy to clean, comes apart and can hold a full can organizer on top without issue, so no issues with sturdiness. It can easily hold 14 large size eggs. Easily one of my favorite purchases." —Karingen
Get it from Amazon for $19.99. 
8.
A two-tiered turntable so you have all your spices and cooking staples accessible. I actually use this for my laundry detergents and cleaners, and it's saved me so much time and space. 
Promising review: "This turned a mess of a cabinet into an organized cabinet. We use A LOT of spices and it was always a nightmare to find the right one. Now I just spin to find what I want. It's a nice height too and allows for different size bottles to be placed on the racks." —Vegmom
Get it from Amazon for $14.19+ (available in 12 colors).
9.
A bamboo toilet topper tray that's both practical and aesthetically pleasing. From extra toilet paper and wipes to candles and a few good books, this will provide enough storage for all the little extras we like to keep in our bathrooms.
Promising review: "This is a great tray for the back of a standard toilet! I used mine as a decorative piece, but I plan to order a second for my master bathroom to hold cotton swabs, an extra roll of toilet paper, etc. I love the way it looks!" —A. Michelle
Get it from Amazon for $19.95+ (available in two styles).
10.
An expandable shelf so you can finally organize all the stuff that's in the cabinet under your fridge. The shelf has an opening in the middle so your sink's awkward pipe has a place to go. 
Promising review: "Great product for a great price. Very sturdy, but lightweight and small. Under my bathroom sink is *very* small, and the metal frame is thin enough that it doesn't take up much space, and of course it allows me to utilize the empty vertical space instead of shoving things all the way to the back wall." —Calvin Laszakovits
Get it from Amazon for $22.87+ (available in three colors).
11.
An acrylic makeup organizer if you have an amazing but massive collection of makeup and nowhere to store it. Instead of trying to make room in a drawer or cabinet, position this on your vanity or bathroom counter and have it hold everything you need to get glammed up.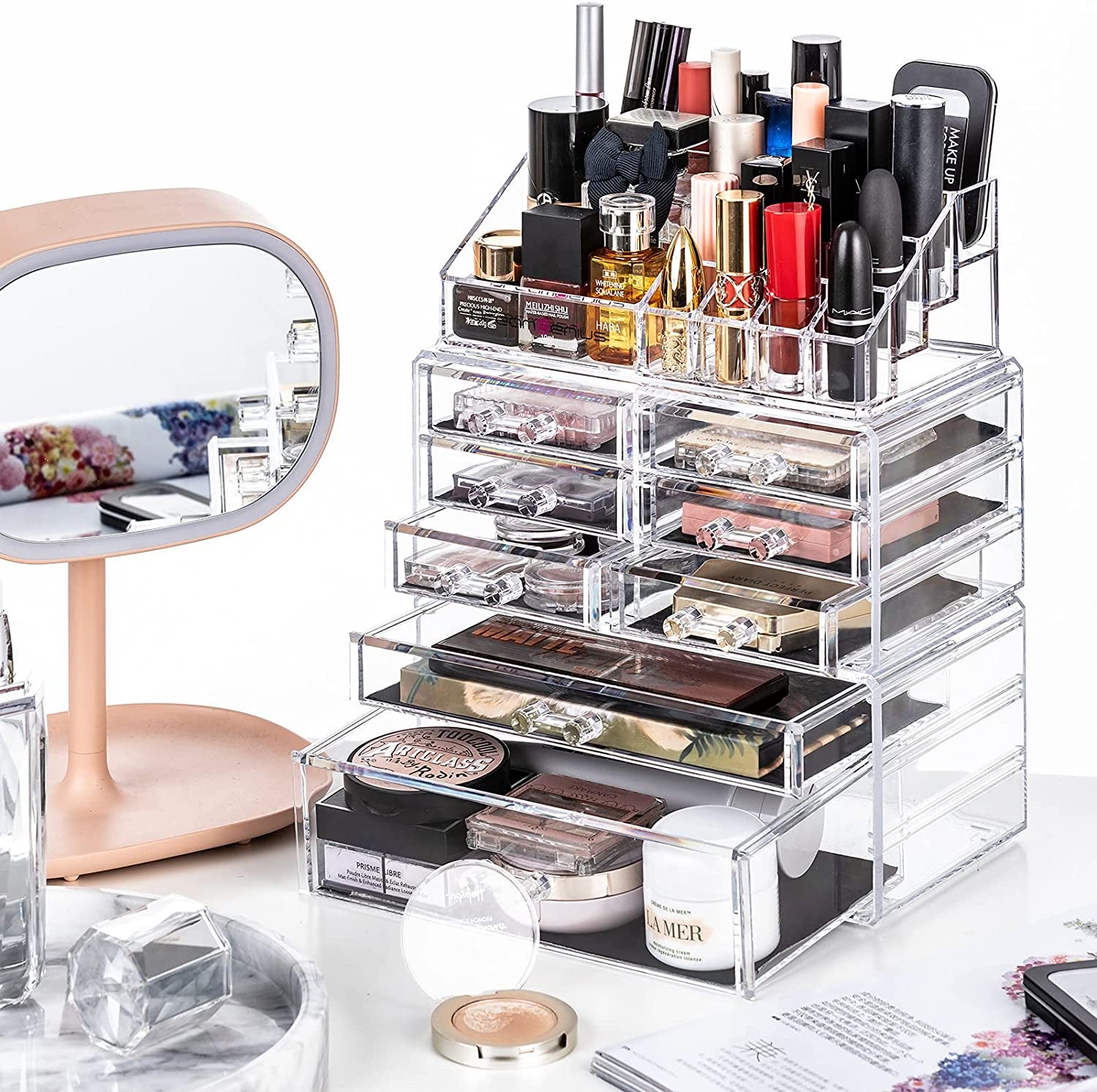 Promising review: "I am amazed at how much this organizer actually fits! I have a TON of long makeup brushes and liner pencils and other things that I was worried would be too big for this, but everything fit great. The material is durable and looks well made (for a bit of clear plastic). My favorite parts are the wonderful drawers that fit a BUNCH of stuff (I believe I have three full-sized eye pallets in one of them) and the fact that you can take each level apart. You can split up your organized makeup and use the organizer for different areas of your bathroom or closet. Great purchase! Has definitely made my beauty products much more manageable and fun! It's easier to use more of your fun makeup when you actually know where it's at!" —brian k
Get it from Amazon for $28.99+ (available in three styles).
12.
An ultra-thin electrical outlet cover that's brilliant if you have furniture that needs to be pushed up against a wall. Now, you can discreetly and completely hide the entire outlet and rid your walls of bulky cords.
Promising reviews: "Very very nice. I am a renter so putting a huge hole in the wall to hire my wires was not going to happen, after searching for something that can help with the look of the wires in my living room I am glad to have come across this socket! I love love it. I just installed it last night, I'm extremely happy with the look and the adhesive works really good. I highly recommend." —Nlizr
Get it from Amazon for $23.95+ (available in various lengths).