1.
An aesthetically pleasing dishwasher magnet so you always know if the dishes inside are clean or dirty. I live in a home with my spouse and our toddler, and receive frequent visits from my mom and my MIL, all who help out equally. We cook A LOT at home, so the dishwasher is always in use — I'm talking two to three times a day. This saves us all a lot of time.

Before we had this, there were several instances where, groggy in the morning, someone unloaded all the dirty dishes into the cabinets before realizing they hadn't been cleaned yet. Since getting this, we've never once not known if the dishes were clean or dirty. A lifesaver for our busy household! 
Promising review: "I never thought I would need one of these magnets, but I'm that person who thoroughly rinses everything before loading it into the dishwasher, and that started causing some confusion for our family. After my son was born and I returned to work, we had both sets of parents watching our baby every week on different days, and things got chaotic around here. Not only did it stop my MIL from using dirty dishes she was retrieving from the dishwasher instead of the cupboard, it helped my husband and I stay on track with loading and unloading it accordingly. It sticks great to my stainless KitchenAid dishwasher, and as soon as I unload it I switch it to the red "dirty" side so everyone knows not to grab glasses from there. Once it's full and I start a new cycle, I switch it back to the green "clean" side so that when it's finished running, anyone can unload it and put the dishes away or just fish whatever they want from there to use." —Amazon Customer

Get it from Amazon for $7.97+ (available in three styles). 
2.
A pack of motion-activated, rechargeable, wireless LED lights to perfectly illuminate your bathroom at night. My bathroom's light switch automatically turns on my obnoxiously loud ceiling fan, which at night can wake up the whole house. Now, whenever I need to use the restroom at night (which seems like every 15 minutes since I'm very pregnant) these automatically turn on whenever I open the door.
3.
An insulated tumbler cup with a straw lid so you'll stay hydrated. I am a person who is constantly drinking water, and as the weather heats up I like to make sure my water stays cold. Like REALLY cold. I've tried SO MANY different insulated bottles, but none of them keep water cold as long as this one does. I've put ice in this at night, and in the morning my water is still cold and the ice hasn't even melted completely.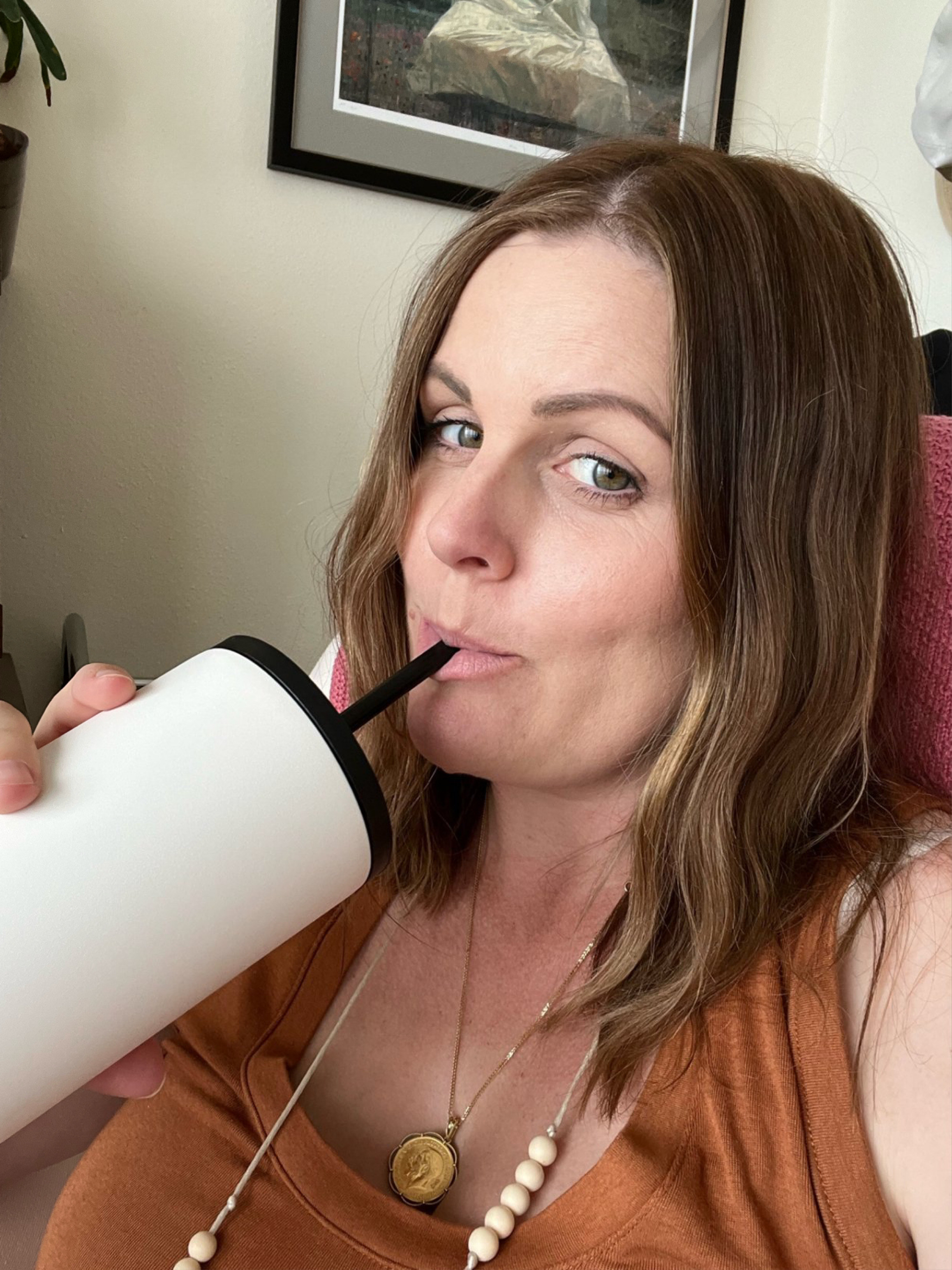 Sally Elshorafa / BuzzFeed
I use this tumbler every day and I've saved so much money by not guiltily buying single-use plastic bottles. It's dishwasher-safe and super easy to use. I take it with me wherever I go! It has over 34,500 5-star ratings on Amazon for a reason. 

Promising review: "I'll probably end up getting another, I love it! Filled it with iced coffee and halfway with ice before going to bed, then when I got up to take it to work, ice hadn't watered down one bit. Despite the cup being a little cold, it got to room temp on the outside fairly quickly (still without melting the ice), making it easy to hold. It's been about 20 hours since I fixed my iced coffee and it's melted a little but is still absolutely an ice block. And!! When I made my coffee, the ice was kinda clumped so I shook it with the straw lid on and no spill. Maybe I'm just easily amazed but I'm truly in love with this cup." —Kaity Turner
Get it from Amazon for $18.99+ (available in four sizes and 24 colors and patterns).
4.
A food scooper that easily scoops foodstuff from any smooth surface, like countertops and cutting boards. There is no kitchen tool I use more than this — egg shells and chopped fruit in the mornings, diced and minced veggies throughout the day, and even food scraps when I'm cleaning as I cook.
5.
And a toothpaste squeezer that doubles as a stand so you never waste toothpaste or countertop space again. I'm a person who likes an uncluttered bathroom countertop, and having this hold my toothpaste straight up as opposed to just laying it down frees up space and keeps it looking tidy. It also makes sure no toothpaste ever goes to waste; I've noticed since using it that I go way longer between needing a new tube.
Me literally any time I get to use these great finds: