Easy Upside Down Kiwi Cake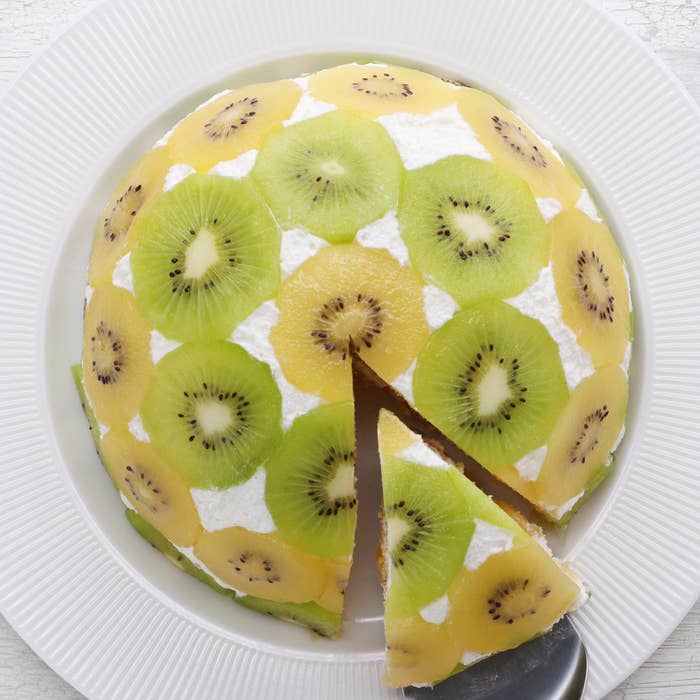 INGREDIENTS
1¼ cups heavy cream
1 tablespoon sugar
¾ cup Greek yogurt
1 castella (rectangular Japanese pound cake)
4 kiwi, sliced
½ cup pineapple, chopped
1 orange, chopped
PREPARATION
1. On a cutting board, cut the castella into ¼-inch slices.
2. In a bowl, use a hand mixer to combine the heavy cream and sugar. Add the Greek yogurt and blend until stiff peaks form.
4. Line a 7x7 inch bowl with plastic wrap.
5. Add the sliced kiwi to the bowl. Add a layer of whipped cream to cover the kiwi. Place the castella on the cream.
6. Add half of the chopped orange and pineapple. Cover with a layer of whipped cream, and top with castella. Add the remaining half or orange and pineapple, top with whipped cream, and remaining castella.
7. Cover the top layer in plastic wrap, and refrigerate for 3 hours.
8. Place a plate on the opening of the bowl, and gently turn the bowl over, removing the plastic wrap.
9. Slice the cake, and enjoy!