Ramen Muffin Bites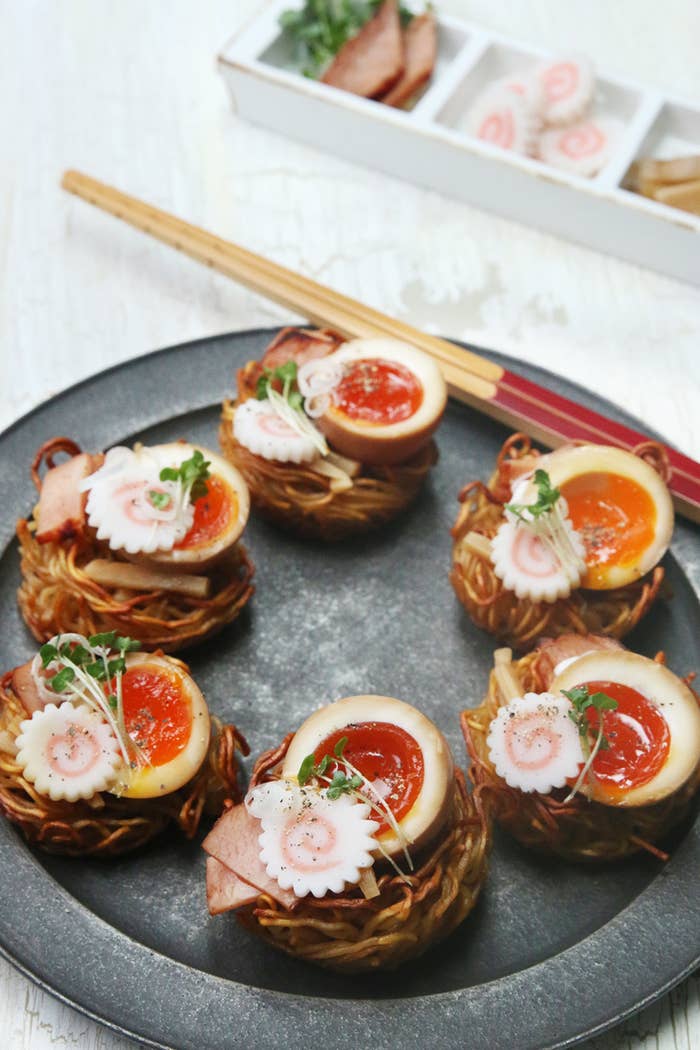 INGREDIENTS
6 cups
Marinated Boiled Egg
3 soft-boiled eggs
2 tablespoons soy sauce
2 tablespoons mirin
1 tablespoon brown sugar
⅓ teaspoon grated garlic
Noodle Cup
200 grams uncooked ramen noodles
1 teaspoon sesame oil
1 teaspoon chicken stock powder
1 tablespoon soy sauce
Garnish
Sliced roast pork (chashu)
Bamboo shoots (menma)
Fish cakes
Sprouts
Scallions, chopped
Black pepper
PREPARATION
1. Preheat oven to 375°F/190˚C.

2. In a plastic bag, combine soy sauce, sake, mirin, grated garlic, and soft-boiled eggs. Marinate overnight. Then cut into halves.

3. Boil ramen noodles according to package instructions. Toss noodles with sesame oil, soy sauce, and chicken stock powder.

4. Grease a muffin tin and divide ramen mixture among 6 cups.

5. Bake for 20 minutes, or until ramen nests are golden brown and slightly crunchy on the outside.

6. Garnish with marinated egg, small slices of roast pork, bamboo shoots, scallions, fish cakes, sprouts, and black pepper.

7. Enjoy!
Want BuzzFeed Tasty right in your inbox? Sign up for our newsletter!